"It's all over, task done, gate reached. We sign out and find a spot to nestle with a celebratory beer and the best Coca-Cola we've had in a while. Oh the beauty of withdrawal. This is a certain relief, a sense of accomplishment, a victory of temperament in us all. A chance to remember. Only 24 hours ago we were fighting our minds and bodies on Africa's most gruelling terrain."
Day 1
After an early breakfast, a senior guide gave us a climb briefing, after which we departed from the National Park gate to the start of the Rongai Route. The ride, from the town of Moshi to the north of the mountain, takes around two to three hours. Once at the gate, we met our porters. After the formalities at the gate, we begin to ascend Kilimanjaro. The day's climb takes you up to Simba Camp, which is at 2,625m.
Although we are a large group, the journey thus far is very much to one's self and thought. There is no singing yet today, perhaps a sign of the anxiety for the trek ahead.
This is Africa; huts and plantations are scatted beside the road, along with hawkers selling Coca-Cola, cigarettes and soap, bike repairers and window frames makers. Our guides are friendly and patient: how many times a day does one need to explain Jambo and asante mean—you're welcome to guess and look them up.
The hike begins and we assume our 'military' formation, which was predetermined on the two previous hikes. We huddle before we set off to reiterate our goal to leave no man (or woman) behind—it's a team effort and a dream for us all to reach the top, together.
I've been nominated as the team leader for this expedition. I am the last person in the formation and, therefore ironically, lead from behind where I am able to guide and control the pace… and the slackers. Not long into our walk the gods decide to bless our hike by opening up the skies and cleansing our group. We pass a group of school-going children, who are playing and singing in the rain. They are soaking wet as they take the same path; we are in our rain coats that probably cost more than their entire year's education. Their happiness puts a resounding smile on our faces. The gradient is gradual but never ending. As we walk we can't see this mountain we want to own: the mist is too thick as it encompasses the bellows of what lies ahead. We reach camp after two brief stops and spirits are high. When the clouds part to show us their might, we realise that this is only just the start. The first sight of the mountain is revealed in its full glory—she's majestic but inviting. A large tent is erected for the entire group to overindulge in foods and treats. As I lay here to report on my experience, the air is still filled with the sounds of the porters cleaning, beneath the African sky. Head lamp off.


Set 93 HR 67 Height 2,400m
Day 2
Today's relatively easy hike takes us well into the Moorland.
Curious whispers emerge from the tents. It's still dark and very cold. The warmth from the sleeping bags slows the emergency escape to resolve nature's call. This is the first time that we await the porters, who themselves are scurrying out to start the day's tasks. Finally, we are greeted with a warm drink and a bowl of porridge, eggs and toast—sufficient sustenance to last a full day's hike. Before the food has had time to settle, the camp is packed and we are ready to go. The morning conversation is a mere echo of the group's typical dynamics; it doesn't carry the same venom.

The walk is a gradual never-ending incline, which raises over 800m through the heath, which is scattered with a variety of flowers, everlastings and the occasional South African Protea. While the group takes some strain on certain sections, despite the slow and pace, the singing starts to raise the mind-sets. The mountain draws us in as a raven circles a nearby hill, looking for its next sparse meal. Finally, the camp arrives; it offers the most beautiful panoramic view of the two surrounding peaks and the valley, a distance below, with clouds covering the horizon. It's time for lunch and a predetermined afternoon nap, which is somewhat unpleasant as the breeze is cool but the tent is a scana this close to the sky. There's more tea and popcorn, as Dawson (Head Guide) says "Fuel in the tummy is the engine. We have a 53-strong team that help carry, cook and clean after us.) All of whom are introduced and thanked before they sing hakuna matata to us in praise. We set off for an acclimatisation hike—go high, sleep low—upon which we are welcomed by the falling clouds, which drench all. Dinner is a feast but the card games trump it well into the evening, disturbed only by the occasional bite and passed on margarine called 'Blue Brand' aka Rama Spread—a perfect copy. The pitter patter presides over my tent well into the night. I hope it's gone by the morning.


Set 91 HR72 Height 3,450m
Day 3
Make your way over gently rising moorland and over several ridges to Kikelea Caves at 3,600m.
I'm sitting alongside a river, atop a rock overlooking the camp; it's almost as though God has carved out this ridge to show the beauty. Behind me, at the very top of the ridge is a waterfall, which I could not reach, so instead I've taken a shower. I have so many thoughts of my son, my life, my past and feel cleansed in the figurative sense. As the clouds come wafting up through the valley, the camp is no longer visible. I'm in heaven, above most of the world and its problems. Today's hike was easy. The group is working well together. The formation is showing its merit and we continue telling stories and making jokes to pass the time. We are now in the routine of drinking the required amount and keeping an eye on our allocated buddy. We are near Mt. Mawenzi and the temperature has dropped a notch, it's going to be a cooler evening and the rain is threatening us once again.

We set off for our 'optional' acclimatisation walk, up the mountain behind us. It's a good gradient and we are all in a good moods with the clouds amongst us. The resting point opens up to the valley below. The view is magnificent and almost as beautiful as Nadja. Samantha leads us into our UJJ Yoga breathing lessons—making us all look rather funny but even the porters enjoy the benefits. It's time for dinner even though we have only just eaten; the porters want to make sure that the tank is always full. Just prior we met a group which are on the same route, which is shorter by a day. One of the 23 Australians has already been sent back. It's their team leader's second time and he tells us that it's still a long way to go. The smile in his eyes tells it all, they must reach the top. Dinner is great and I feel as though I'm gaining weight by the hour. We play a 'name me' game and before the end of the evening everybody has joined. The group is really coming together. But for now it is time to rest.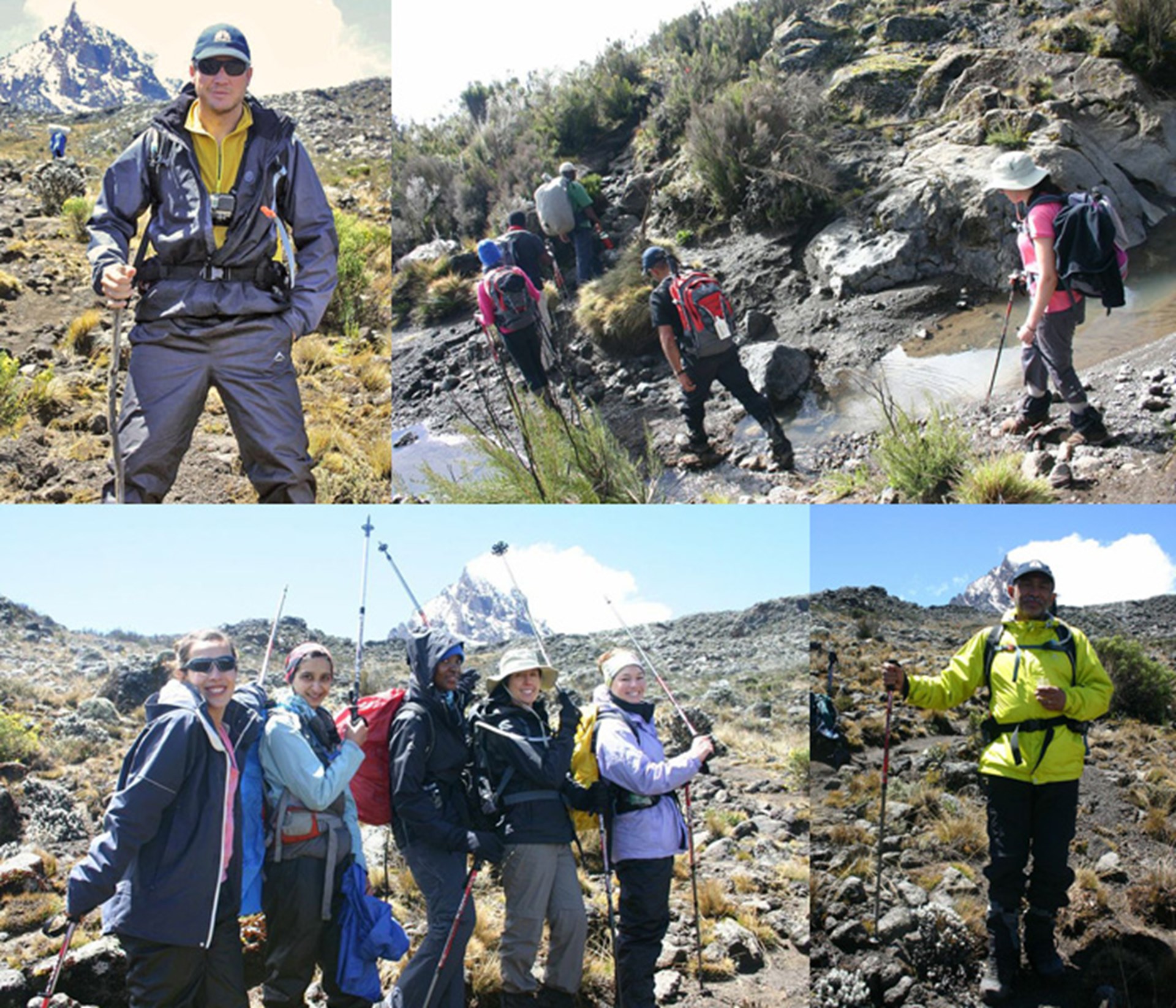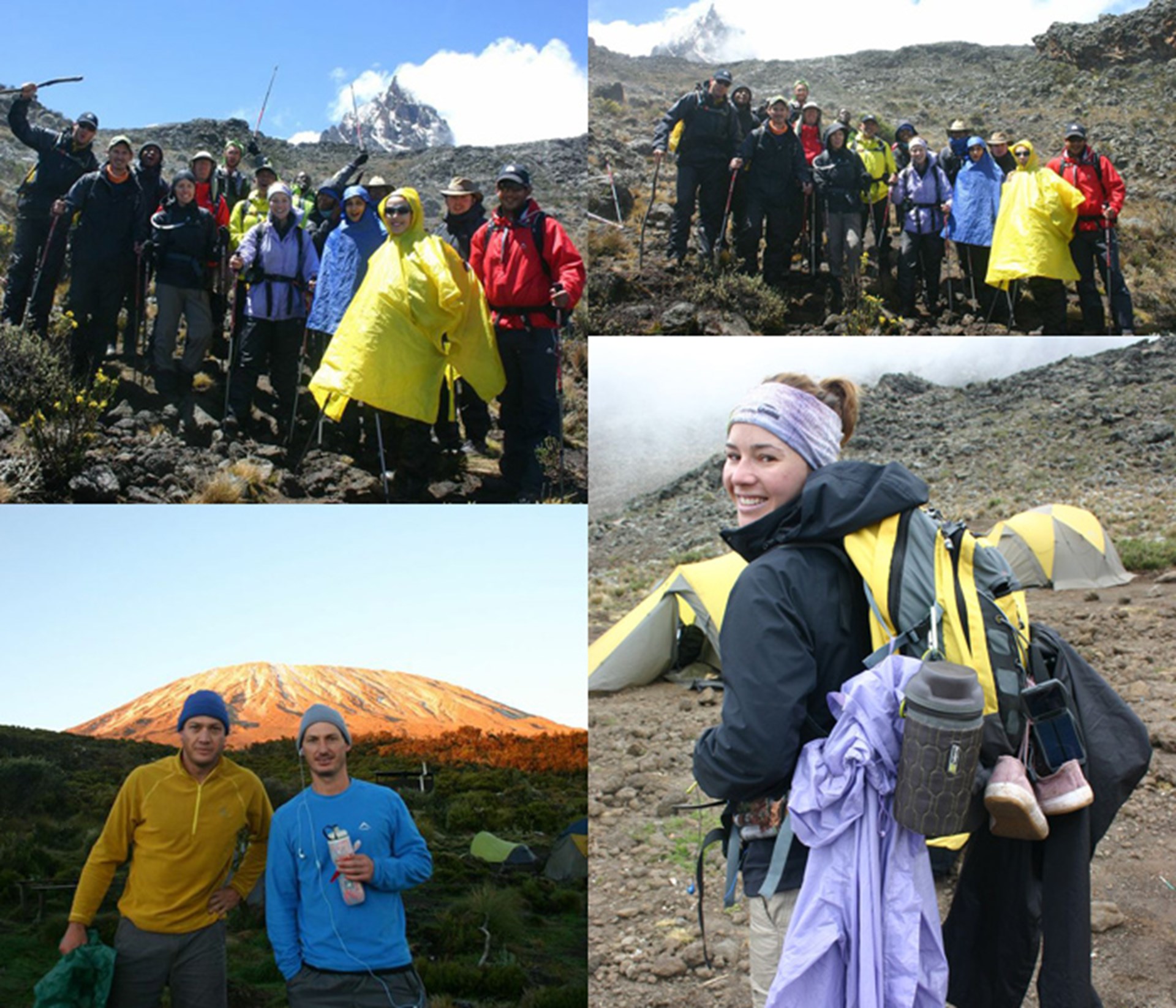 Set 91 HR79 Height 3,683 – Kikelea Caves
I can't sleep. It's cold and the tents around me lift as deep inhalations and exhalations are taken, then suddenly I realise that I need to get sick. My stomach is moaning and I know I'm in trouble; I'm in the foetal position, drenched in my own sweat as I have to contemplate the sad reality that this dream of mine may be over. The night is long and restless, filled with thoughts and pain. It is a case of man against his will. In the end I succeed and the tale carries on for another day.
Day 4
The hike today takes you to Mawenzi Tarn Camp (4,330m).
We wake up warmer than expected and even venture out in shorts to greet the incredible view. The lights of civilisation glisten down below in the far distance. People rise and disappear into the winding paths – paths that lead to a more personalised opportunity to speak to nature as opposed to the wrench of the once-acclaimed long-drop. Post our morning feast we set off immediately into an incline, which is constantly interrupted by porters due to the hordes of climbers at the camp. Some of us did not listen to the 'ample layers of clothing' advice and some did. I've settled in the middle but feel very comfortable – comfortable being one foot in an ice bucket and the other in a fire. Half an hour into our walk, the sun pierces through the clouds and then five minutes later we come to an abrupt halt for those needing to strip off thermals. We proceed along the desert terrain of rock and scree, scattered by occasional plant life, constantly ascending. The altitude is counting us up. There are sporadic views of Kili to the right and Mawenzi ahead. The clouds have pulled in and dragged the unrelenting cold rain. Stops are made in stages to redress yet it never seems enough. My hands are bitterly cold; the task ahead seems to be amounting to a checkmate. This is a serious encounter.
Like all hardships in life, the light will always shine and so she does here, opening the mountains to both us and the perfect 'we did this' Facebook picture. Time to move on and get to the next camp. Today has been the most challenging of all thus far, but we now know: Respect the conquest of the next two days. Camp is a very welcoming site with an underwater dam pushed up against a picturesque backdrop. Tents are nestled neatly in the open space and then… the stunning waft of the toilets permeates it all.


It's the first time the entire group takes a much-needed and deserved snooze. So loved is the rest that some completely miss the face-stuffing popcorn lying in front of me. Off we go for our 25-minute up, 150m 'altitude adjustment' walk, straight to the source of the water provided to us over the stay. More breathing and down we set for the first attempt at the Harlem Shake – personified by a very smooth looking Rakesh Wahi – what a laugh, this will be good!

"As I uttered final words from my motivational cheer at 3,900m, 'Let's go ABN!', something did not feel right. All of a sudden my legs went weak, a knot envelops my stomach and I begin to gasp for air. I request the group to slow down so we can take a break, and then it hit me: Altitude sickness is real." - Sid Wahi.
A few bits to camera on my experience thus far, off I sneak to call my beloved son, "Please repeat yourself Daddy, I could not hear you clear." What a boy, I love him so much; I tell him I'll make it to the top for him. Down at the camp I play Frisbee while some wash, some pack, some rest, some hide. Dinner is thoroughly enjoyed, tomorrow explained and gear requirements detailed, we are ready – tomorrow will be a long but exciting day.
Set 9 HR 78 Height 4,300m Travel 8km
Please may I sleep well. I'm packed. I'm ready. I want this, but its bed time, too restless, too excited.
Day 5
Depart for Kibo Hut which is at an altitude of 4,730m.
The sun is still up but its bed time, at 17h30. We have walked for six hours, not hard, just long and seemingly never-ending. This camp was visible from the onset but always just too far away. Some of us feel it's a good run, but it's not. At lunchtime we open our packed 'gourmet' meals, desperately trying to get a live feed to the studio to report on our voyage. Finally, I'm through – Live to Africa – sharing our experience. It's really special. I feel like a hardened adventurer 'reporting in'. The group's medicals check out and de-brief is concluded. Wake up time is 11PM tonight, then we set course for the top. A few of the men stay behind. Strategy is set if and rotation is required. Nothing is left to chance. This is all lead by the 'supreme leader' himself, Rakesh Wahi. The goal is simple – "we will not leave anybody behind – we all summit!"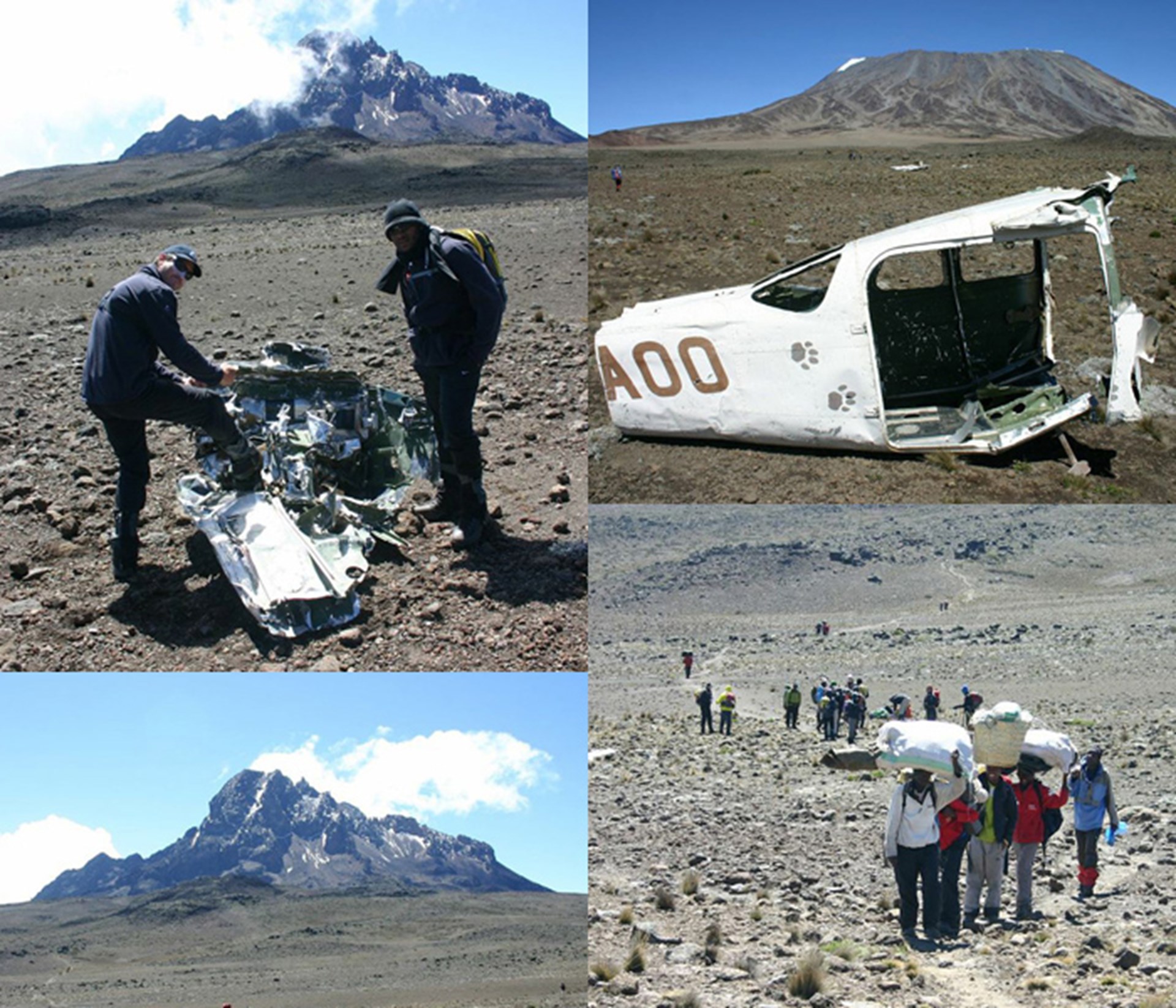 Set 85 HR 90 Height 4,730m Hike 12km
Day 6
This day is too long to explain as just one day but I'll do my best in two parts. Eleven o'clock: Benson (the waiter) wakes us all up. The wind howled throughout the entire night and I've not slept, in part due to the excitement of the day. Breakfast is served under intense tent flapping and the poles eventually giving way with a hardened shout. Thankfully we are all out in time. Moments later we line up outside, all heads lap bearing, say a prayer and off we go. The shining caterpillar is working its way up a gradient that does not let you forget. We continue for hours in darkness, it's incredibly cold; my toes are frozen and calves sore. I can't see where we are going but the lights above us give some indication that it's still a long walk up the hill. It's never-ending; we zigzag, but to no avail.
People are dropping like flies, vomiting and the climb becomes a real test of character. I'm up and down, pushing, assisting, motivating, trying to encourage but I can't see the end myself. I keep talking about the sun rising that will cleanse us, invigorate us, warm us – it never comes.
We reach halfway eventually, like it's a sign of progress, but all it does is tell us we have not gotten anywhere.
Its 3AM and my water reservoir has frozen. Can't get any more water in, and that's after blowing air back down the pipe to prevent this happening. The group is beginning to take strain; the altitude owns our bodies and consumes our minds. Then, the sun breaks the silver lined clouds. The view is spectacular and instantly the spirits lift, but not for long. Why seven guides? Did we need so many? Well, nearly all the girls' backpacks are being carried and they position themselves right behind the struggling people, dishing out hand warmers and forcing the continued pace. I get worried, my lead man, the pace setter falls off. The caterpillar can't continue without a head, I chase up to him, out of steam, hyperventilating, we are so close now, but still so far. I raise his bag and rush him up the rest of the way.
We reach Gilman's Point and for some this is the end. There are tears in abundance, emotions are rife, this for some is the greatest experience ever… but it's not for me, I must reach Uhuru, even if I drag my team along. Sid, who has struggled the last day to keep up, is not looking good. I loan him my spare socks and we all push on. From here, it is only another 150m elevation to the goal, to the point where all hopes and dreams are pinned, a destination we all set out to achieve. Surely this is high enough? Sid wants to turn back but I made a vow not to lose any of our soldiers, especially this one, but it's still a two-hour walk.

At long last we've broken into two, those ahead not necessarily stronger, but wanting to keep the momentum. Breathing is tough, my head hurts, which is mildly fixed by a few deep breaths. Nadira's on her own – determination beyond my belief, dragging her poles and body in a zombie like state. She collapses and I chase up to her. My chest lights up – HR hits max and my body is on fire, its only 50m but I have to collect myself before I can help her. She's fine and will make it come hell or high water.
Sid can't anymore, he has pushed himself beyond belief, and this vessel has hit its limit. I have to make a call. Hard one considering the circumstances, especially as the rest of the team still has to get there and this delay is affecting their morals. We say goodbye and try to smile and make peace with it. Hard call, good life lesson. I'm now physically pushing people up the hill surely. Boom! I spot the sign. I can relax as I know this part of my promise is over. They will make it. Instantly my focus changes and the emotions set in. The thin air, euphoria, peace overwhelms me.
Suddenly, triumphantly, Sid emerges over the hill – miraculously he fought against his will – Now it's complete, we all made it.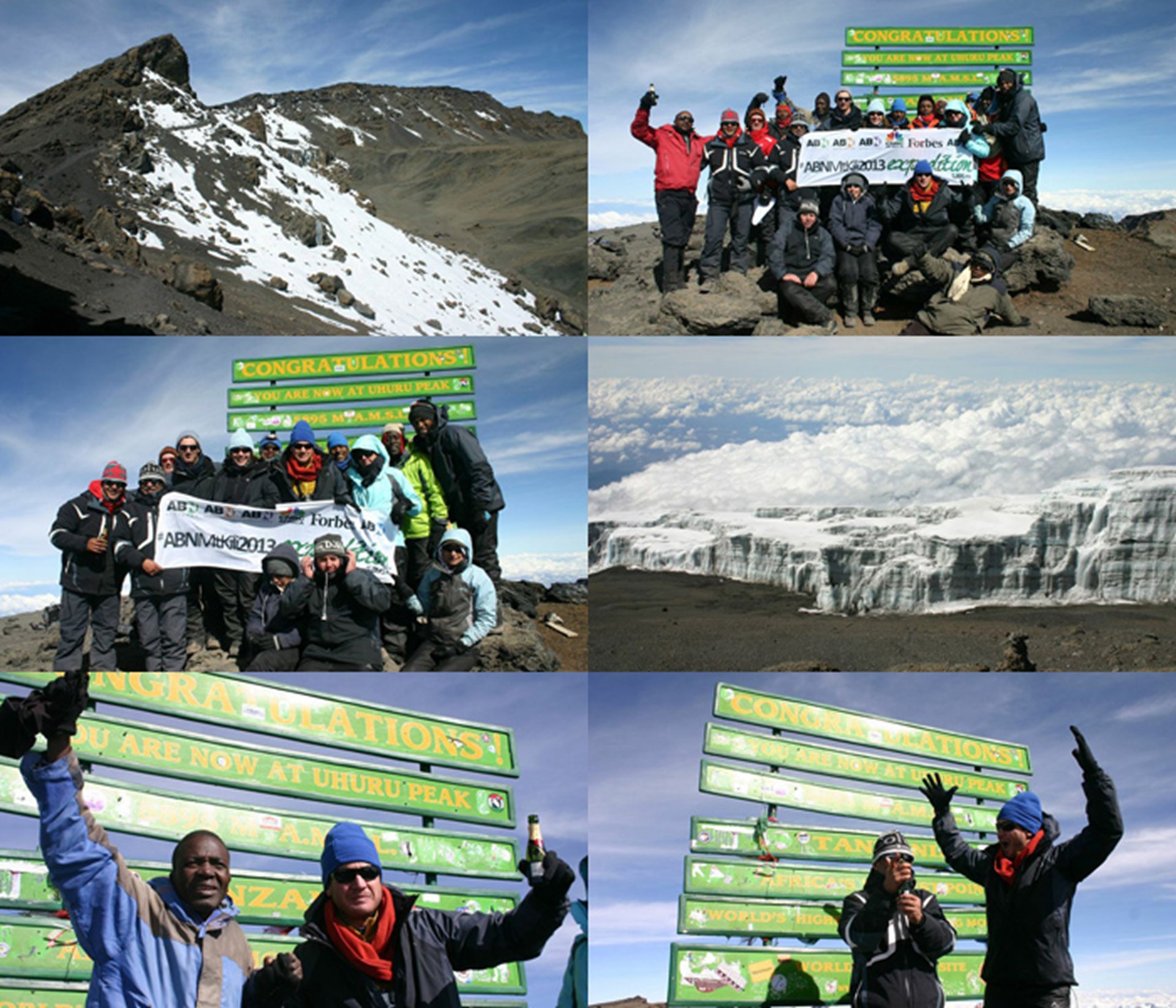 WE REACH IT! Uhuru Peak – 5,895m at 9h15 on March 16, 2013.
Some dragged, some pulled, some on autopilot and some skied back down the gigantic mountain – every meter is a litre of more air – air in abundance filling the soul.
Sleep time. Dead peace abounds the site. For an hour the camp is a morgue of dead legs and bodies.
"Most difficult feat I've ever put my body and mind through. The unbearable nausea and heaviness of my limbs were so overpowering. I wasn't sure I could take my body back down the mountain from Uhuru. But as I skied down the scree arm-in-arm with Steve, like a superhero, I got stronger and stronger. I could breathe again. I could lift my legs higher. I could dance, I could high-five, I could laugh and I could climb that mountain all over again."- Nadira Peer
Part 2
Can there be more to this day? Lunch is over, bags packed and we set off for a 12km walk to the next camp. Its flat and its hot. Nobody can quite believe we are still at it, but spirits are high as we all share our personal experiences, singing and talking.
The Marangu route is very picturesque, with planned stops, benches and toilets. Nothing like what we've had till now. Everybody is engaged in conversation till camp. The sun is setting and dinner is near, all too eager to be done with the day. Moonshine and stars are so clear.
Day 7
We're woken up at 5am, the last mental and physical hurdle ahead of the finish line. We've unpacked and packed more sleeping bags and mattresses than we care to remember. The tent, our home for a week, served us well. We have 30 minutes to get packed up. We've moved from 'Pole Pole' i.e. taking it slowly, to Top Gear.

Today is a 20km walk to the gate, to the bus, to the hotel, to the shower we've yearned for all these days. Even the simplest of hotel amenities will feel like the Burj Al Arab. We must get there as soon as we can. The walk is great – the pace, fast. We stop every hour but our legs are sore – it's all downhill from here, literally. Absorbing our surrounding environment helps a bit. It's a whole lot easier than the route we started on. It's the last time we get to shout 'keep left' as the army of porters come streaming down the mountain, carrying the world on their shoulders.

It's all over, task done, gate reached. We sign out and find a spot to nestle with a celebratory beer and the best Coca-Cola we've had in a while. Oh the beauty of withdrawal. This is a certain relief, a sense of accomplishment, a victory of temperament in us all. A chance to remember. Only 24 hours ago we were fighting our minds and bodies on Africa's most gruelling terrain.
We have a 53-strong team who looked after us. I have the task of dividing the money up per person, per role, in accordance with the cash I have and the guidelines given to the team by the Kilimanjaro and tour guide authorities. I still can't believe that it took an army of men to aid us in getting to the top. Without complaints or flaw, no questions, no task too small or too big. These guys are amazing.
"The fact that we have just summited Kilimanjaro still hasn't sunk in yet. Making our way back to Marangu gate, the end of our Kili expedition, I'm thinking of how I'm going to explain the last 6 days to my friends and family back home."- Denham Pons.
We thank each porter individually, handing over the 'tip' and creating a line to shake everyone's hand with an asante sana, which roughly translates from Swahili into 'thank you'. I find it odd that they didn't look me in the eye – must be a cultural thing.
Time to celebrate, end of the road.
Thanks to all who opened up, woke up, threw up, manned up, got up, shared, laughed, lived and loved.
It's the ultimate adventure to remember. A level of team building – incomparable!
This level of bonding is incomparable! Thank you!


Quinton Scholes, Team Leader, ABN Group, Kili 2013 Team
If you would like to follow Quinton Scholes, you can on Twitter:
@quintonscholes