"Would they climb to the top and come tumbling down like an out of control snowball or would they become one with the snowboard gliding along on the snowy carpet like drifting penguins?"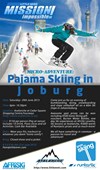 Celebrating Winter in Johannesburg is like singing 'Jingle Bells' without the jingle... silly and unsatisfying. You drive in a world of bare trees, dead grass, frosted, icy windscreens and a freezing bitter cold that tends to creep itself between your toes and wraps you in a chilly embrace. I suppose this is the portrait for some Egoli inhabitants...
To me every season comes with its own sense of adventure and Winter in Joburg can unfold an experience that not only is thrilling and exhilarating but brings a new meaning to the phrase, Winter Wonderland. ~drum roll~... Skiing in Johannesburg!
Situated at Cedar Square Shopping Centre is a venue that not only makes an incredibly delicious pizza but has a 65m snowflex ski slope promising endless enjoyment and entertainment for all ages.
Arriving at the venue I watched as my guests stared up at the slope contemplating their decision to go ahead with this Micro Adventure. Would they climb to the top and come tumbling down like an out of control snowball or would they become one with the snowboard gliding along on the snowy carpet like drifting penguins? I was so excited to be experiencing this adventure with others that I resembled an overcharged eager beaver and not before long I was on the slope about to start my journey to the top.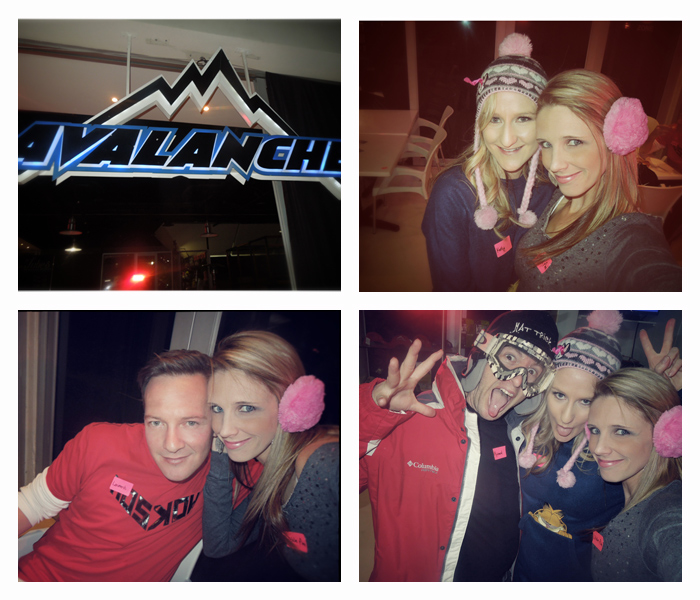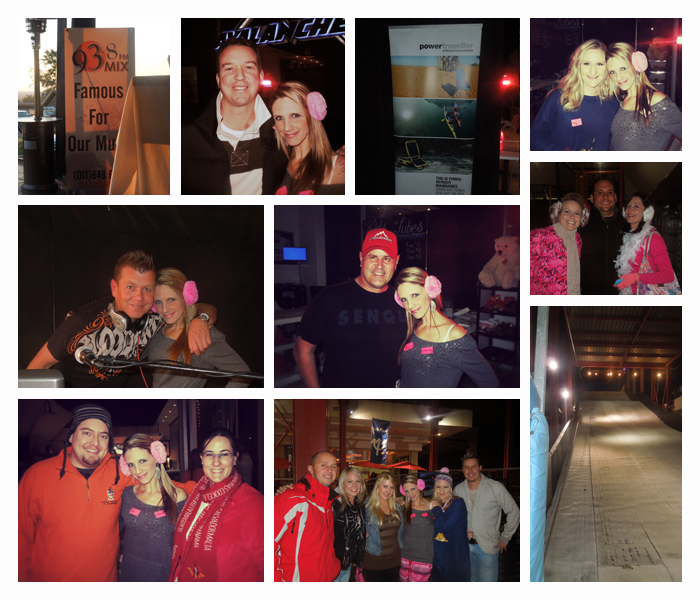 Being surrounded by a few professionals, you start getting ideas of how to make every part of the slope amusing including getting to the summit. On the side is a drag lift which is a rope that constantly moves up and I couldn't help but notice the genius initiative of standing in the tube and holding onto the rope tightly whilst it drags you to the top. I needed to try it!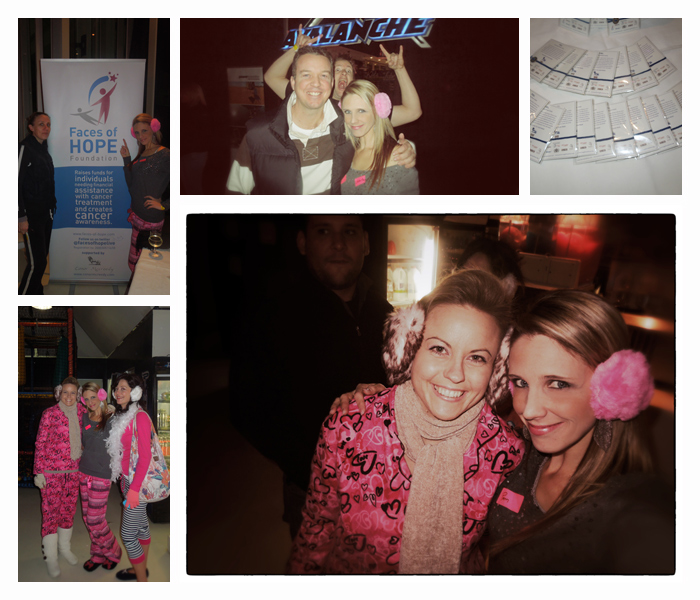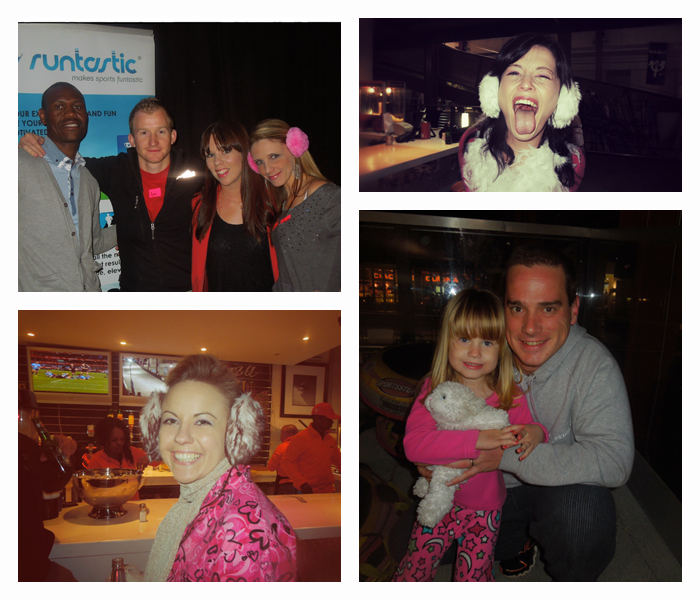 I gently placed my slipper feet into the tube and grabbed hold of the rope and before I could shout for help, I was yanked upwards in a seemingly slow motion as arms and legs went flying in different directions. At this point I needed to let go of the rope but my womanly intellectual lobe didn't register to lose my grip and I continuously got dragged upwards, slithering on my buttocks over little spraying sprinklers. Note to Self: Let go of rope! Hehe! It took a couple of attempts for me to realise I wasn't quite 'there' yet to experiment with reaching the top in these skilful and enduring methods.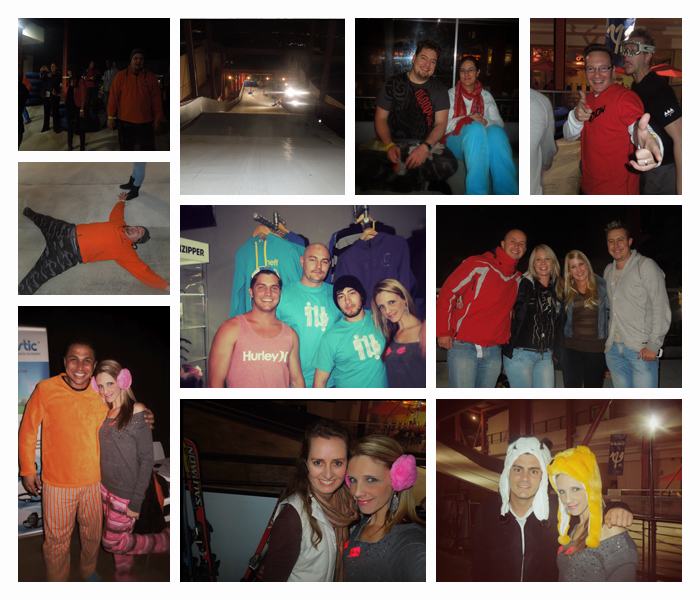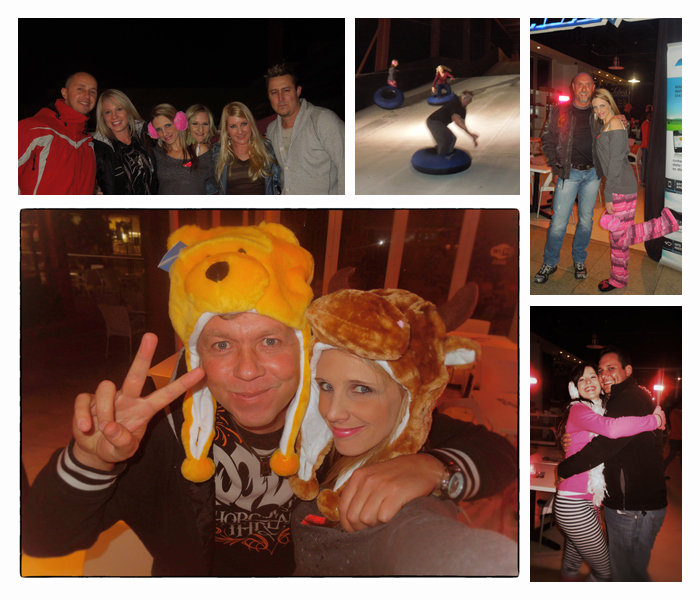 Standing at the top of the platform looking down made me feel like I had just conquered a mountain reaching the highest point. I was Little Miss Mission Impossible... Slope-a-neeress! I climbed into my tube mechanism, held on tight and made my way down in the most exhilarating experience. It was so amusing to observe how everyone else was trying to come down in some sort of unique way and in some circumstances doing unexpected twists and flips.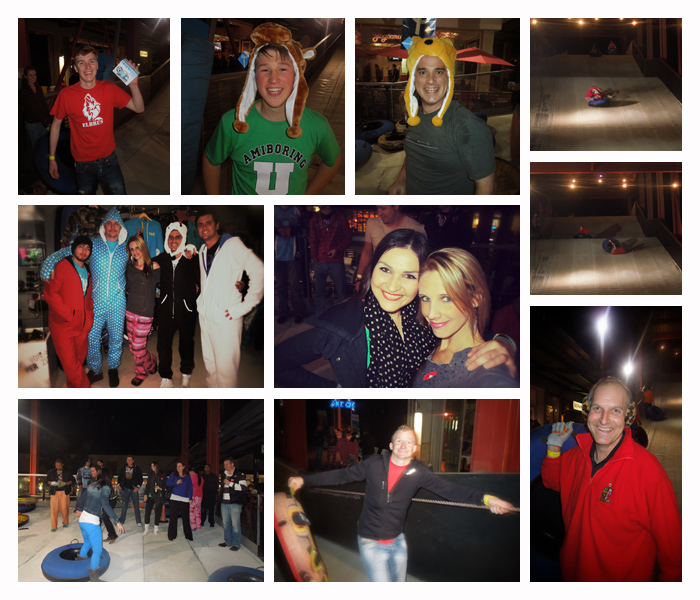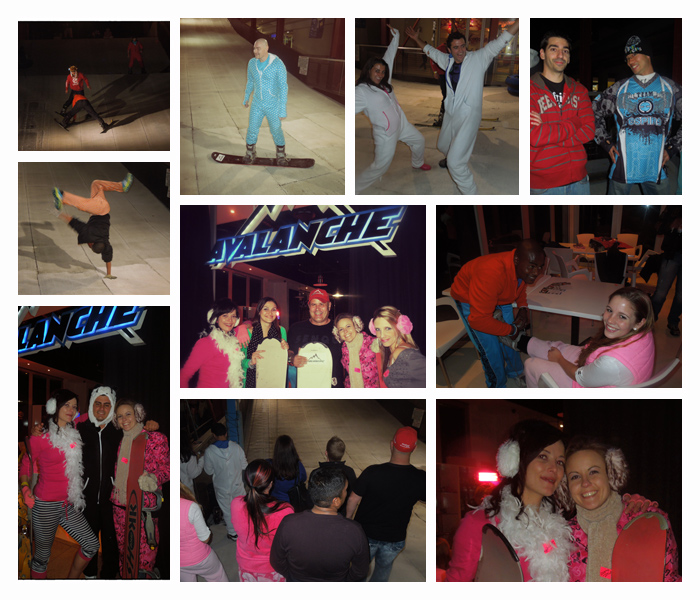 Soon the skis and snowboards came out and it was time for all of us to take everything we had been doing to a complete new level. Gloves and boots came out and soon we resembled a scene from 'Armageddon' when the team was all suited out and ready to take on an exceptional mission. Our PJ's got tucked in, hair got pulled back into a ponytail and slippers got replaced with heavy duty snow feet protectors.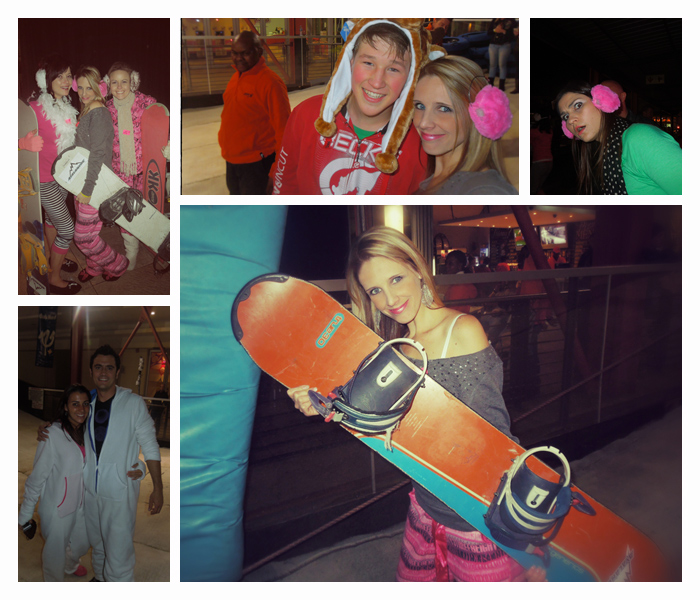 A few people turned into supporters as to disguise their open opportunity for trying out this extreme sport. Disguised supporters are individuals who use being a supporter as a diversion to not get any attention focused on them. This is usually because they have a fear of taking part in a particular activity and hope that if they support then they will not be talked into doing what seems to be a very hard, problematical and physical activity. Their actions include patting on the back, passing the participant a drink or slice of pizza and even going as far as actually lacing up their 'heroes' boots.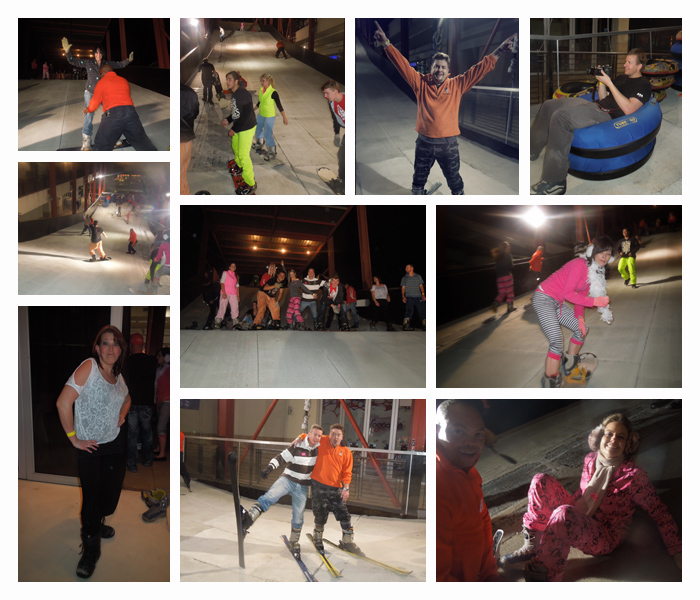 I quickly got into my gear and was once again faced with various options being dragged on the rope. It's like a menu... would you like to be dragged on your buttocks, dragged with snowboard over head or dragged with legs wrapped around rope? A professional ski instructor showed me how to lean onto one side of the board and keep the rope quite close and before I knew it I was sailing to the top in style! Whoop whoop!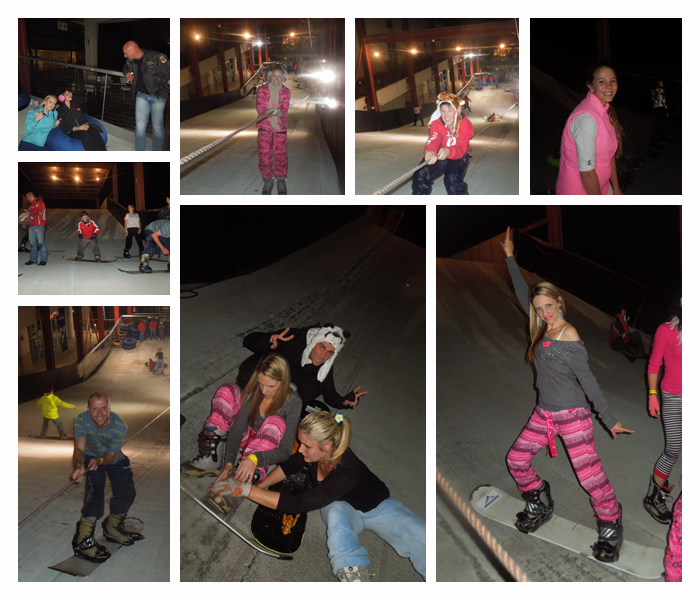 Everyone was forming an encouraging 'click' at the top choosing the next snowboarding/ skiing individual to move forward and hold tightly onto the awaiting ski instructor. I bounced towards this gentleman who stood on that slope with such confidence in his bright luminescent jacket bracing himself to catch me. At that moment I had to place all my potential damage trust in this character and the image of me flattening him on my way down brought on a few giggles. He was so patient and immediately began with the safety 'falling' procedure. "Lean back... rather fall on your buttocks than your face". ~gulp~ Soon I was following in a pattern of slide for 2cm and drop on buttocks whilst all my guests became instant professionals sliding past me.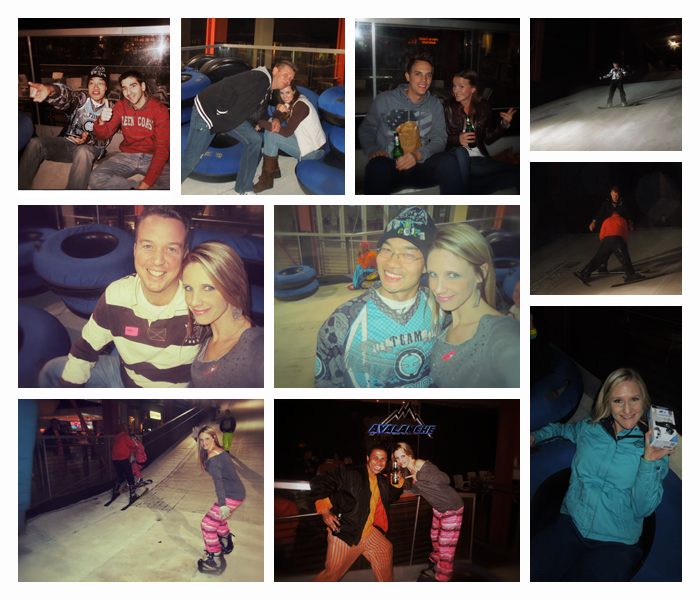 Finally in the last few metres I let go and smoothly went down adding to my confidence to try it out again. Something that I thought impossible became my possible and soon I was hooked. Even the disguised supporters started climbing in those boots and giving the slope a try! I had amazing prizes sponsored from Gone Skiing, Afriski Lesotho, Wintec Solutions, Runtastic and Avalanche. Associated with each prize was an action so soon I was giving away Burton bottles, ear muffs, animal beanies, 2X R500 Gone Skiing Vouchers, 2X Afriski Lesotho Skiing Experiences, Runtastic Smart Phone covers, Mobile Sox, Runtastic Heart Rate Smart Phone Monitor, 2X R1350 Ski lessons at Avalanche. Almost everyone walked out a winner.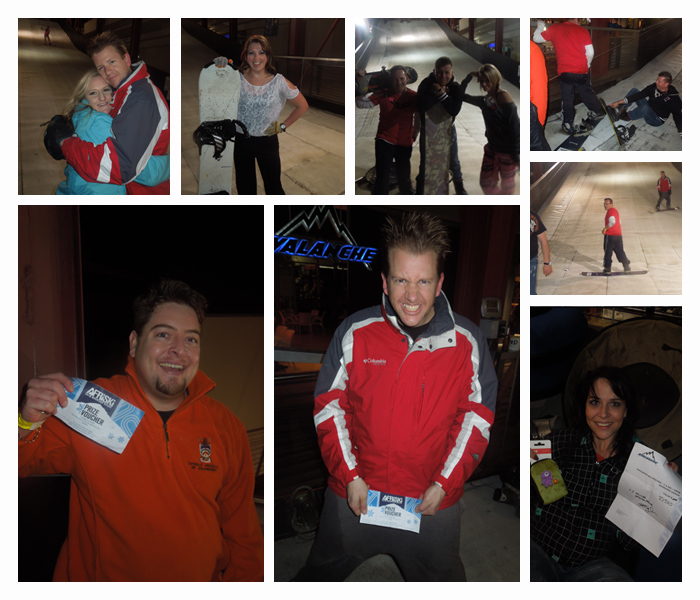 What an awesome evening! It was such a highlight meeting so many people who I 'knew' online and getting to know them in person. I want to say a special thank you to all my sponsors, Avalanche for hosting the event and to every person who joined me on this adventure; you were all amazing and wonderful to spend this spectacular evening with. To the people who wore onesies (http://www.funpiece.co.za) and to the dare boarders who bashed into the sides, did flying off tube stunts and accident prone beings... you all made me laugh so much even with trying to keep my poise.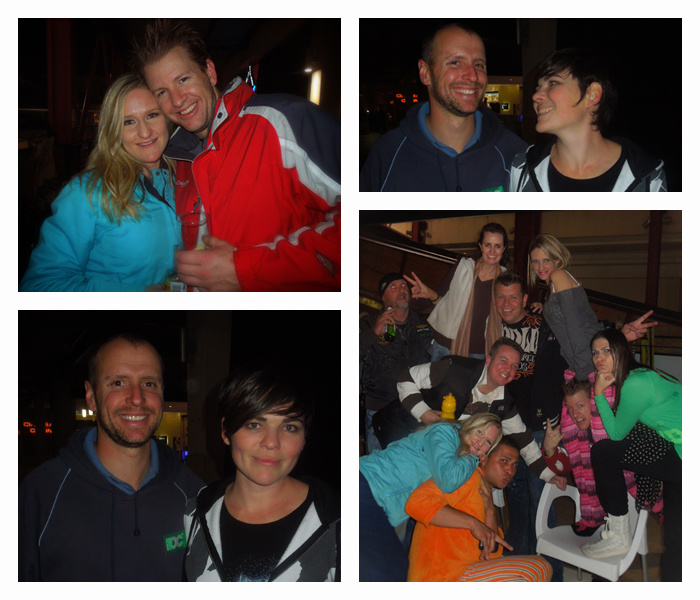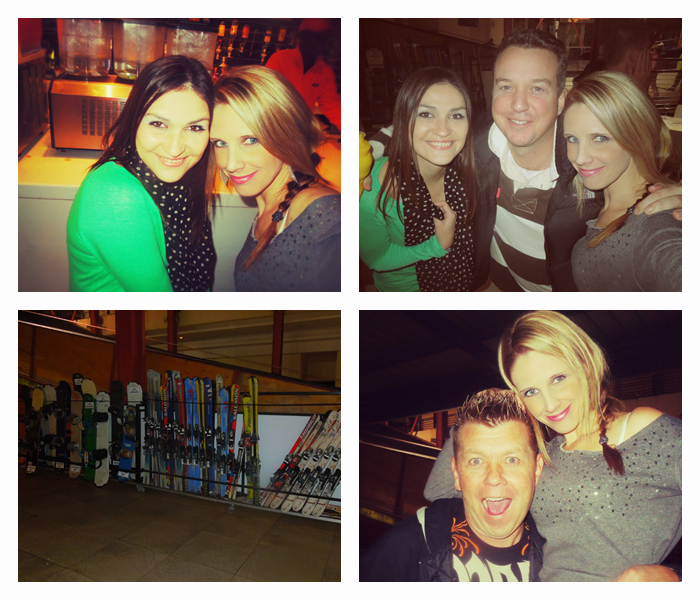 Here's to more Micro Adventures to come...
Pace Yourselves
Little MMI
Here is some more information about Avalanche:
"We offer a fun-filler venue in Fourways:
Children's Parties
Corporate Events and Teambuilding
Private Parties and Product Launches
Ski and Snowboard Lessons
We have what you need for your Party/Event:
65-meter ski and Bumboarding Slope
Snack Bar and Restaurant
Fully Licensed Ice Bar
Ski Shop
We are open every day from 08:30 until late. Special events in the evenings!
Enjoy Skiing, Snowboarding, Bumboarding and Tubing on our 65 meter ski slope.
Our ski slope has a drag lift right to the top - easy to use for fun-loving people of all ages. Whether it's a kids birthday party, company teambuilding or ski and snowboard lesson that you want, we have it all. Let us arrange your function for your birthday cakes, balloons, party packs, whatever.
We have a kids Jungle Gym/activity centre so the youngsters can use some of that pent-up energy.
Our Restaurant serves snacks throughout the day and a la carte dishes in the evening. We serve the CHEAPEST Pizza's and cool drinks on the Square. Our fully licenced Bar is open for corporate functions and private parties. We even have cameras on the slope so that Dads can have a drink at the bar and watch their kids having fun.
Our expert ski instructors are available for ski and snowboard lessons by arrangement. We cater for any level of experience. For more advanced skiers we even have ski jumps.
Our Ski Shop stocks a wide range of ski apparel; ski jackets and ski pants, thermal underwear, goggles, sunglasses, beanies, hats, headphones, socks, belts, gloves, hoodies, t-shirts, and more - everything you need for your snow holiday. Our range includes Nixon, Von Zipper, Kustom, Capestorm, Skullcandy and Fuse.
We are proud to be official agents for Club Med, so we can advise you on your ski holidays anywhere in the world, assist with bookings and more." ~sourced from the website