"Umhlanga is one of my favourite destinations on the North Coast and the Umhlanga Sands is a great choice for both business travellers and families needing accommodation that has superior facilities and outstanding service."
Growing up as a child you have certain memories that seem to last a lifetime and for me that was always the holidays and adventures my parents took me on. A few locations became imprints in our holiday planning and there were always those same hotels or resorts that we seemed to revisit, ones that became the centre of our family vacations and added to the excitement of our every year gathering.

Umhlanga is situated just North of Durban along the inviting and warm Indian Ocean and is a magnet for holiday makers all year through with its beautiful beaches and relaxing atmosphere. Umhlanga Sands has a remarkable reputation dedicated to providing a comfortable, affordable, safe and memorable stay for business executives to little youngsters and considering they've just had a modern revamp… I needed to investigate.
Driving into the parking lot, I couldn't help but notice the enormous structure that was presented before me… this was it, the moment that I would embrace my inner childhood. This is the resort known for its legacy of 'Kid is King' which got me thinking with my genius womanly intellectual frontal lobe (~light bulb flashes~). If 'Kid is King' then I would actually need to become a kid again… I would need some sort of disguise as to blend in with the younglings. After a long and thoughtful process I realised that I just needed to be myself but with an added skip in my walk.
Stepping inside the Umhlanga Sands Resort I was welcomed by a clown, popcorn and an ice cold refreshment. Let me repeat that line of pixelated text… welcomed by a clown! There are a few things in this universal sphere that give me an uneasy feeling and clowns are one of them. I'm not quite sure what it is about them that terrify me but I suppose it's the bright red nose accompanied by sad looking eyes with giant feet.

The clown stood there whilst reaching out a box of popcorn and at that moment our eyes met. Had it all come to this? He stared at me as if he was telepathically reading my mind; delving into my deepest thoughts whist displaying a grin of red lipstick that I was convinced wasn't his colour. I gently took a step back in slow motion calculating his every move whilst scouting for quick exits should he decide to take a leap and insist on giving me a hug. I returned his pleasant smile and broke into a 'Gangnam Style' side step towards the reception whilst he entertained the little ones. I had been to this resort once a long time ago and I was surprised to see some familiar faces behind the desk.
I was assisted to my room that overlooked the ocean with the waves holding onto a few shimmering sun rays above its breakers. I was in KwaZulu- Natal paradise and before I started exploring I needed to do what every woman does arriving at a new location… scout the bathroom! I'm not quite sure what it is with woman and bathrooms but for some reason checking out the 'ladies room' falls under our priority list. Perhaps we have this innate instinct for needing to know the location of the porcelain throne and the nearest mirror? The bathroom was astonishing! As soon as the lights went on so did the extractor fan. I couldn't help but ponder if this was to subliminally get guests to turn off the lights after using the bathroom so that the sounds of the extractor fan wouldn't filter through their mini apartment. Genius!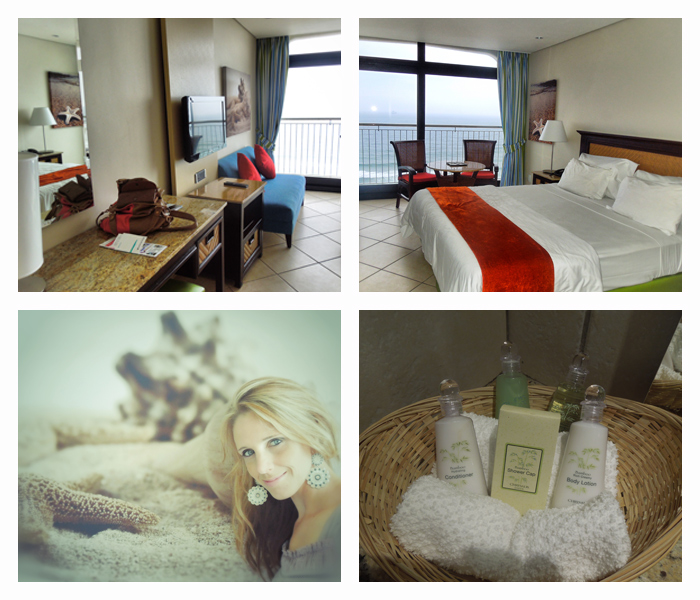 It was time to discover my surroundings and I quickly made my way to the double metal door lifting device. Lifts are conversation awkward instigators! I entered into the metal carriage with a gentleman standing there all uncomfortable. He quickly placed his hands in his pockets and shuffled his feet as to prepare himself for the few second ride he was about to take with me. His head was bowed down as if he was repeatedly saying to himself, "Don't look at her, she may bite" and as the lift started moving his gaze turned towards the buttons on the panel. Why do people never use this short opportunity to have a conversation when instead they choose to study the incredible technical design of the floor operating buttons? My focus soon turned to the surprising smell of the lift that was a fresh, floral, beachy waft screening the air. I'm convinced there are resorts that place old rotten shoes in the lift vents creating the stale and musty smells they usually possess. Apparently Umhlanga Sands has a special spray they use for the lifts to make the aroma in them more pleasant. ~deserved applause~

The resort's Mediterranean layout with umbrellas, palm trees and crystal blue pools display a light and airy architectural atmosphere adding to any holiday experience. I was amazed to discover how the resort contributes towards the environment. The aircons automatically turn off when sliding doors get opened, windows are tinted to keep the heat out, they have their very own worm farm and all the water and garbage gets recycled. I applaud all their efforts!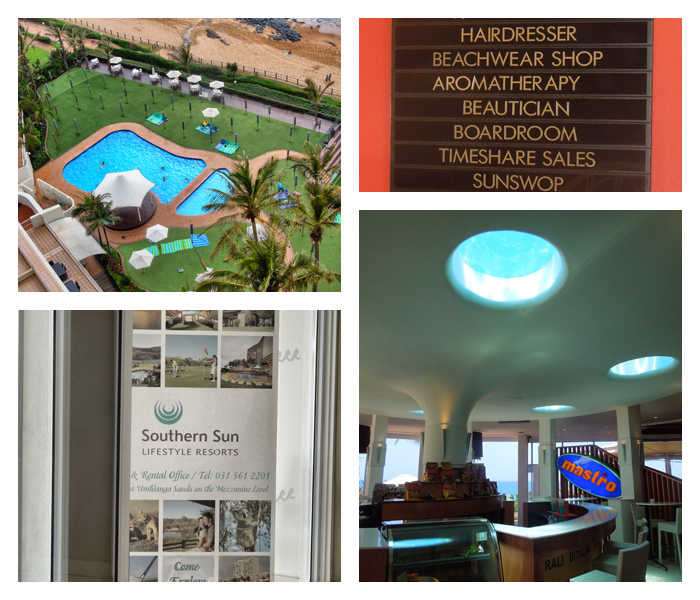 Check Out: Umhlanga Sands Resort Virtual Tour
Just a few steps away from the heart of the lobby is the beach! I always treasure the moment I first place my feet on the sand particles when arriving at any coastal destination. I looked around and breathed in all the beauty that was presented before me. Umhlanga is a beautiful town with its hotels and resorts stretched along the beachfront and promenade welcoming guests to take a morning jog. Listening to the waves crashing behind me, I was truly in my element and the thoughts of the suspicious hugging clown soon faded out into the big wide open.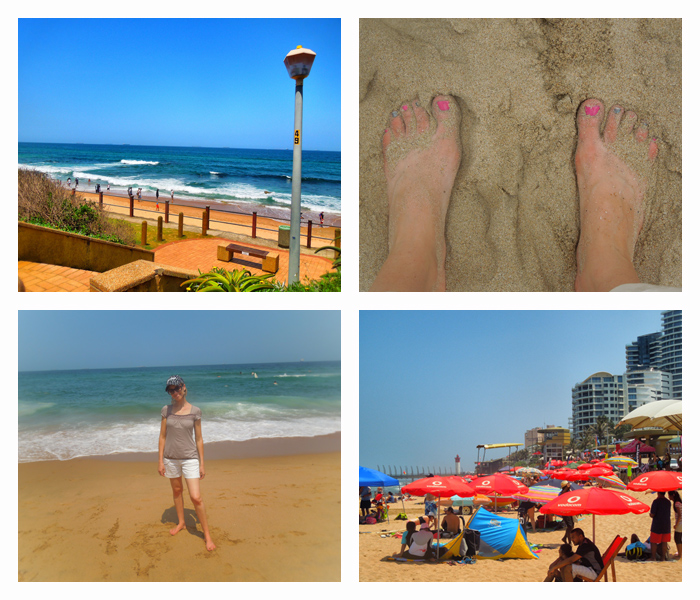 That evening I decided to dine at the Miami Spur in the resort and had the pleasure of meeting the restaurant's manager Tumelo Moloi. I have a challenge for all my pixelated readers: when out at a restaurant or wherever your feet guide you, take 2 minutes and get to know the individual who could be serving you. I always meet the most interesting people by just making the effort to say "hello" and immediately that particular place becomes a memory on my trip. Tumelo joined the gumboot dancers in Germany during the World Cup and has such a passion for rugby and soccer. His dream was to play rugby but decided to follow a stable career so he could support his 3 year old daughter. I have never met someone who has such passion and love for his job and it made me feel so excited to be eating at this particular Spur.


The following morning I woke up to sunrays pointing towards the surf and I couldn't wait to get out and locate some pearls of Umhlanga. I merrily skipped through the lobby past the 'Sweets from Heaven' and kids entertainment centre when I got startled to see a gentleman, Vivian, greeting all the kids by name. He was the Entertainment Manager for the resort and I was almost convinced he had a technological remembering gadget tucked away in his ear because how he remembered every child's name, was puzzling to say the least. "Good morning Oliver… Emma… Daniel… are you going to play on the beach today"? "Matthew, you dropped your spade, have a lovely day with Mommy and Daddy". Is this guy for real? I battle remembering a person's name I met just 3 minutes ago never mind knowing every child's name as they walk past. At that moment I could picture his book hitting 'Best Sellers' in 'Exclusive Books, "How to Remember Names". I needed to get his autograph…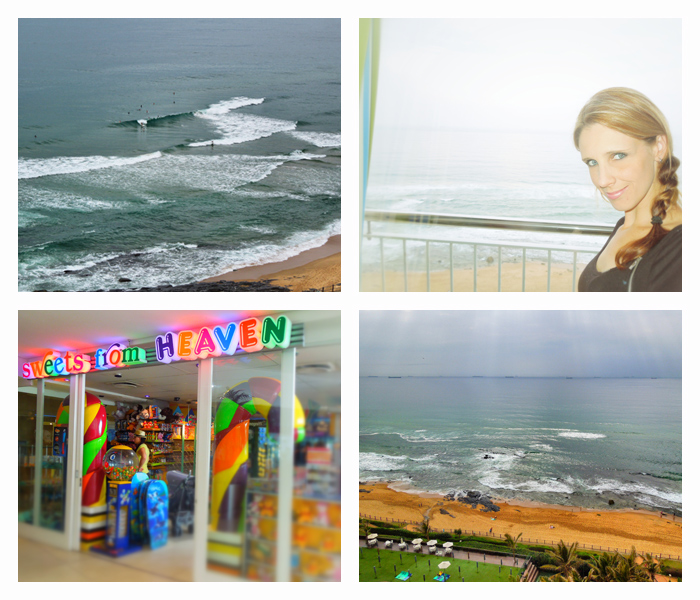 Umhlanga is known for its diverse adventure activities and entertainment facilities and after exploring the area, I gathered together my official top 10 recommendations to try if you ever decide to visit this picturesque coastal town. (~drum roll~)
Taking an evening walk to the Lighthouse- There are many security officials on the promenade and it's so special to see the fisherman come out on the rocks to catch their dinner. Pick up some 'Dinky Donuts' on the way! Yum! Built in 1954, the lighthouse towers 21m overlooking the ocean and was built to warn sailing vessels of the dangerous and hazardous coastline whilst welcoming them into the Durban harbour.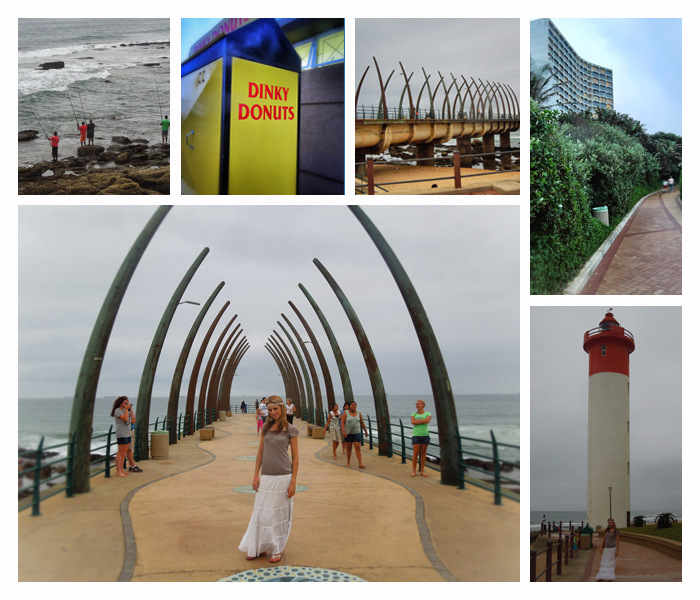 Enjoy a dinner at Maritimo's at The Cabana Beach Resort watching the sunset over the panoramic views of the ocean. http://www.tsogosunhotels.com/resorts/cabana-beach



Low Tide Fishing in Rock Pools- Purchase a kid's net on the beach and take your little ones in the rock pools to fish during low tide. An awesome experience for them to get up close and personal with sea life and little fish trapped in the pools. Just keep a close eye on them because even though the water in some cases is shallow, there are a lot of pools that are deep.



UShaka Marine World- Spend a day at Africa's No.1 Theme Park and visit the Sea World which is the largest aquarium in Southern Africa. Dolphin shows, shark dives and seal shows all form part of this magical experience. Spend the rest of the day in Wet 'n Wild where you can either enjoy relaxing on the lazy ride or take the plunge down Africa's highest slide, the Drop Zone. http://www.ushakamarineworld.co.za/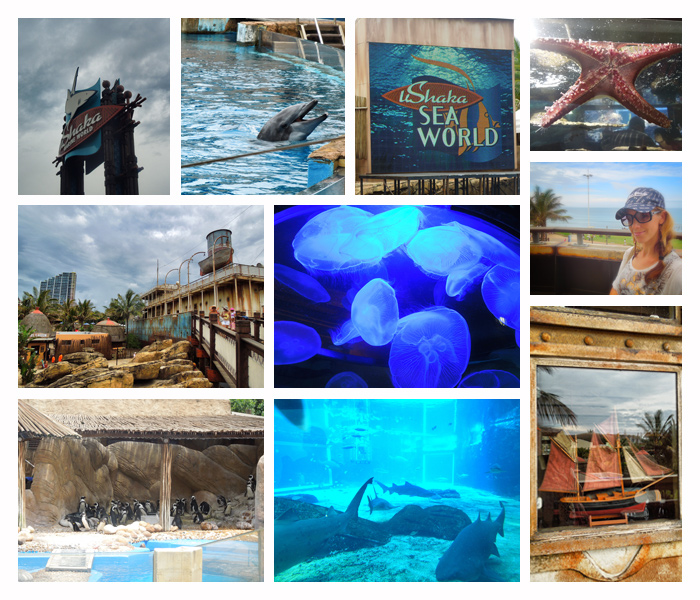 Gateway Wave Pool- Visit Gateway Shopping Centre and learn how to surf at the Wave House. http://www.gatewayworld.co.za/entertainment/wavehouse






KwaZulu- Natal Sharks Board- The KwaZulu-Natal Sharks Board is the only one of its kind in South Africa. Find out more about how they protect bathers from shark attacks as well as what they are doing to research and conserve the shark population. http://www.shark.co.za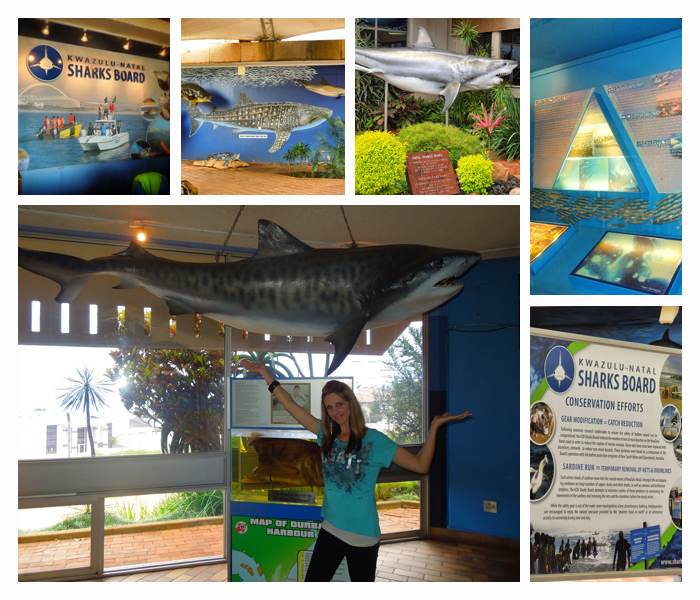 Picnic on the Beach- Pack a picnic and head to the beach for some fun in the sun. Perhaps pack a breakfast picnic and enjoy a bite whilst watching the sunrise over the horizon.



Dine at the Miami Spur in Umhlanga Sands- The Miami Spur has fantastic ocean views and offers great service and entertainment for the kids. Stop by for a bite to eat and meet Tumelo Moloi the fantastic manager; he will have you in giggles.



Book a Seafari with Ocean Ventures- "This unique eco-exploration trip commences with a thrilling beach launch aboard our specially designed Rigid Inflatable Boat. As you explore Durban's shoreline and deeper waters, you may spot dolphins, sharks, turtles and whales (in season). The Durban coastline was once the hunting ground of the largest land-based whaling stations on earth. Now, forty years after the Indian Ocean was declared a whale sanctuary, these majestic animals are thriving. Every winter (June to November only) hundreds of Humpback Whales make a great journey up from the freezing Antarctic waters and pass the warm tropical ocean just off Durban. This is the "Humpback Highway" where we may encounter these 40-ton giants, singing and breaching as part of their courting ritual." Ocean Ventures Website


Umhlanga Lagoon Nature Reserve Hike- The 1 ½ hour- 3 hours hike takes you on a breath-taking trail through a dune and coastal forest surrounded by bird life and other smaller species. Pack a picnic and enjoy a budget friendly day out! Nightjartravel Website
Umhlanga is one of my favourite destinations on the North Coast and the Umhlanga Sands is a great choice for both business travellers and families needing accommodation that has superior facilities and outstanding service. It's such a convenience to bring kids on holiday with every room meeting basic needs such as a kitchenette with a microwave, game plug ins for all those gaming enthusiasts, DSTV with kids channels, activity programs for the kids, restaurants and entertainment- all aimed for children. The fact that one doesn't even have to leave the resort to have a remarkable time, just shows that Umhlanga Sands is keeping up to their legacy of 'Kid is King'.

I would personally like to thank Derek McKillop (General Manager), Pranesh Sukhdeo and Yedisha Deonarain for accommodating and making my stay a memorable experience. It's amazing how one can sit in the centre of it all and watch how many families and people are having such a great time and just consistent positive comments about the resort and its wonderful staff.
Umhlanga Sands Resort may have had a revamp but their heart is still as warm and welcoming as ever!

To Find out more and Book Now: Umhlanga Sands Website
Click Here for the Umhlanga Tourism Website
Pace Yourselves
Little MMI