"The time came for me to experience an off-road guided 4X4 trail and I couldn't stop pondering how this vehicle was going to hover over ditches the size of super potholes and climb hills that were so steep."
Arriving at Mbizi Lodge for the 'Conqueror Off-Road Camper' weekend, I was surrounded by a world of giant vehicles and trailer units that converted into sleeping quarters resembling something out of a "Transformers" movie.
Standing in front of all the tent pieces and poles, I pondered a life of instantly putting the tent together by just a glance of my eye. I couldn't help but feel intimidated by the professionals that bordered my stand... the men with tent pole constructing knowledge. Their body posture, demeanour and method of communication were like something out of a camping finishing school. They were so posed and yet so confident that they knew every pole, where it needed to fit as well as the degree at which the pole should be positioned. Little camping robots they were and I couldn't even figure out the difference between the front door and a window. Hehe!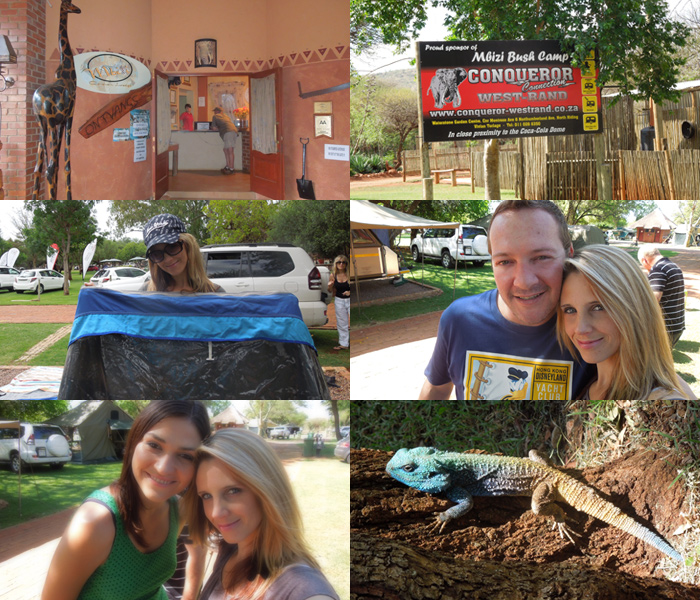 During all the setting up commotion, I started noticing 'Conqueror' trailers entering the facility attached to their big metal 4X4 pulling machines. Completely fascinated by their army exterior design and small compact size, I started sneaking towards a tree to spy on how this trailer could transform into a fully self contained sleeping facility. Throughout my adventures I have mastered the art of tree hiding and have gained vital skills in blending with my natural surroundings.

"Hi... I'm Gert, would you like to see what this trailer can do"? Was he talking to me? I started staring at the tree and pretended to study the leaves and debris amongst its roots and again the man spoke. "I recently traded my other trailer in for this one, once a Conqueror always a Conqueror". At that point I waved my white flag and proceeded to show interest in his beloved rectangular box on wheels. If there is one thing you need to know about any serious outdoor camping man, always appreciate his gadgets and pay attention to the significance and relevance of the particular device in question. Camping men of the great outdoors have their pride grounded into their camping possessions and showing interest in this regard will show him that he indeed is a warrior of the outdoors. His camping reputation depends on it! I was amazed at all the built in features this trailer had to offer and once I saw the built in kitchen, I was sold! This was my dream camping machine.
The 4X4 adventure was about to begin and I made my way to the location where I was welcomed by a team of off-road professionals with various 4X4 vehicles. I was on a mission to find out what their opinions were on 4X4's and which dirt monster was the preferred choice for roughing it in the big wild universe and the answer filtered my head like the common snap game. Words were placed upon each other whilst my womanly genius brain tried to detect a word that I would understand and as soon as a familiar word was mentioned... ~snap~... they had my attention! Suspension... torque... compression ratio... cylinder... brake force distribution... blah blah blaaa dee blah... sun roof... SNAP! I love a sun roof! Storage space, glove box cooler, DVD and sound system, leather... SNAP SNAP SNAP! 4X4's are very complicated metal carriages to understand and if you want women to appreciate them, try focus on the characteristics and qualities that she would appreciate and comprehend. Think kitchens, food, storage, gadgets and any features that would indeed make her look fabulous. I mean what is torque anyways? It kinda sounds like a tortoise species of some kind!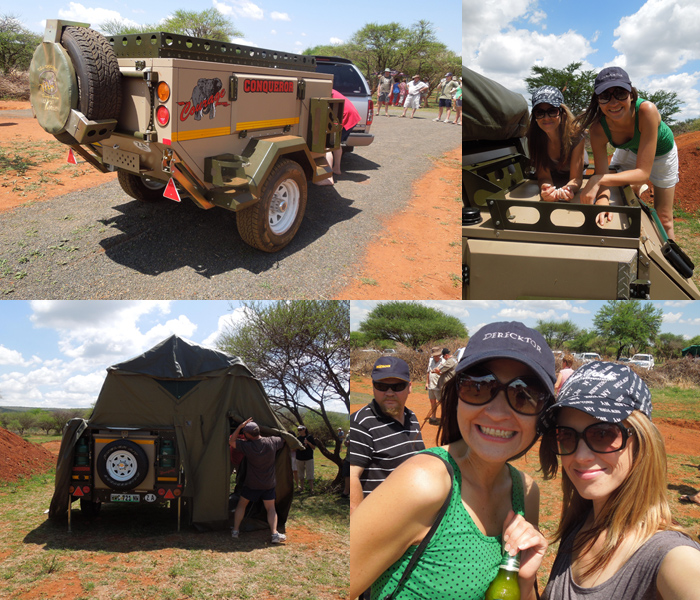 The time came for me to experience an off-road guided 4X4 trail and I couldn't stop pondering how this vehicle was going to hover over ditches the size of super potholes and climb hills that were so steep. The driver assured us that we were in safe hands and we headed off on our journey.

It was such an exhilarating experience to say the least... would we get over the hill or would we get stuck in the wild and get chased by a herd of buffalo? All this adventure got me so excited and each successful obstacle made me more of an off-road 4X4=16 fan. At that moment I figured the perfect driveway to any home would be a mini 4X4 trail! Imagine the fun all your visitors would have?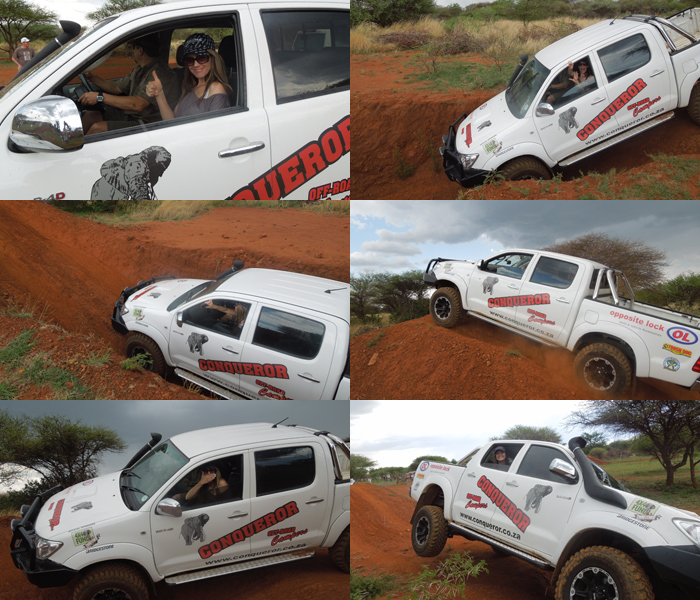 After the experience we walked towards the car park and spotted an oasis in the middle of the bush... a beer stand. I was in my element and enjoyed an ice cold beer whilst watching the storm make its way towards our camp.



This event was a truly thrilling experience and one that I would recommend especially when interested in purchasing a 4X4. You may not understand all the terms and technology verbalized but actually experiencing the vehicle in action makes it all an easy decision.



Until Next Time
Little MMI