"This is the one time in my life that I was actually quiet, feeling the breeze and listening to the birds made me fall in love with Africa all over again."
There is a place in Eastern South Africa that is touched with astonishing views and breathtaking locations. Whilst driving to Mpumalanga (meaning- 'where the Sun Rises'), I was teased by glimpses of the sunset beaming through some mountainous terrain on the tarred road. An aroma of winter grass was drifting through my vehicle as I munched on a road snack dropping little pieces of biltong everywhere. I was so excited for this outdoor adventure and it wasn't long before my vehicle became the stage for a car dance. I have this little thing when travelling; I like to dance in the car. My hands wave around using the steering wheel as a tapping device and my feet do these creative dance moves in the tiny foot compartment of my 4 wheeled moving mechanism. I found a remarkable spot that I pulled over to take a moment to absorb the beauty of the sunset that was right before me. There are moments like these that become priceless in my life... moments that I just want to take in and treasure. South Africa is beautiful!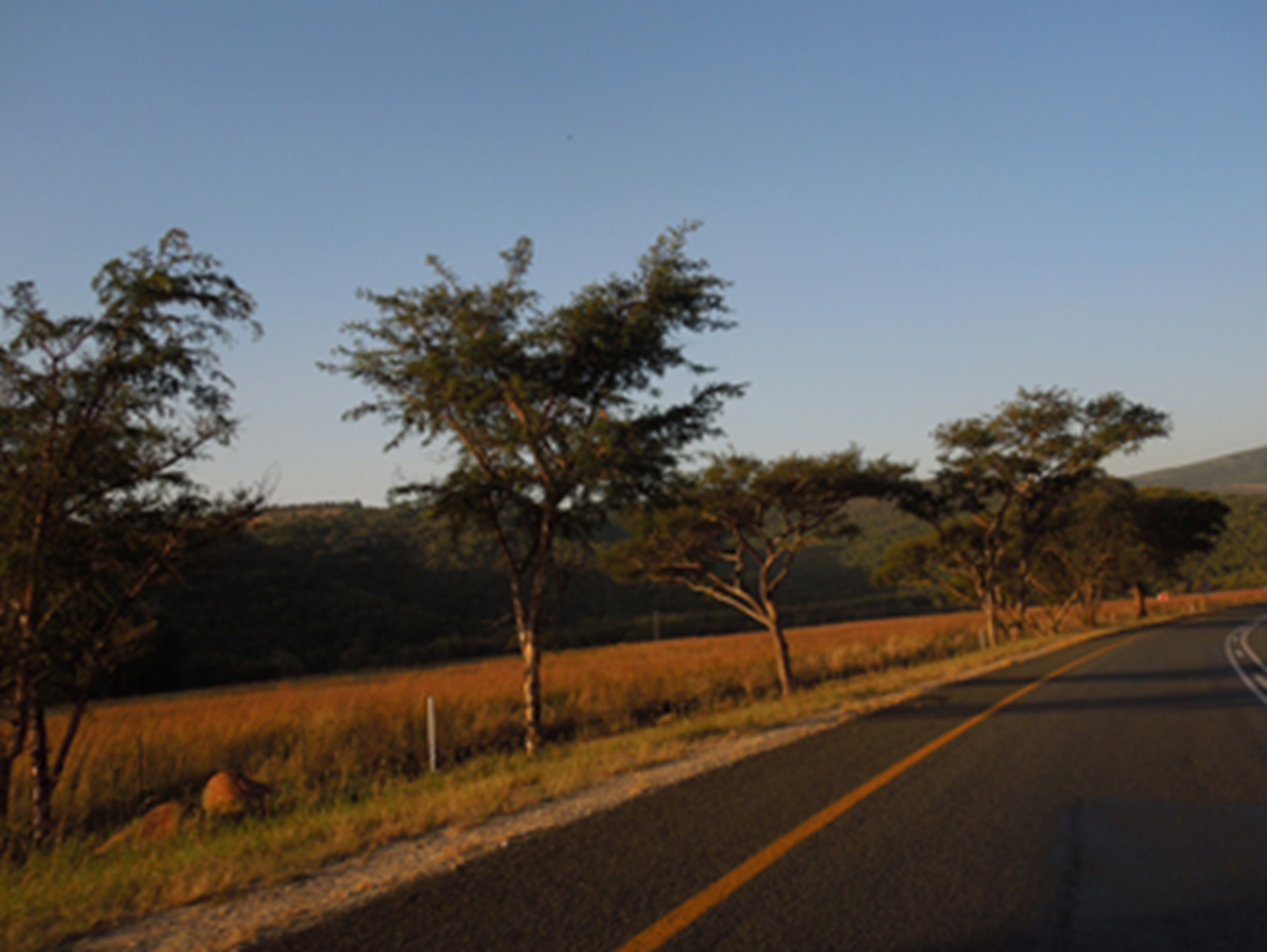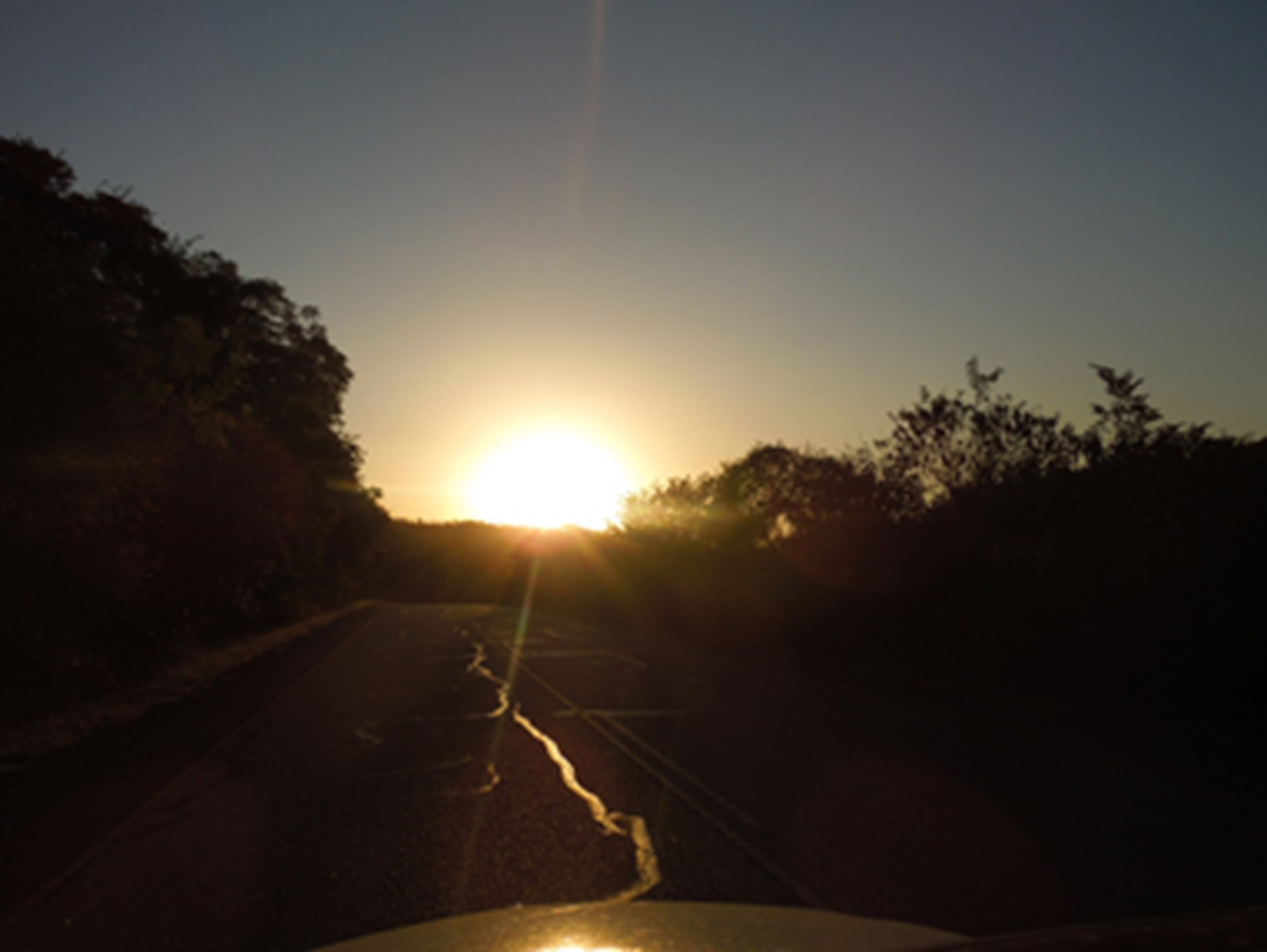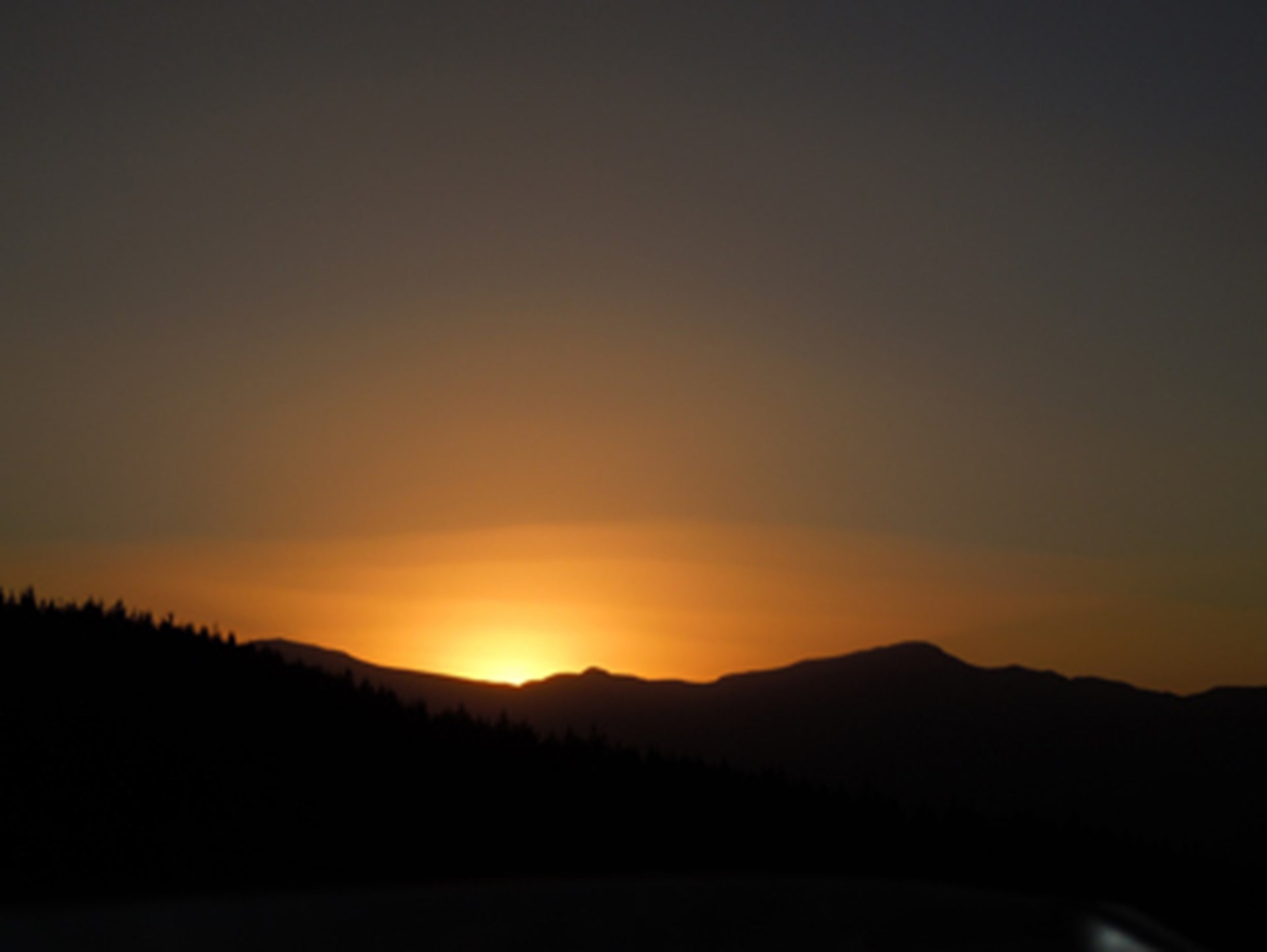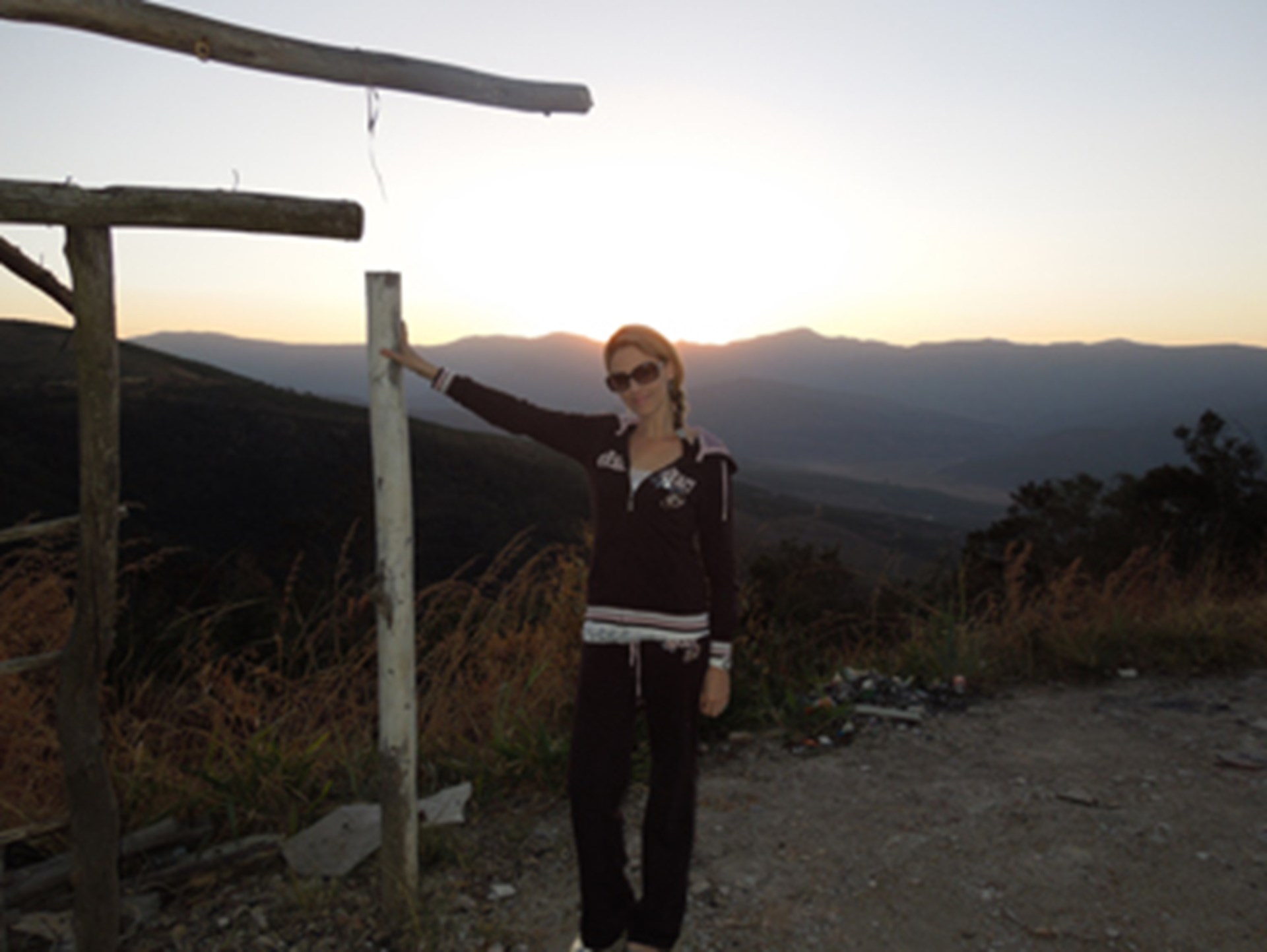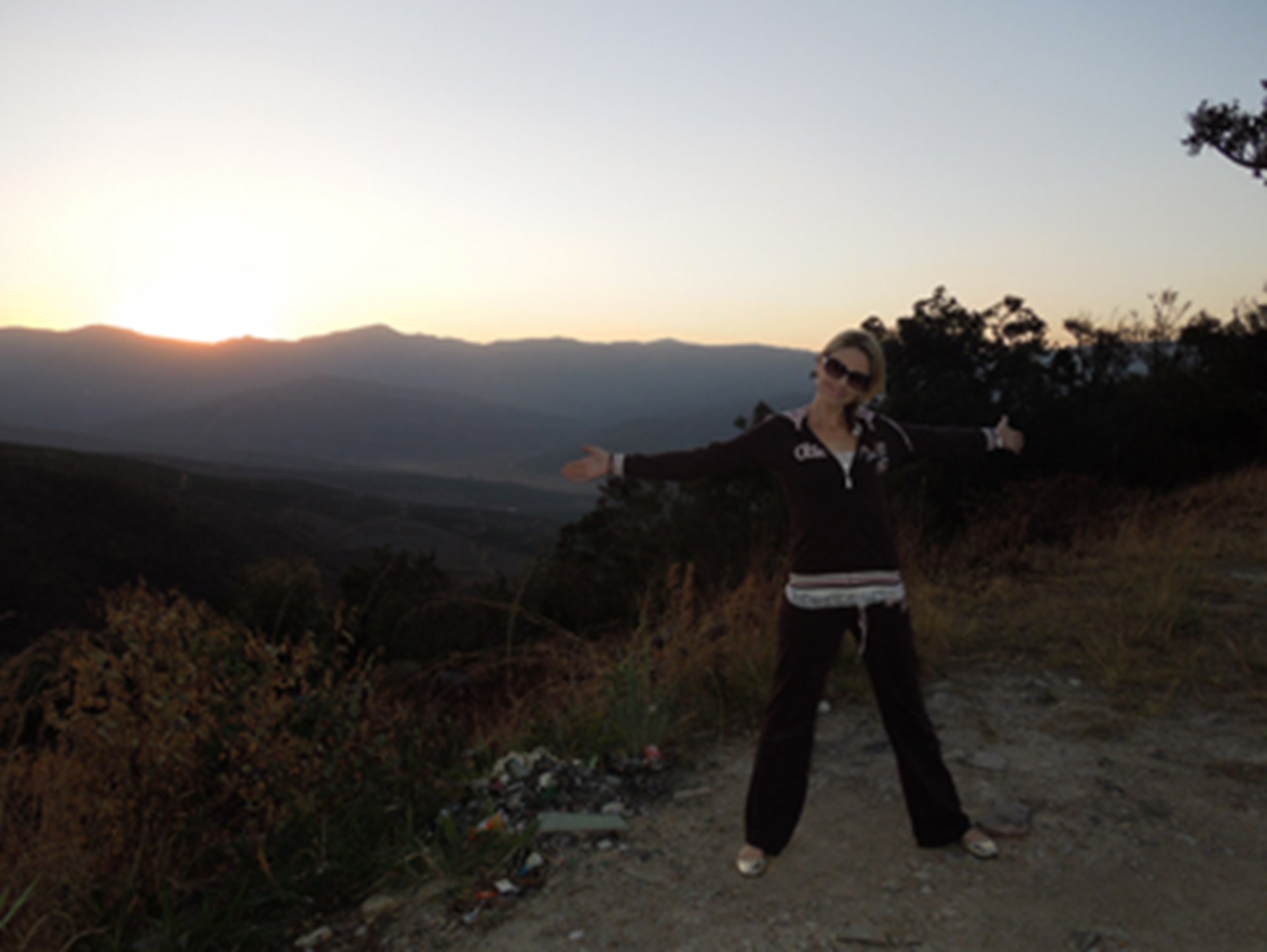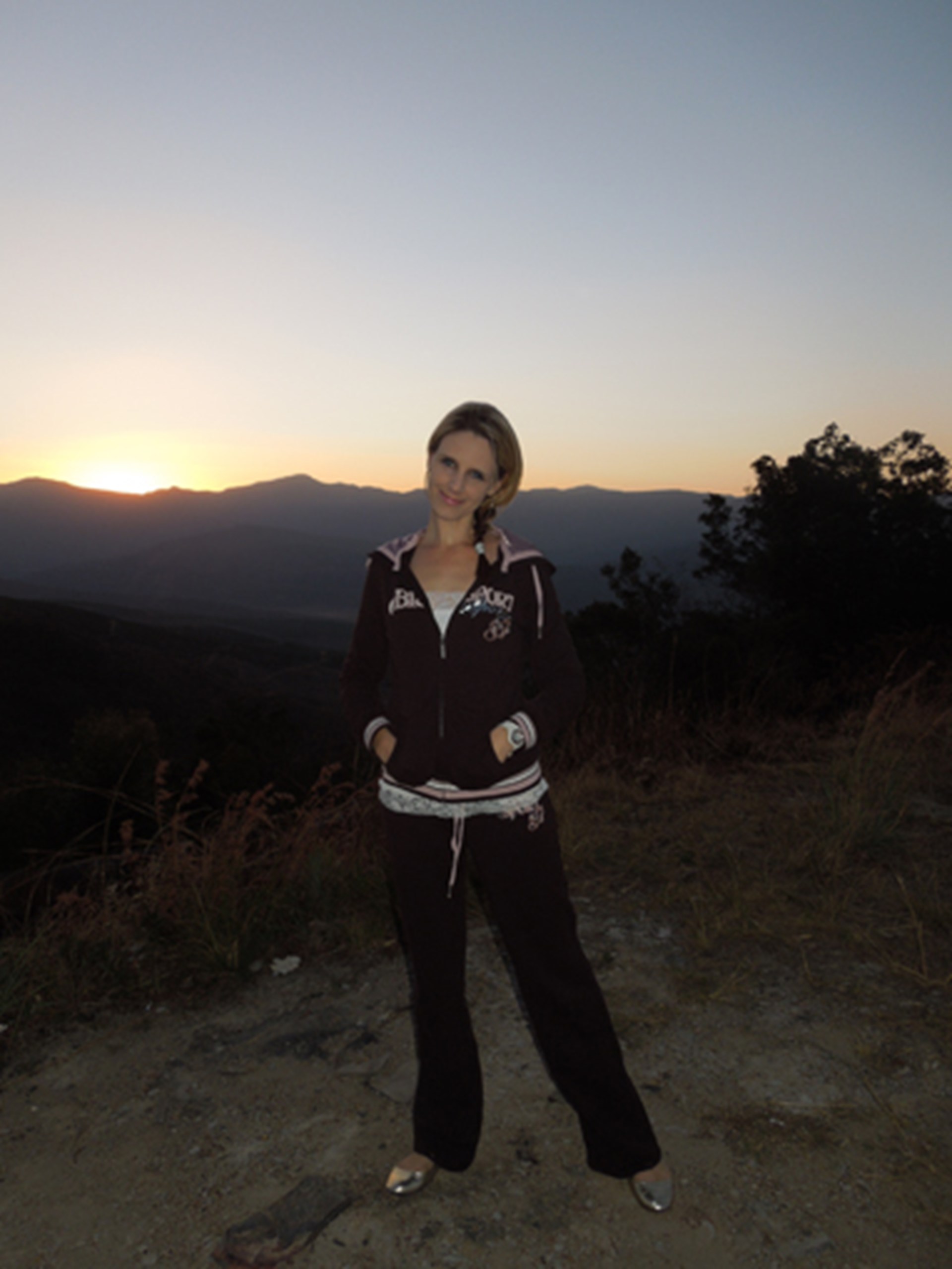 Choosing a bed rest location in Mpumalanga is difficult not because of a lack of accommodation but because every place you view on the internet looks so incredible that it leaves you more confused as to where to make your 'home away from home' base. I came across a quaint little place in Graskop called 'Dar Amane' that is elevated in the mountains and situated in close proximity to all the places I wanted to explore. Arriving just after dark I was greeted by a row of candles glowing along the walkway and the most delicious snacks of baba ganoush and Moroccan delicacies. Whilst sipping on an ice cold beer, I started surveying my room and the decor in the room was extraordinary. The African/ Moroccan designs were remarkable and I was even more surprised when I found out most of the furnishings were created by the owner himself. The giant shower, African painted doors and the brightly coloured loo were a few of my favourite features. Something that fascinated me most was going to loo... everytime I turned on the light an extractor fan started. Amazing! I love bathrooms and I'm always interested to see how guest houses make a silly little room into something exciting and decorative! The night ended with a delicious Moroccan meal and chocolate meringue dessert.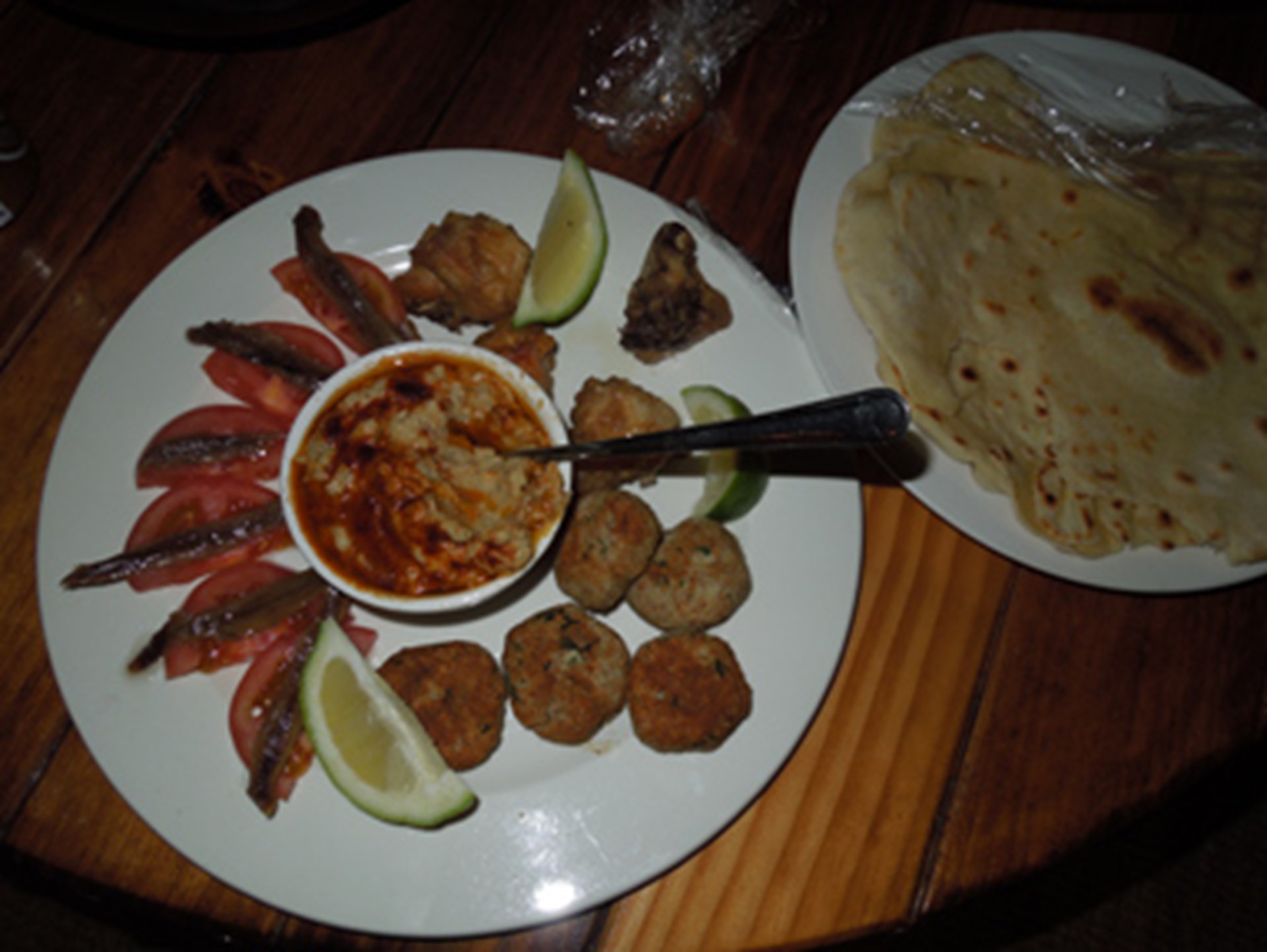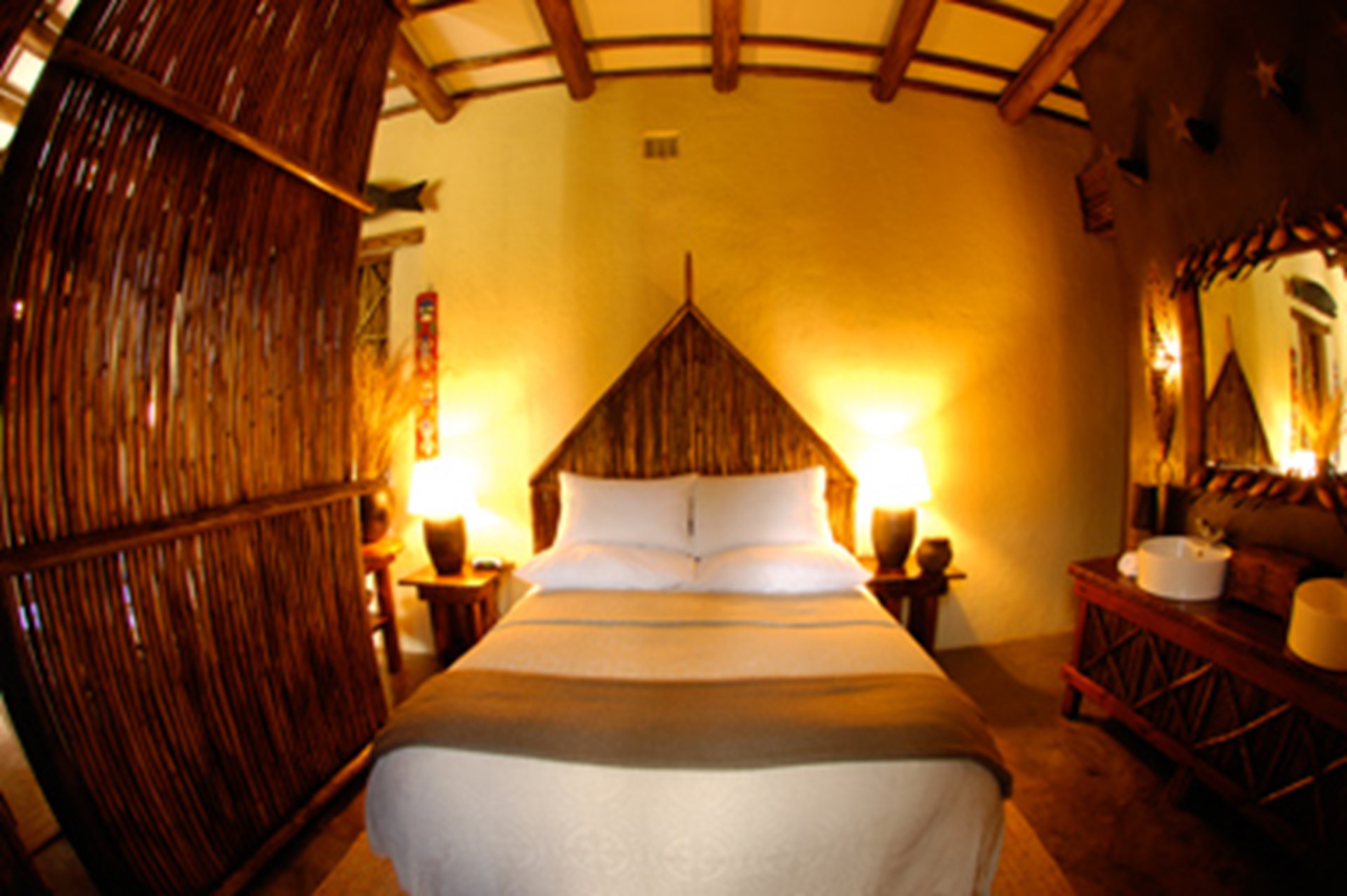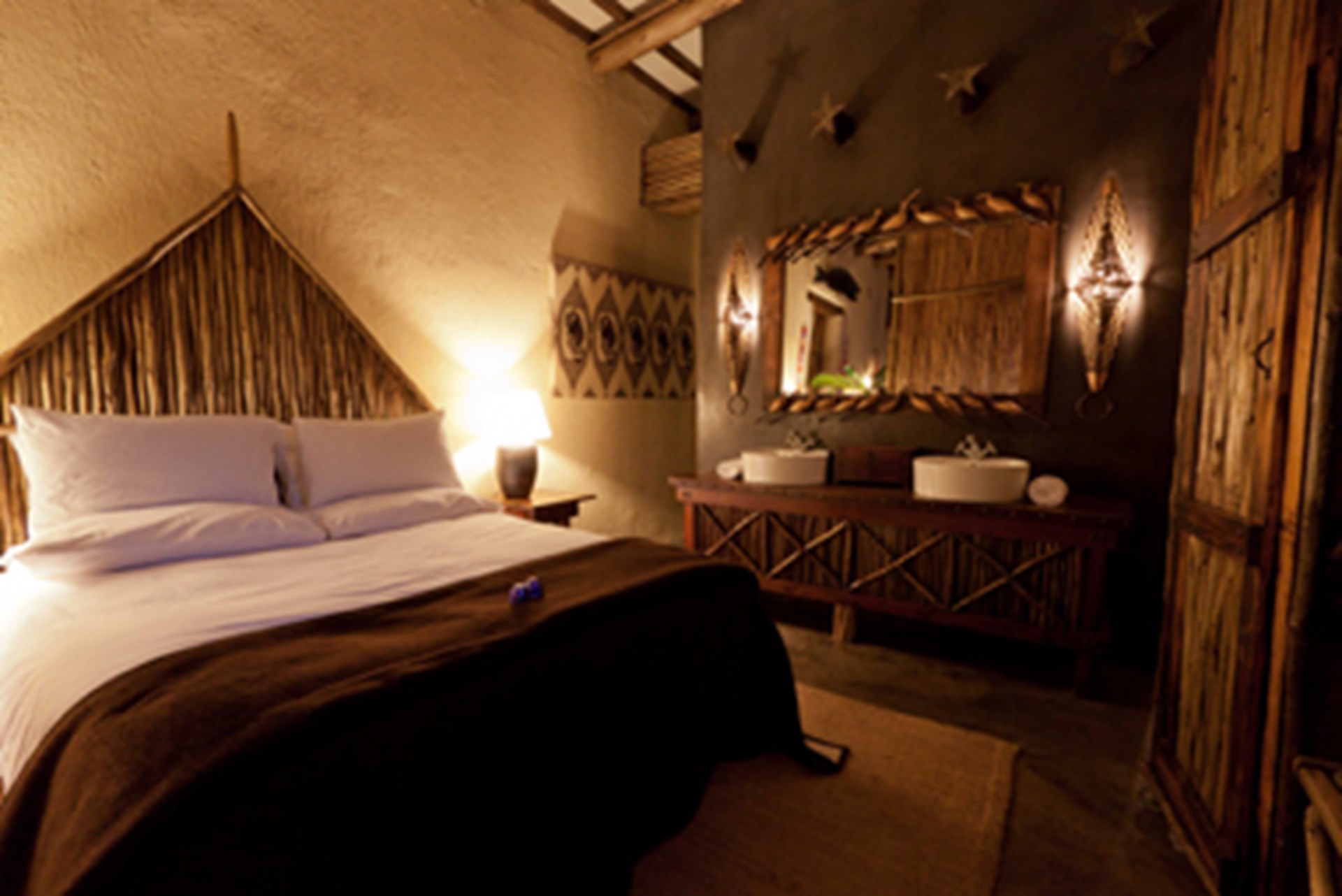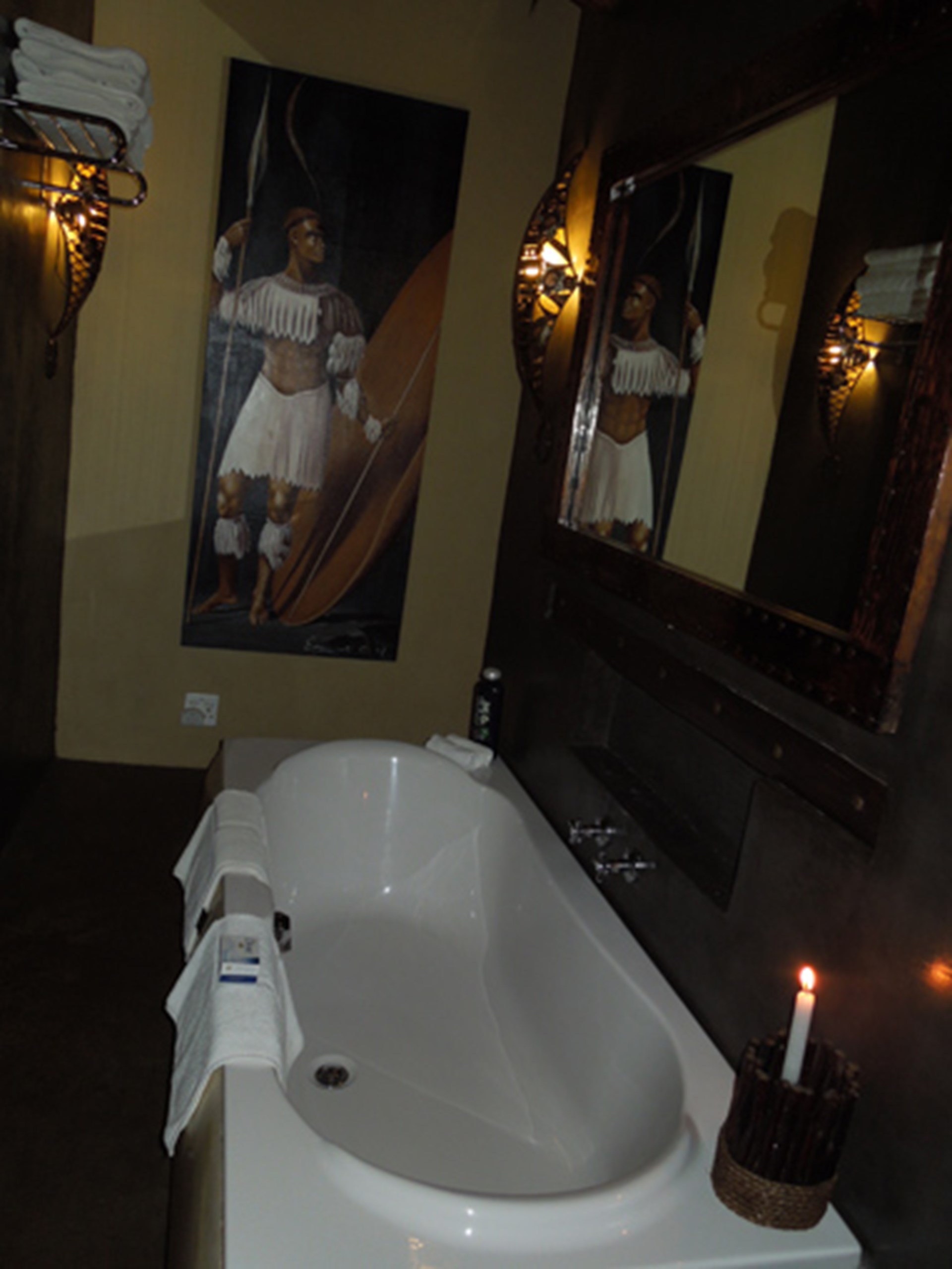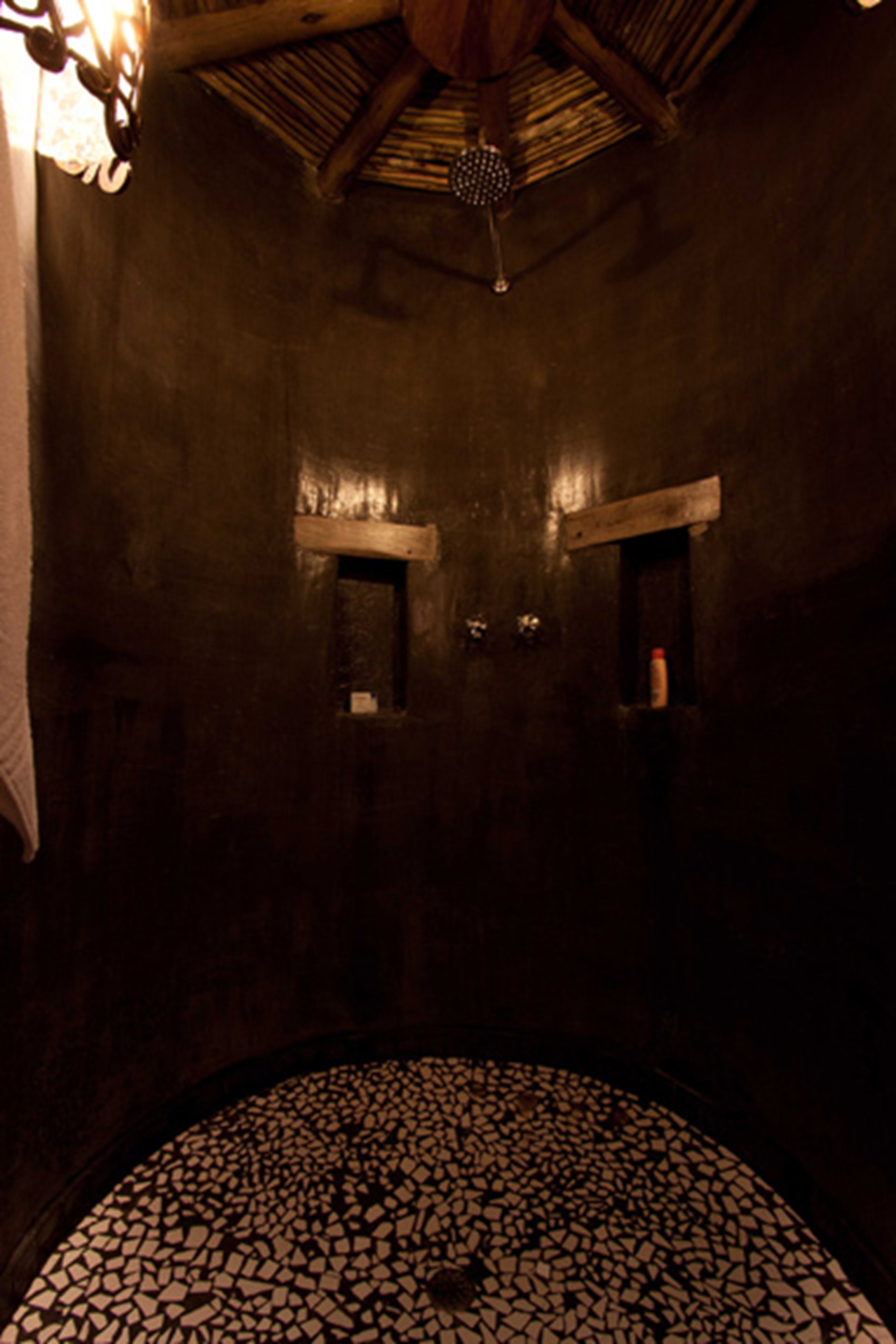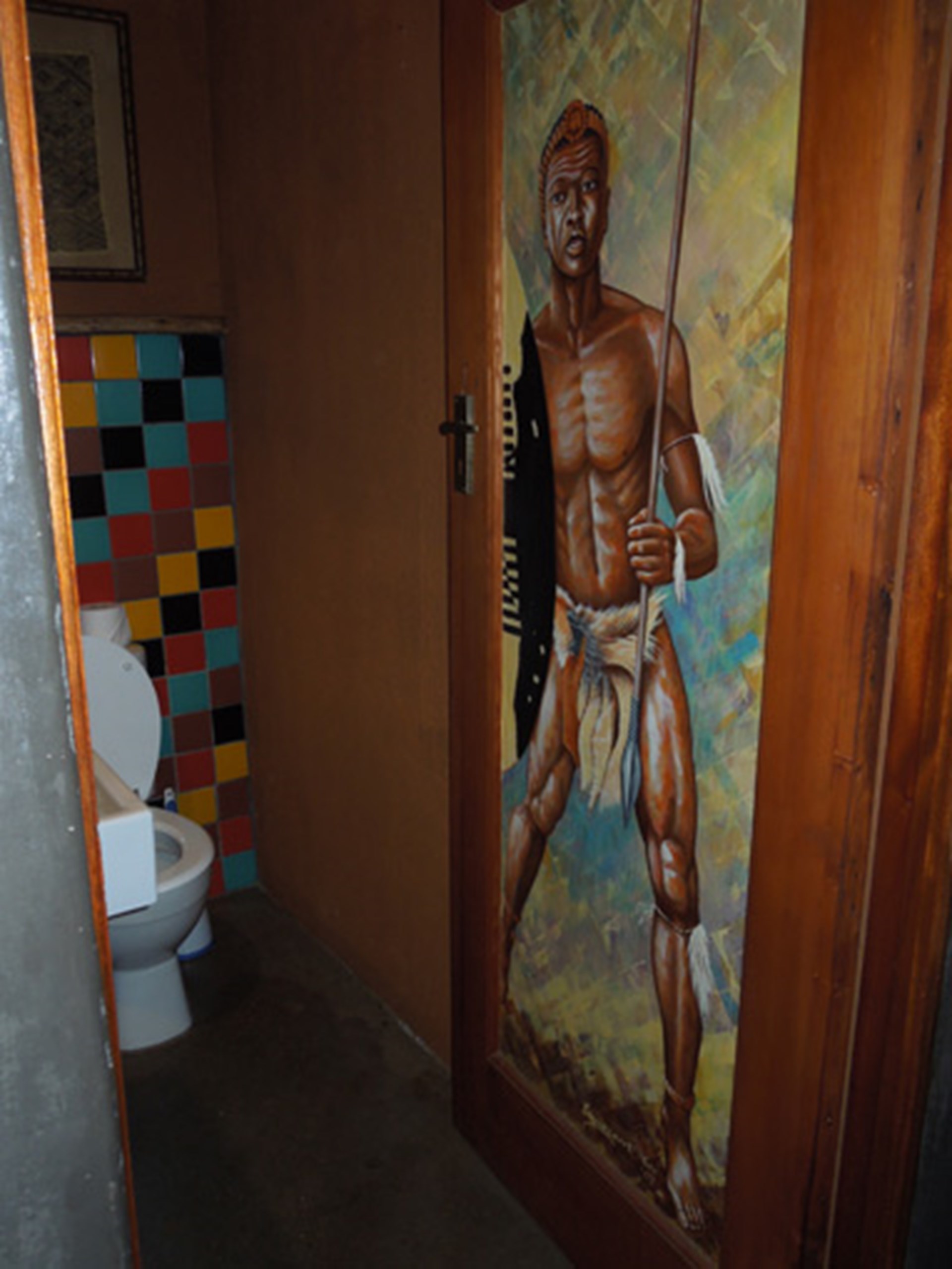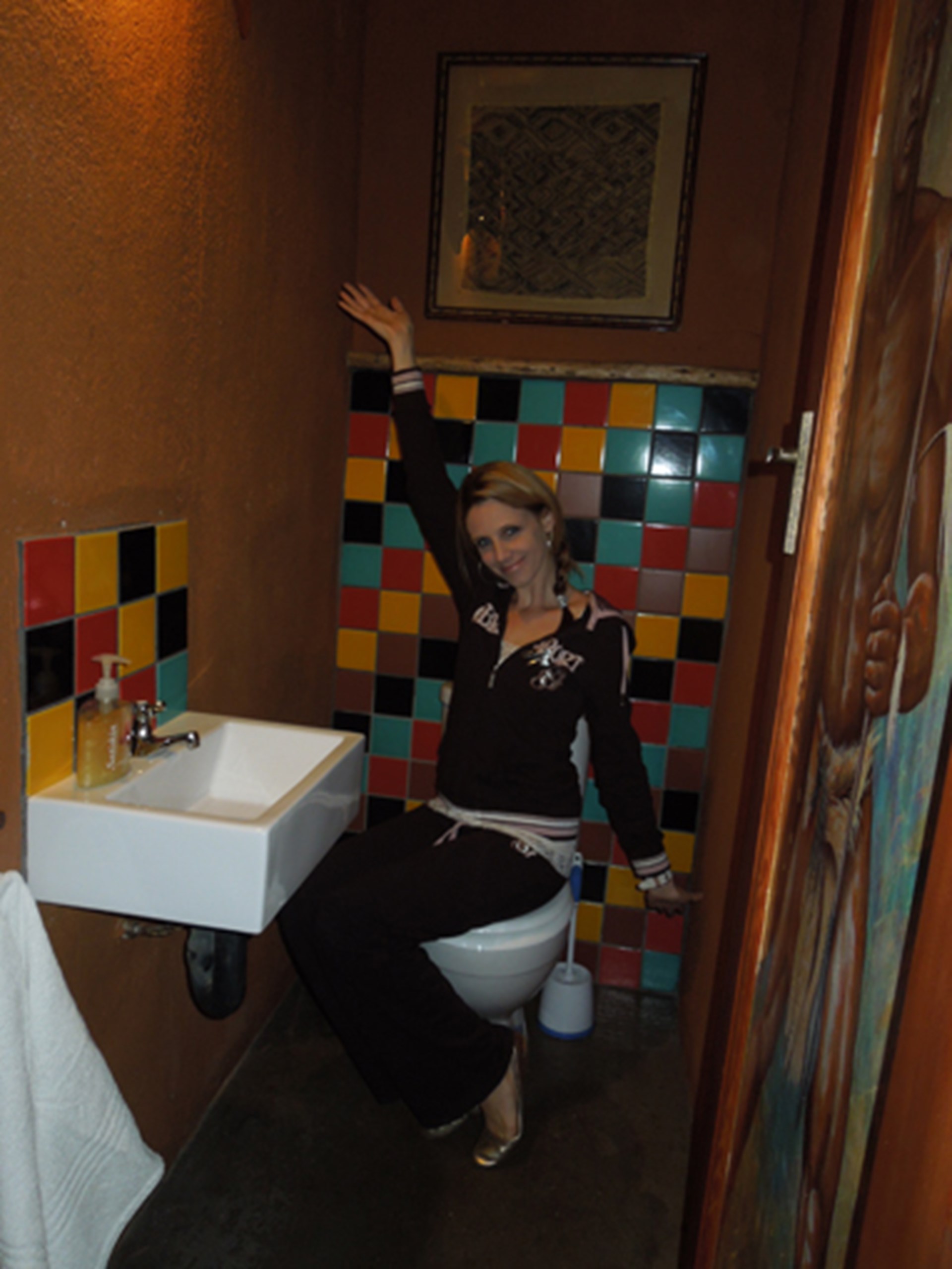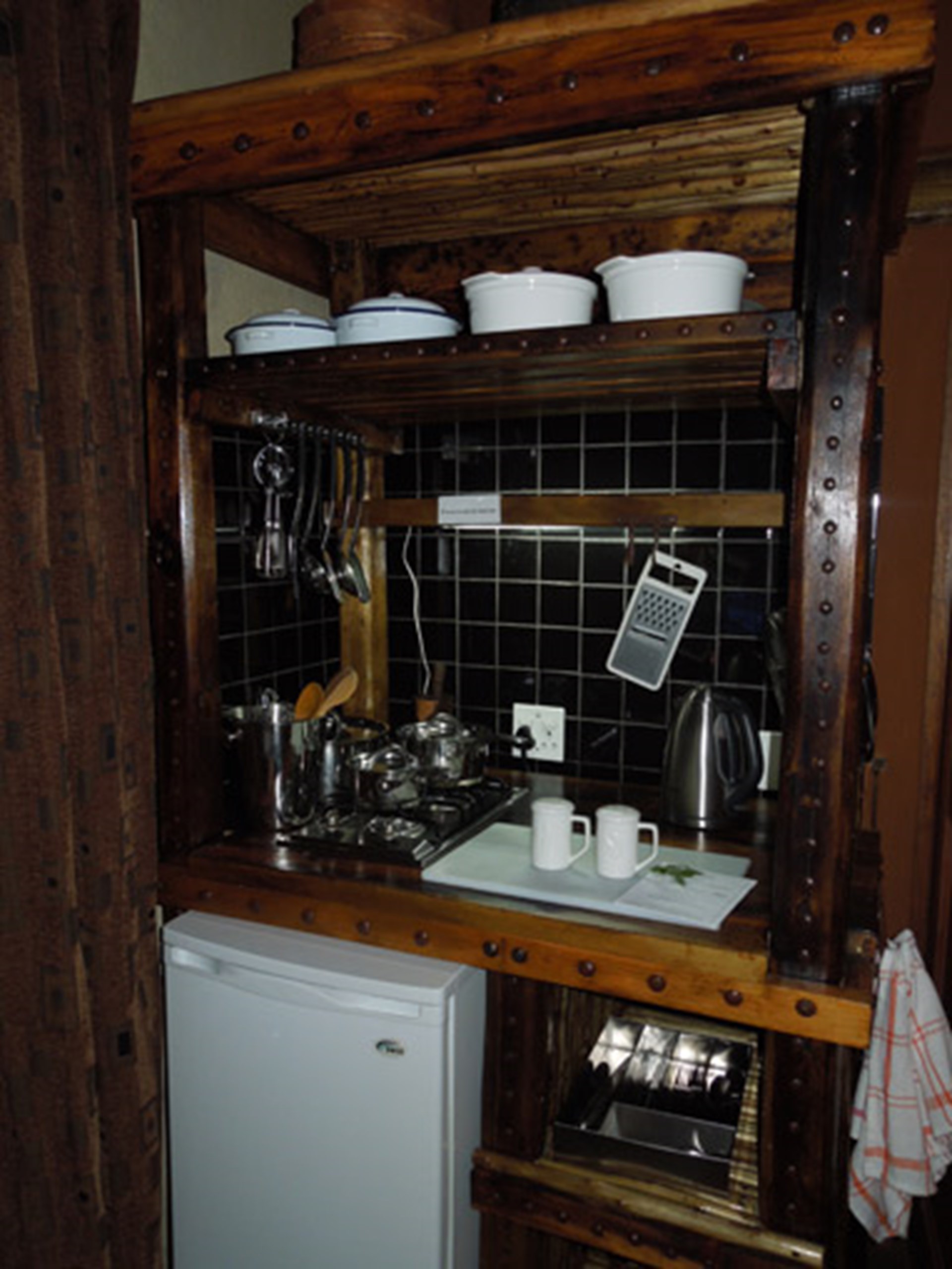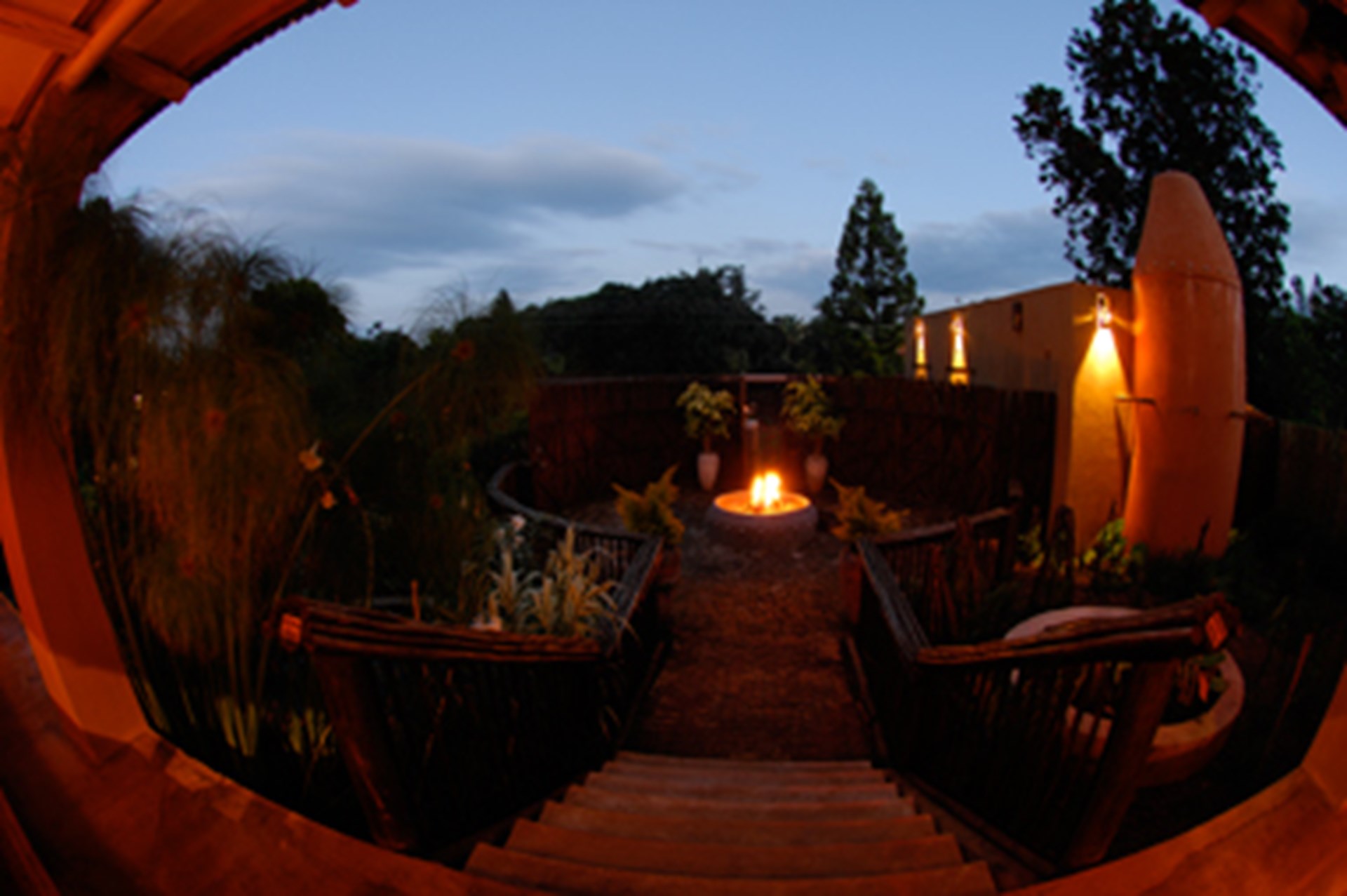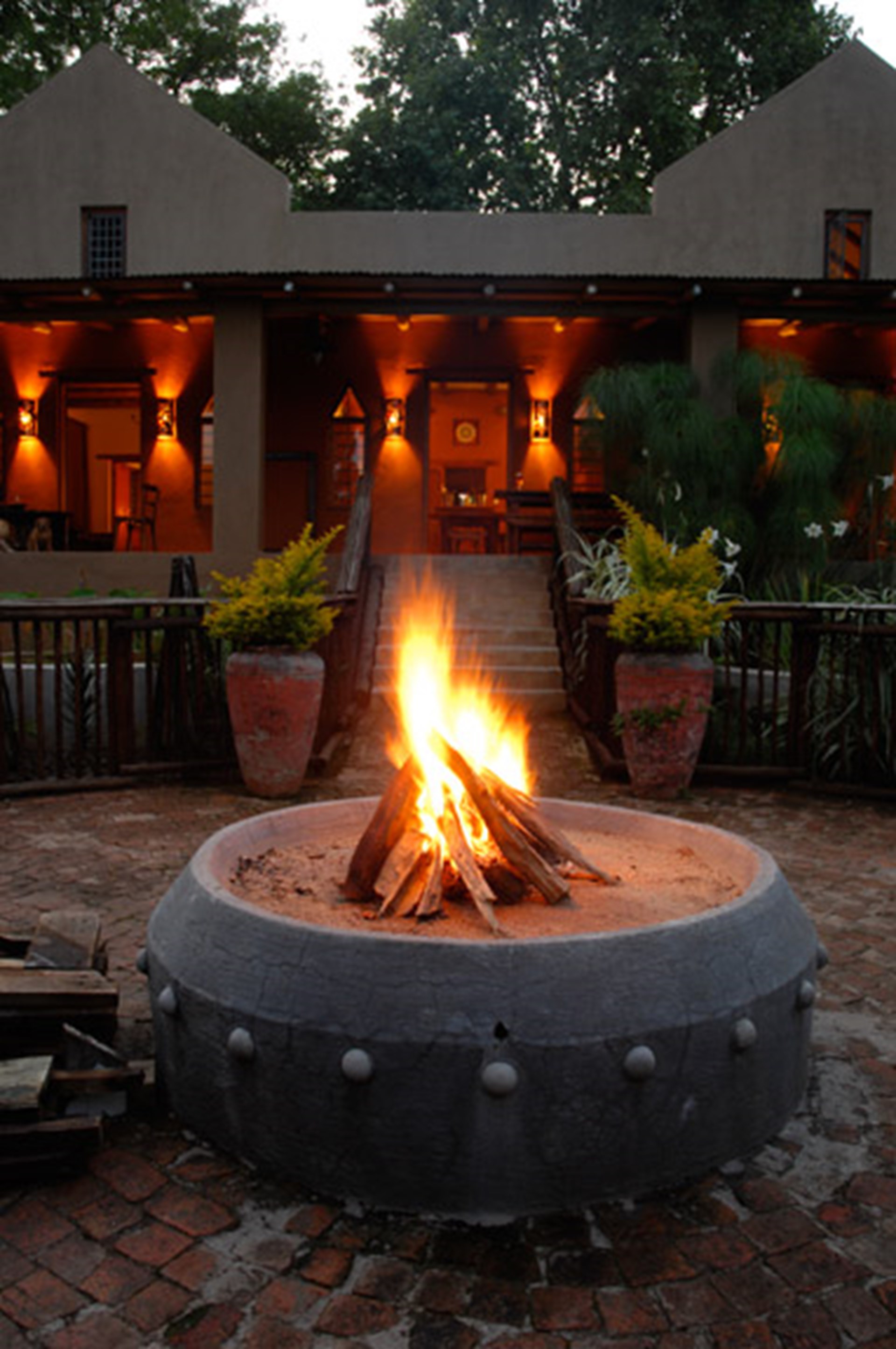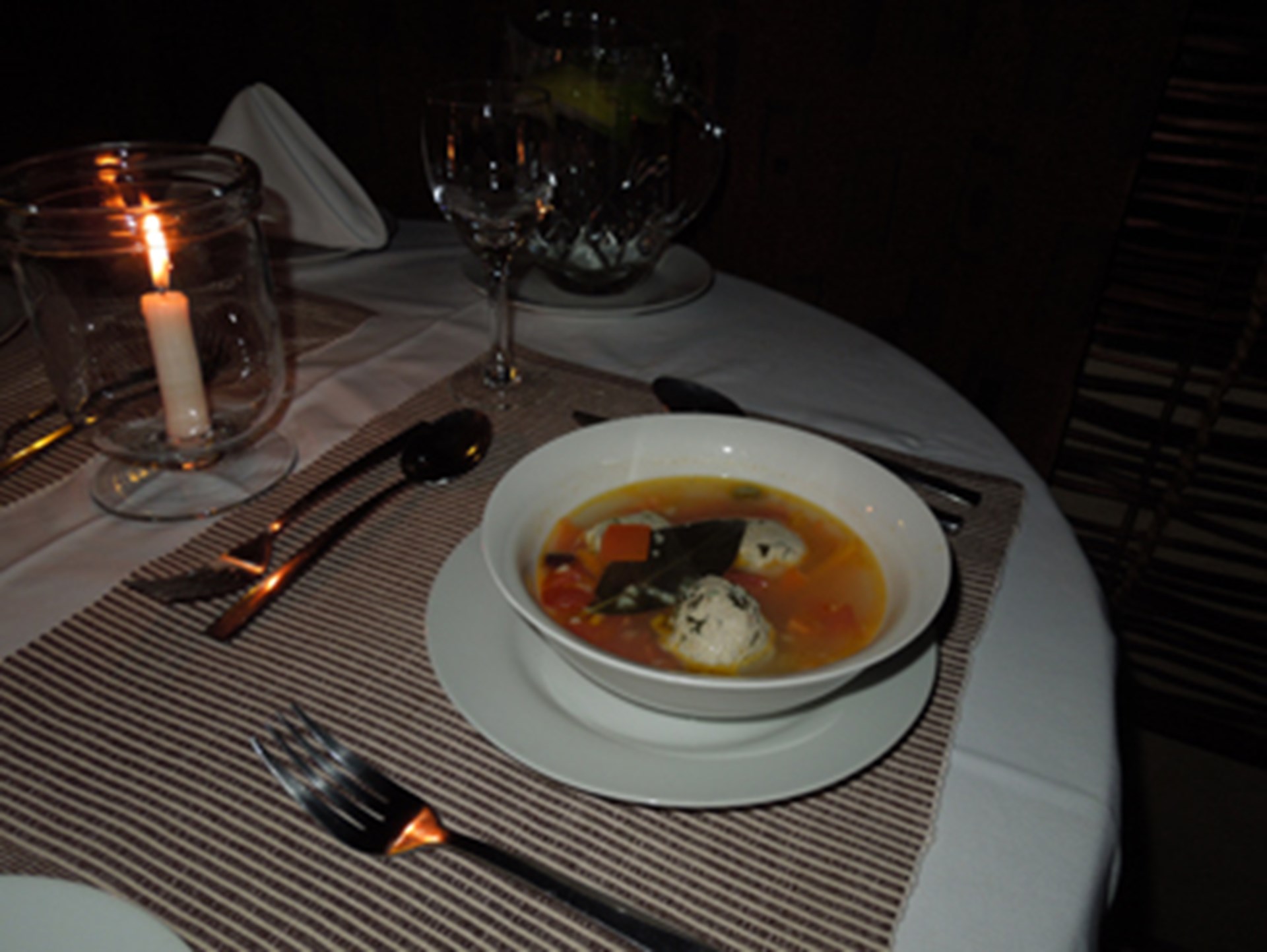 In the morning I scouted my surroundings to find I had my own little private rainforest right outside my door. The yummiest breakfast was waiting for me with freshly brewed coffee, homemade preserves and bread. After fuelling my energy I was ready for my adventurous day!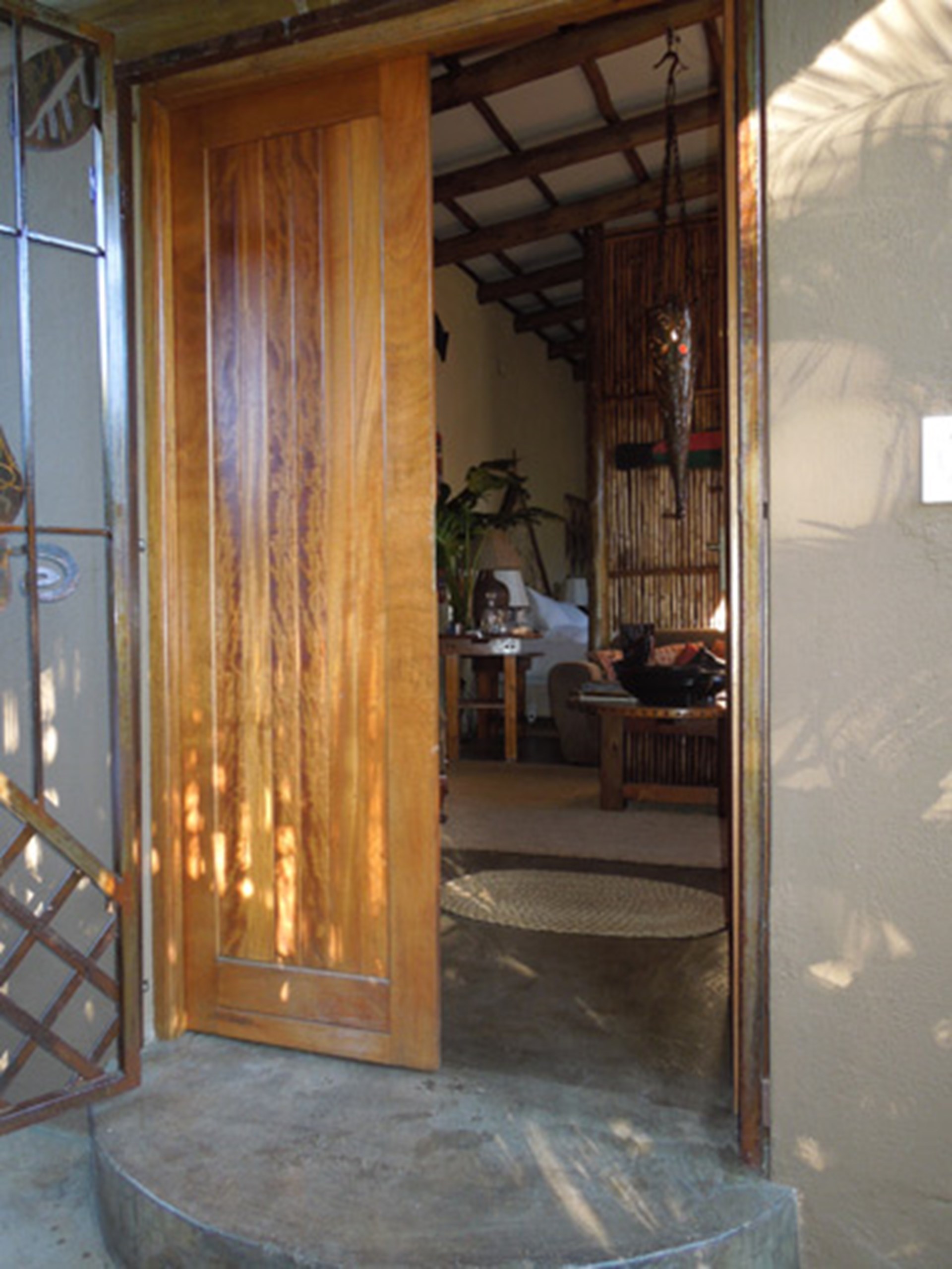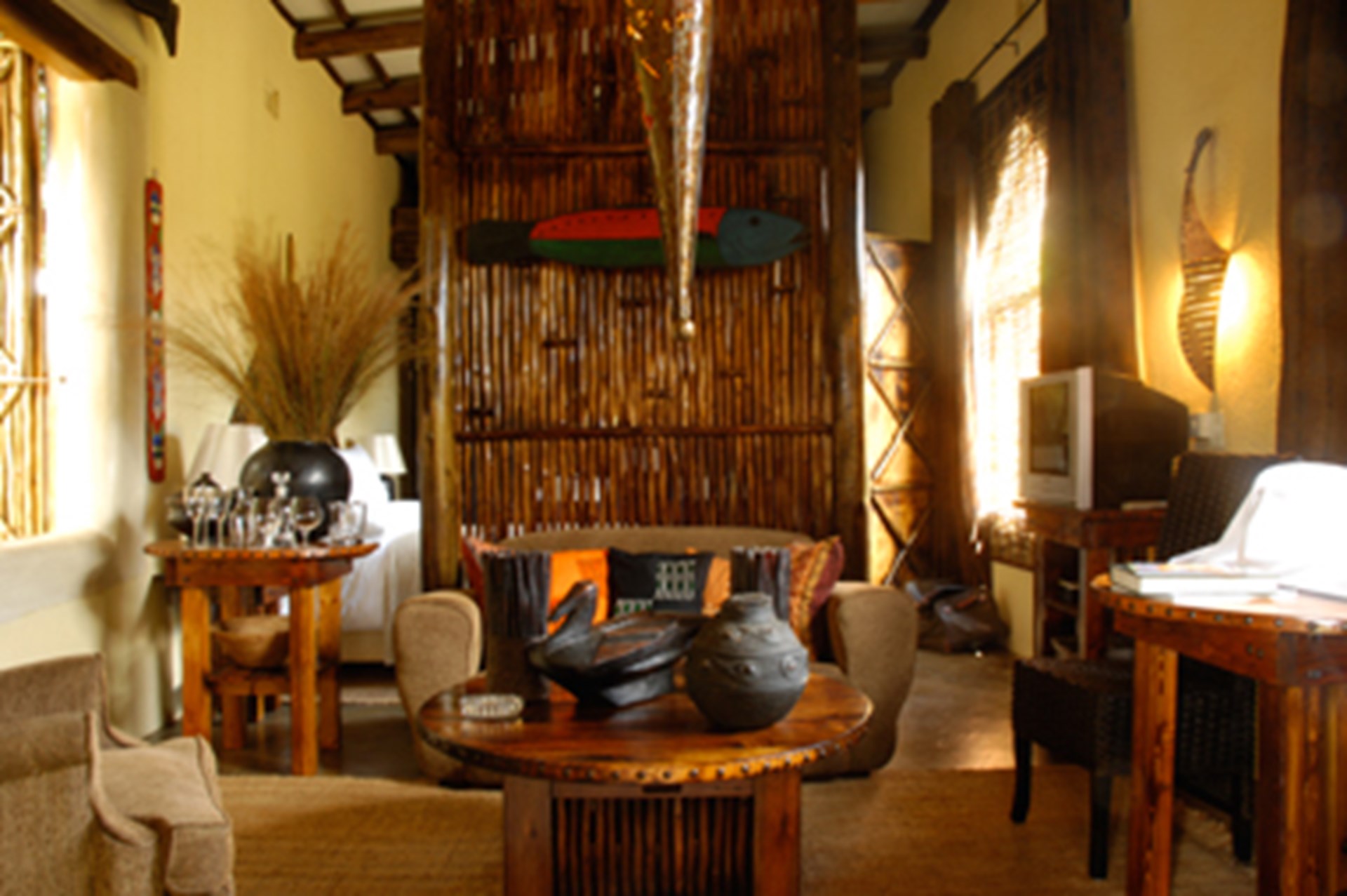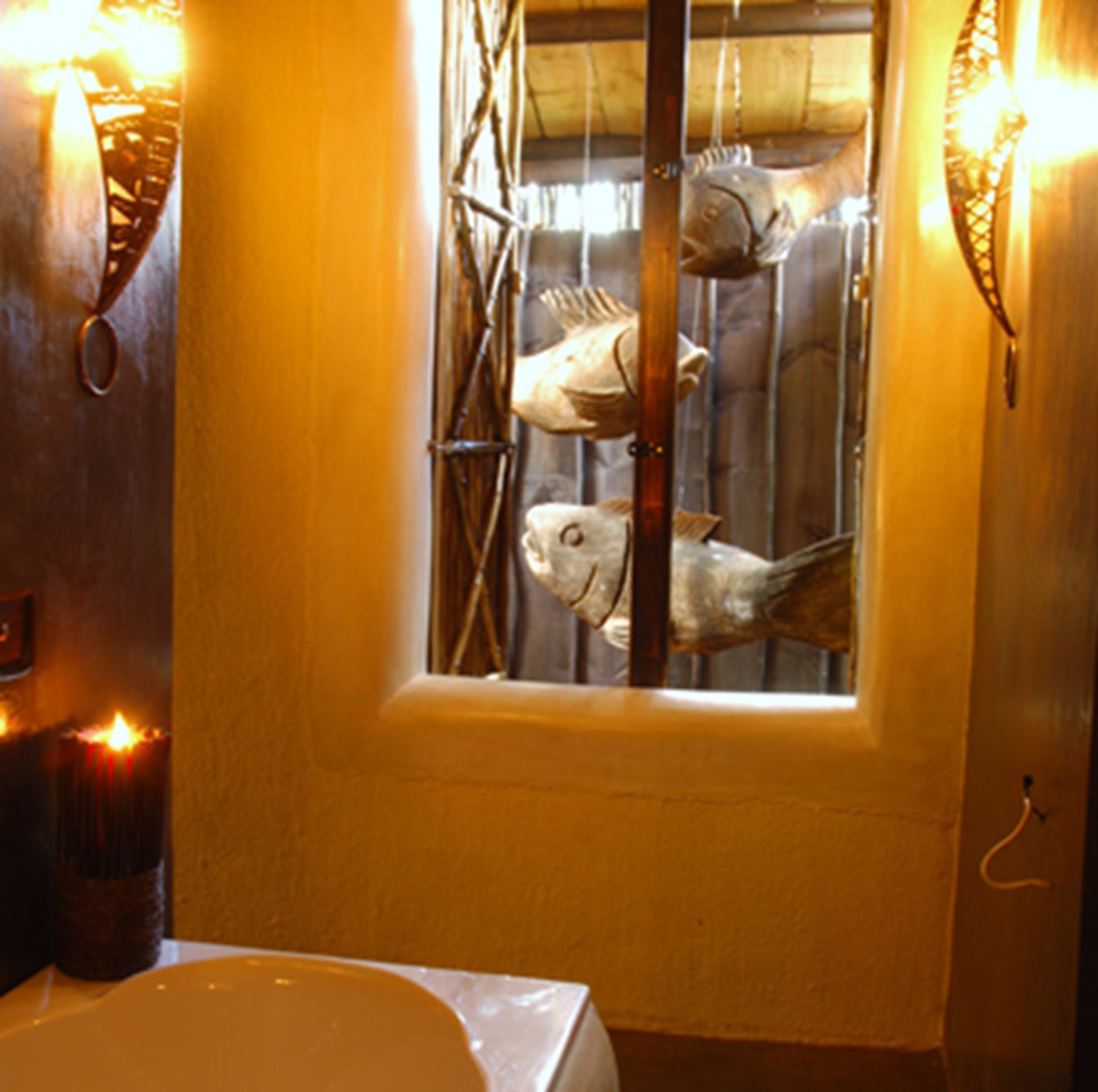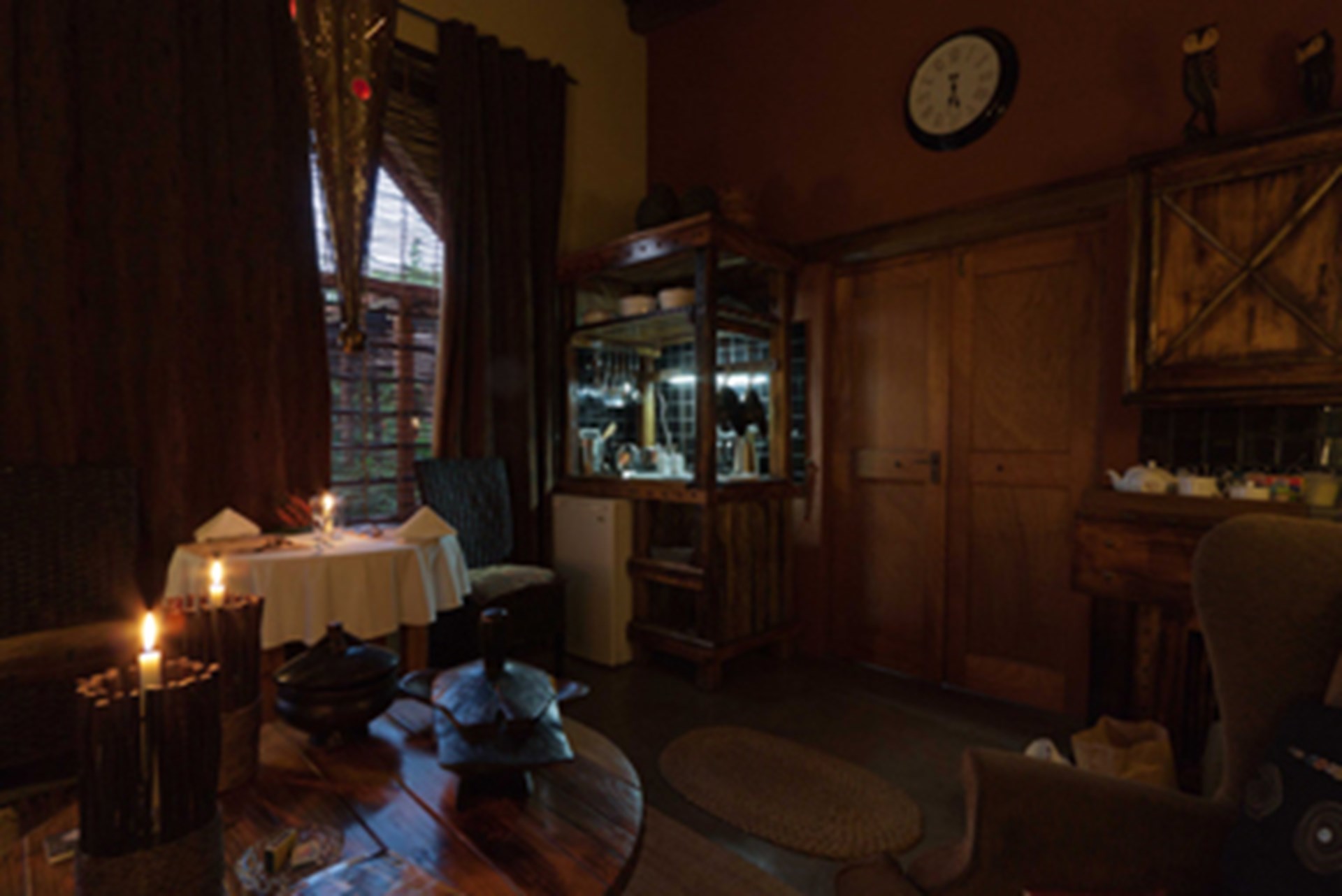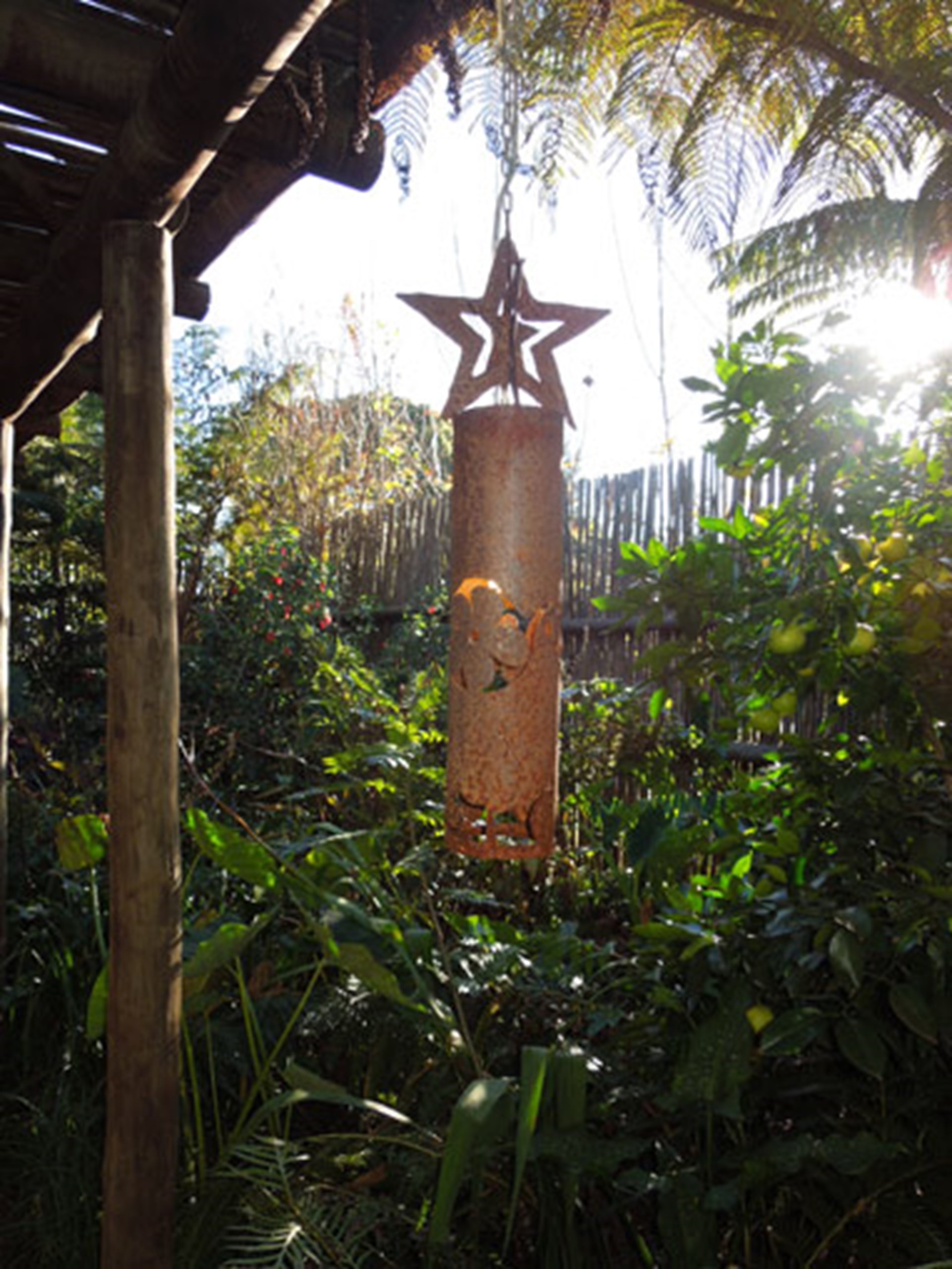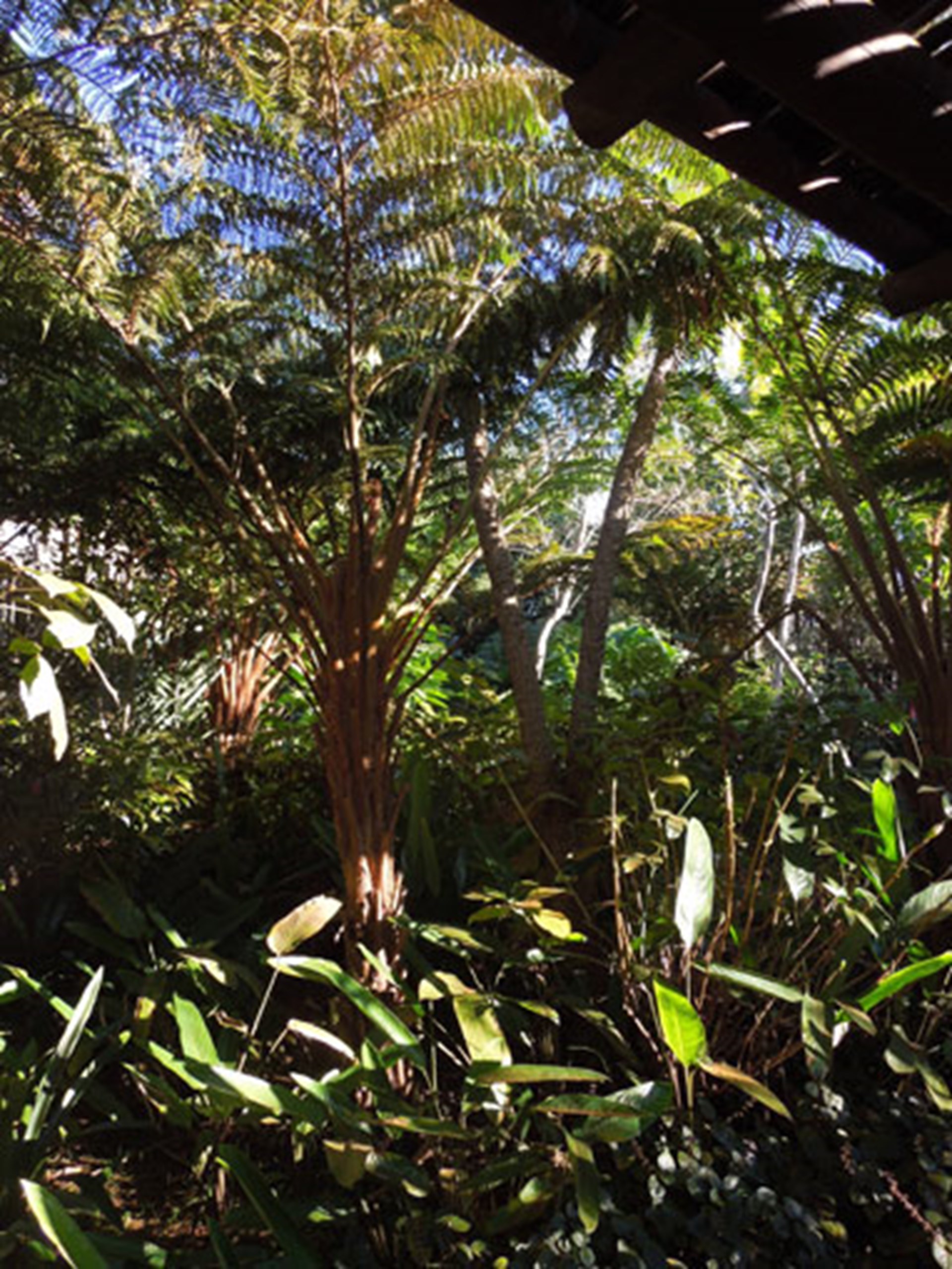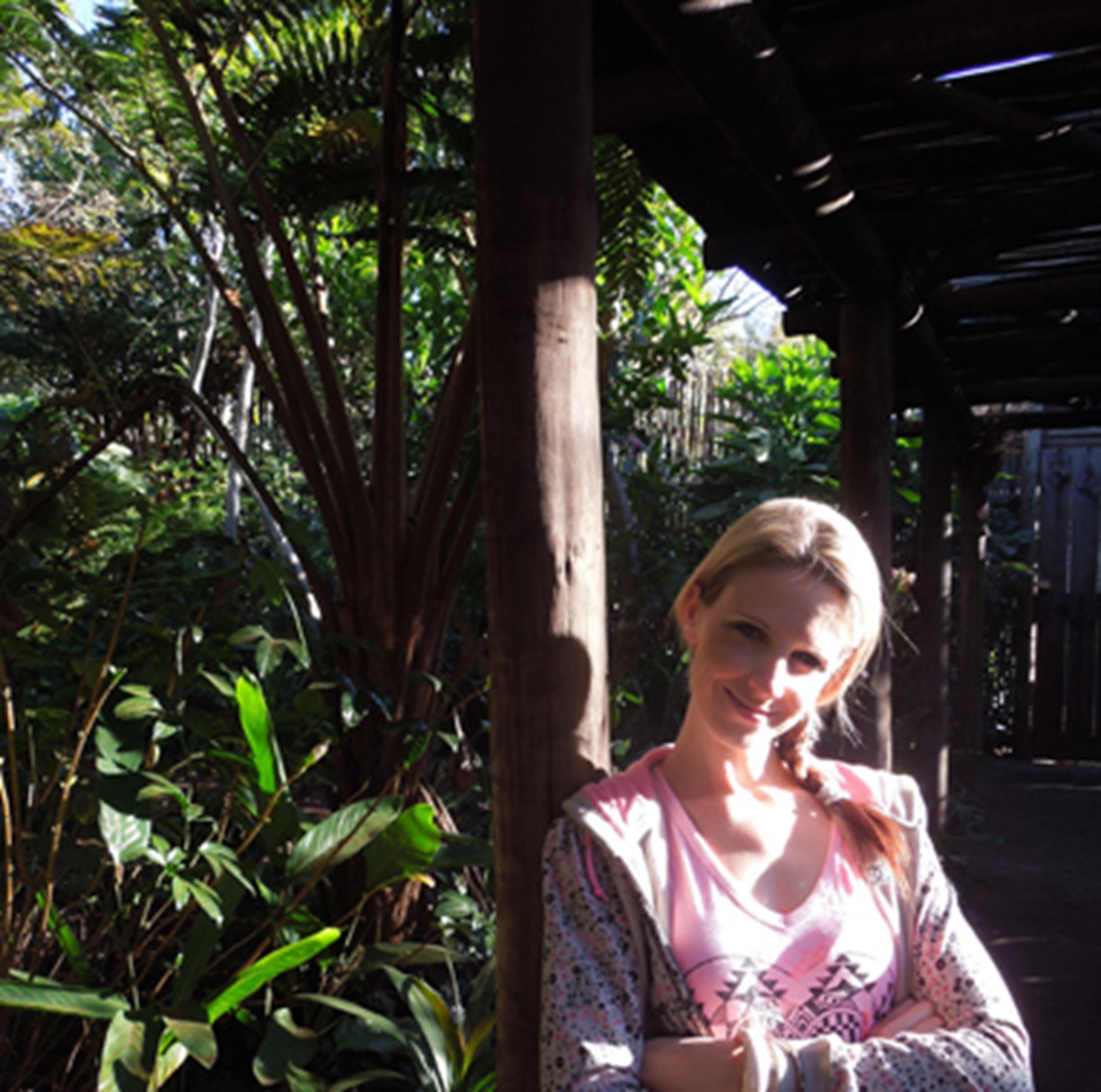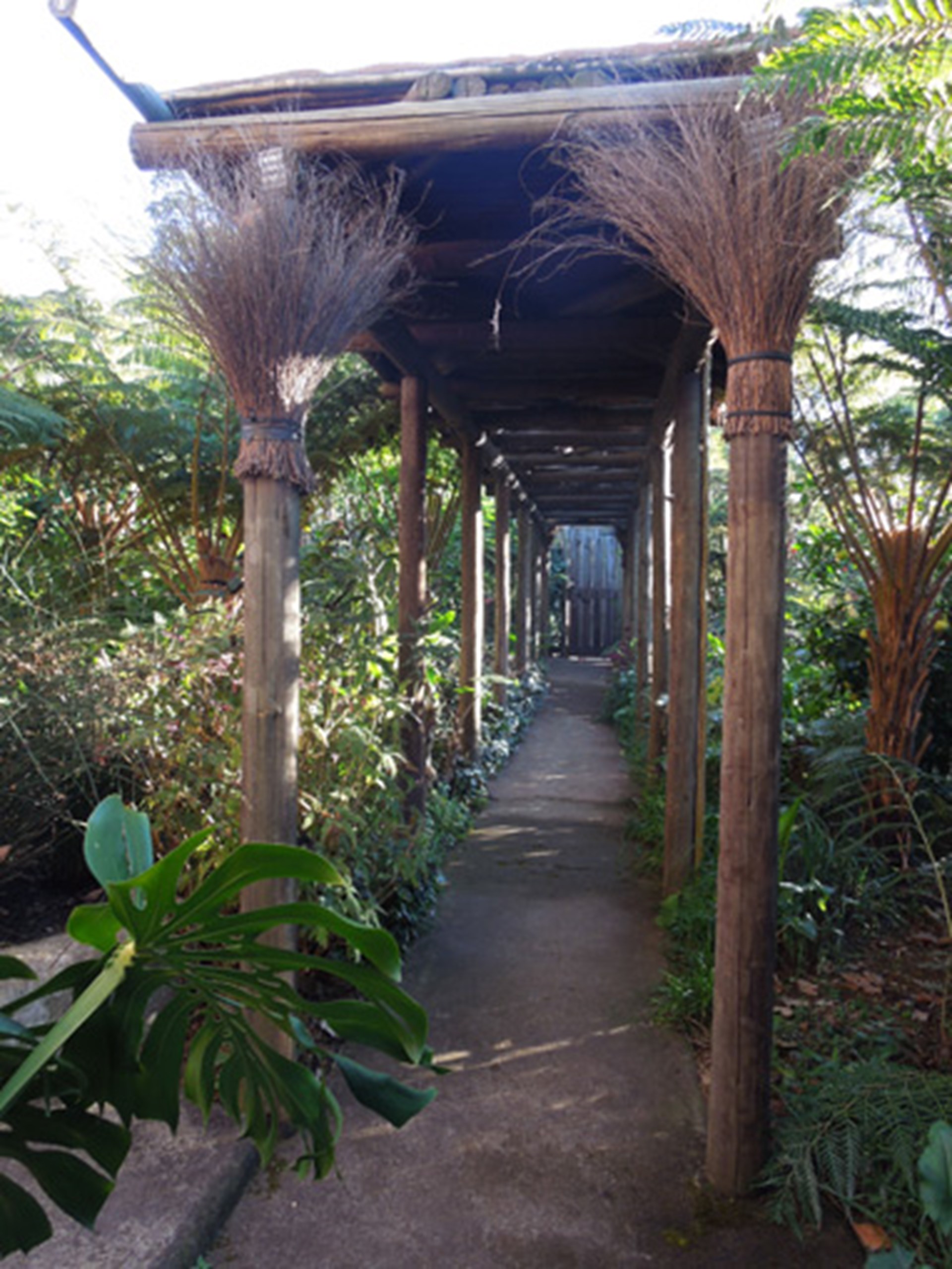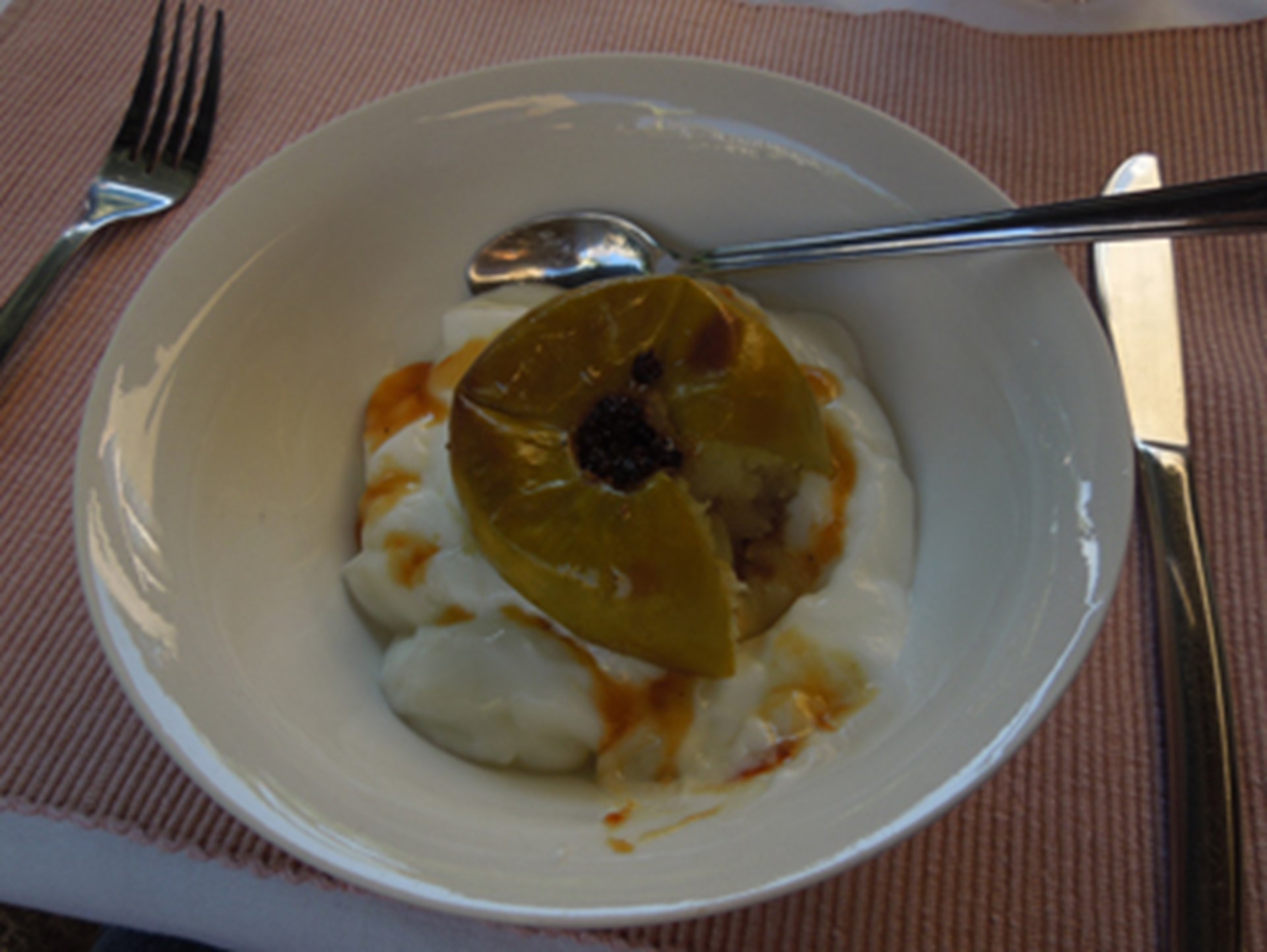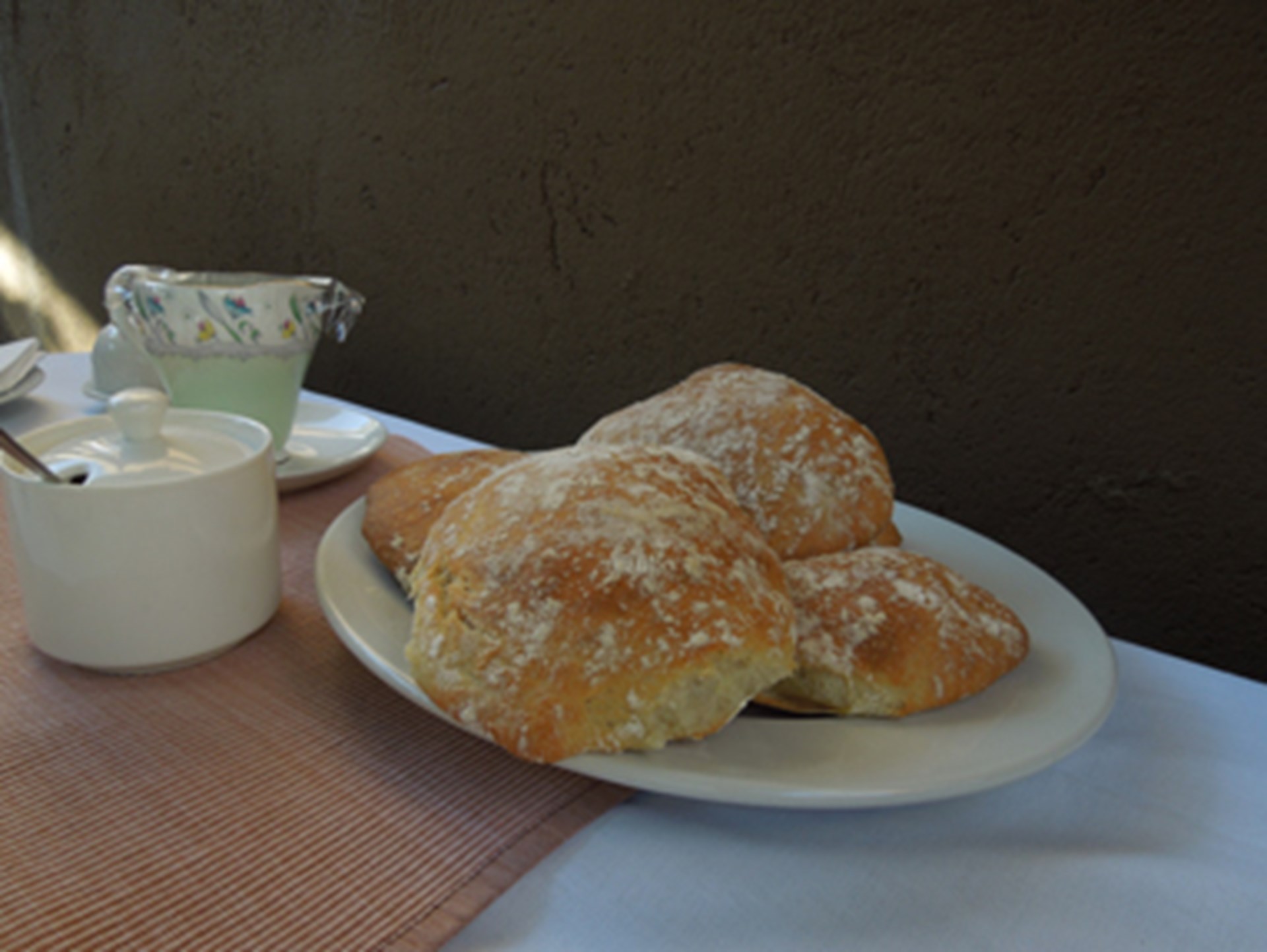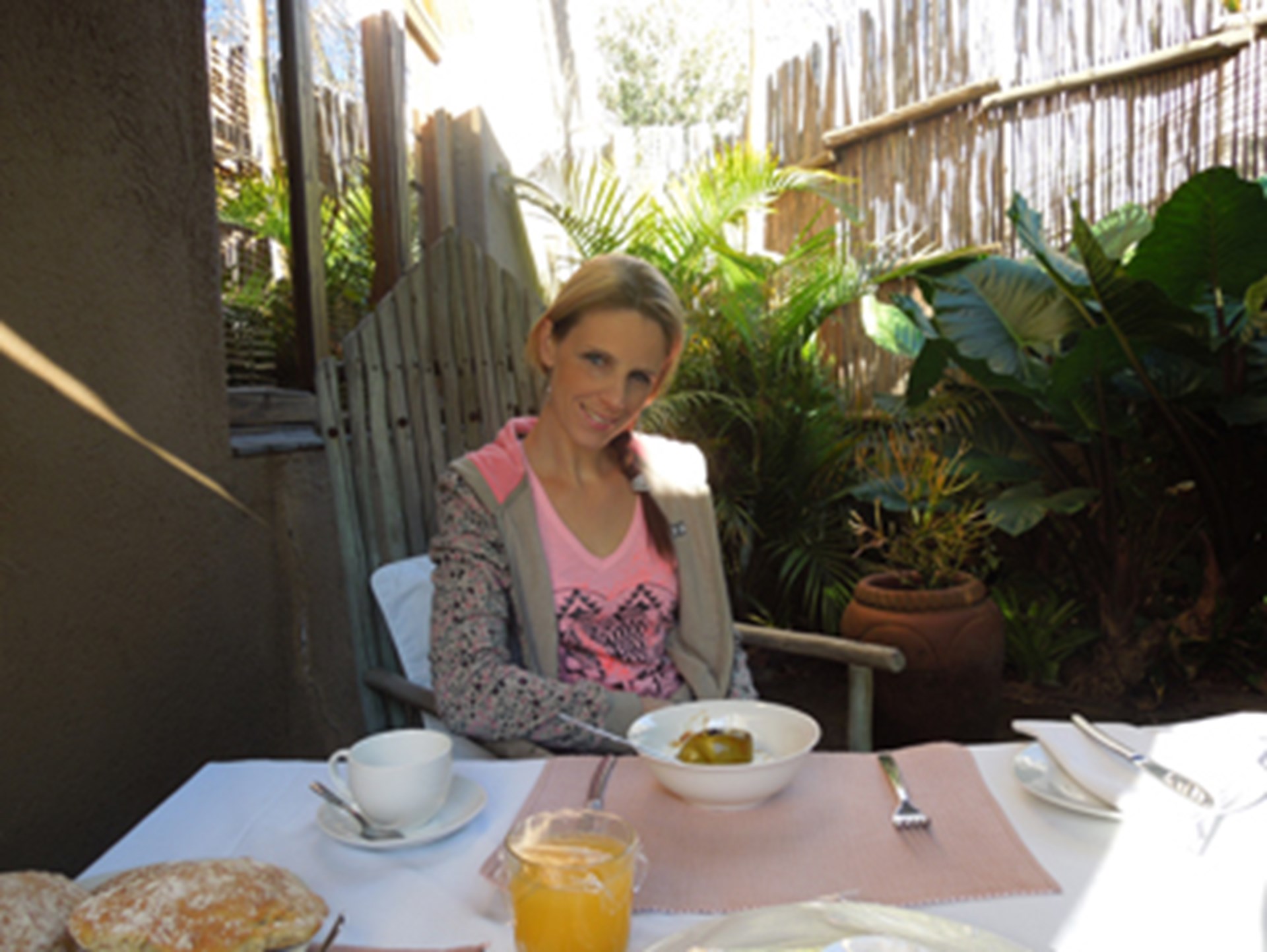 Travelling the 'Panorama Route' is always best done with a map of the area showing places of interest. This will also ensure you don't miss out on any spectacular views but don't be shy to try out new places that may come along your way that isn't necessary on the map. First stop was the 'Pinnacle'. It almost sounds like a movie or something that is super important... I walked down the little pathway and was pleasantly surprised to see a massive tall rock in the middle of a gorge. Still searching for a potential continuous path I finally resorted to asking a security guard where the 'Pinnacle' was and he pointed towards the large rock and looked at me as if I couldn't notice an odd rock in the middle of nowhere. I must admit it was a very appealing rock with all it's... ummm... rockiness and foliage scattered on top.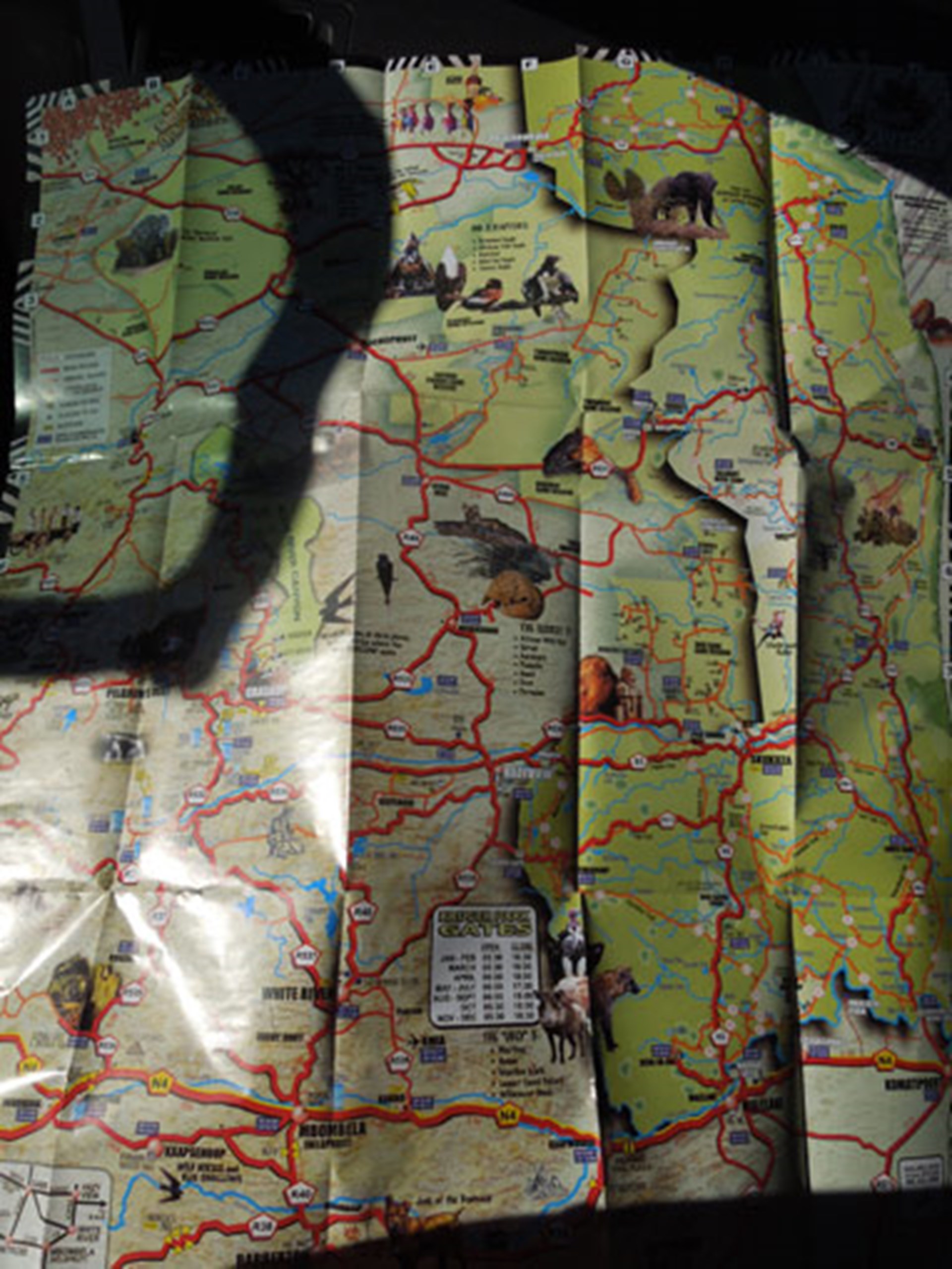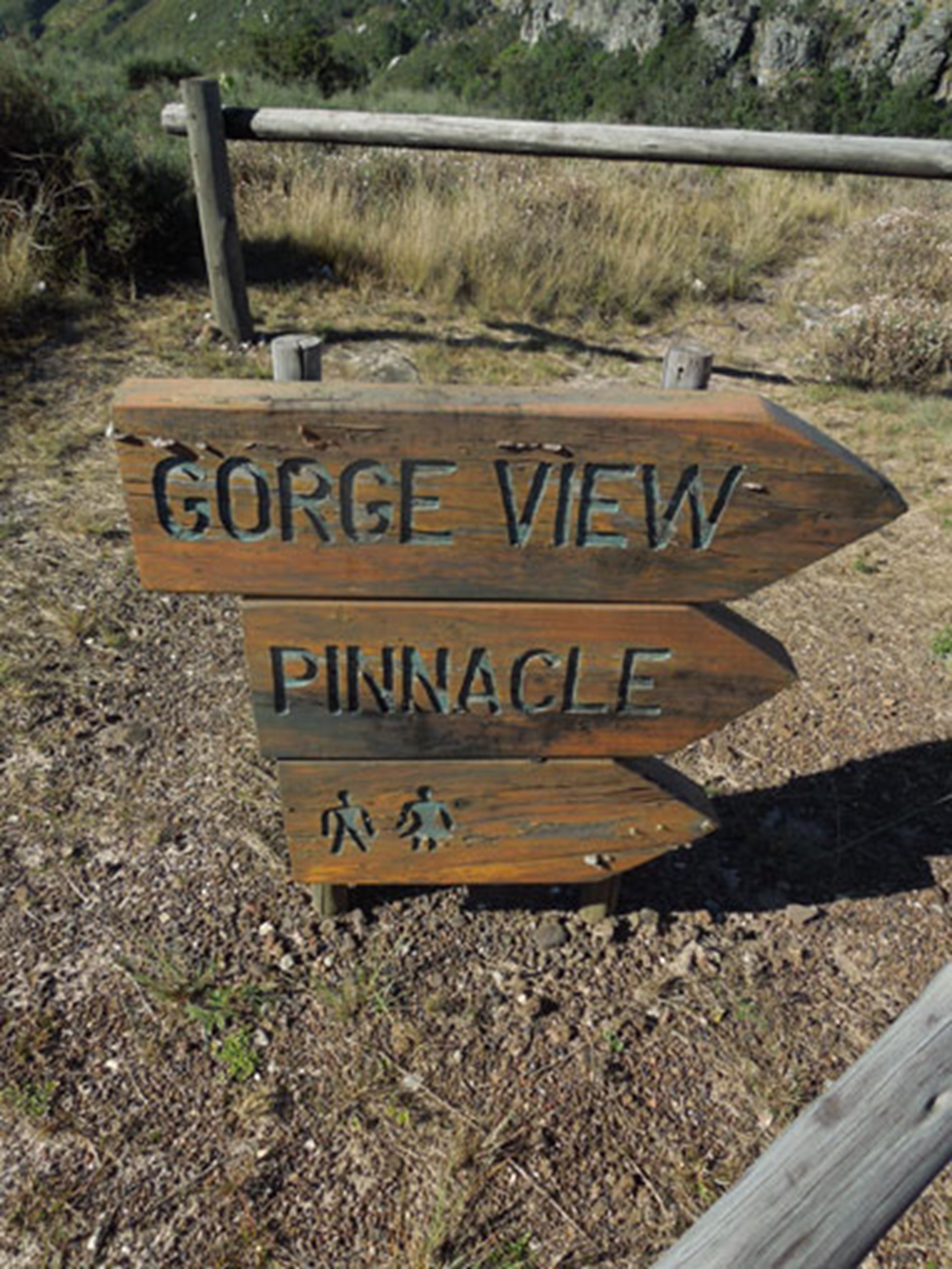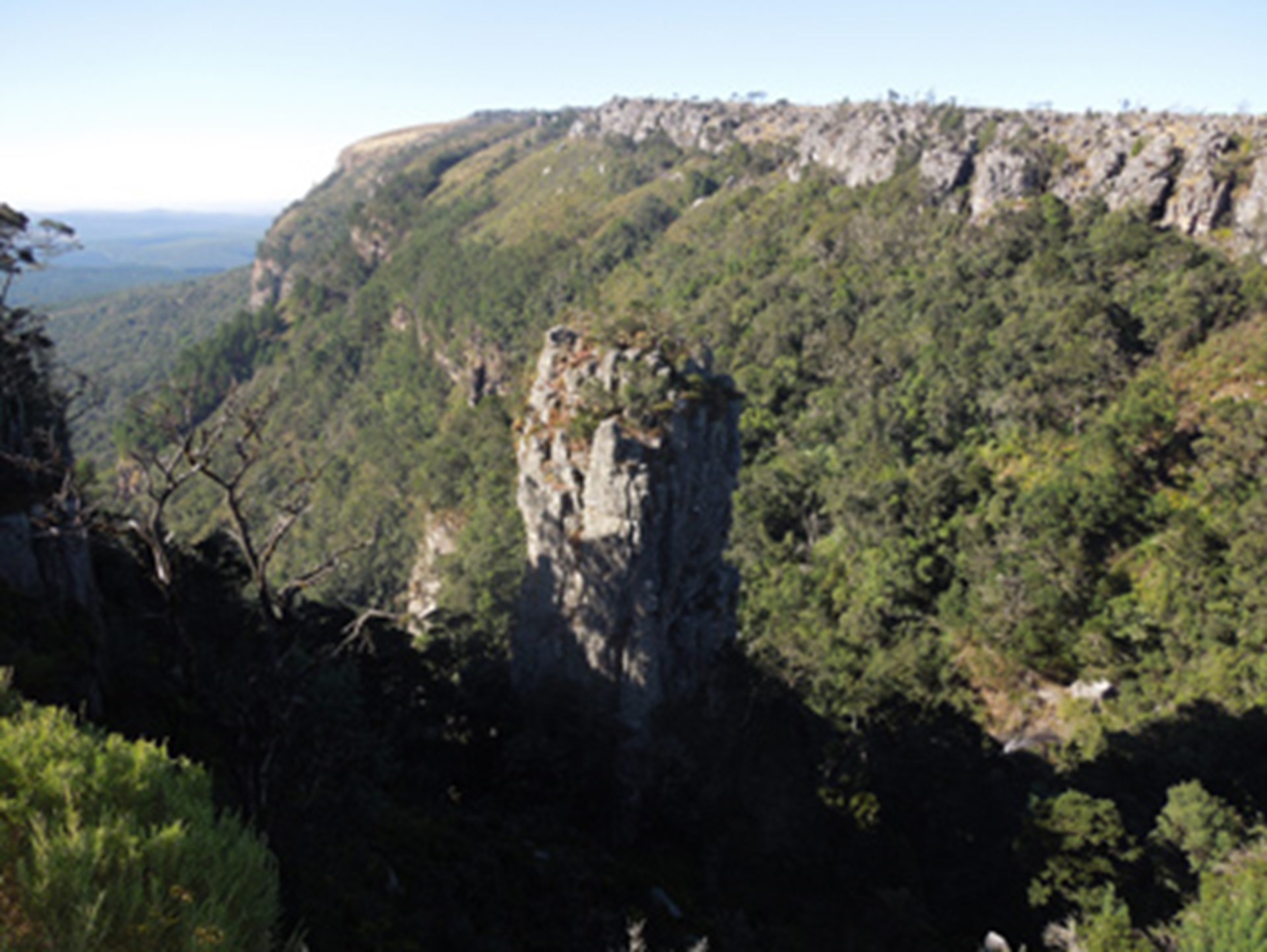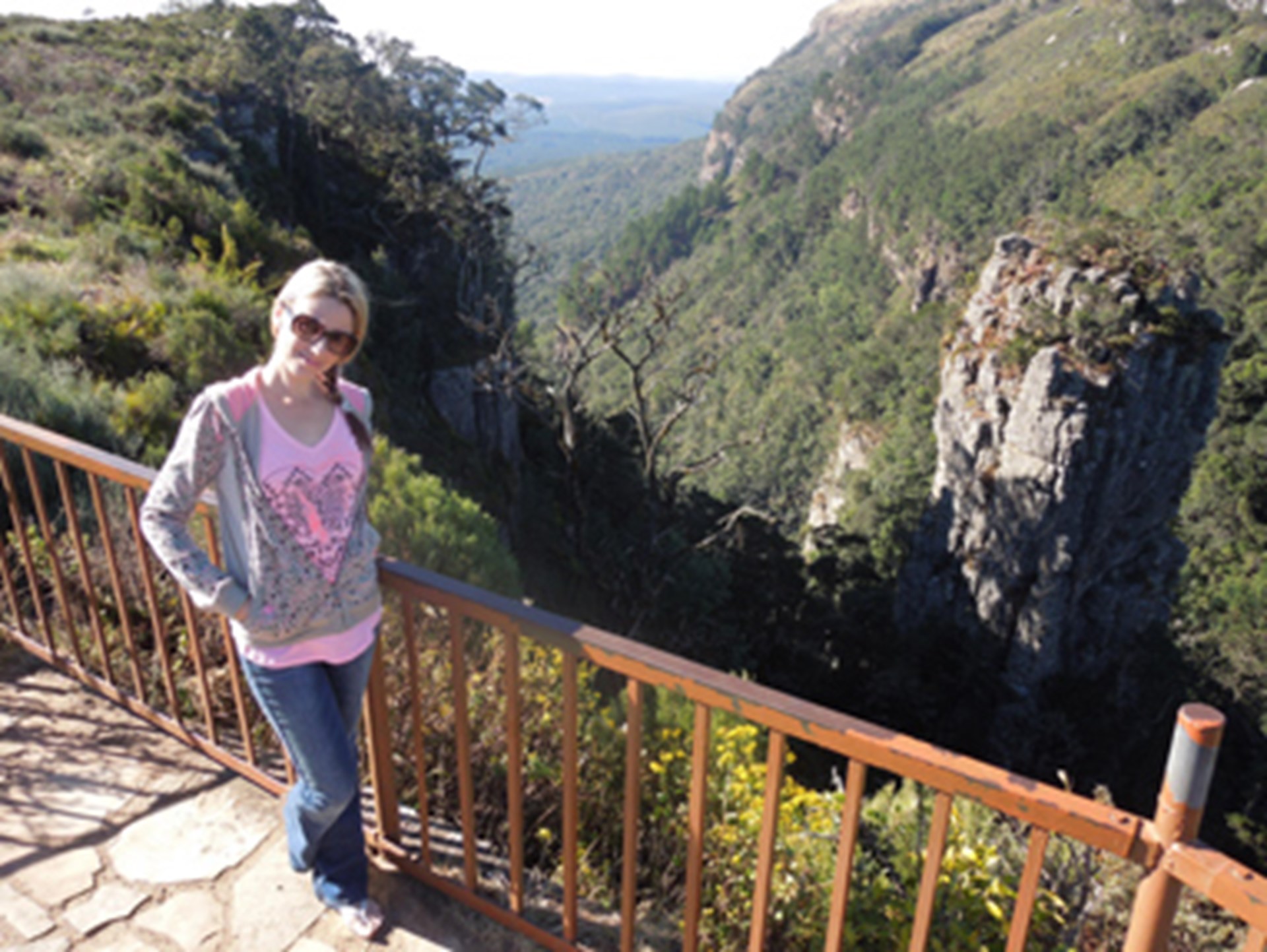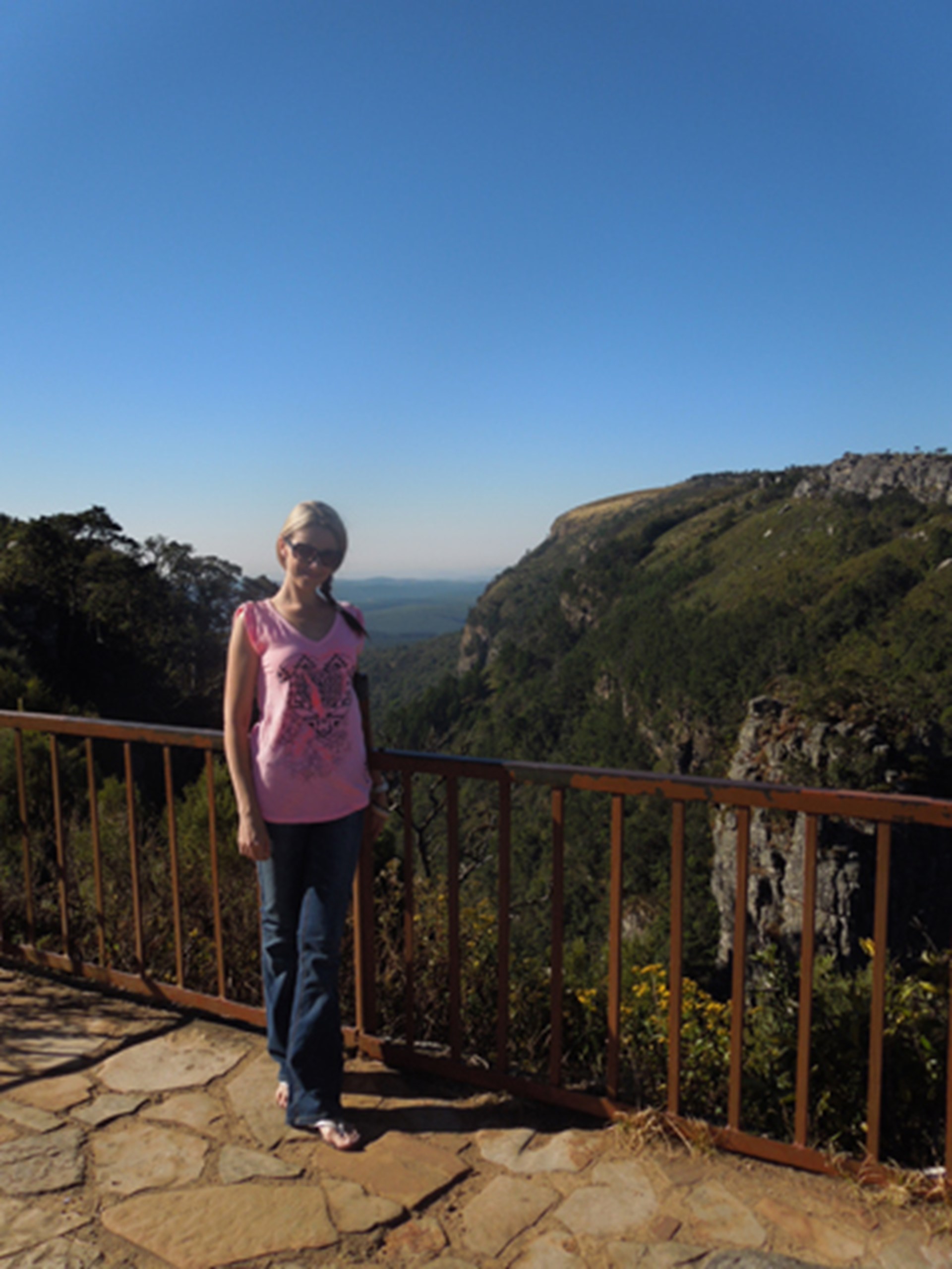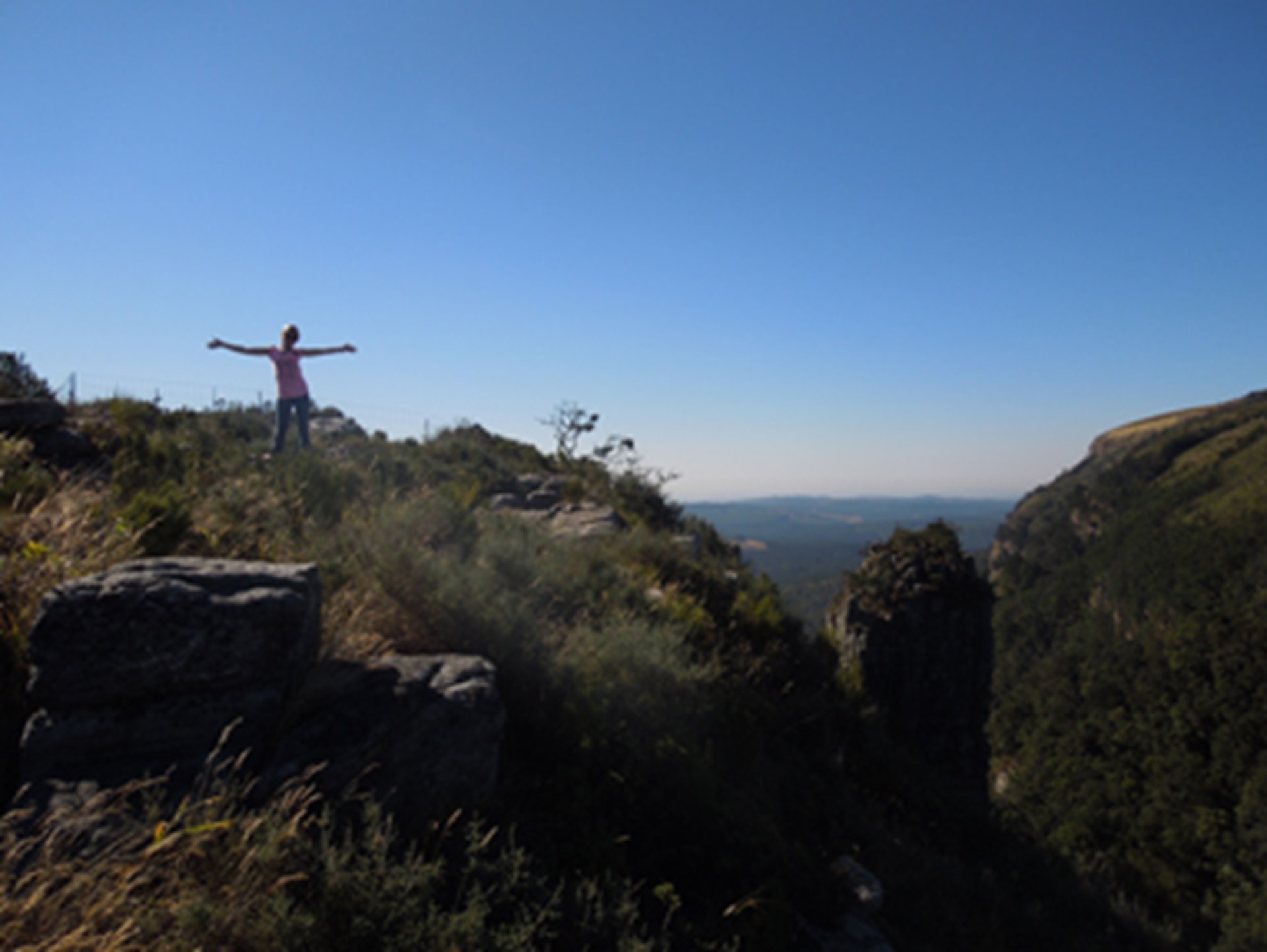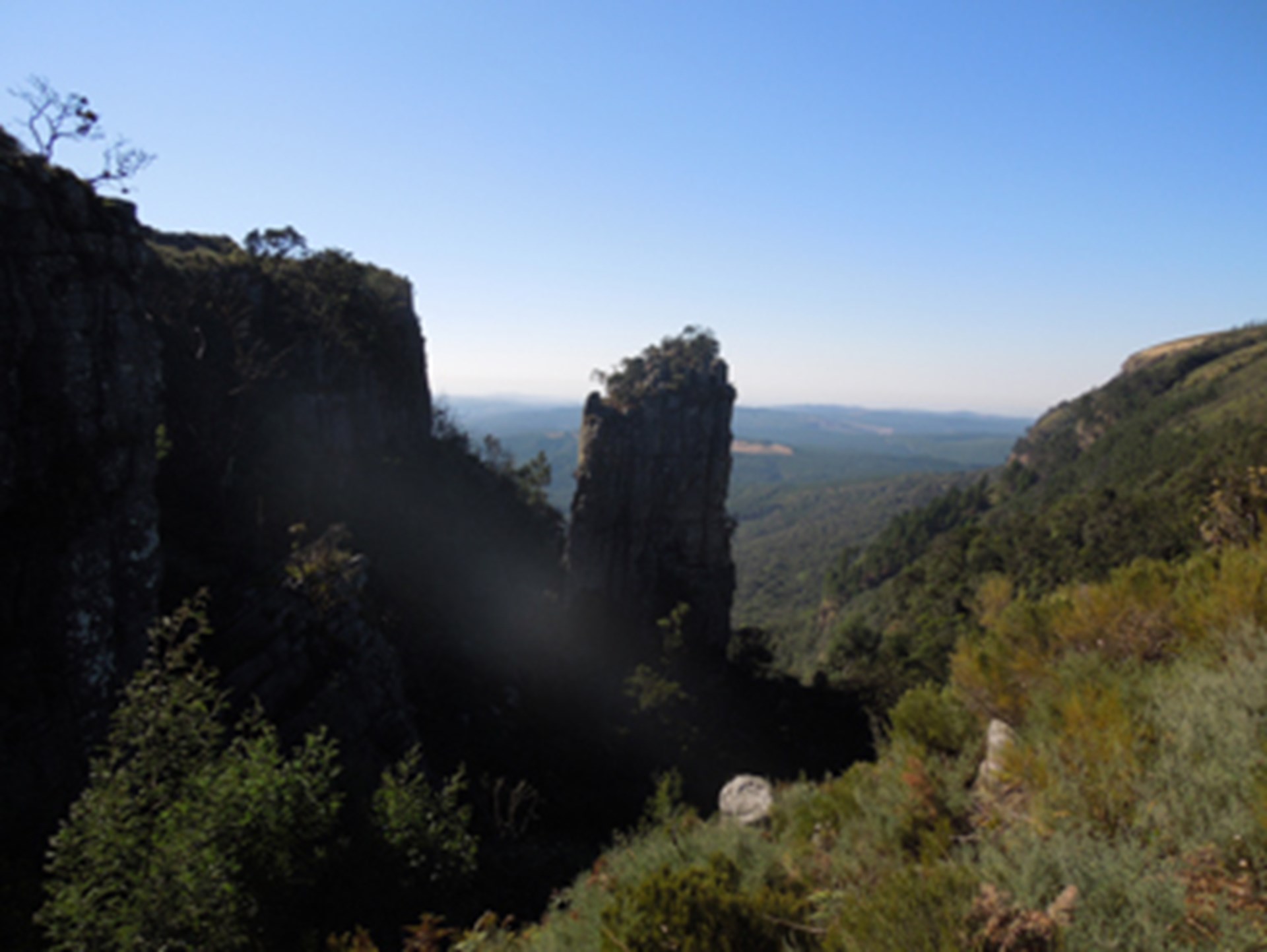 Travelling a little further up I came to a very well known view called God's Window a place that took my breath away... almost literally. Walking up towards the view point was quite a hike and eventually I was using all the stops along the way just to gain some strength to continue on the paved walkway. People that were descending were chatty and looking at me as if to say, "Oh boy... if only you knew how far you still have to climb". I just kind of pretended I was admiring the planty bits on the side. When I finally got to the top I realised how worth all that panting was... the view was picturesque to say the least and I think all that was lacking was a Jacuzzi and I'd be in heaven! Seeing views like this in photos is something but actually being there and taking it all in, for me is word-less. This is the one time in my life that I was actually quiet, feeling the breeze and listening to the birds made me fall in love with Africa all over again.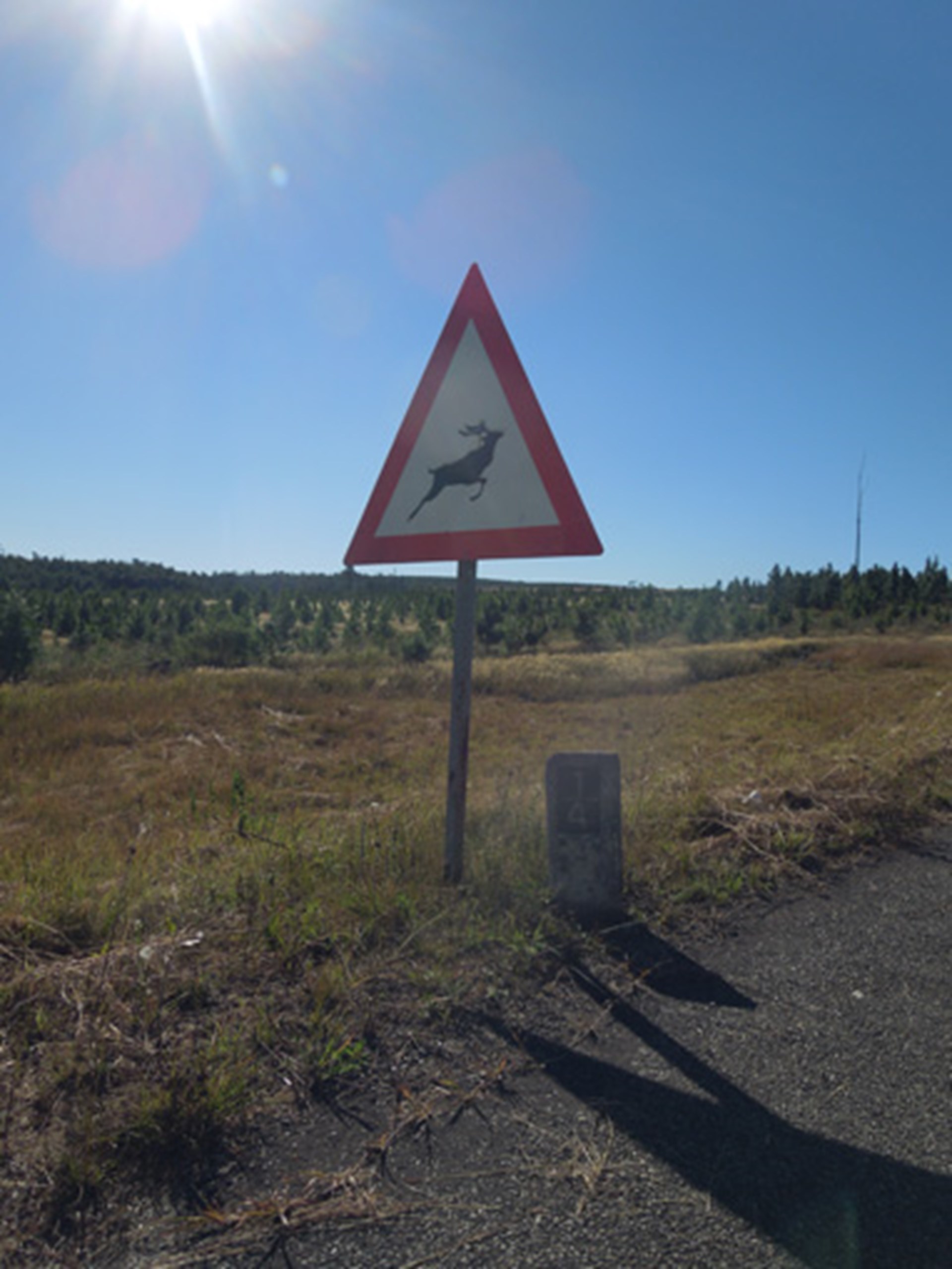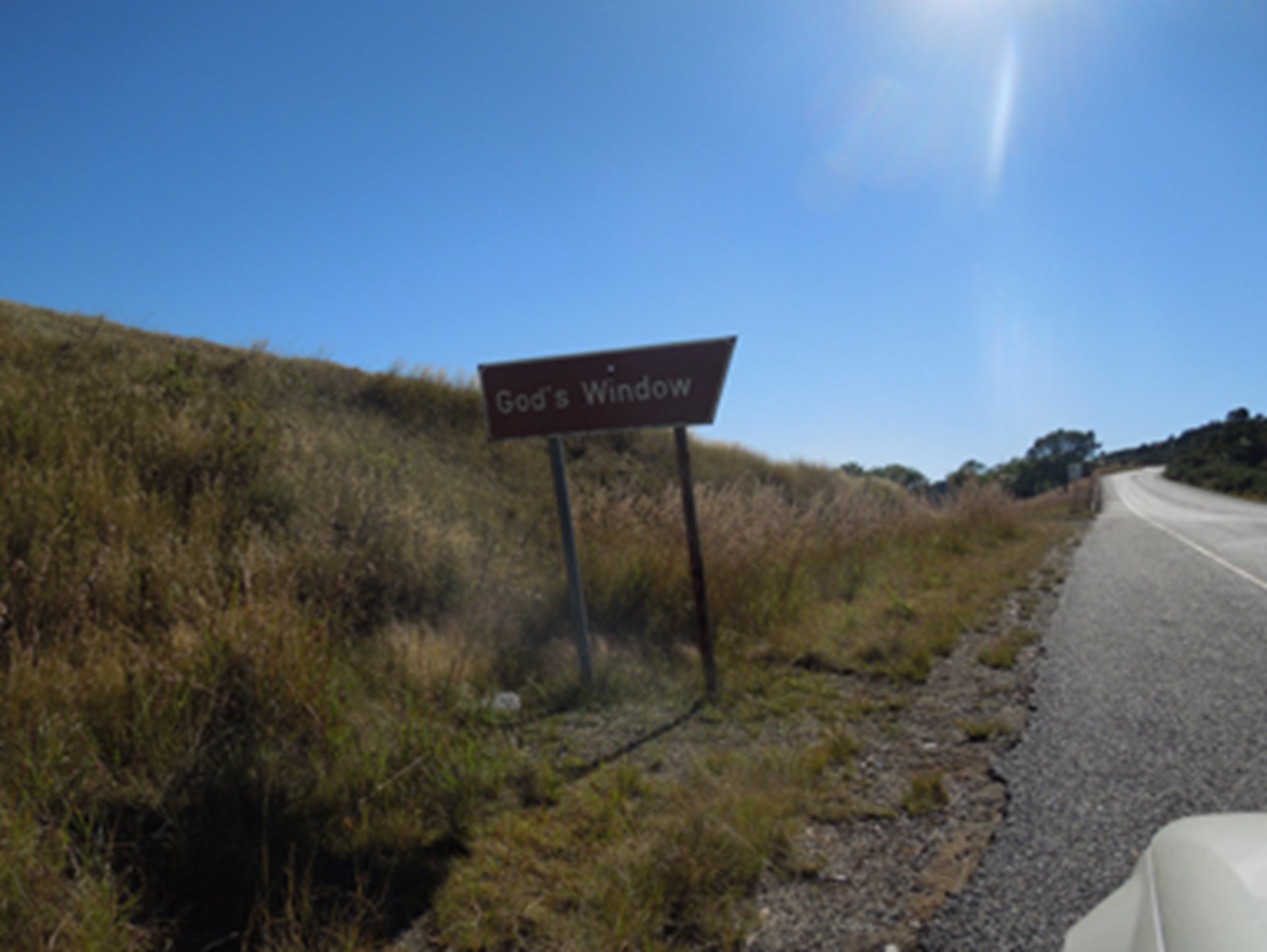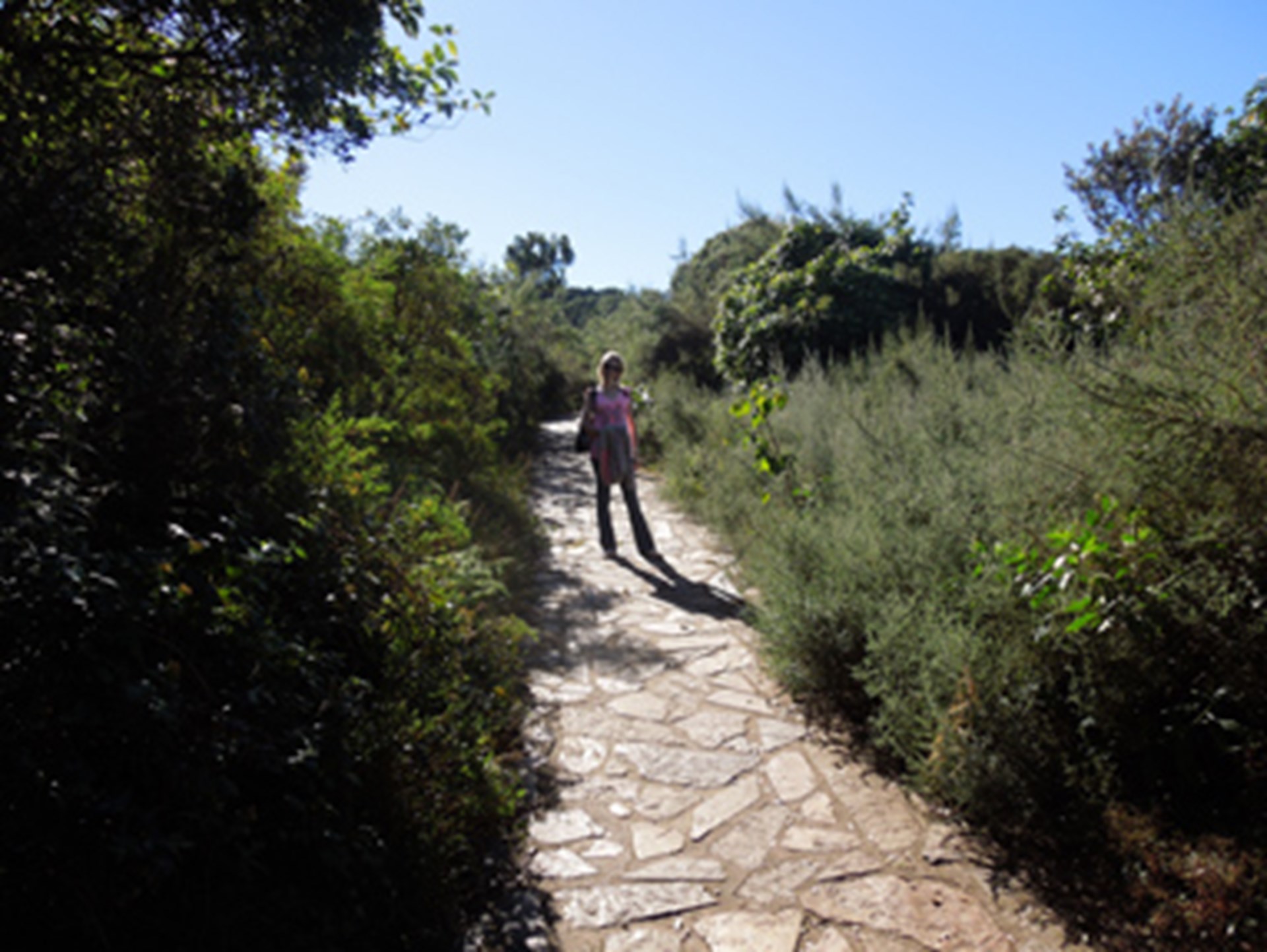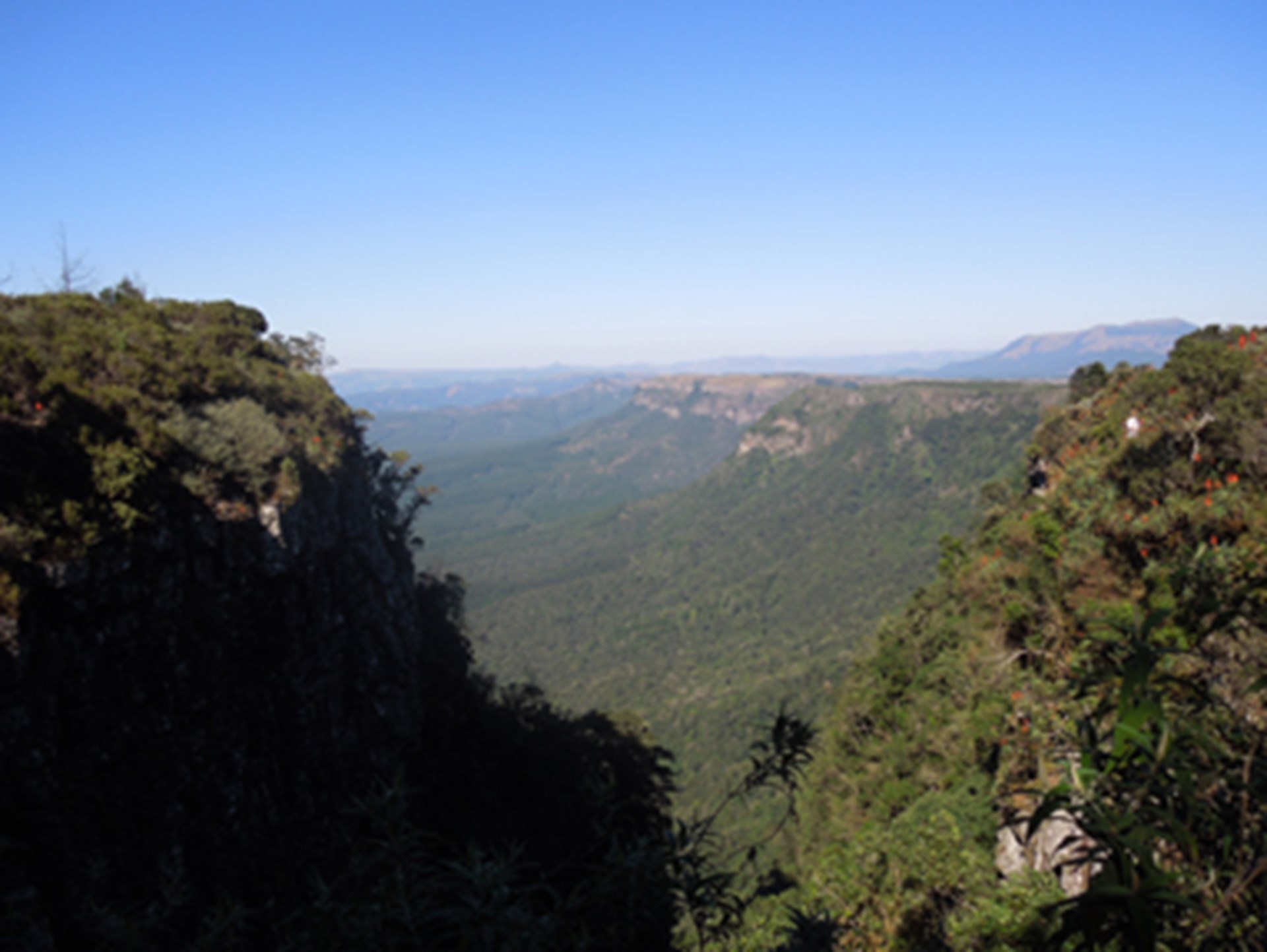 Continuing up the pathway took me to a rainforest on top of the mountain. This was the very place where I was taught the 'View in Quiet' skill. I stumbled upon an area with this open panoramic view, any photographers dream and my first reaction was a very vocal.... very loud... "Oh WOW" that had this sort of echo ability! Little did I realise that an entire viewing clickers crowd was seated there staring in the quiet. They all kind of looked at me with this awkward frown as if to say, "Look what the hummingbird brought in". Now there is one thing to enjoy a view and another to just sit for minutes on end not saying anything. They just stared and stared and when they couldn't think of anything else to do, they stared some more. How does a whole crowd of people not say anything... anything at all, not even a peep? I was flabbergasted by this display of non-verbal communication behaviour and it made me wonder if it was a rule in a standard hiker's etiquette handbook to be silent at views. Next time I think I'll approach a view with caution...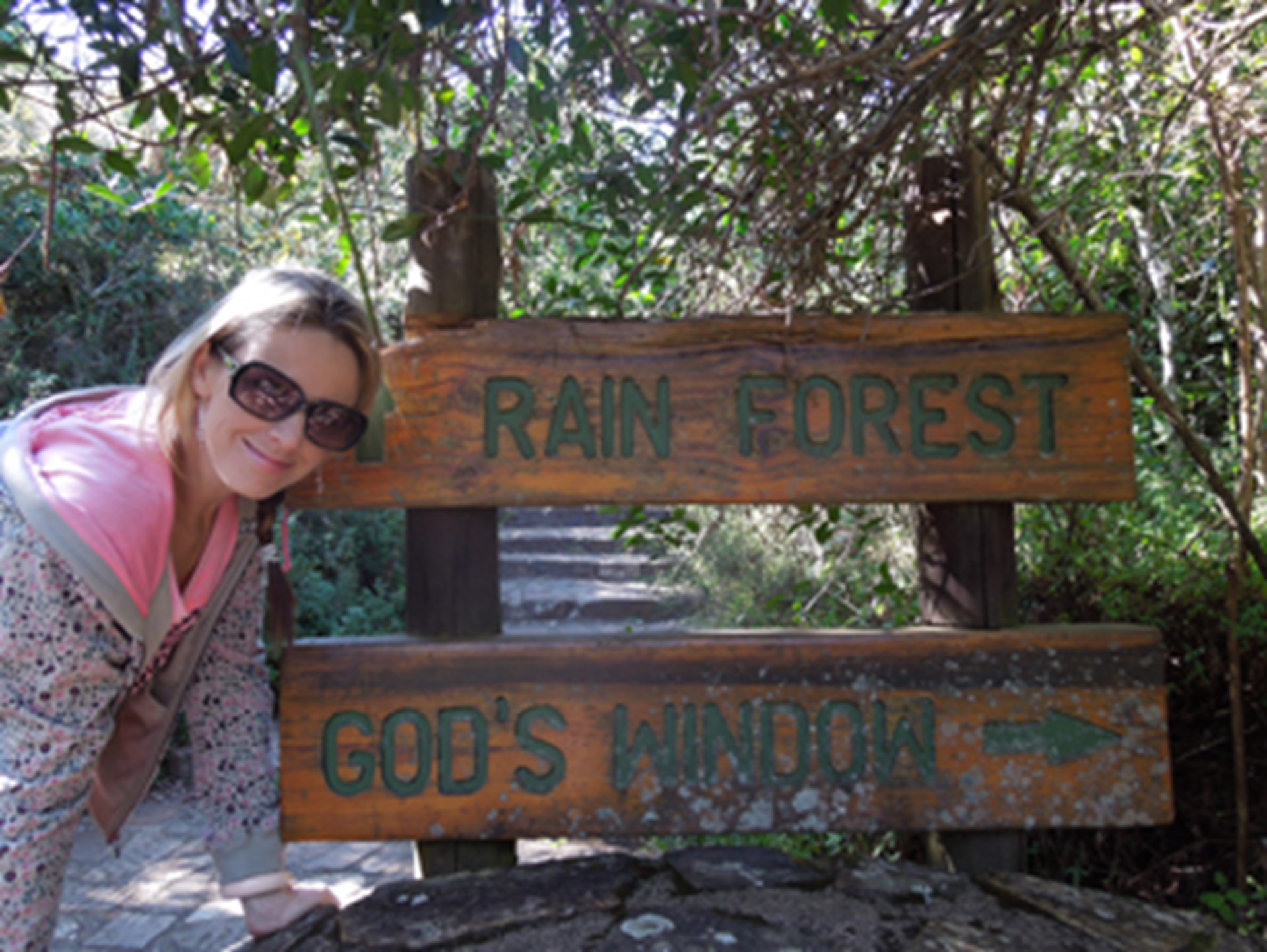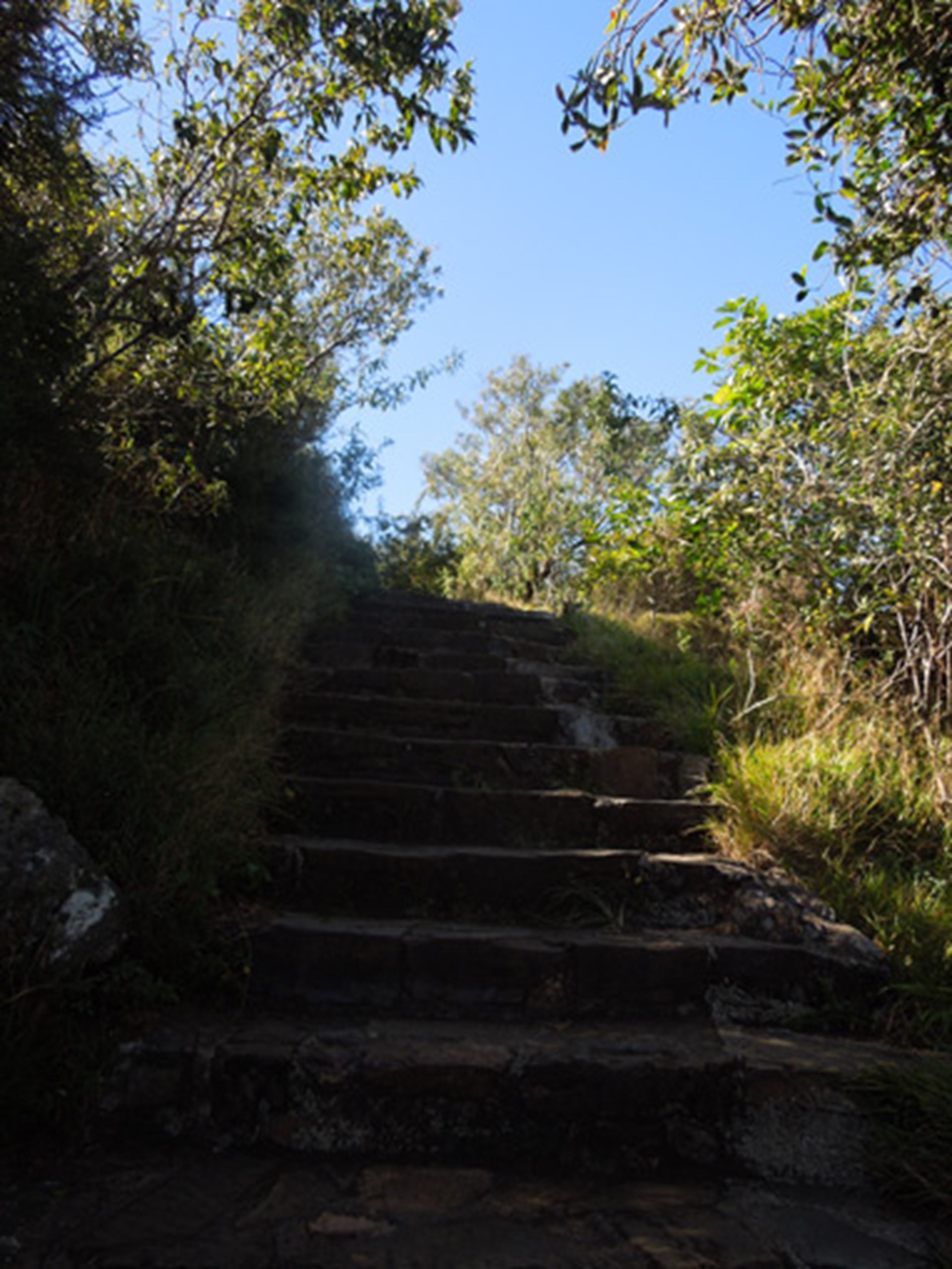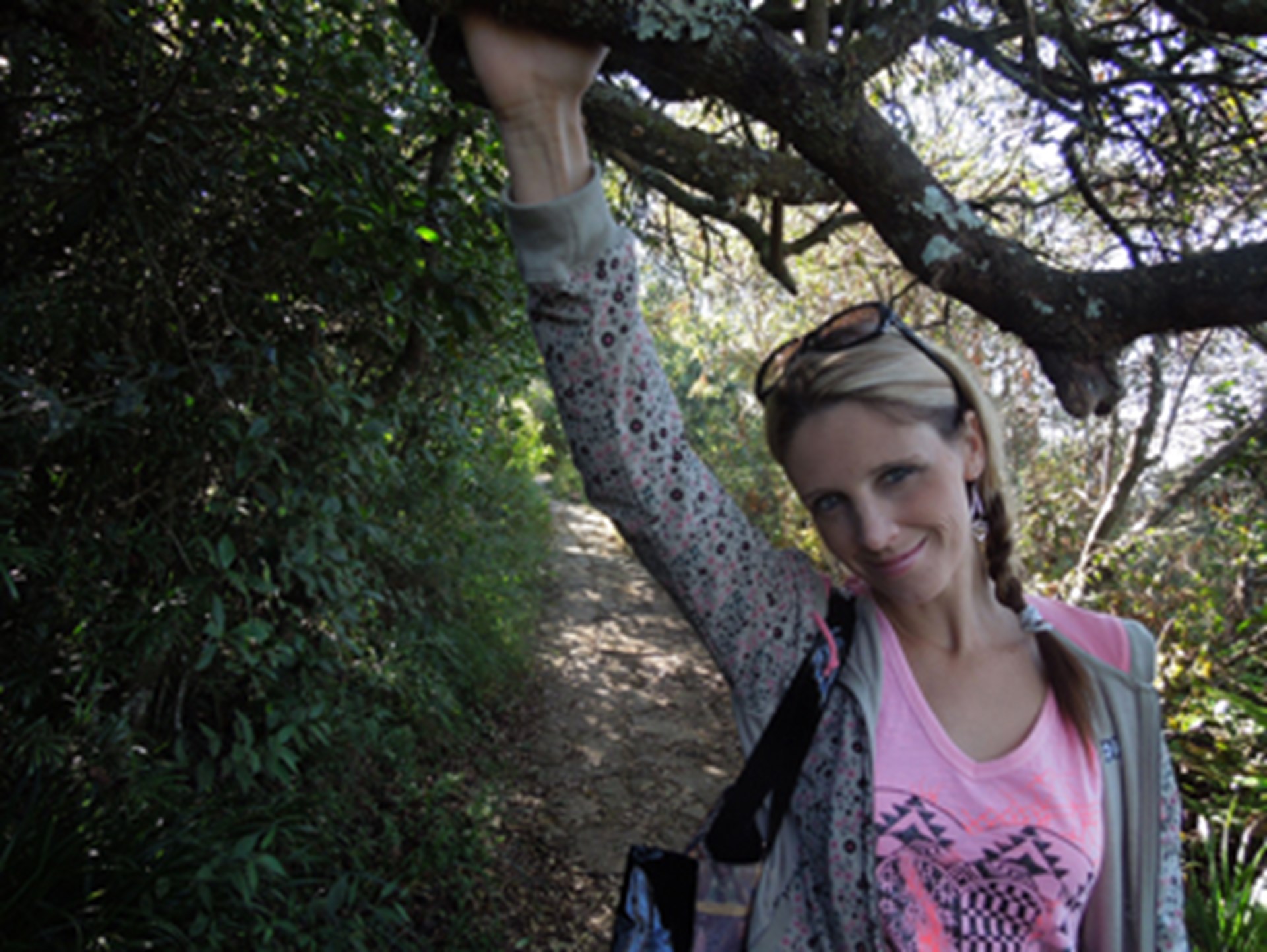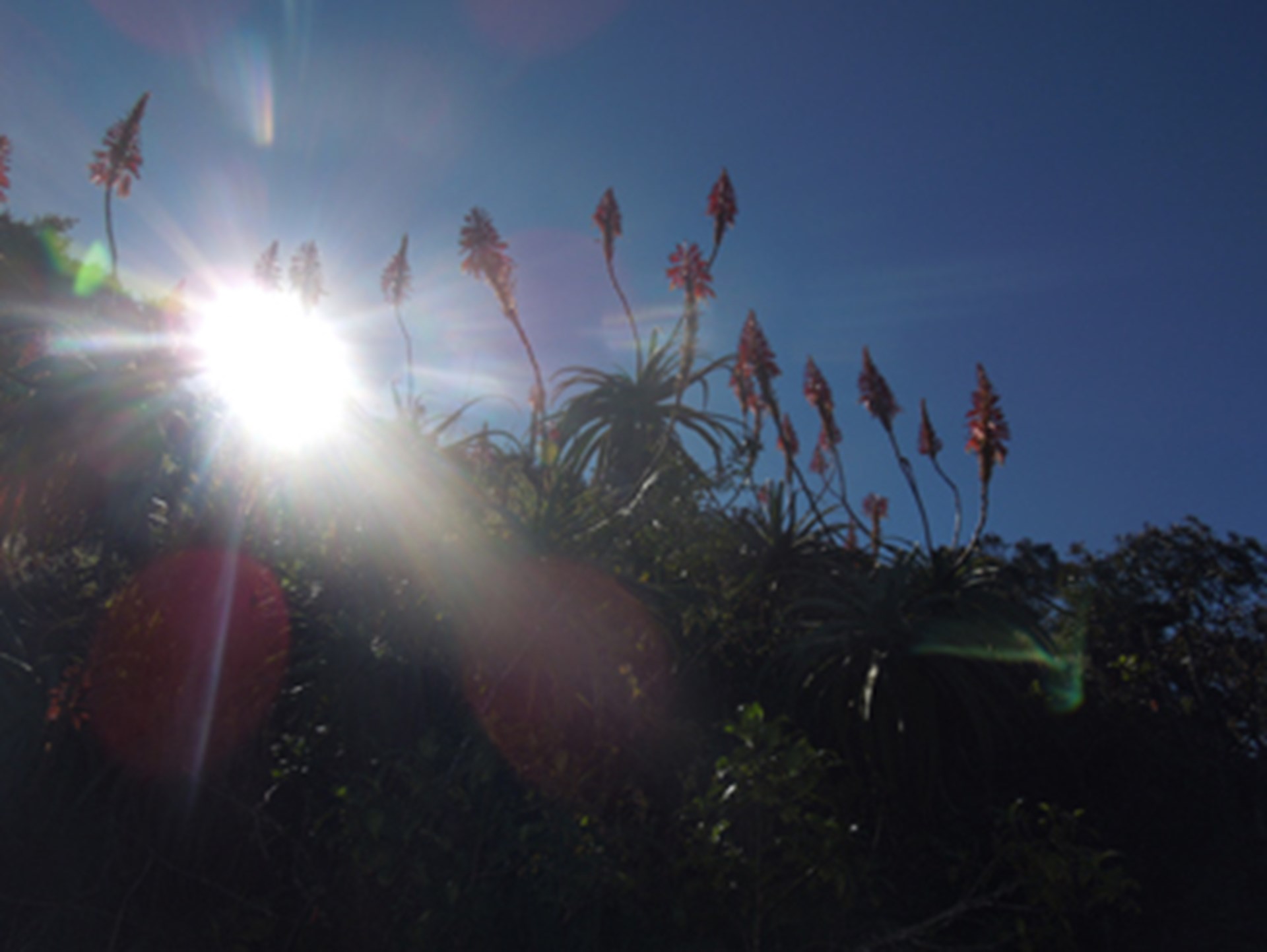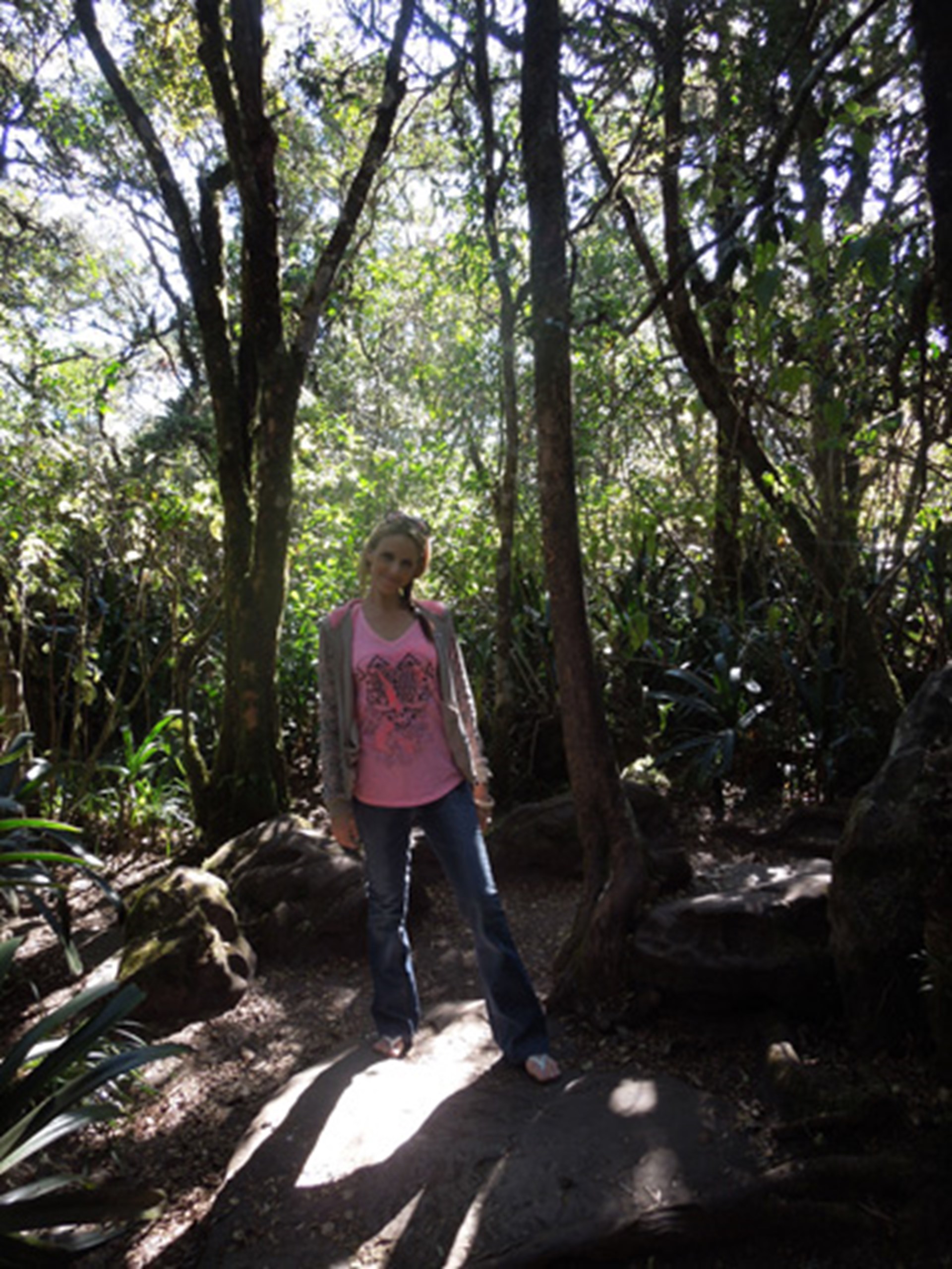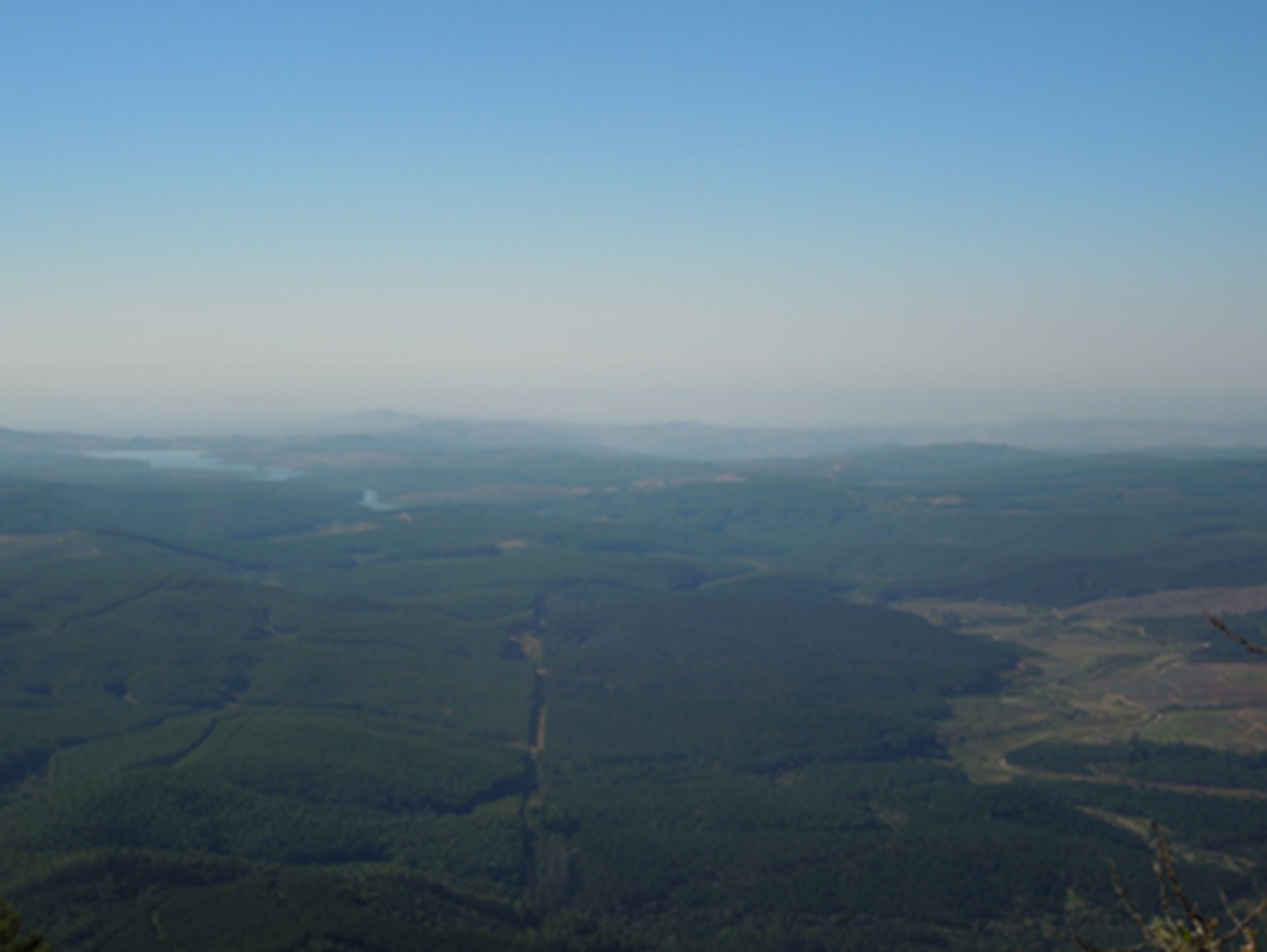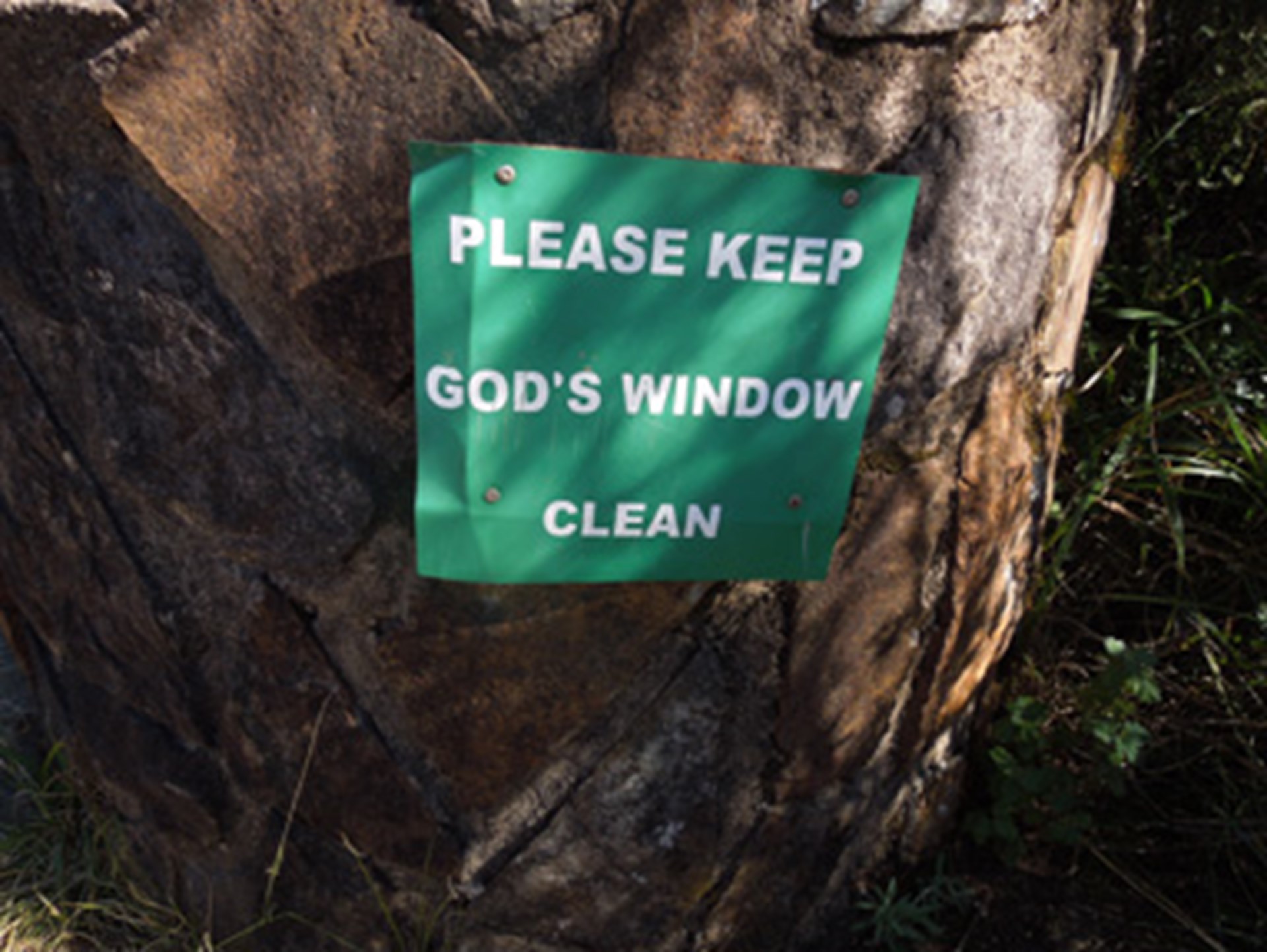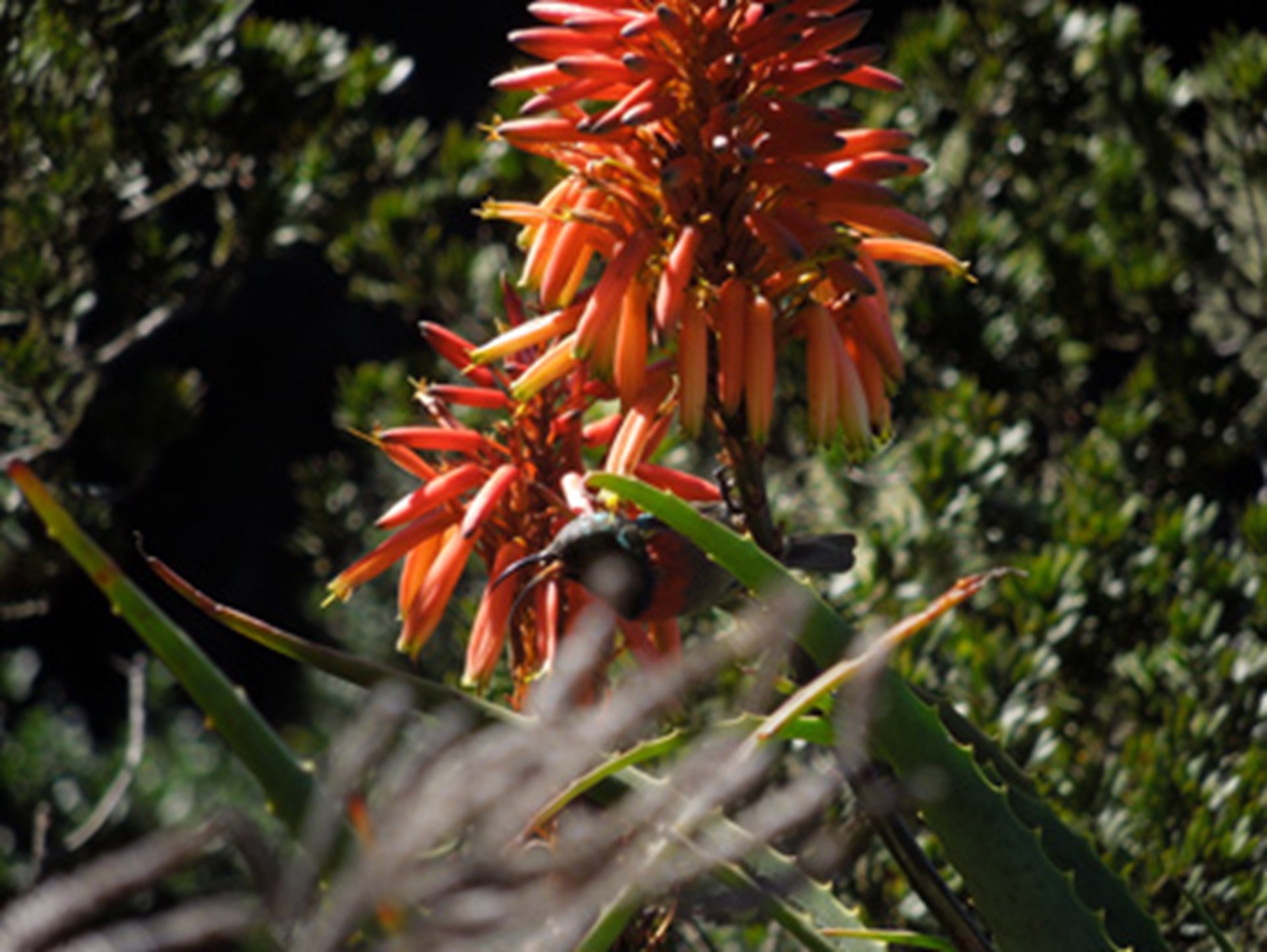 There are a few waterfalls around the area that are truly spectacular and one of those is the Berlin Falls. Driving a little further from Berlin Falls is a treasure of a place that isn't featured on any map but you can locate it whilst travelling towards the Blyde Canyon. 'Potluck Bush Kitchen' was something that I've never seen before. Nestled next to a small meander is a bush kitchen that relies completely on traditional ways of cooking. The restaurant is covered by bamboo and features wooden stumps for chairs and a natural sandy ground. It's the perfect place for a beer and a wonderful spot to explore and waddle through the river.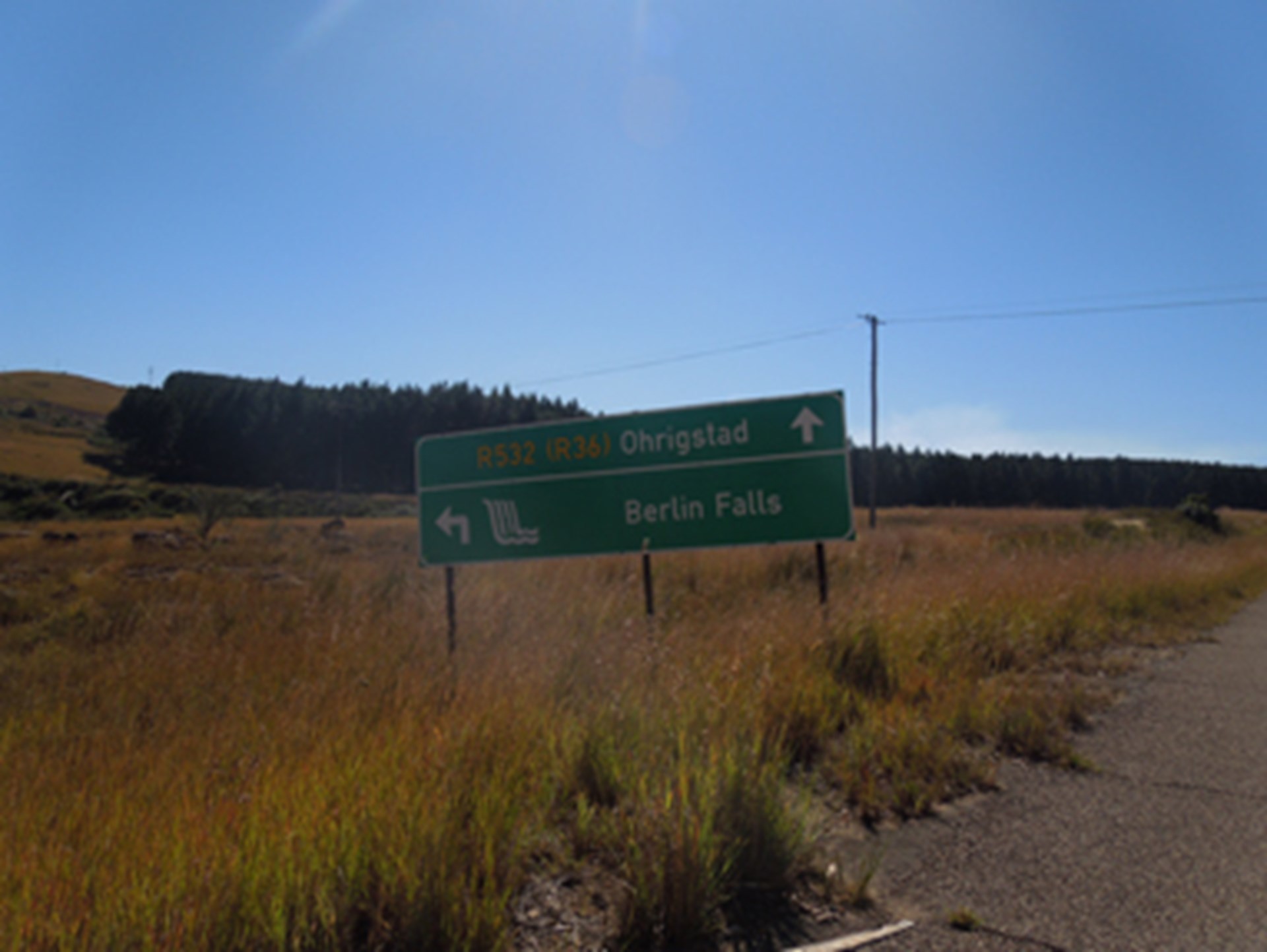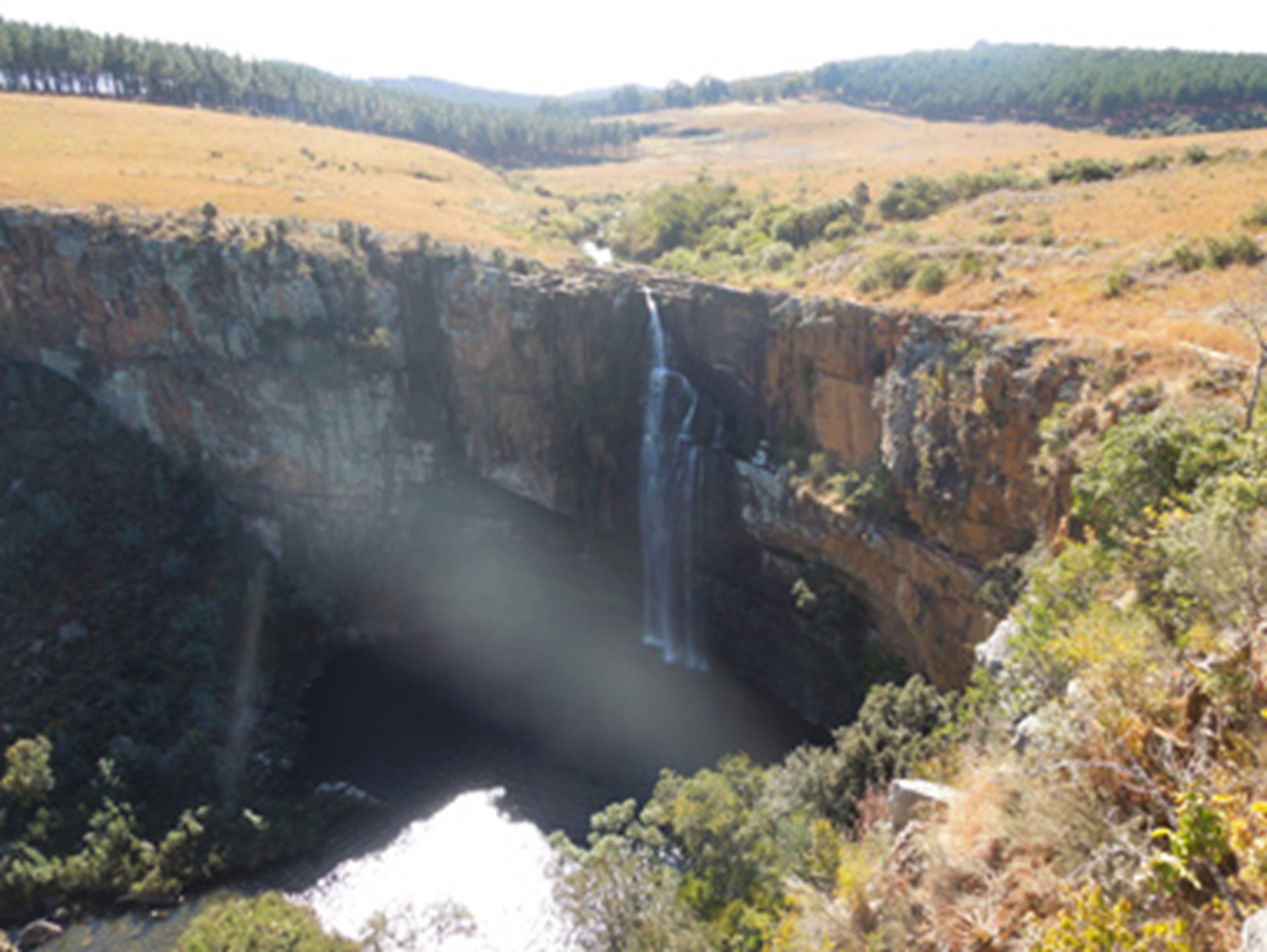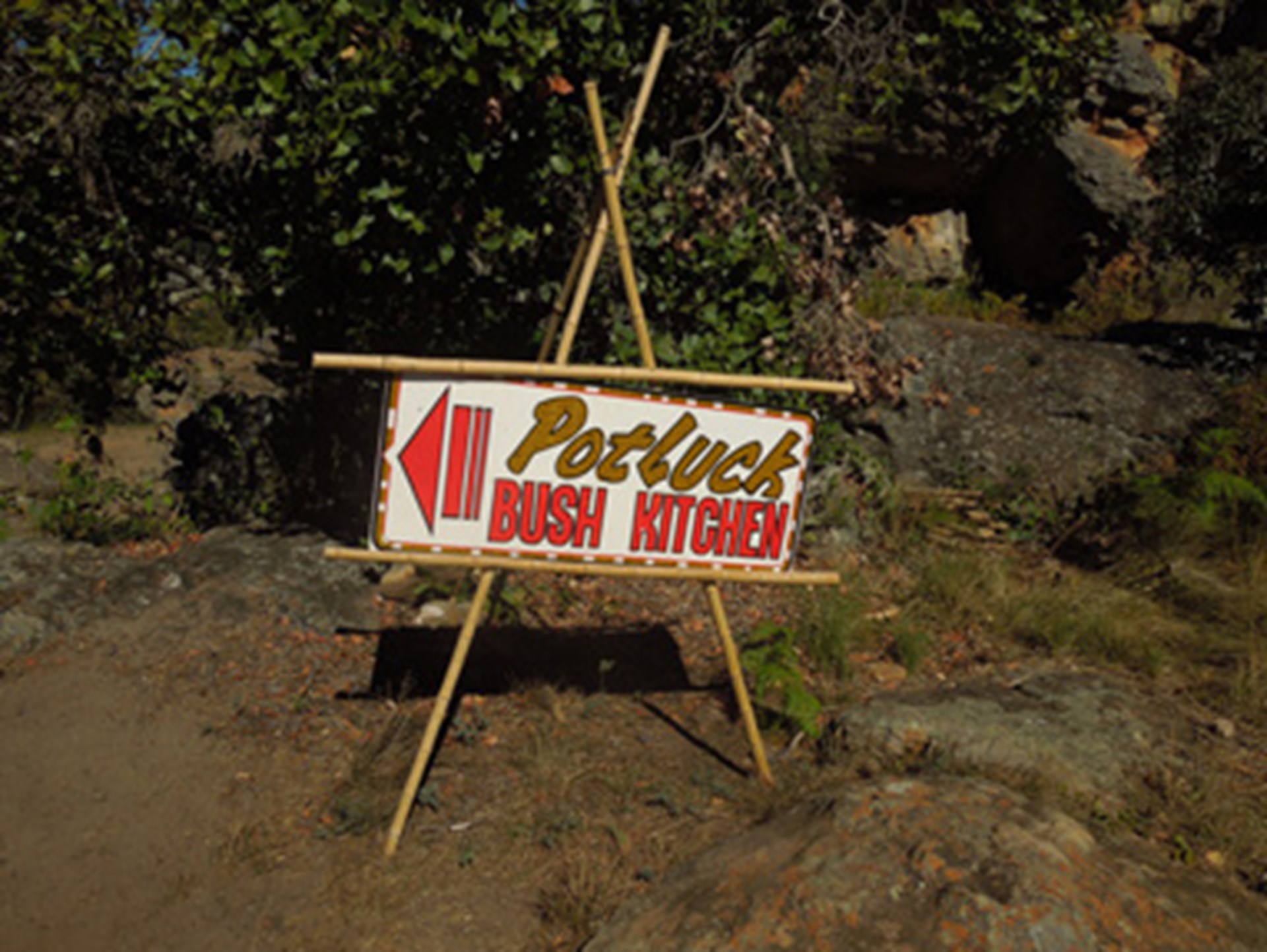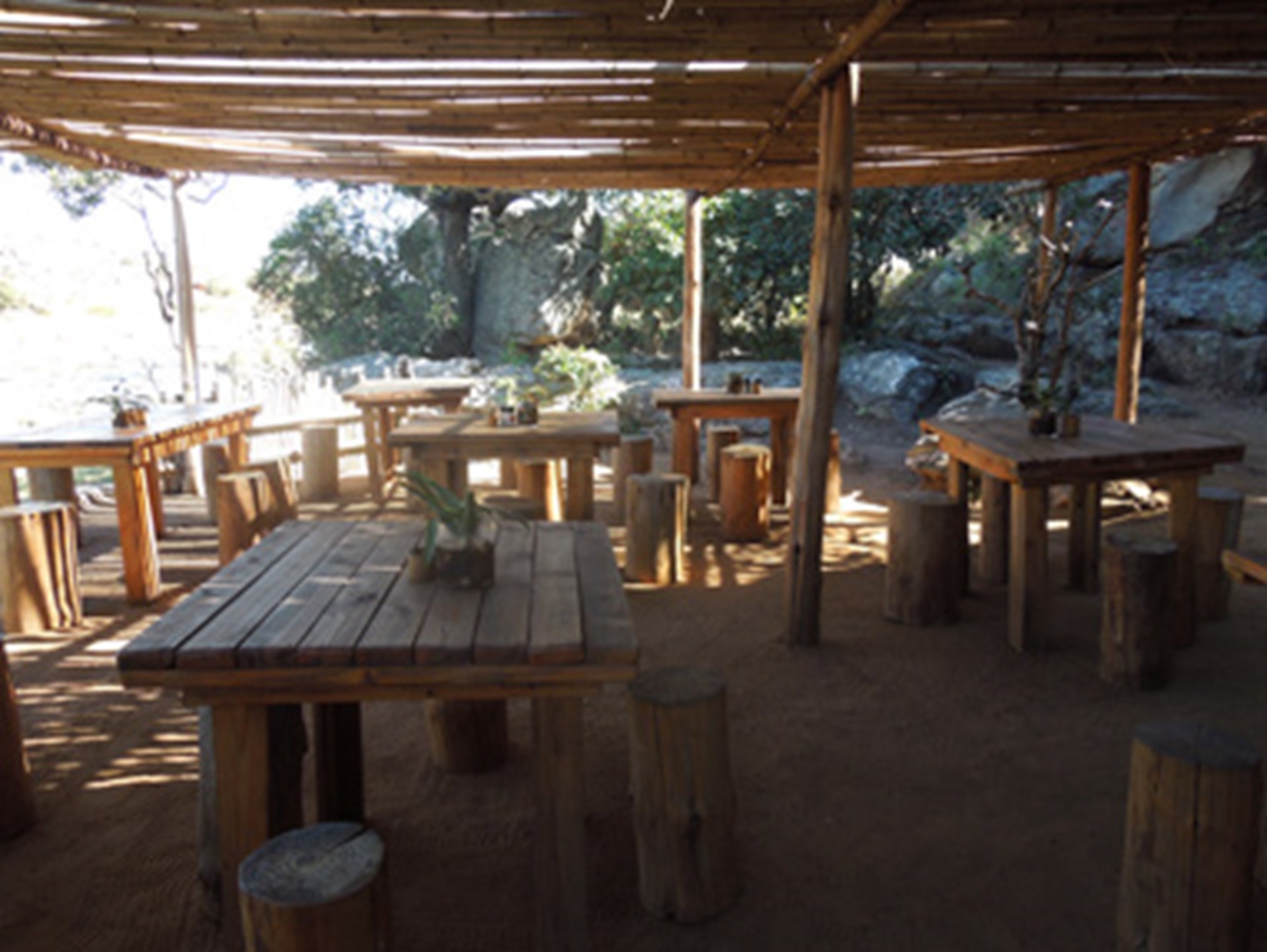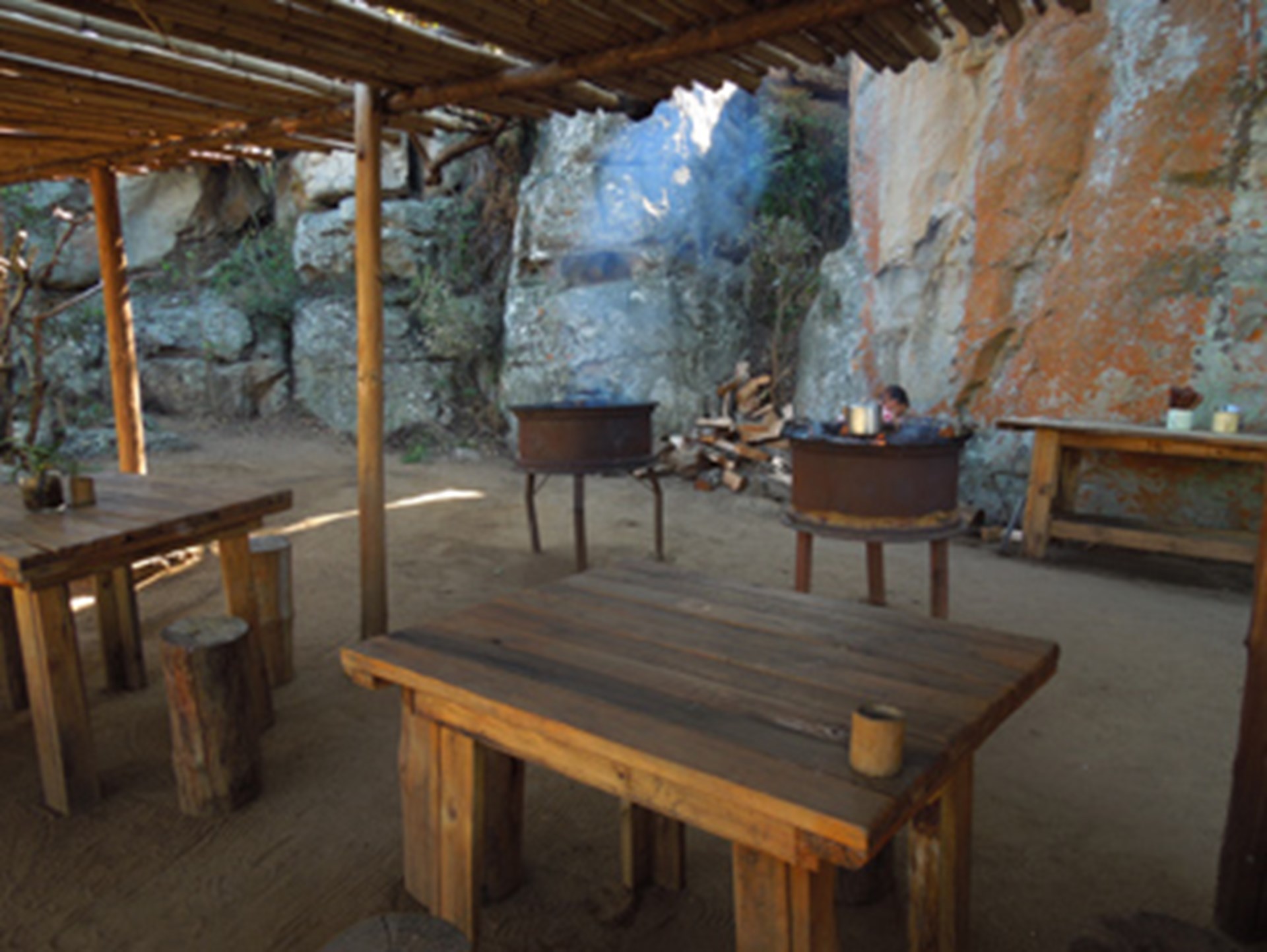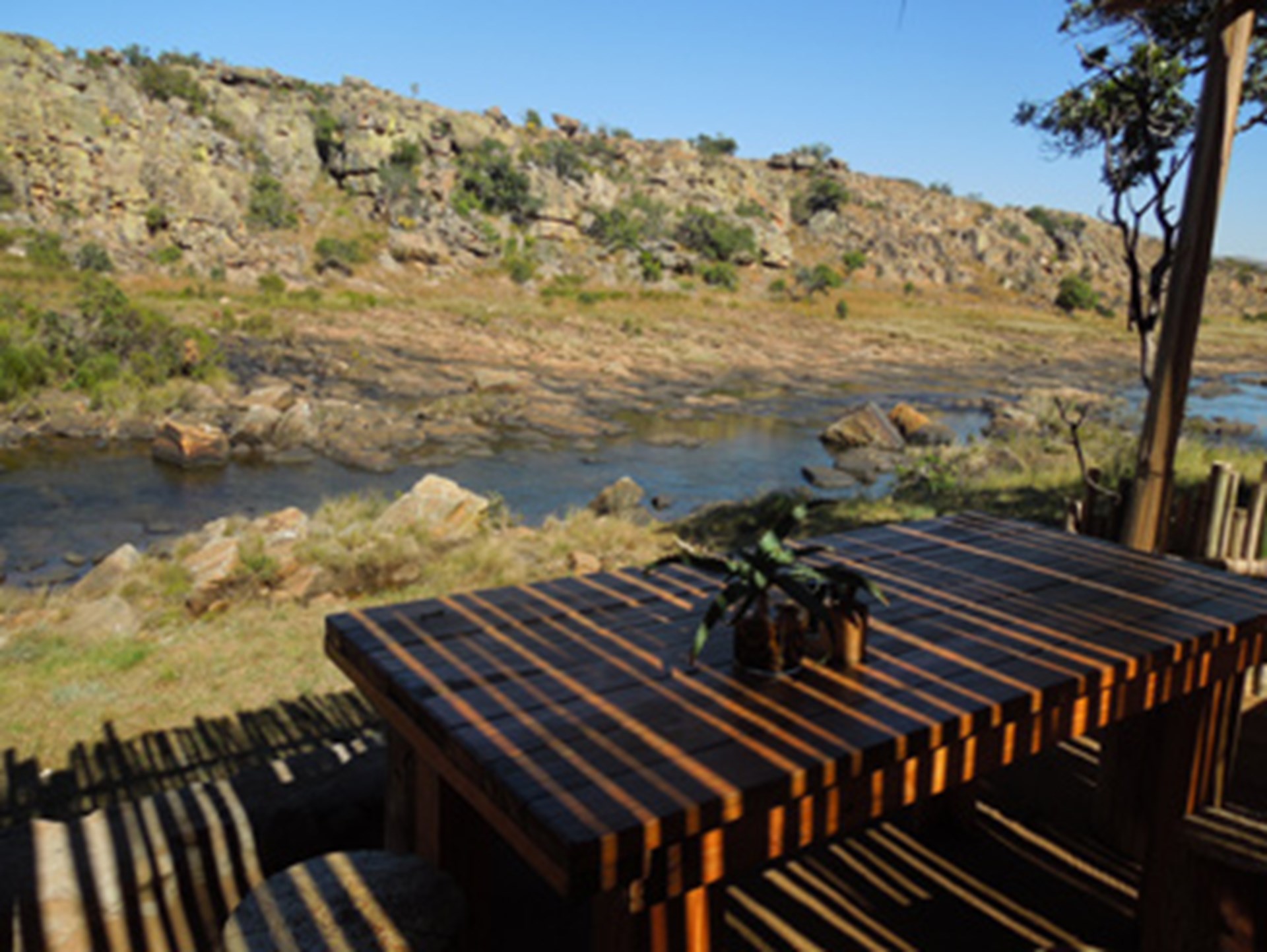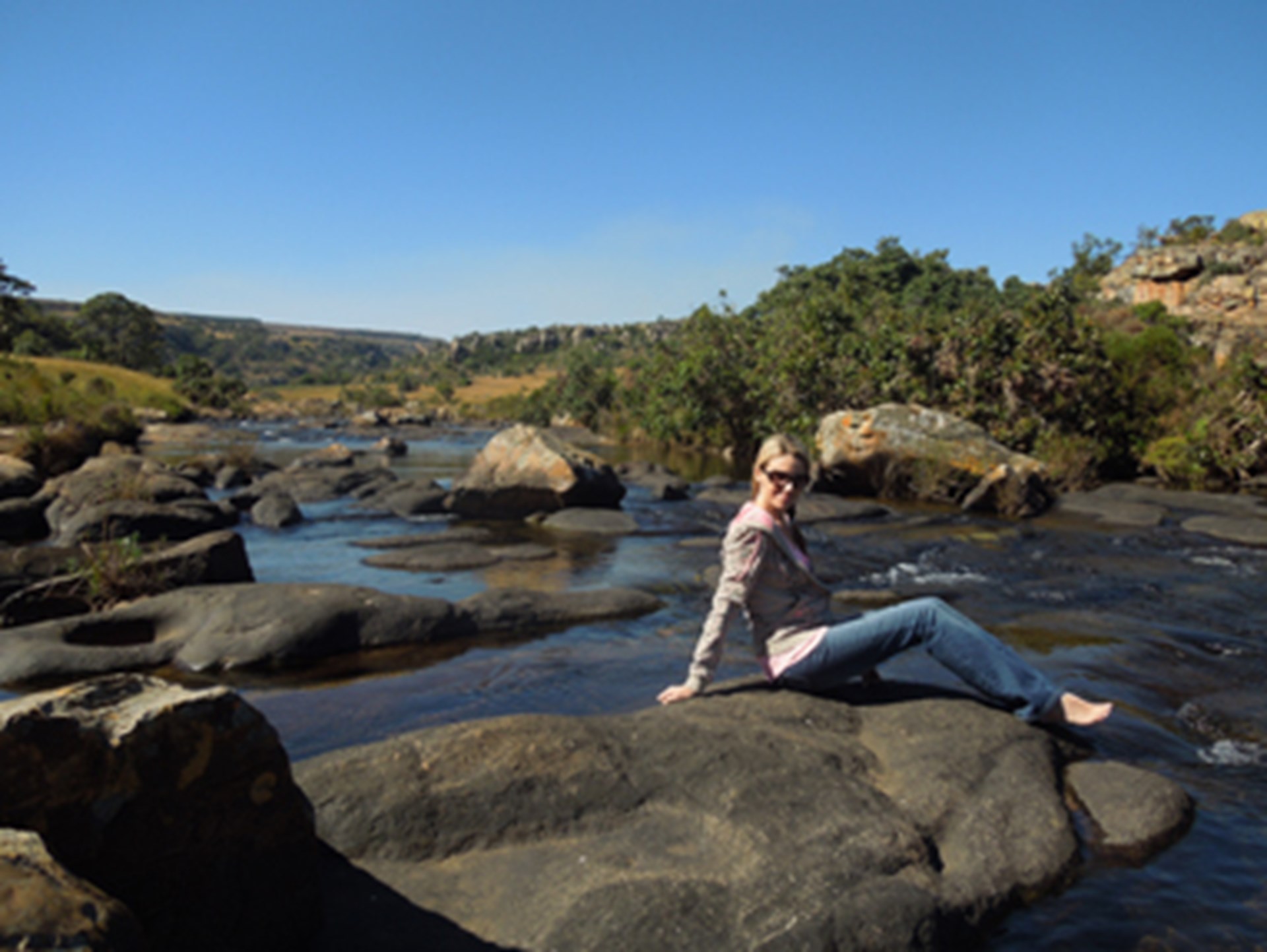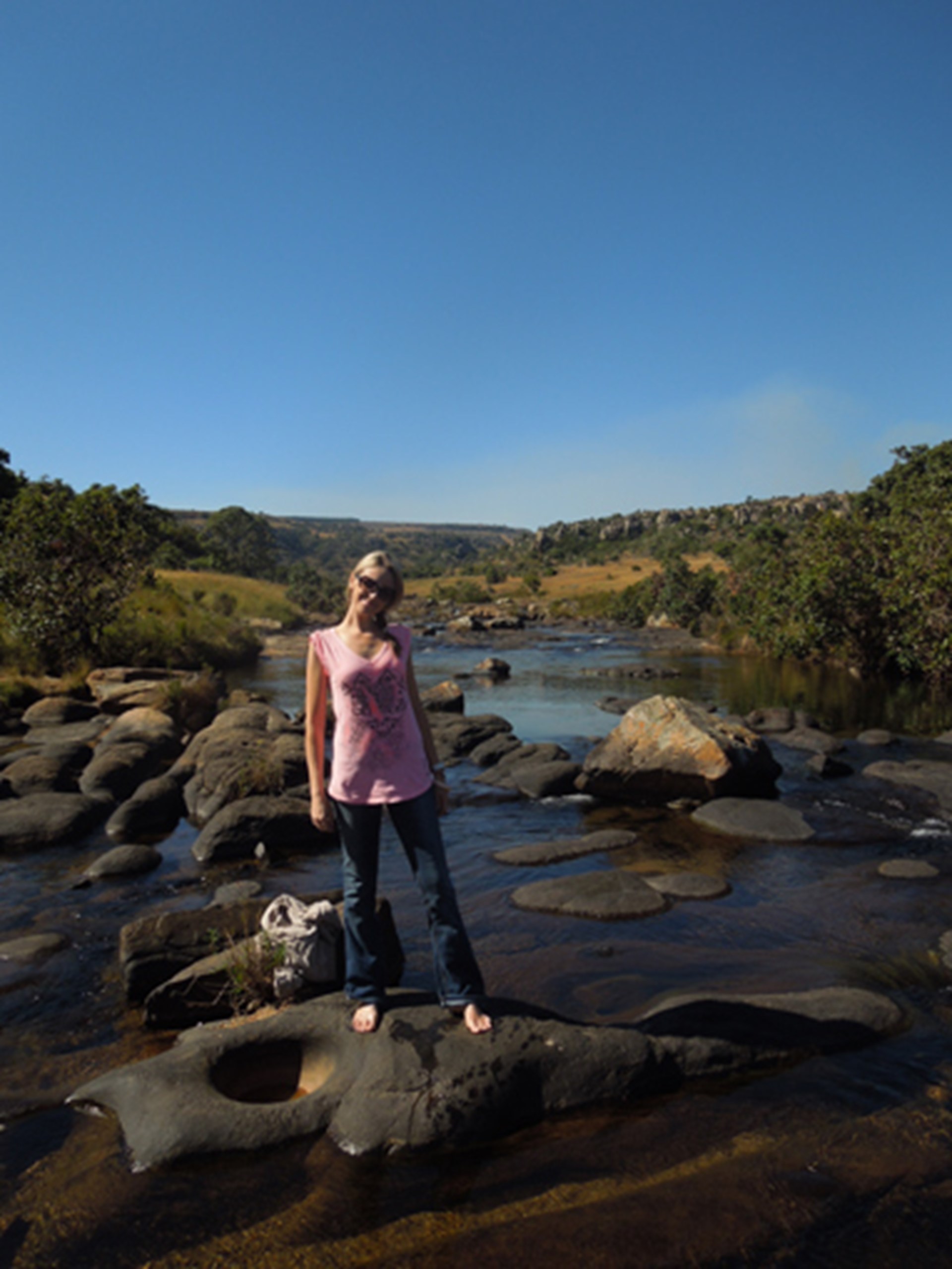 'Bourke's Luck Potholes' features massive circular potholes with the Treur River running right through it. Whilst walking and looking at all the magnificent pothole sculptures I couldn't help but notice a little sign with the words, "Danger" on it. Now there is one thing you should know about Canyon Janes, if you tell an adventurer not to go somewhere they are going to want to go there just to see why you don't want them to go there in the first place! ~breathe~ I'm an inquisitive person so I stepped beyond the point and let's just say they have the sign there for a reason, the shear drop into the potholes is incredibly dangerous.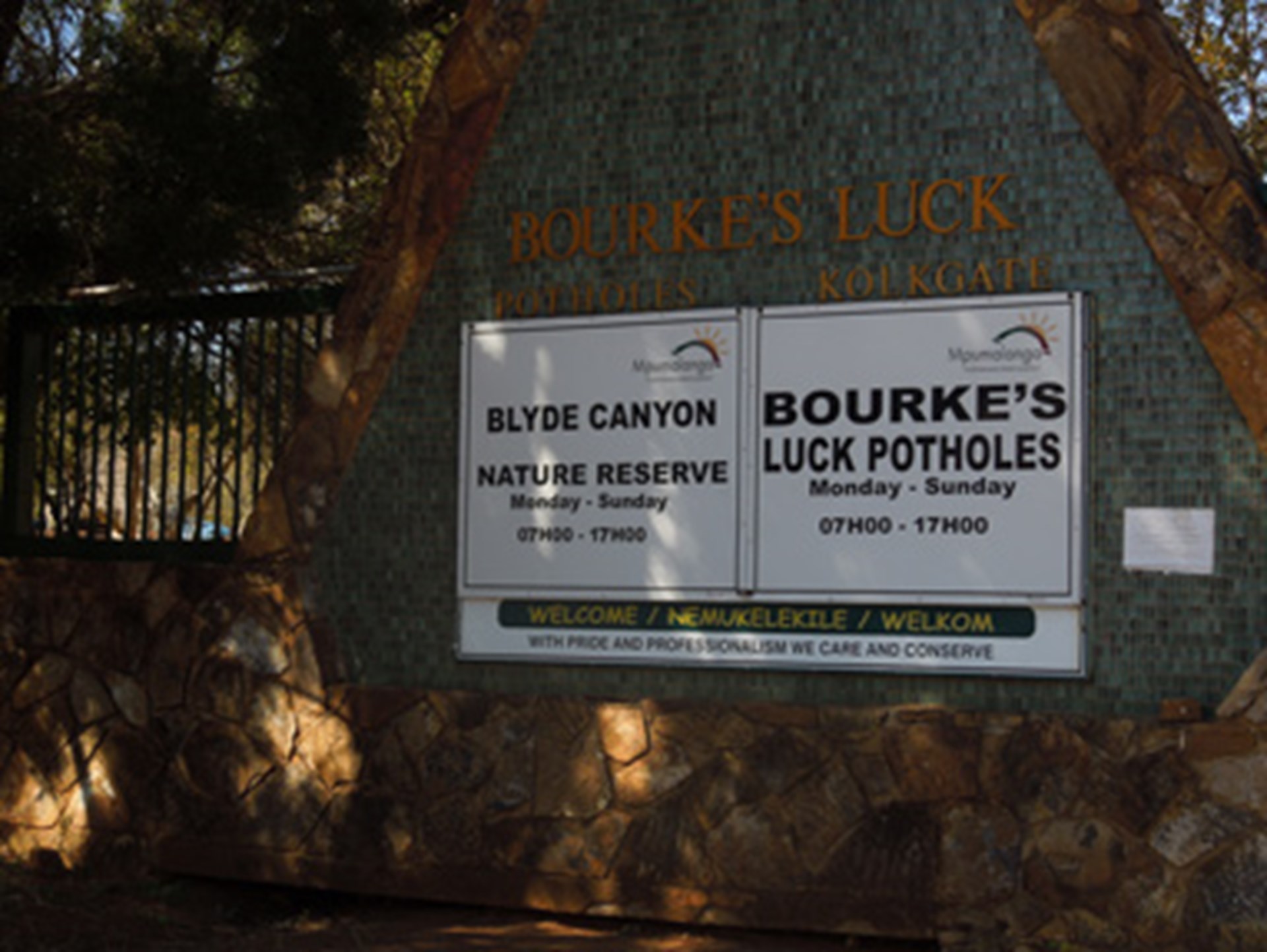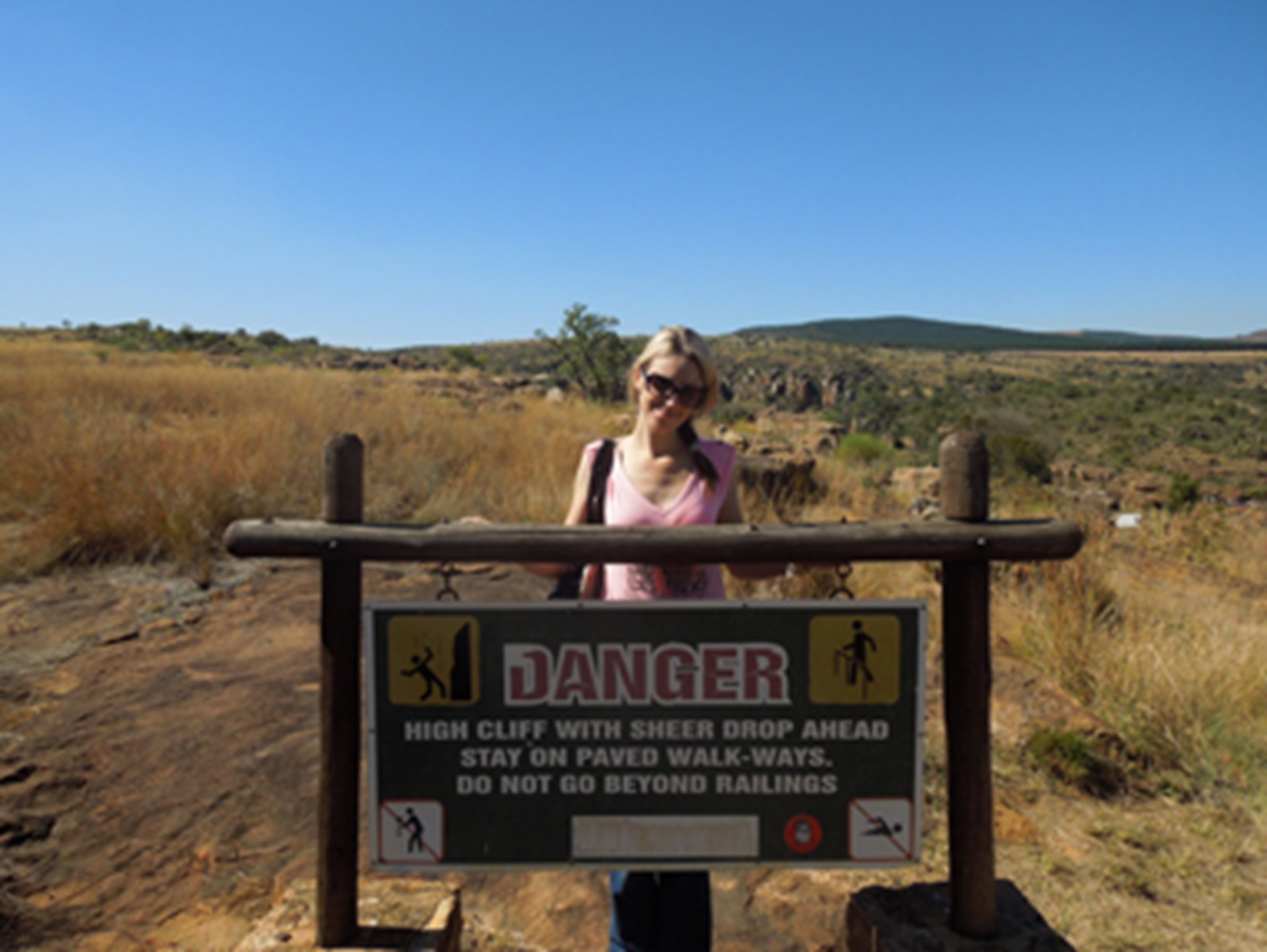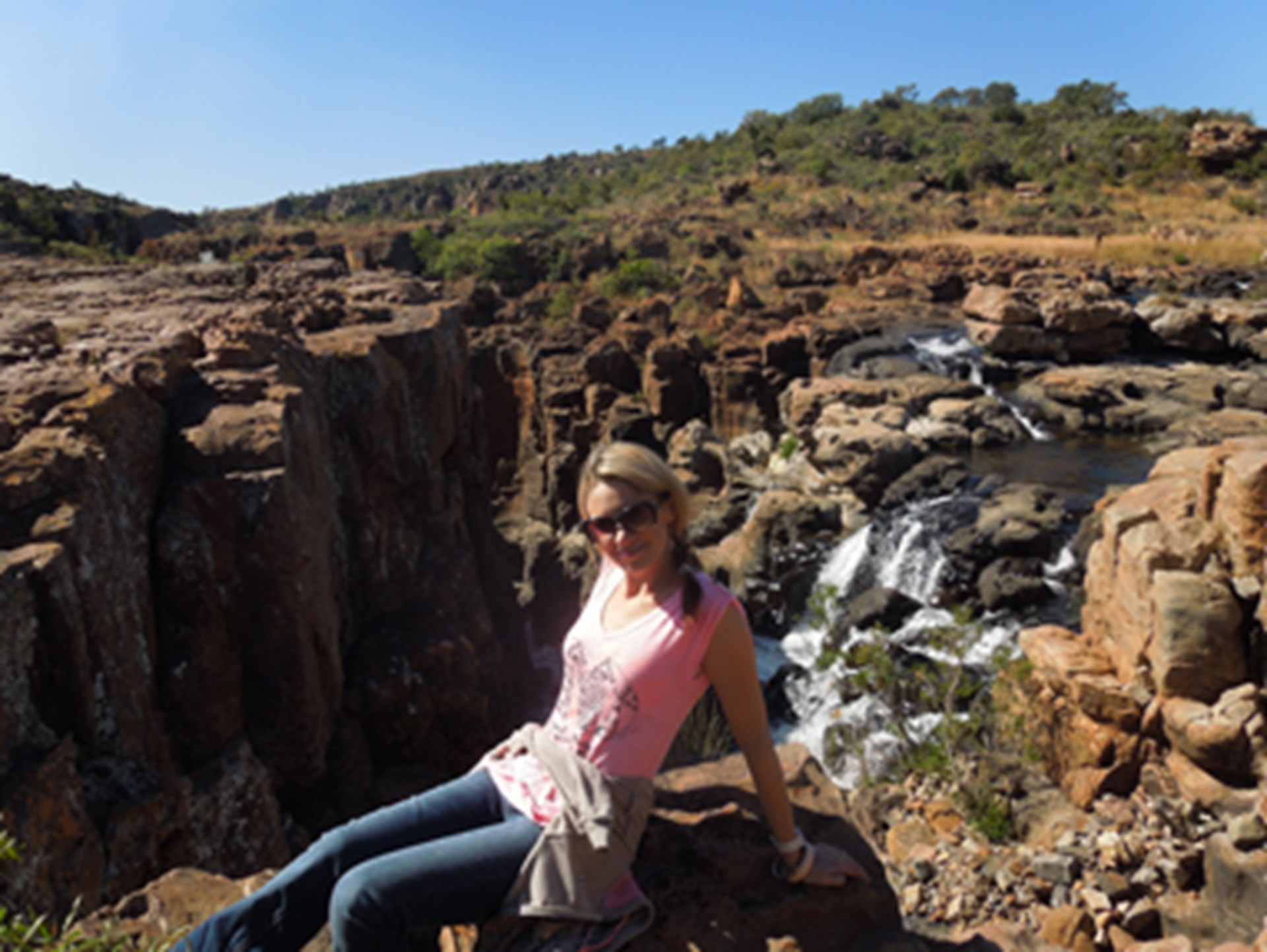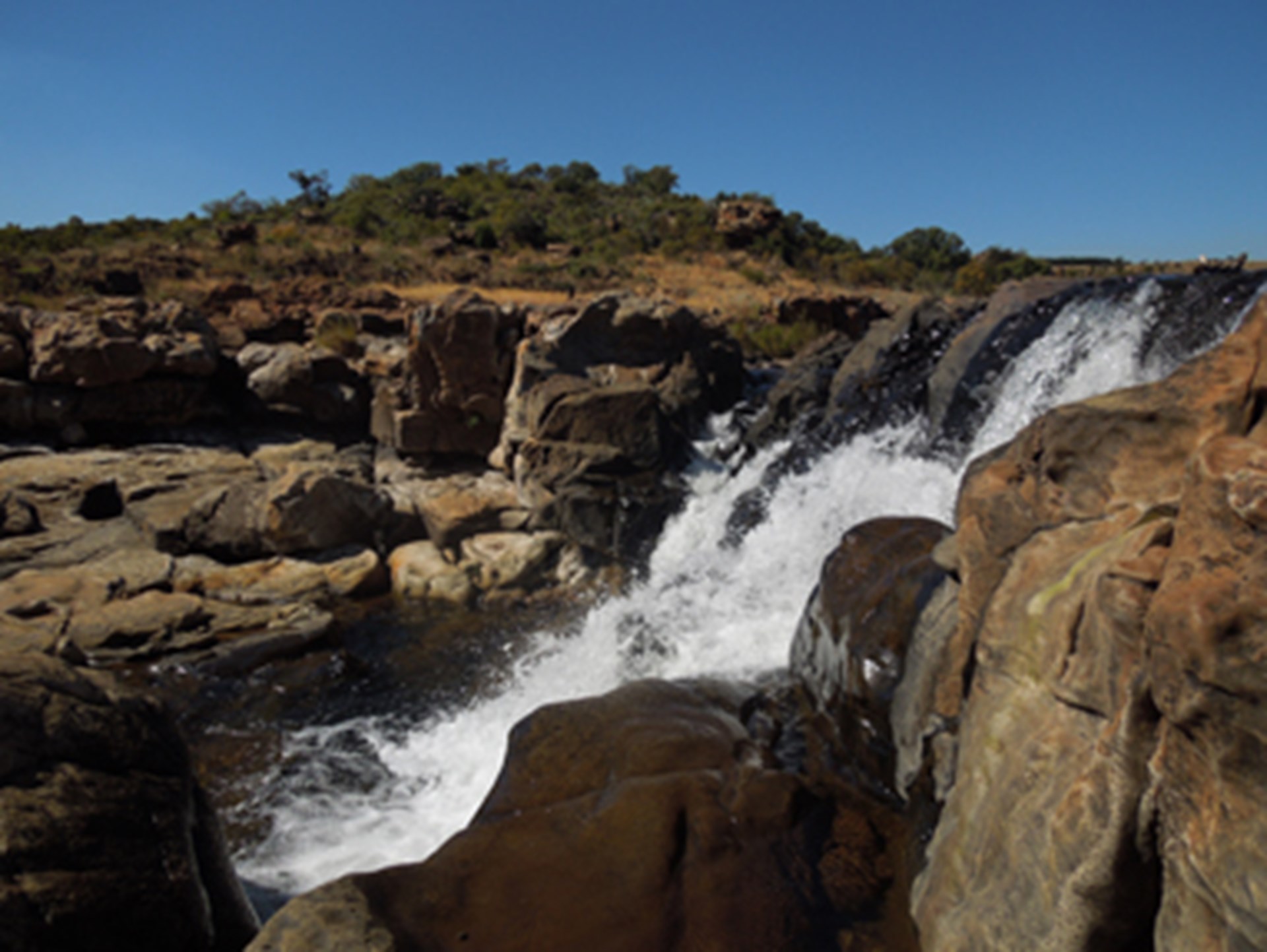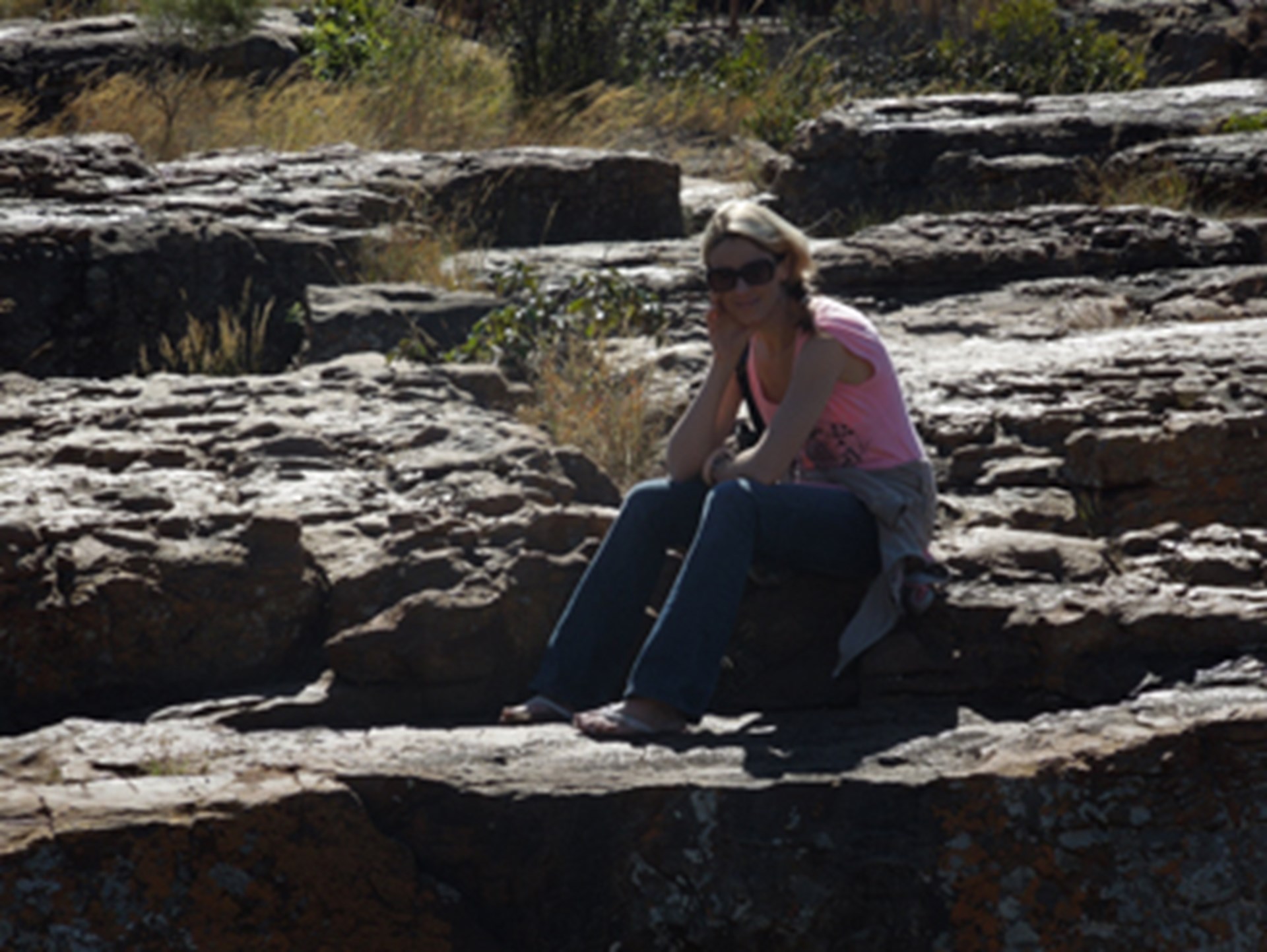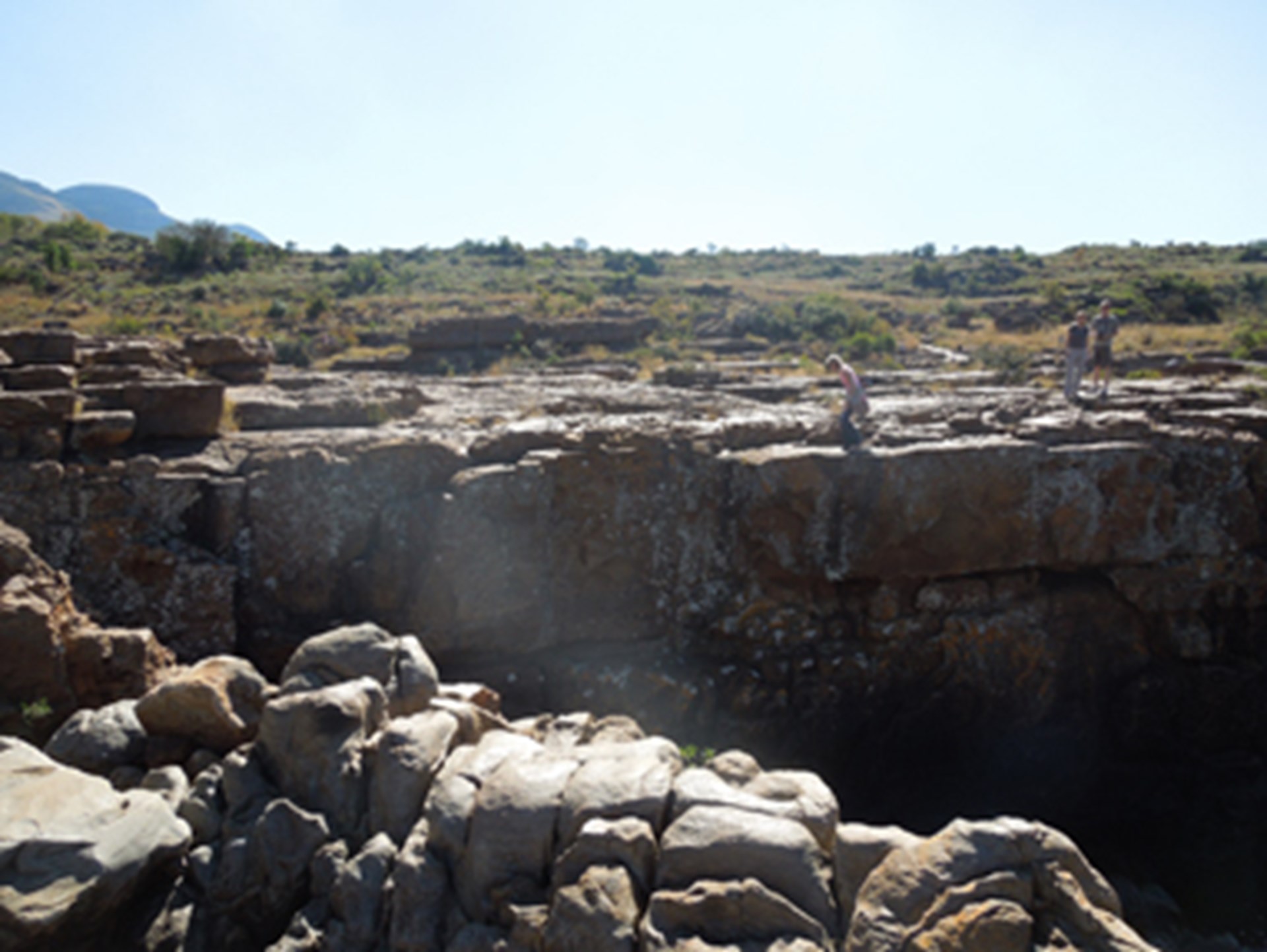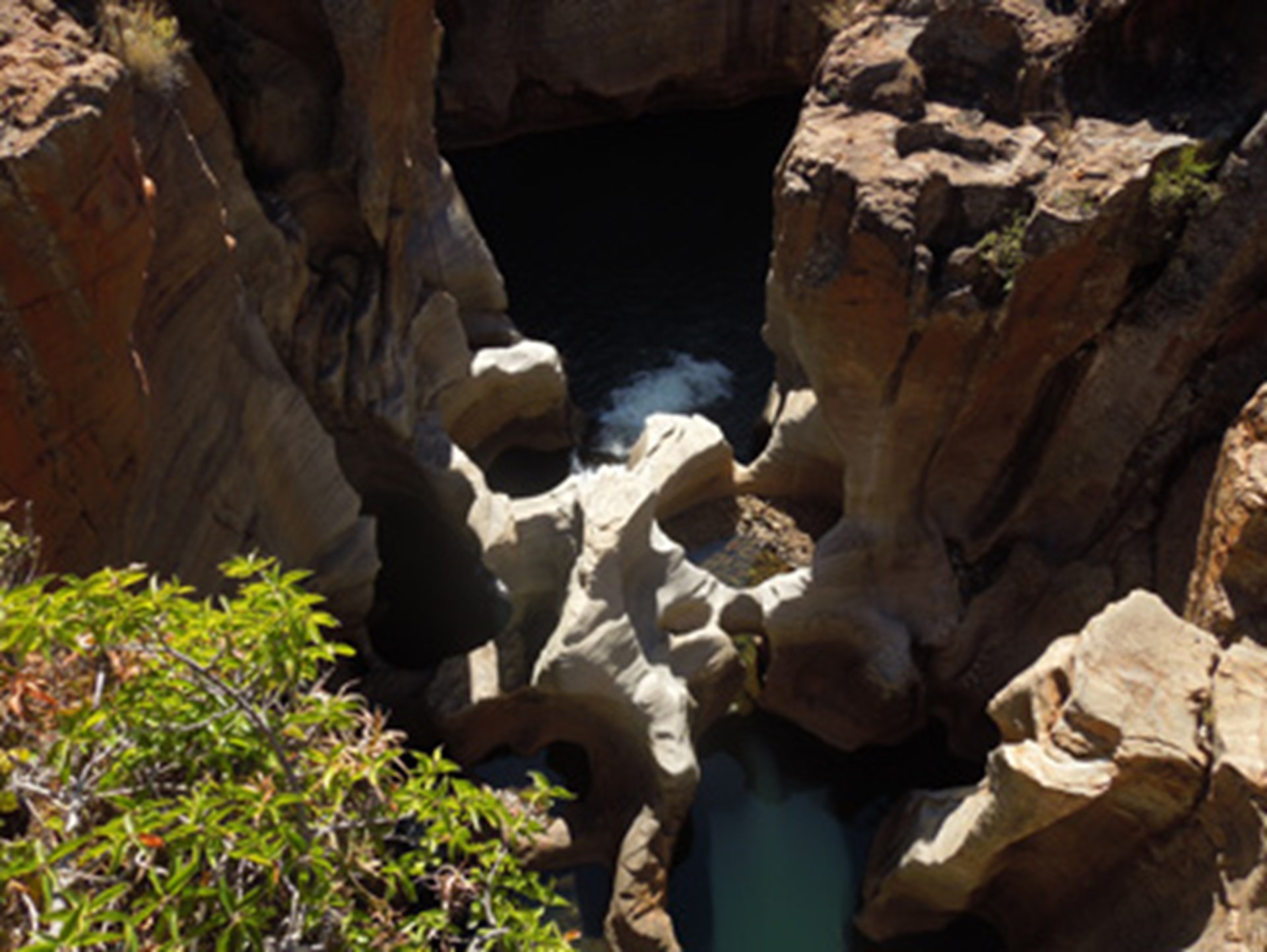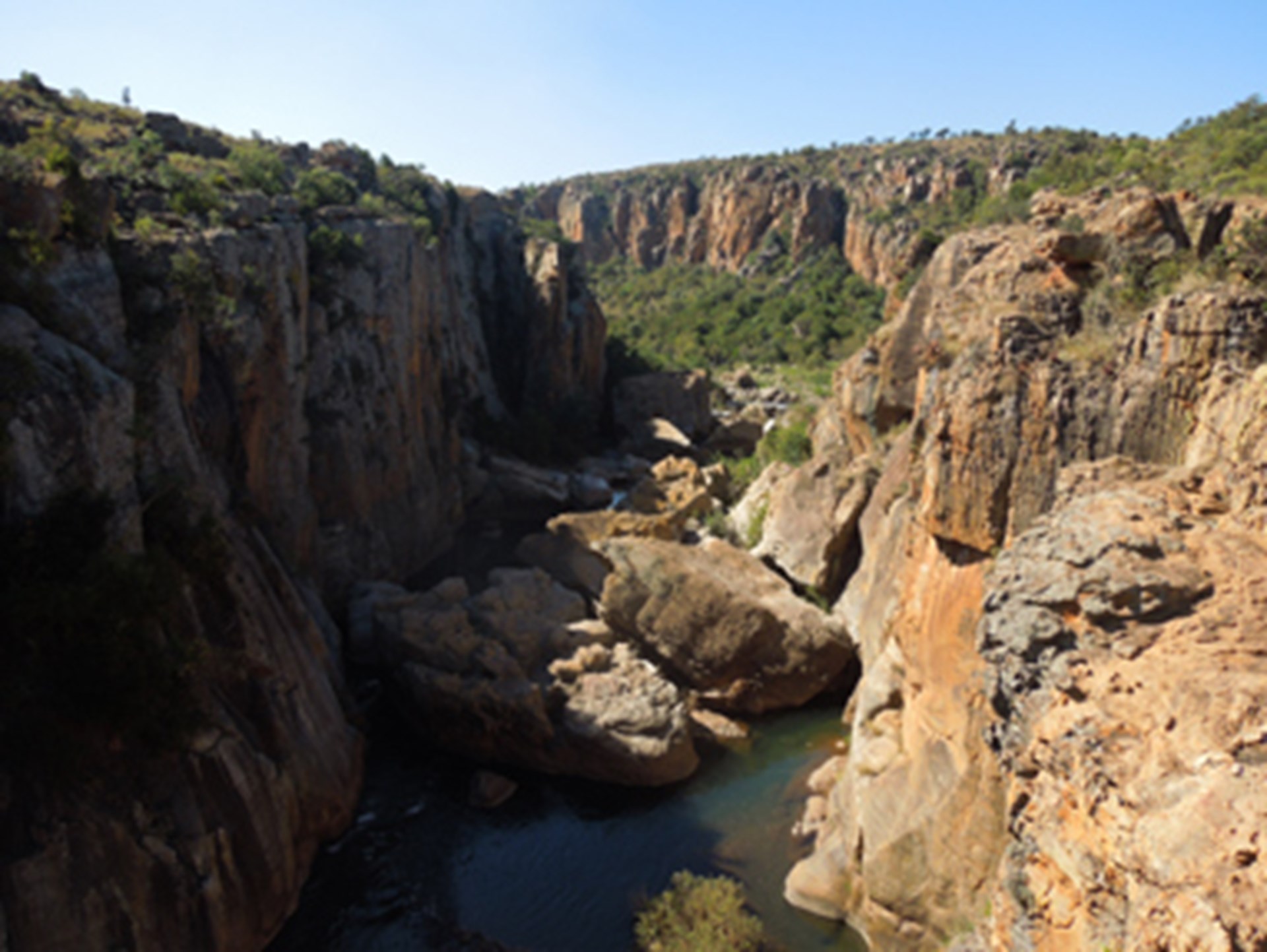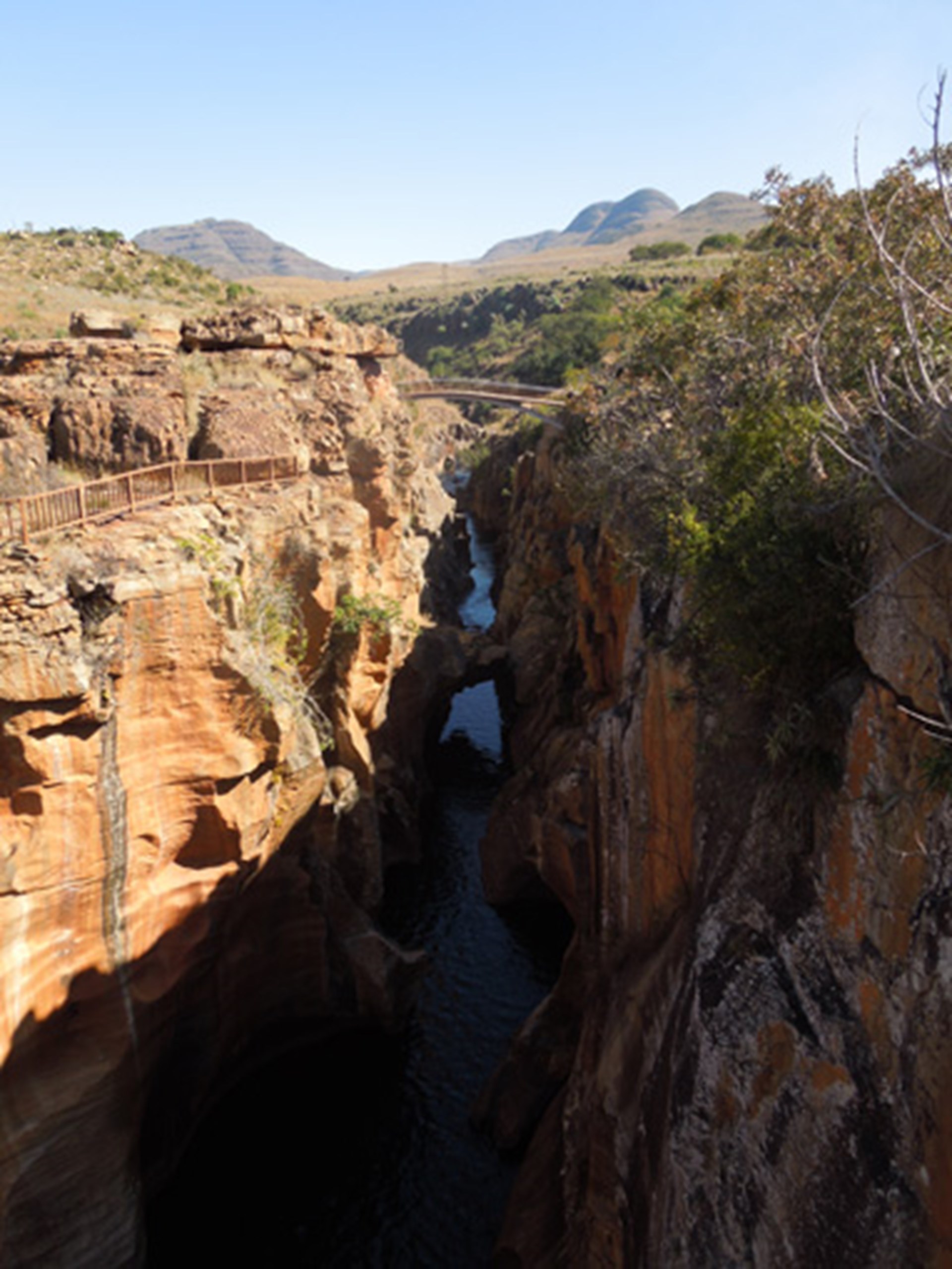 My journey brought me to the 'Lowveld View' which in my opinion has to be one of the most beautiful views I've ever seen. I entered the premises quietly tippy toeing as to not disturb any clicker hiking individuals who like to stare in silence. They could produce a new movie about hikers and call it Silences of the Stares!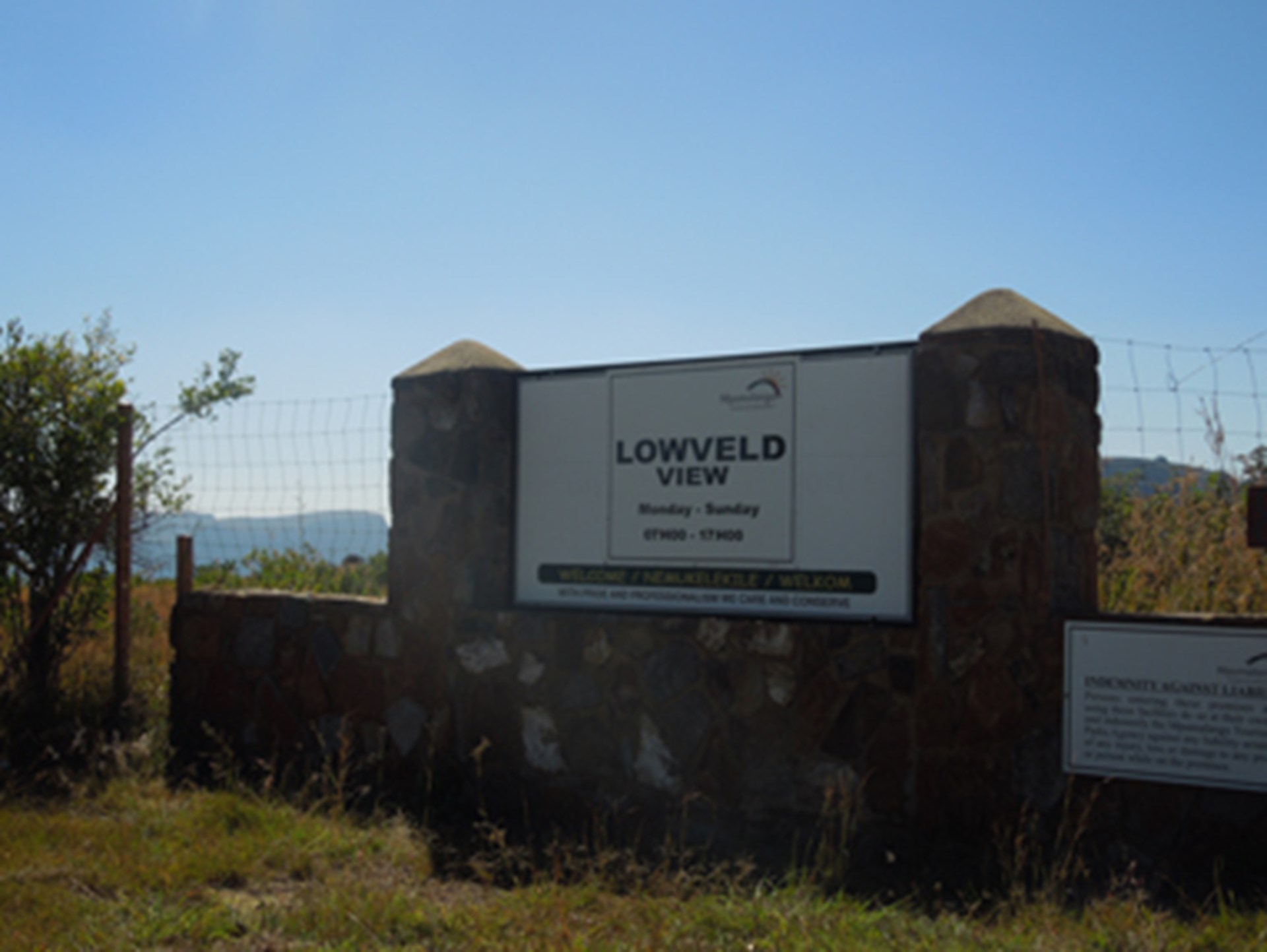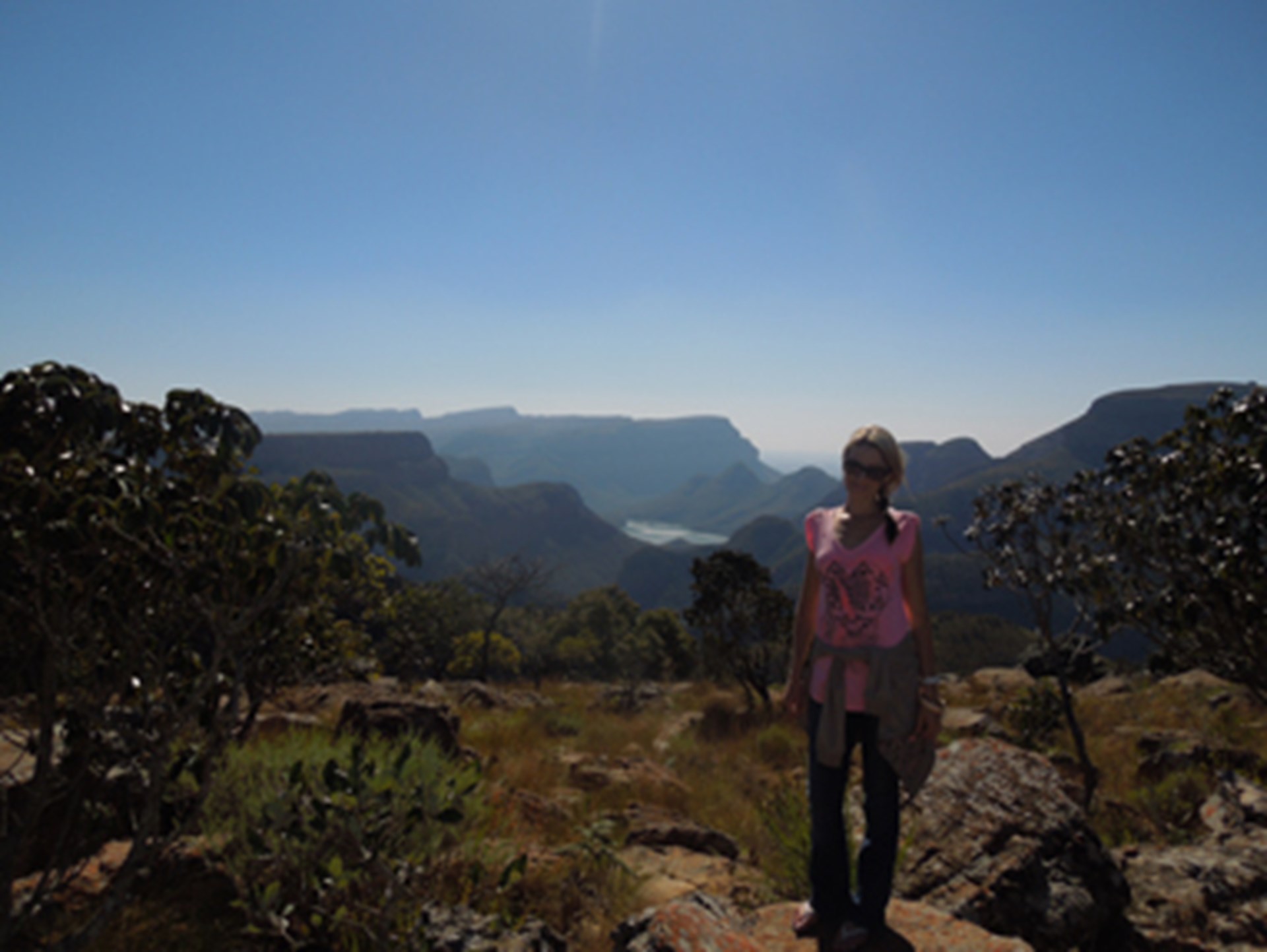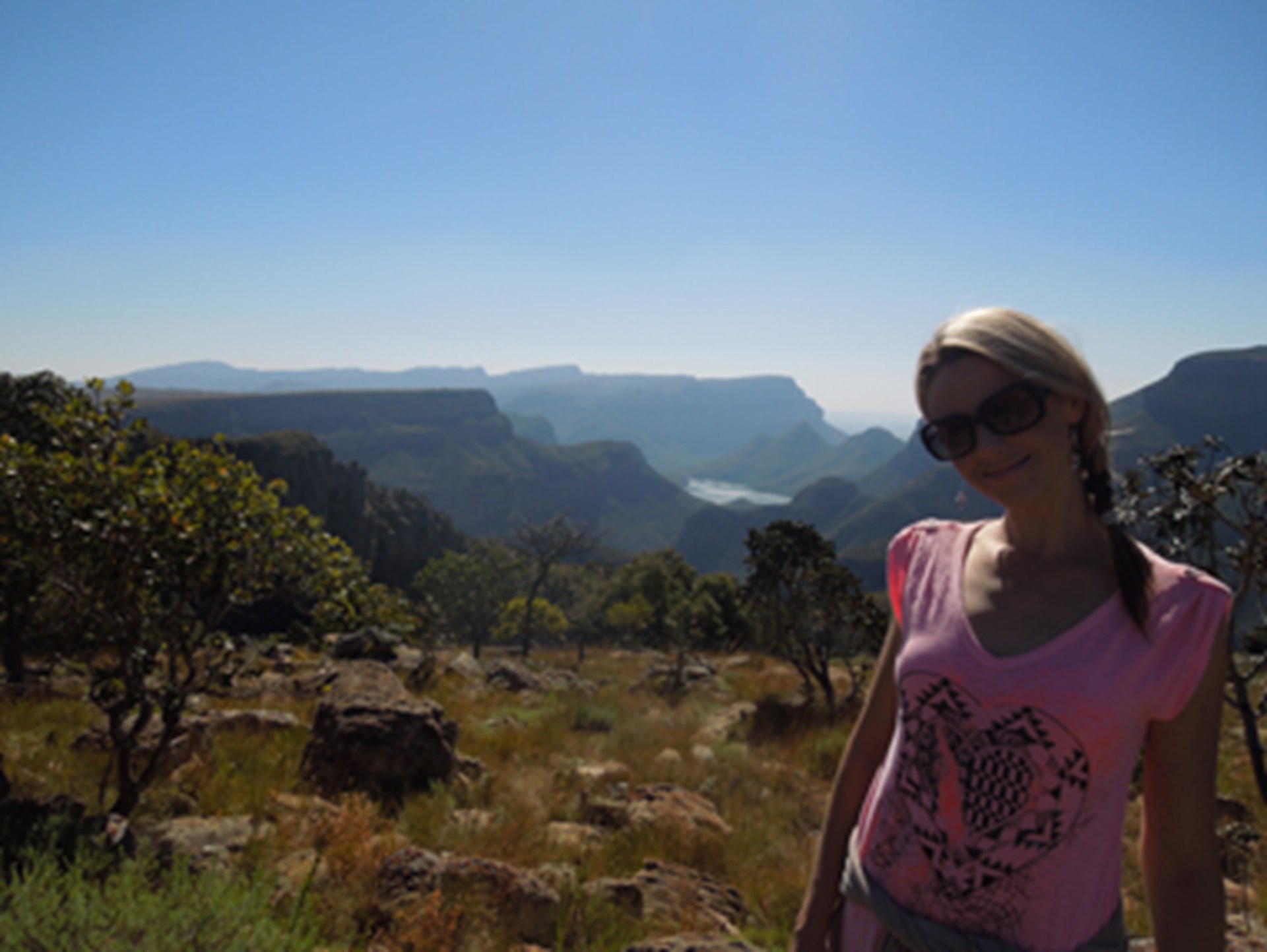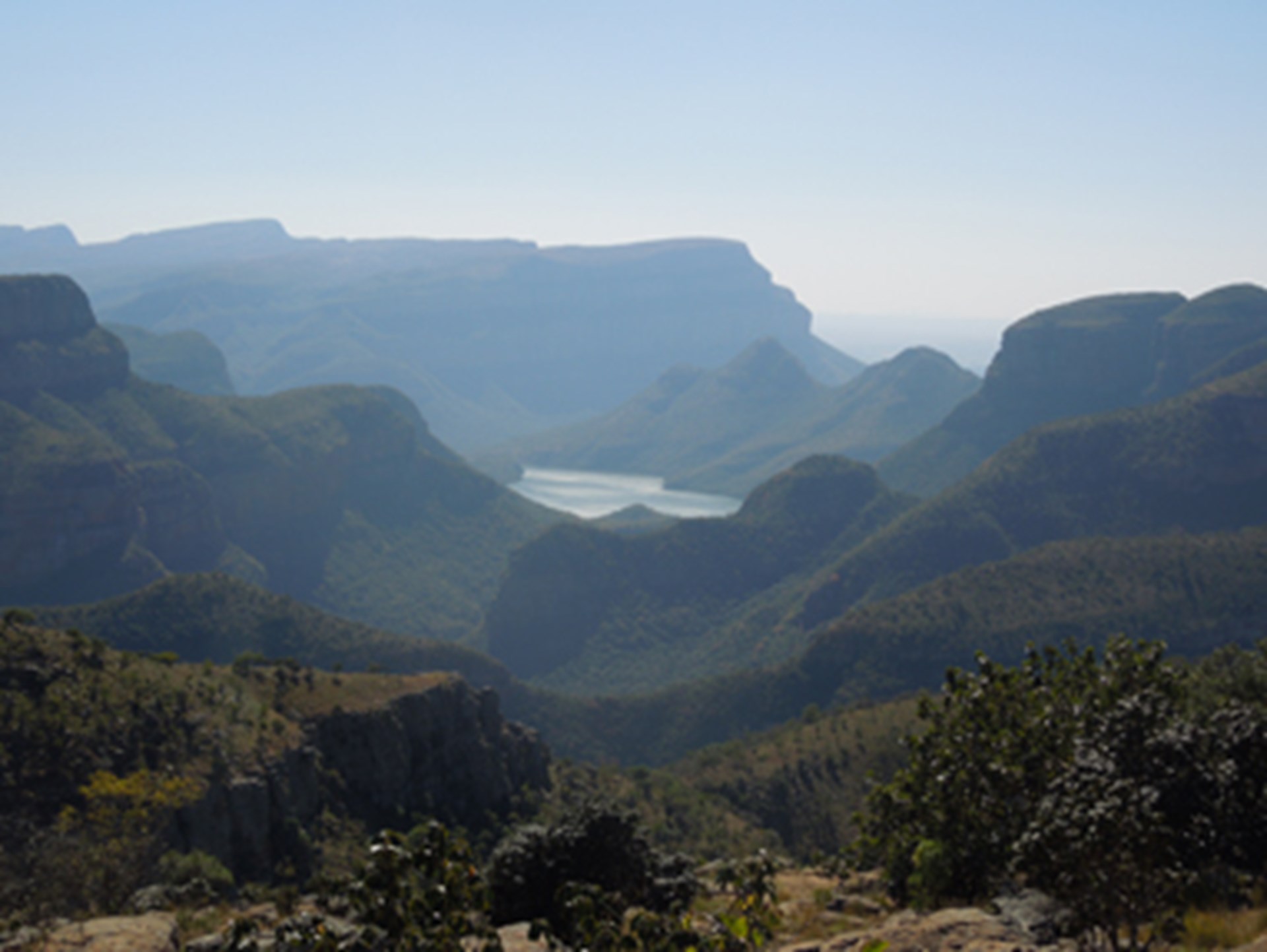 The Blyde River Canyon was unbelievable! Apart from being one of the biggest green canyons in the world, I think it's also one of the most awe inspiring wonders as well! I felt like I was entering a lost world untouched by civilisation. The 'Three Rondawels' stood there like monuments of rock almost seemingly like guardians of this magnificent canyon.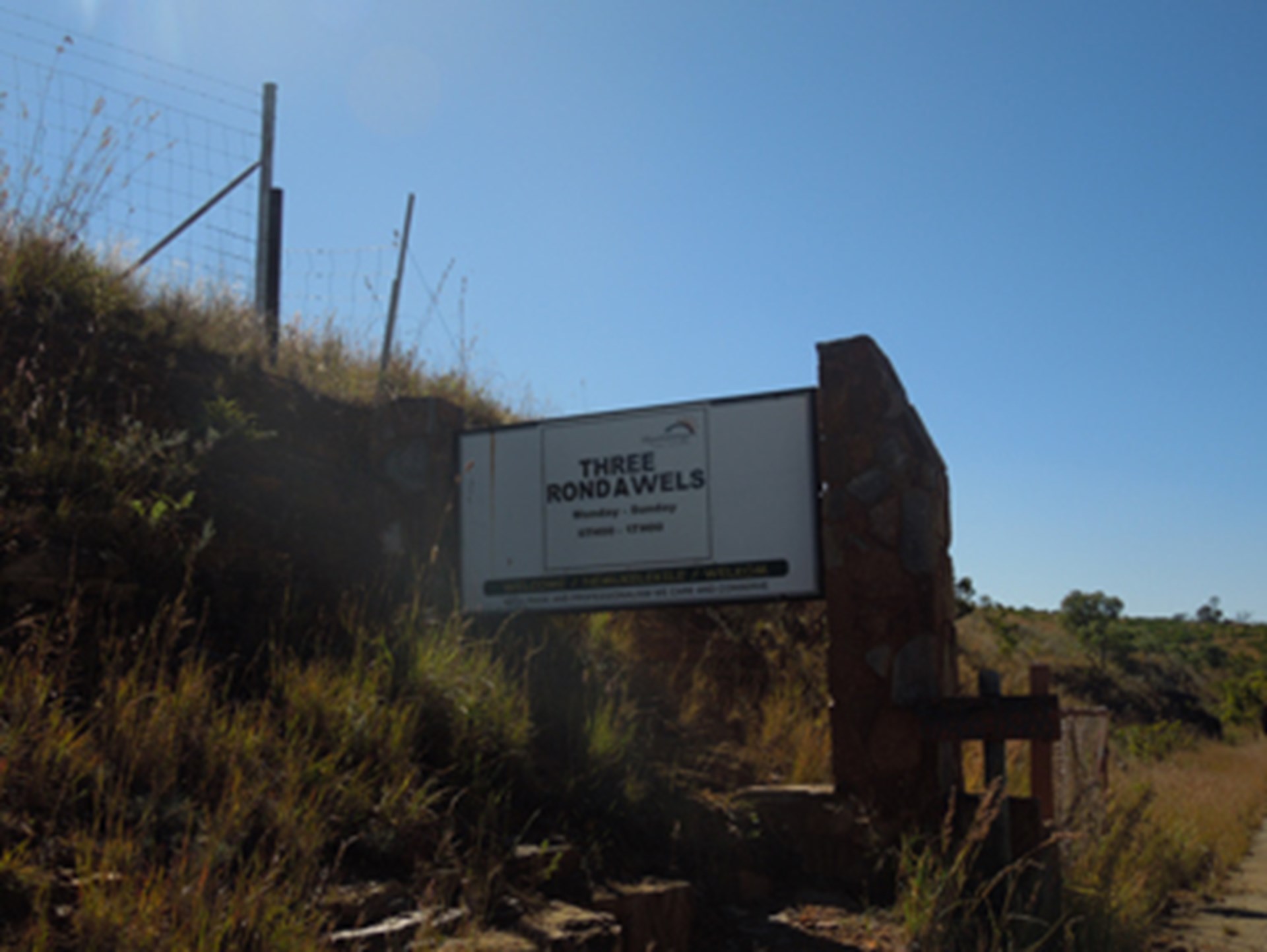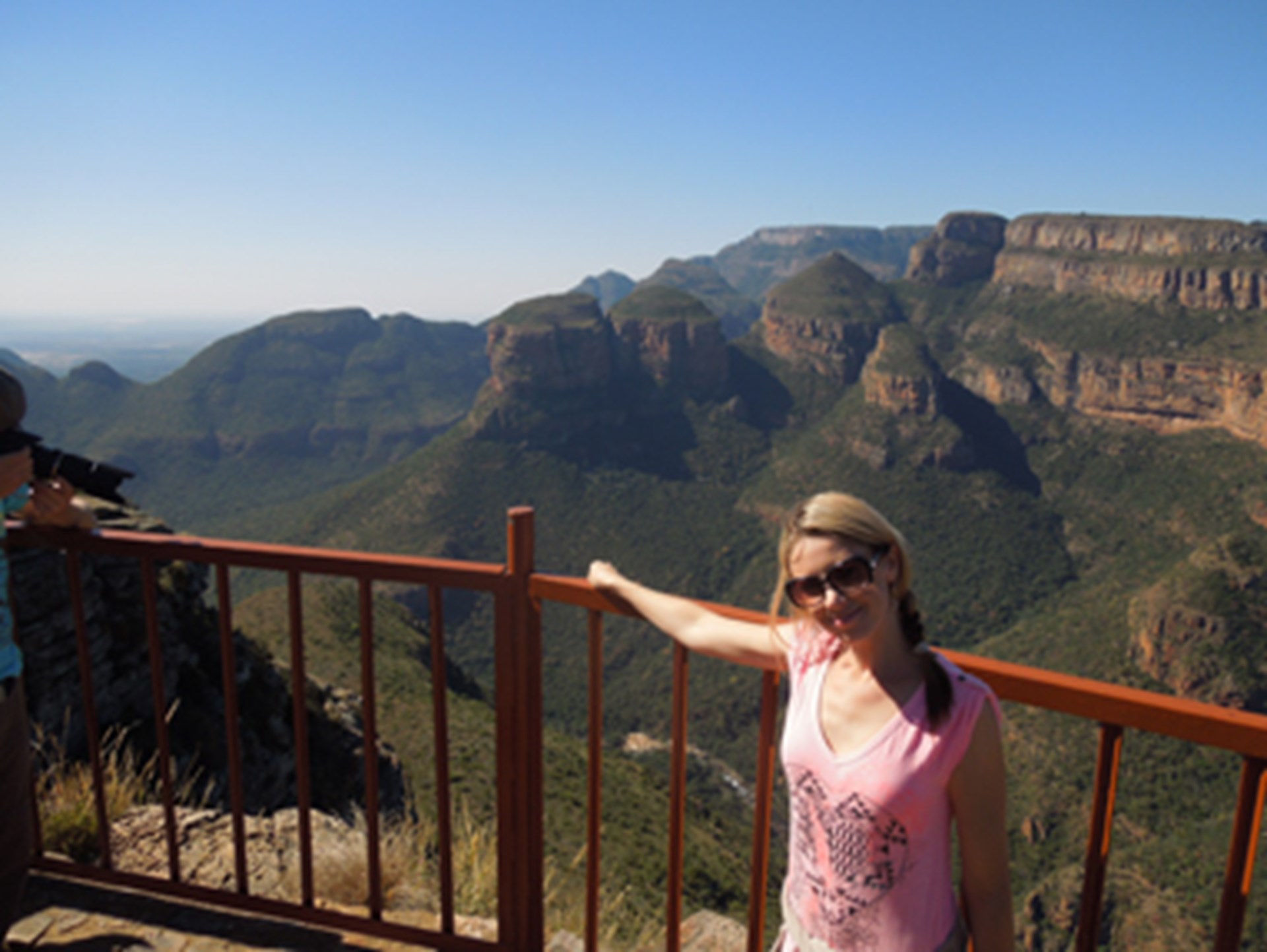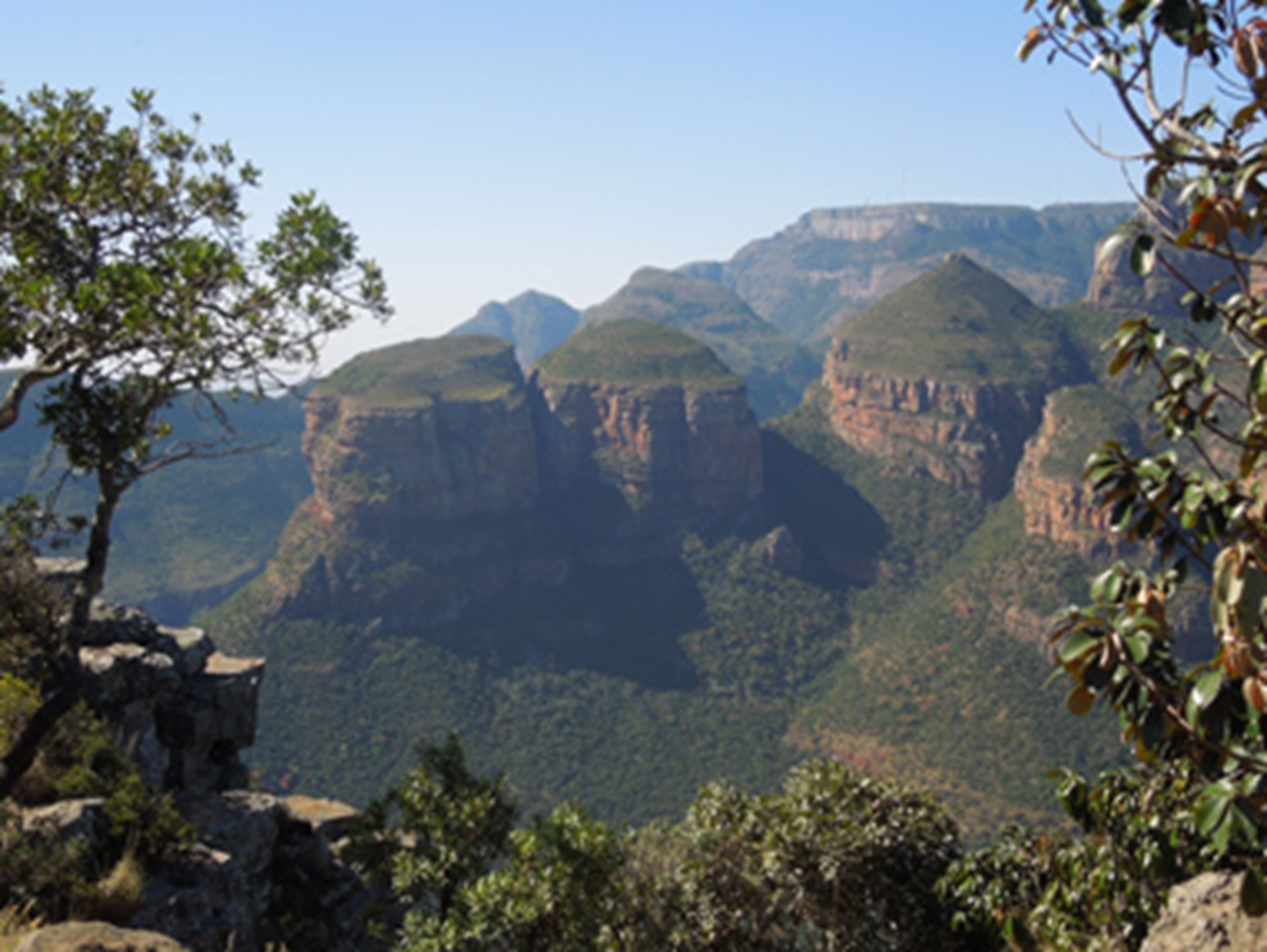 Noon was quickly approaching and so I started making my way to Kruger National Park, home of the Big 5. Travelling to Kruger Park is something you need to plan a little in advance as the roads can get quite bad either affected by potholes or flooding. It's always advisable to phone the gate you are planning to visit and find out about the conditions of the roads. I've read so many magazines and heard so many people talk about how one needs to spend weeks in the Kruger Park but I wanted to prove that one could really get a feel for the park in just a few hours.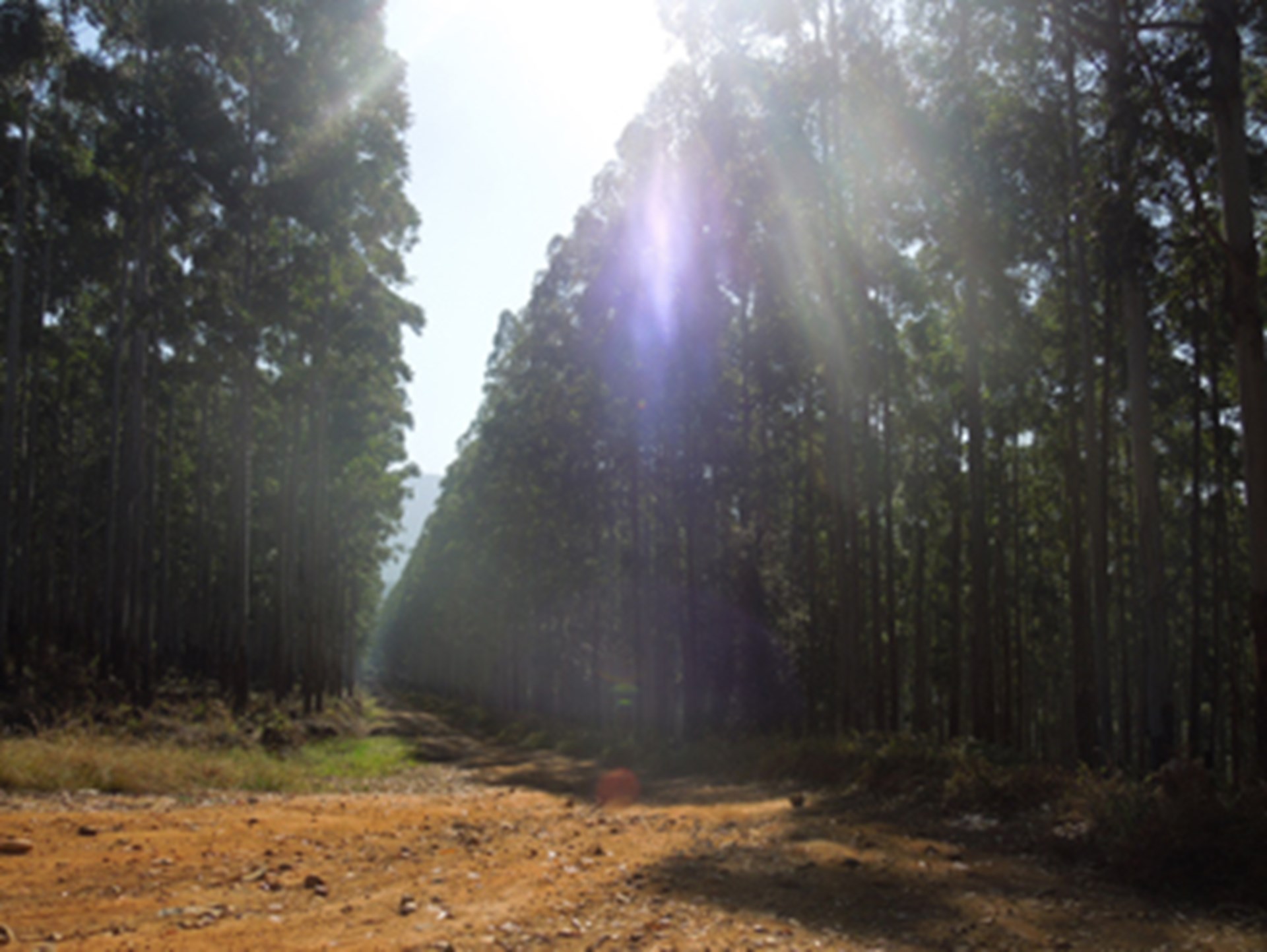 Arriving at the Numbi Gate I was welcomed by some game rangers and proceeded to sign all the indemnities before entering the reserve. I had about 1 ½ hours to explore until my night safari so I entered the bush hoping to catch a glimpse of some unexpected wildlife. This time of the year in the park is difficult to spot animals as the grass is so high but it's still such an experience to be driving in the reserve and seeing all the Marula trees along the road.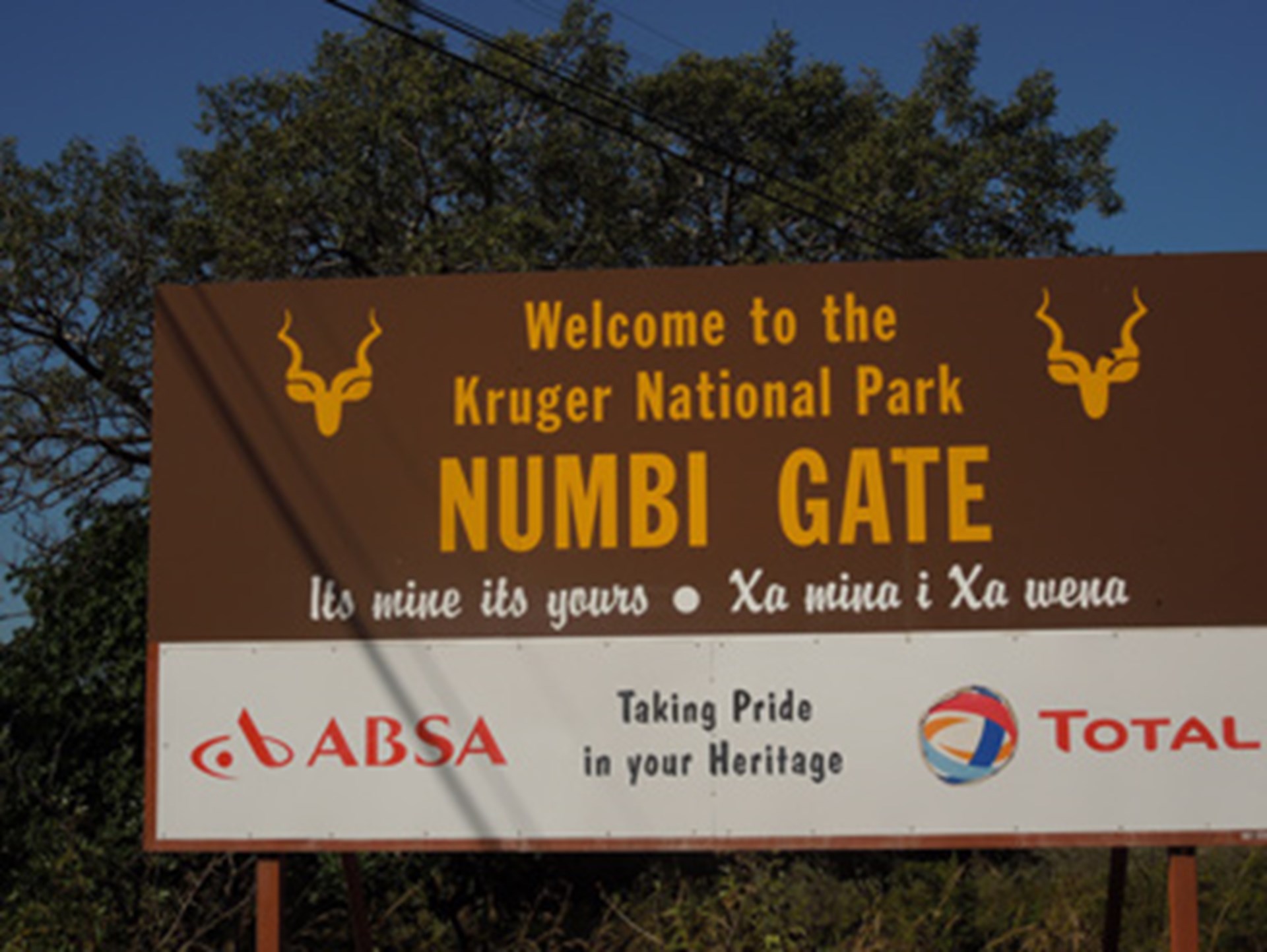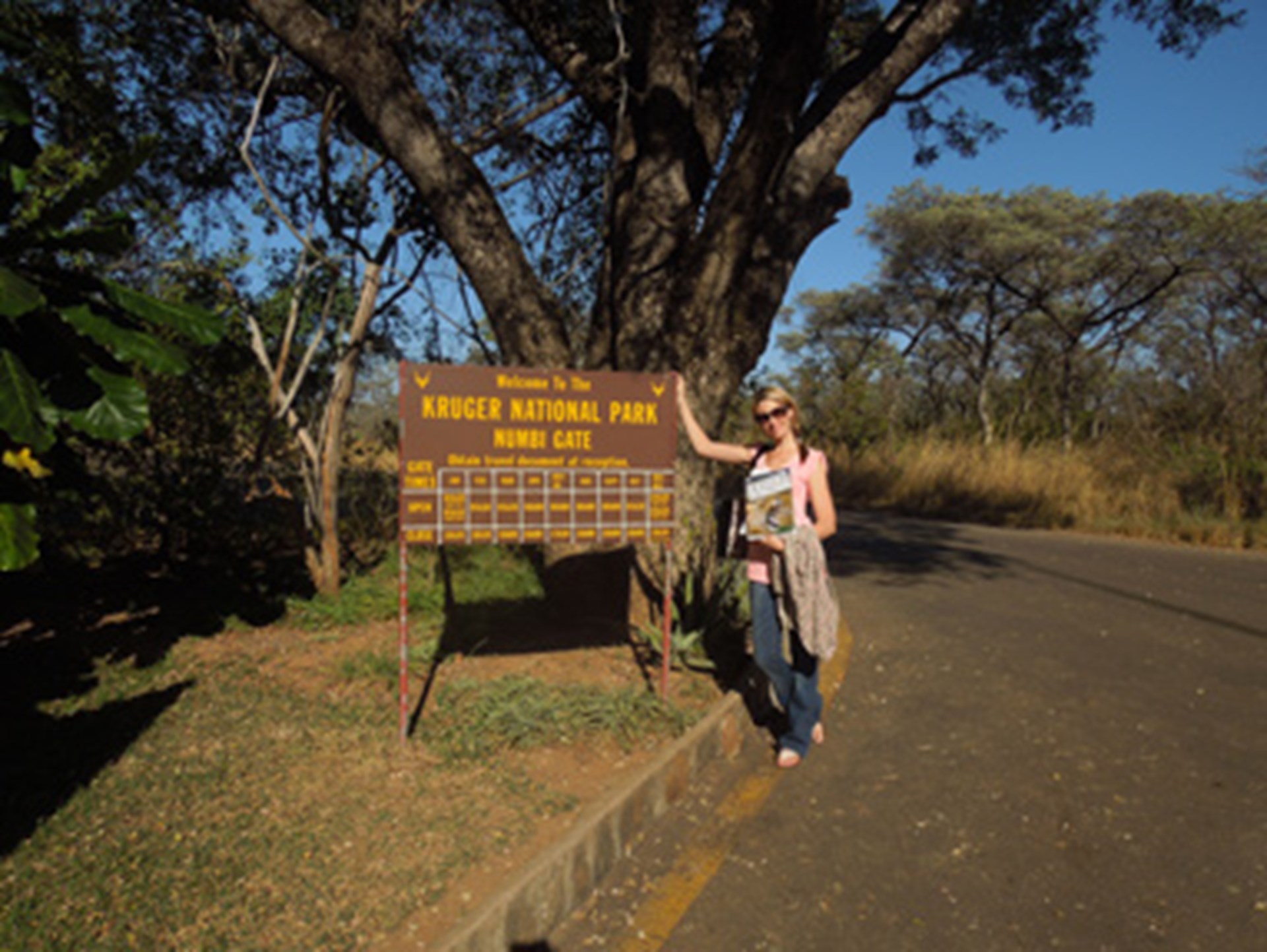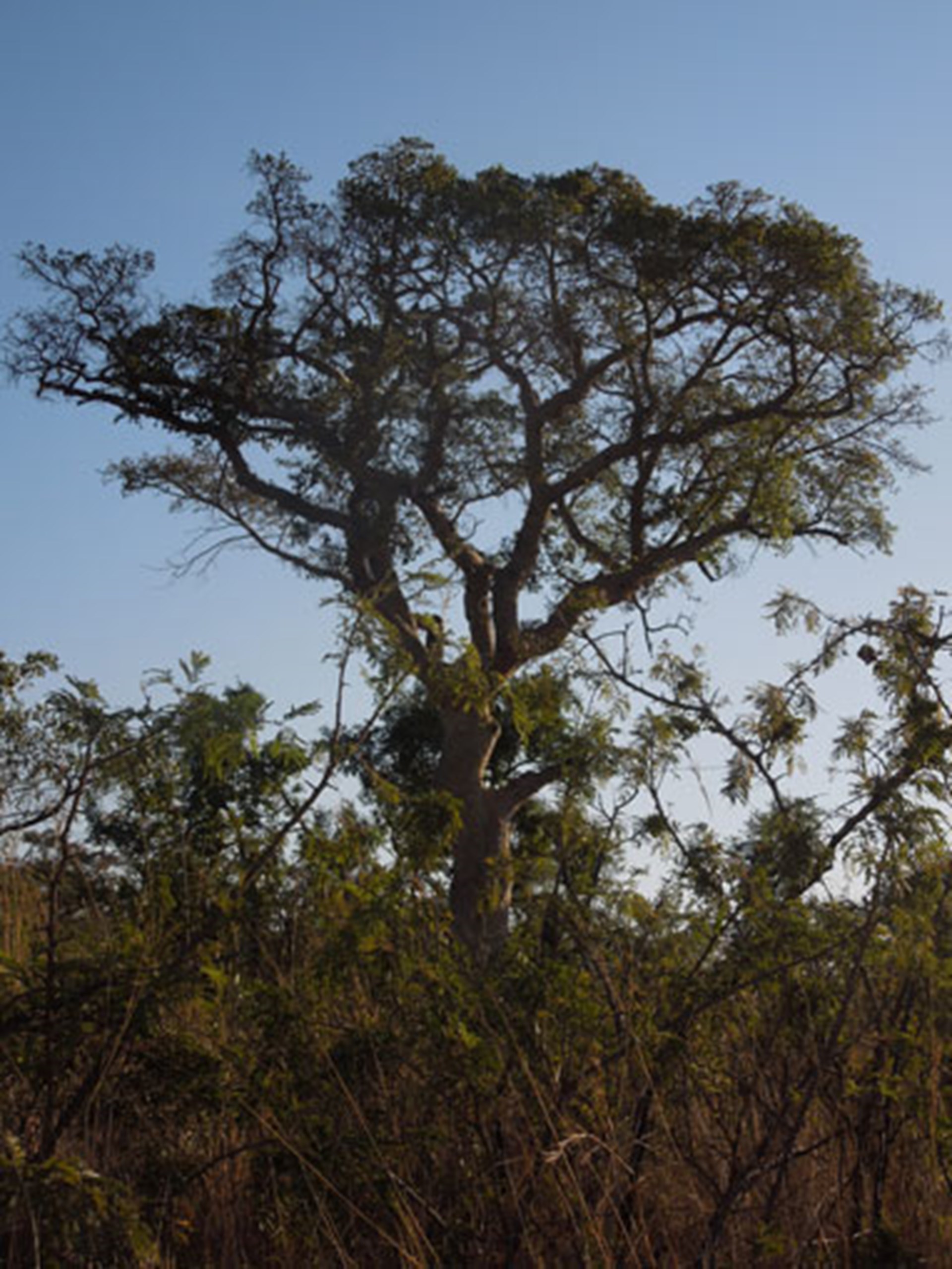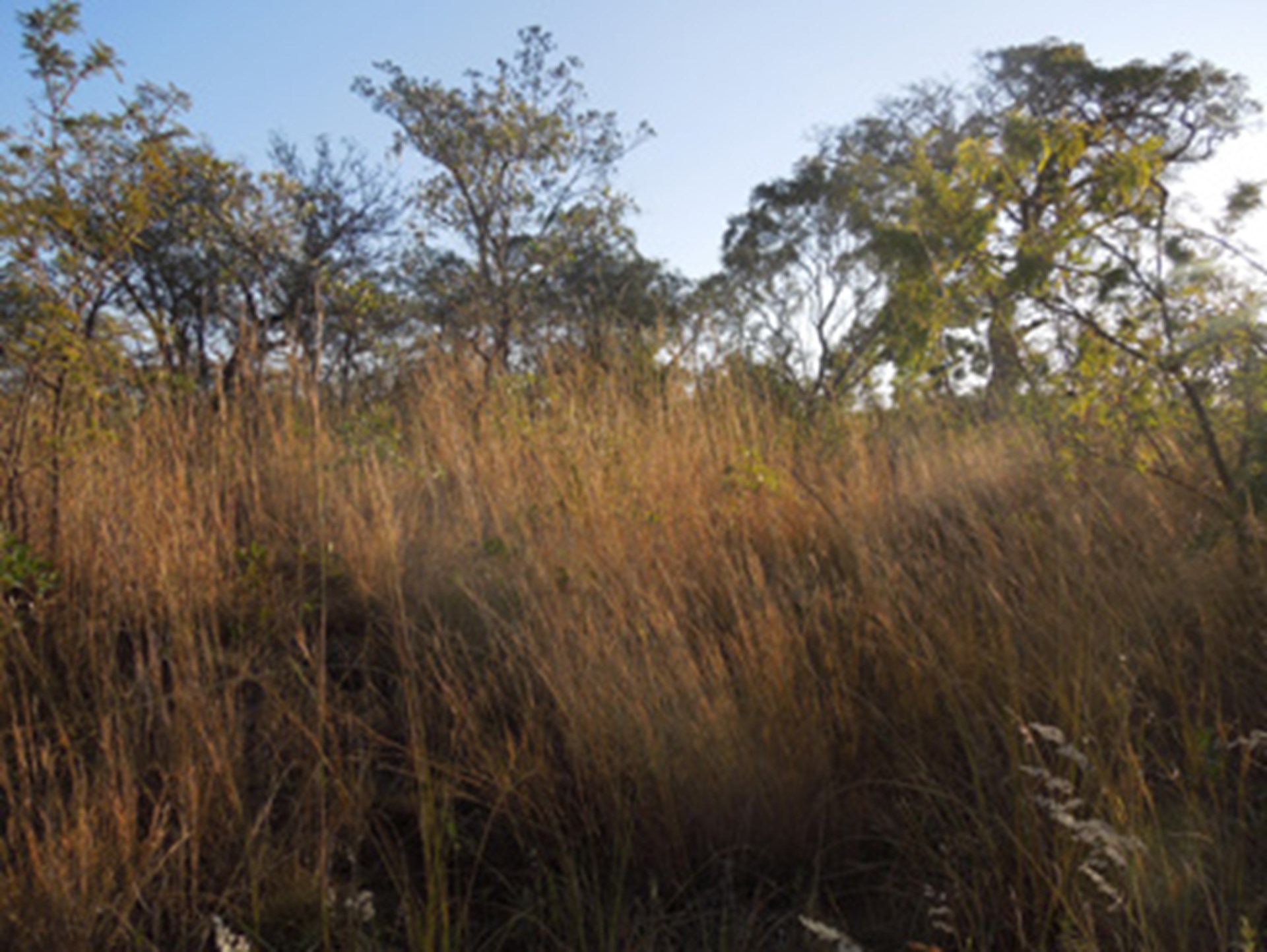 Slowly steering on the dirt road my spotting animal voyage finally began and it wasn't as easy as I thought. It was almost like they were wearing sneaky sneaky camouflage outfits pretending to be chameleons or word could have broken out that I was eating biltong and they were specifically hiding from me... whatever the reason I couldn't give up! I needed a bush strategy to convey to the furry beings that I wasn't there to harm them so I resorted to making 'Kaa Kaa' noises out the window! In the past this method has been proven rather effective and after just about giving up I saw a springbok lurking in-between branches. Soon after that I watched two Eagles perched in a nearby tree and right then I realised that I was in animal paradise. The sun was slowly setting on the park and seeing its rays stretched out through the indigenous trees was astounding. I took a quick peek through my sun roof which might I add is a 'no no' in the park as you never know what could be stalking from behind but it's my Canyon Jane thing in me once again.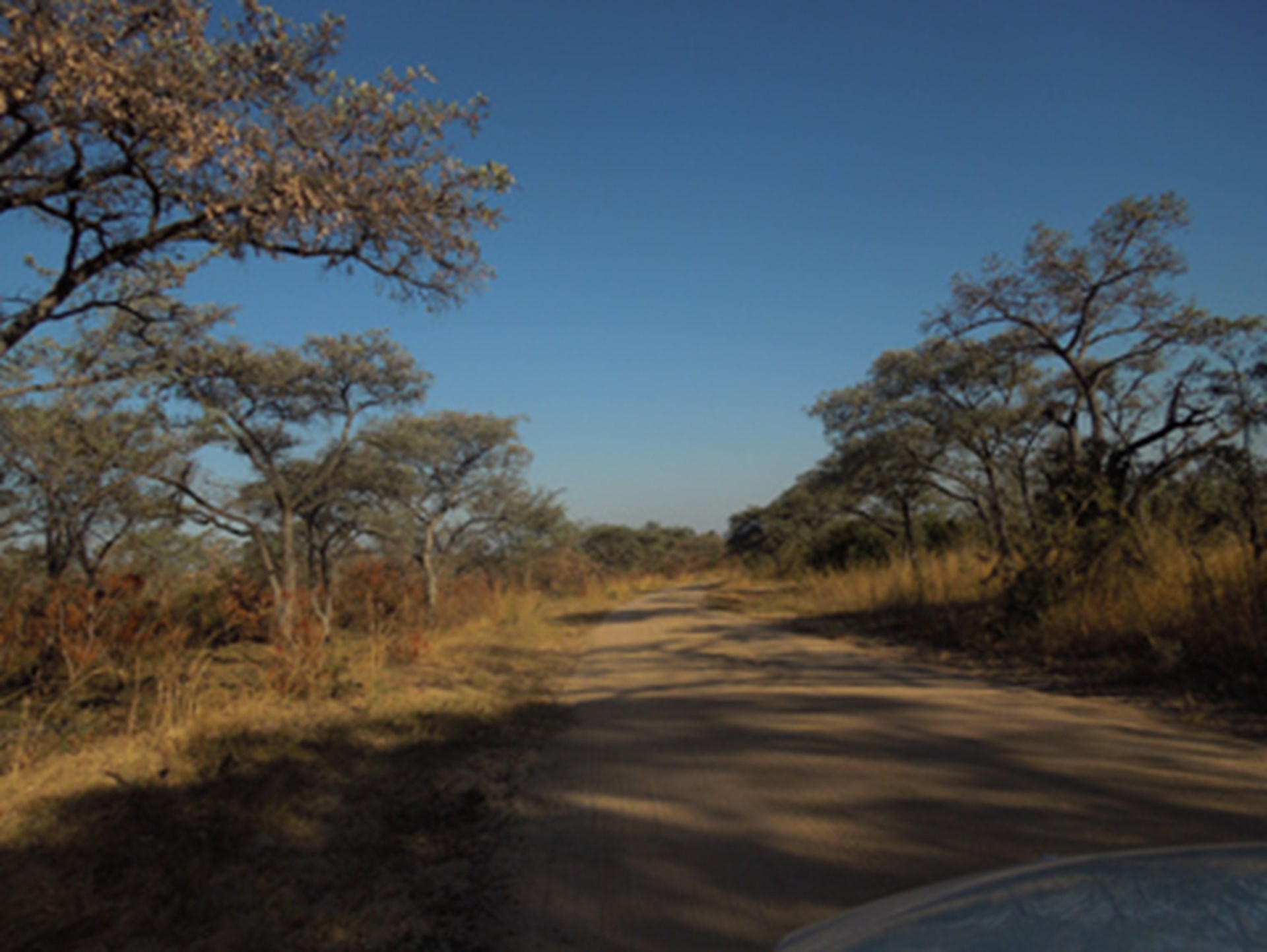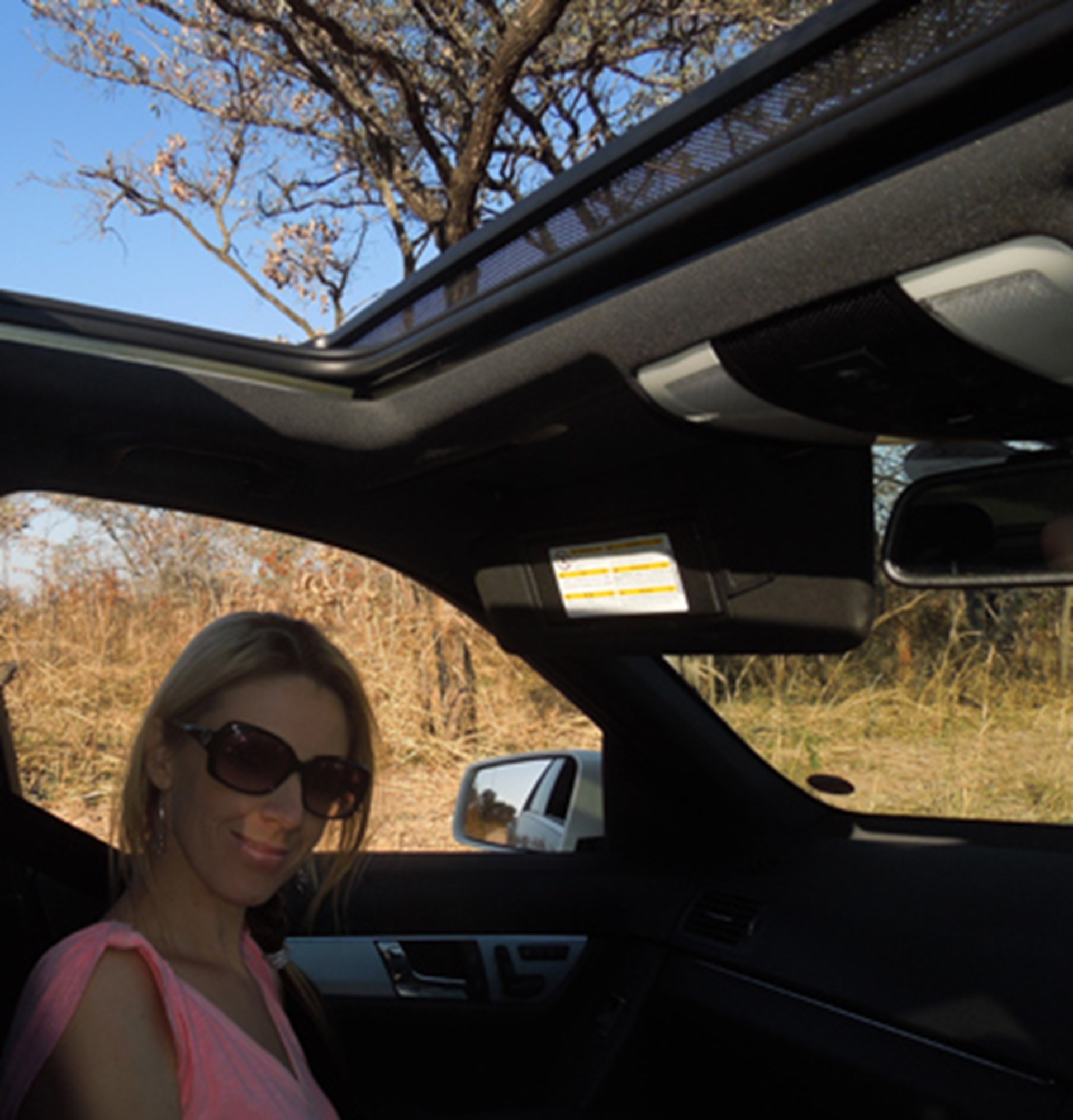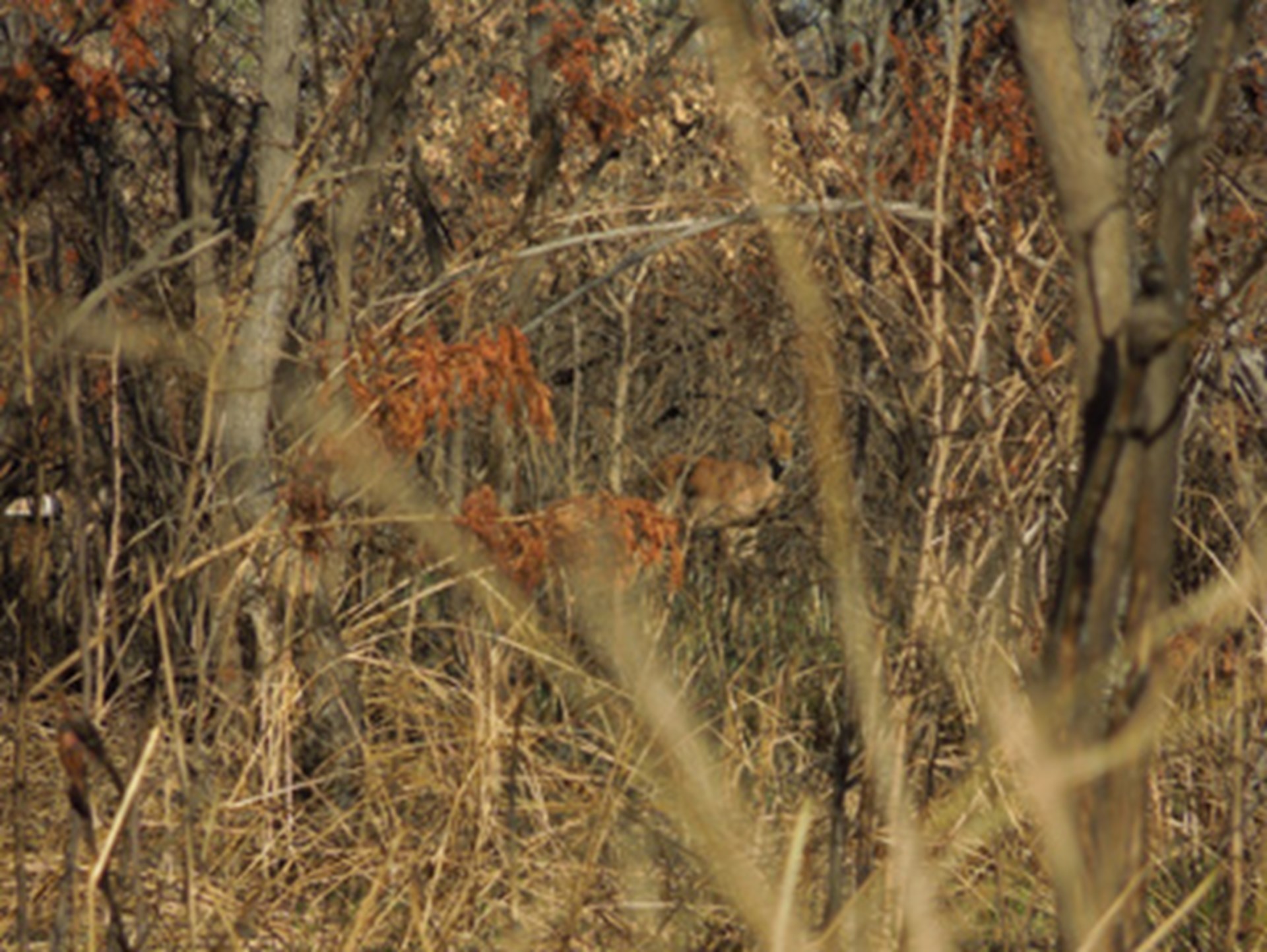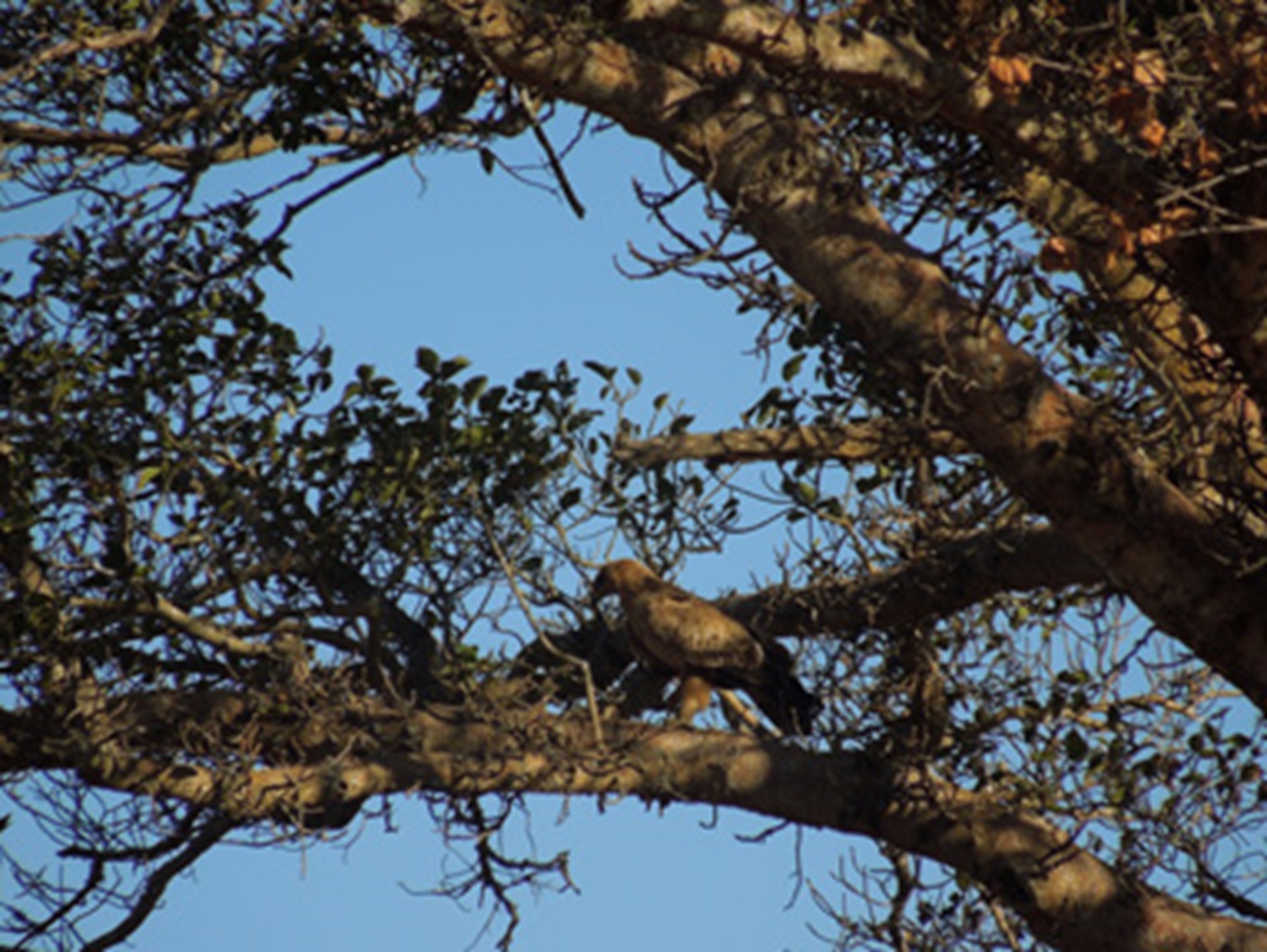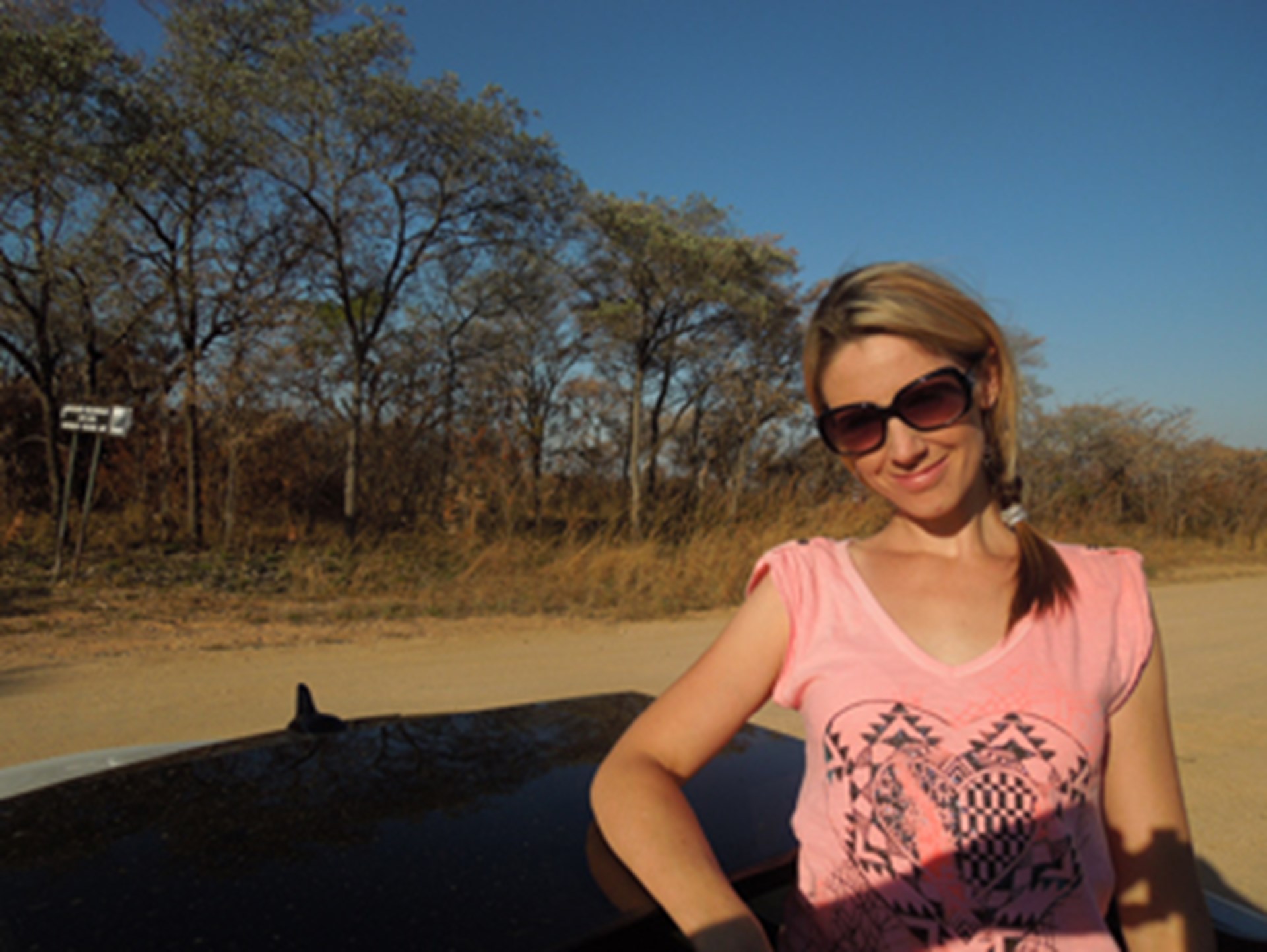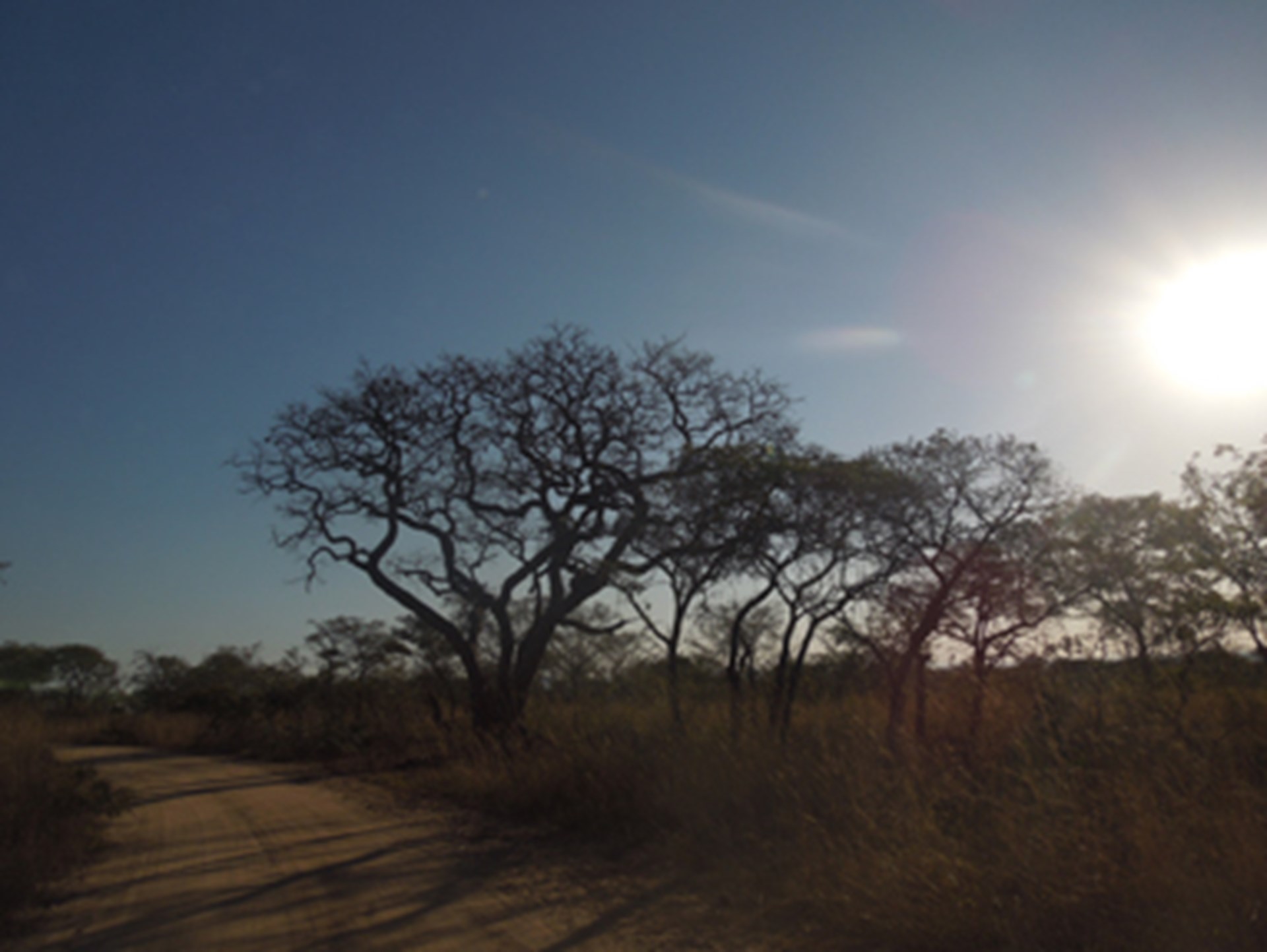 Time was running out and I needed to start making my way back to the main gate so I took what I thought would be a short cut. I heard some of the roads weren't that great and let's just say I selected the not so great road and soon came up to a flooded section in the middle of my path. There was no turning back as I would never make the safari in time so I had to go through it. Now you have to picture this, I was in a low AMG so going through a flooded road was taking a huge risk especially when I couldn't judge how deep the water was and I was in the middle of the African bush with predators that could be anywhere. This night safari was important so I slowly went through the water hoping the engine wasn't going to seize and as I got out of the muck a herd of giraffe started appearing out of their hiding.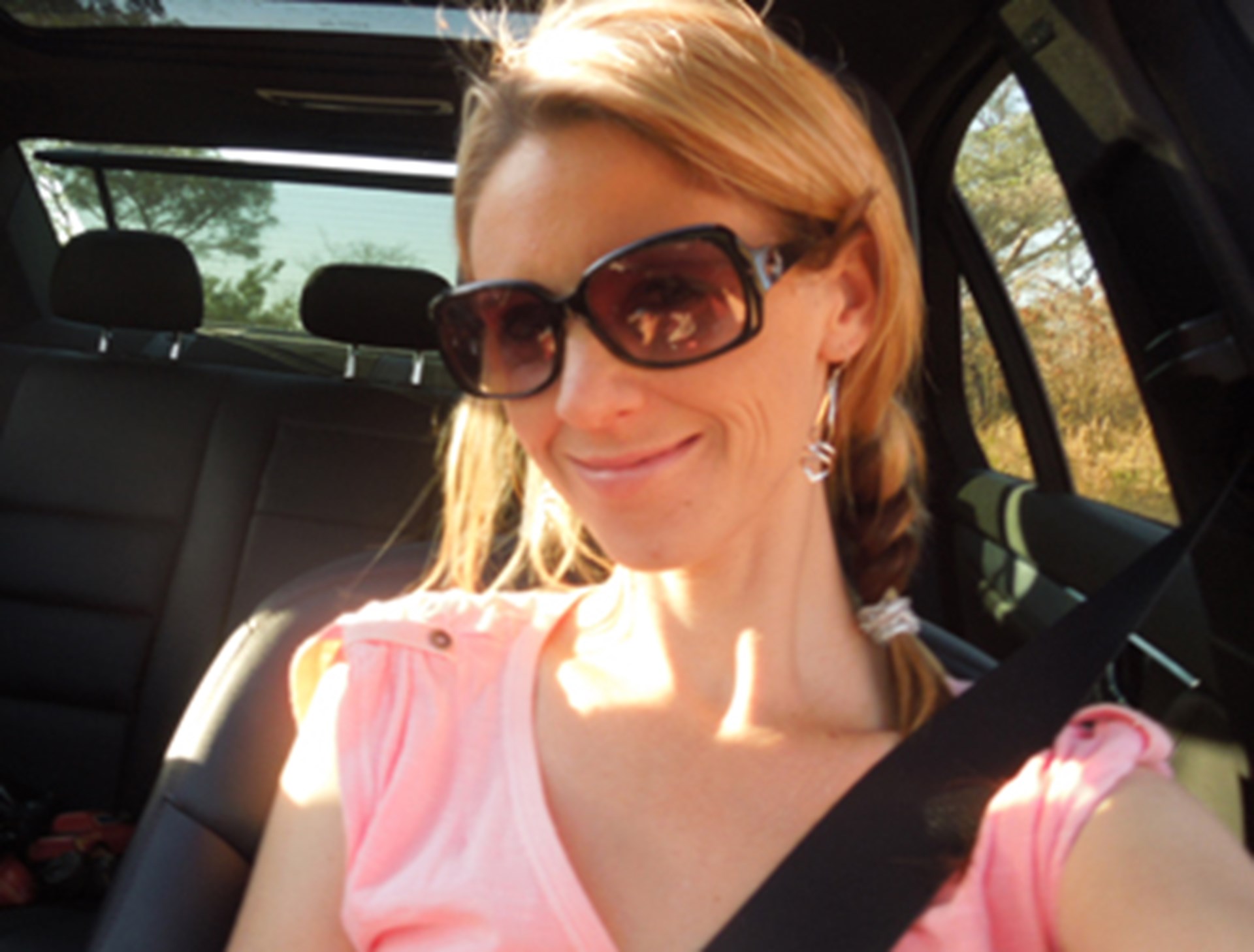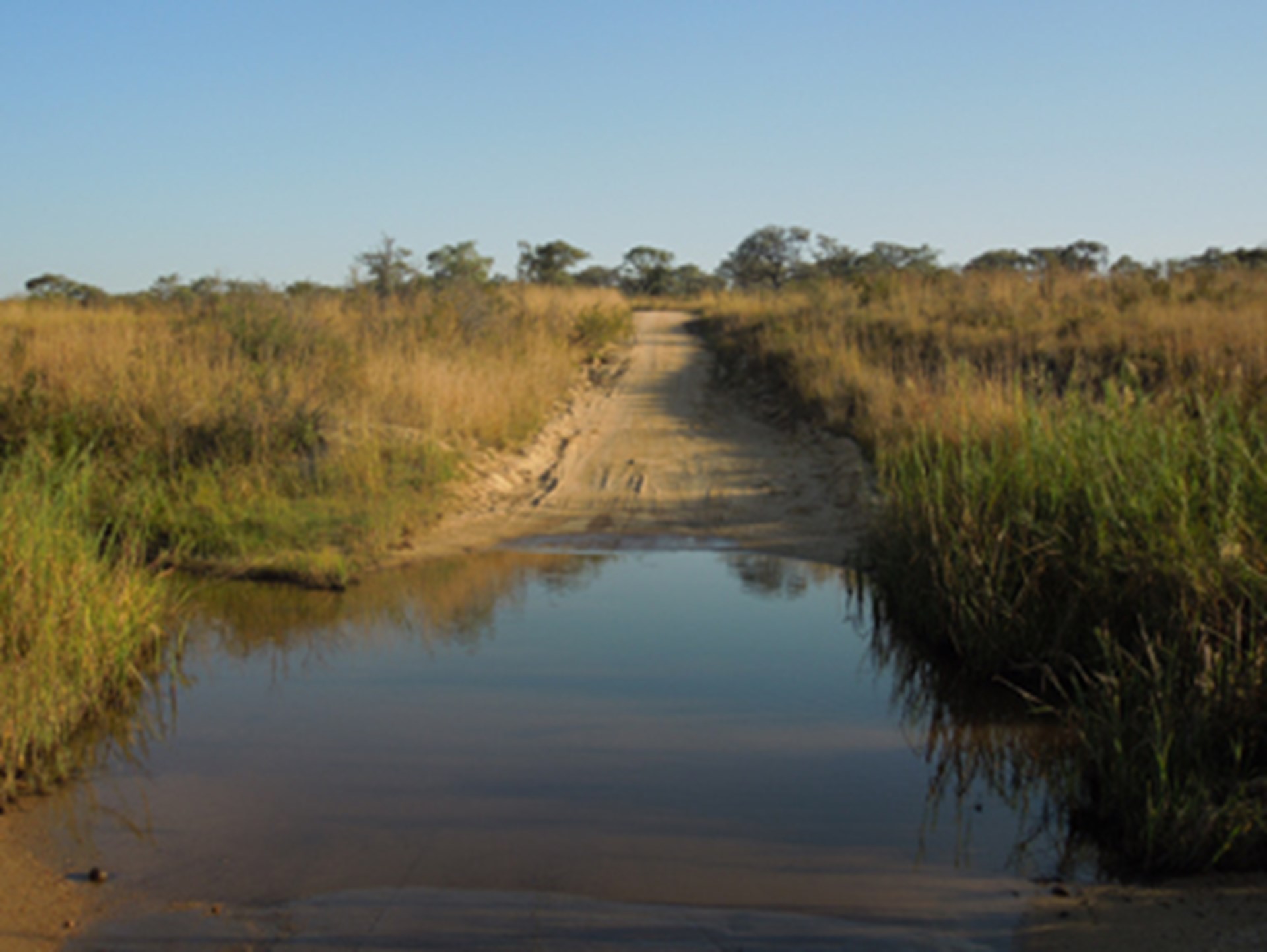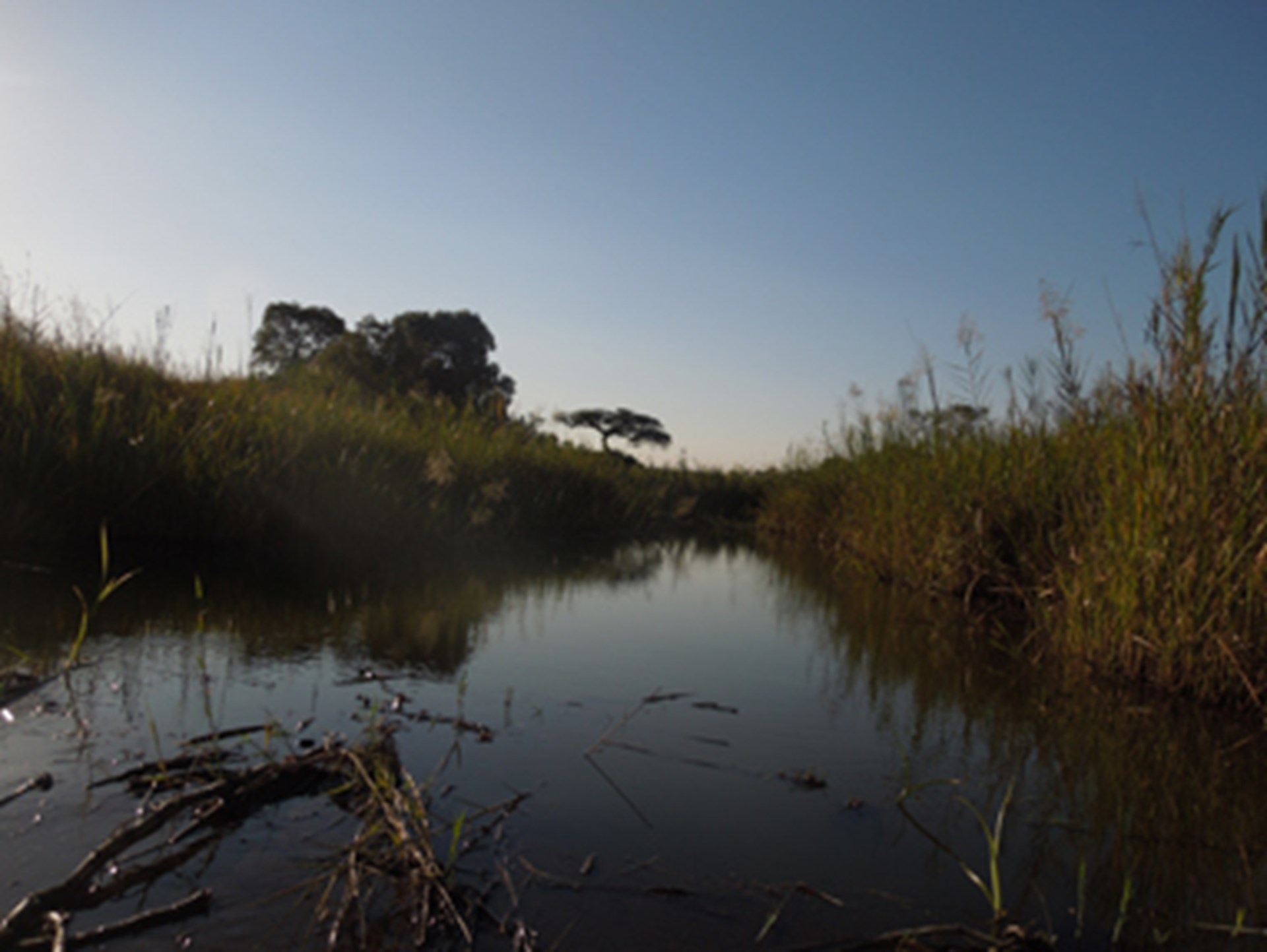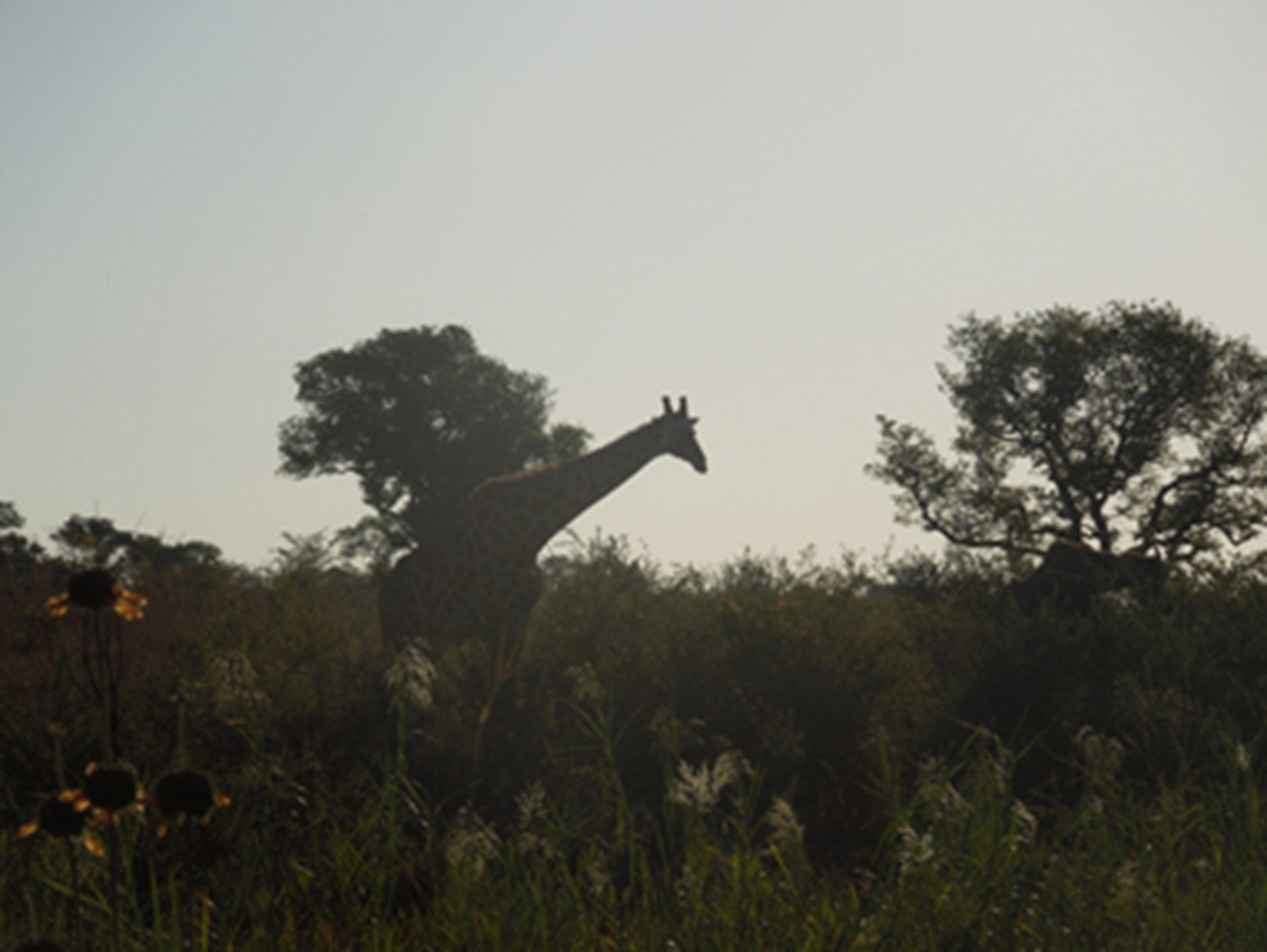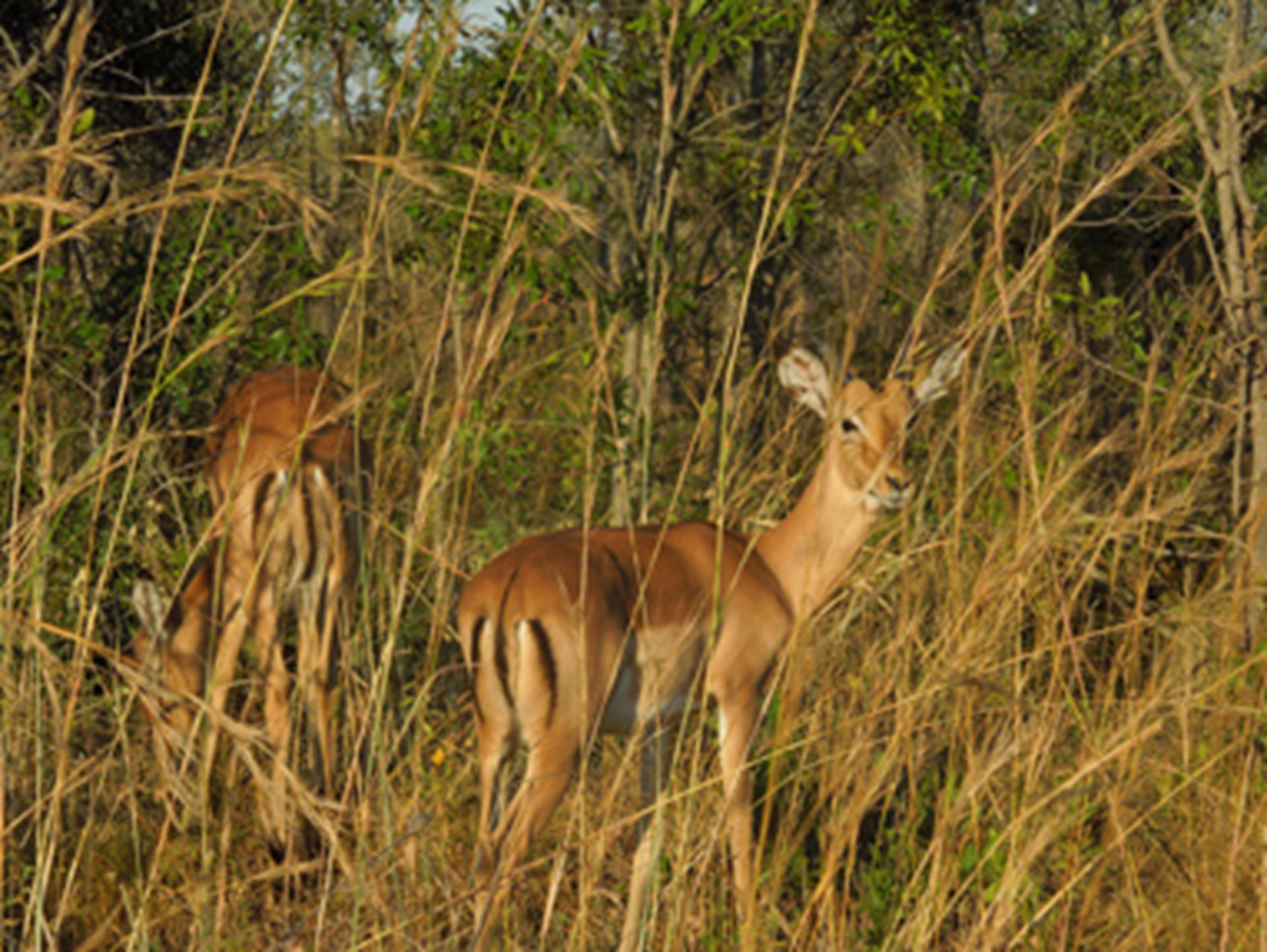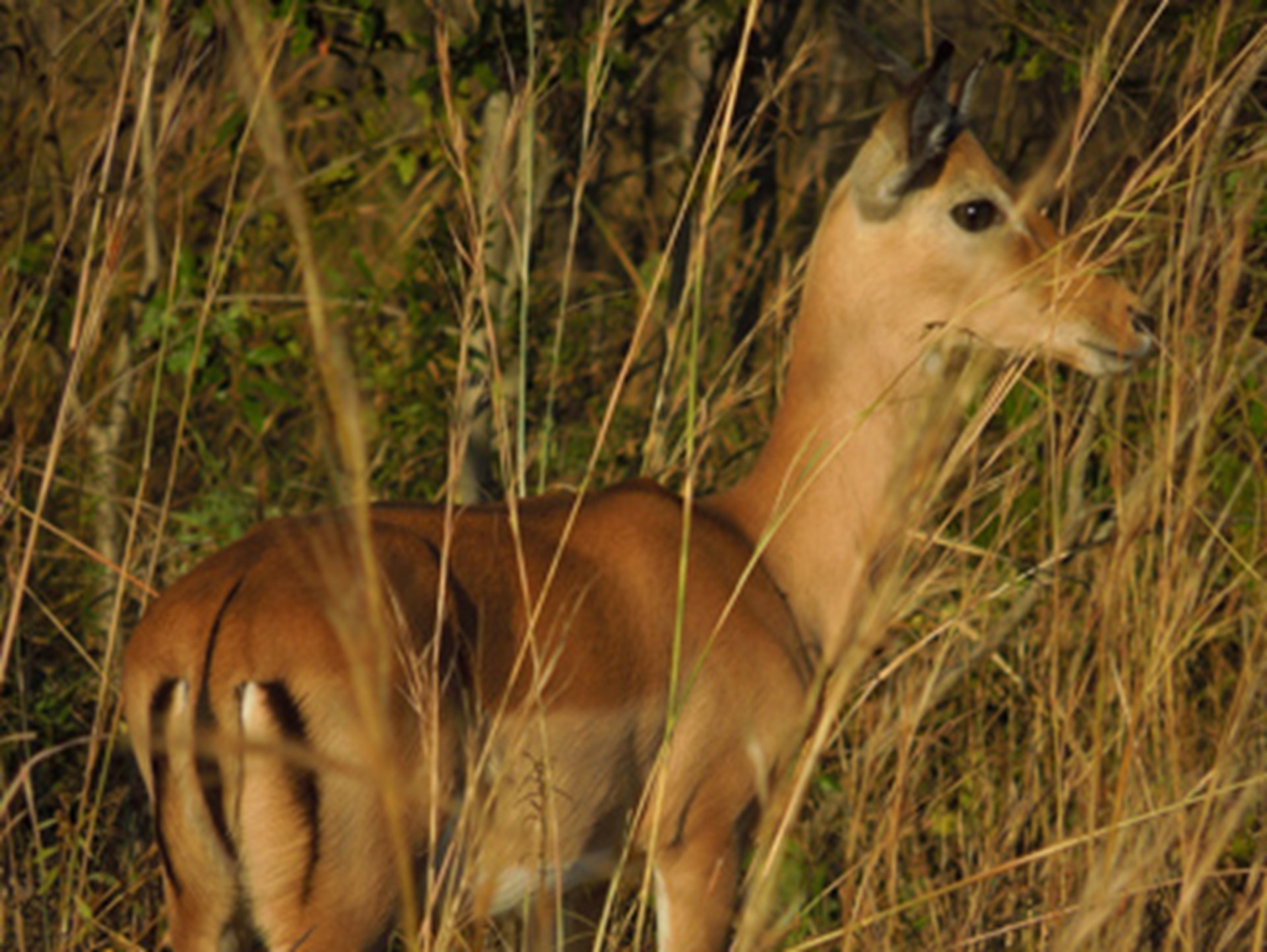 When visiting the Kruger National Park it's always advisable to book or join a safari either in the mornings or evenings. Being with an expert game ranger will increase your chances of seeing any game as they keep tabs where animals have been spotted in the day. Also the park closes in the evenings due to all the rhino poaching and during the day the park gets so hot that the animals tend to go into hiding to keep cool from the heat. I was very fortunate to be embarking this journey with a game ranger who has personally accompanied the South Africa president through the park.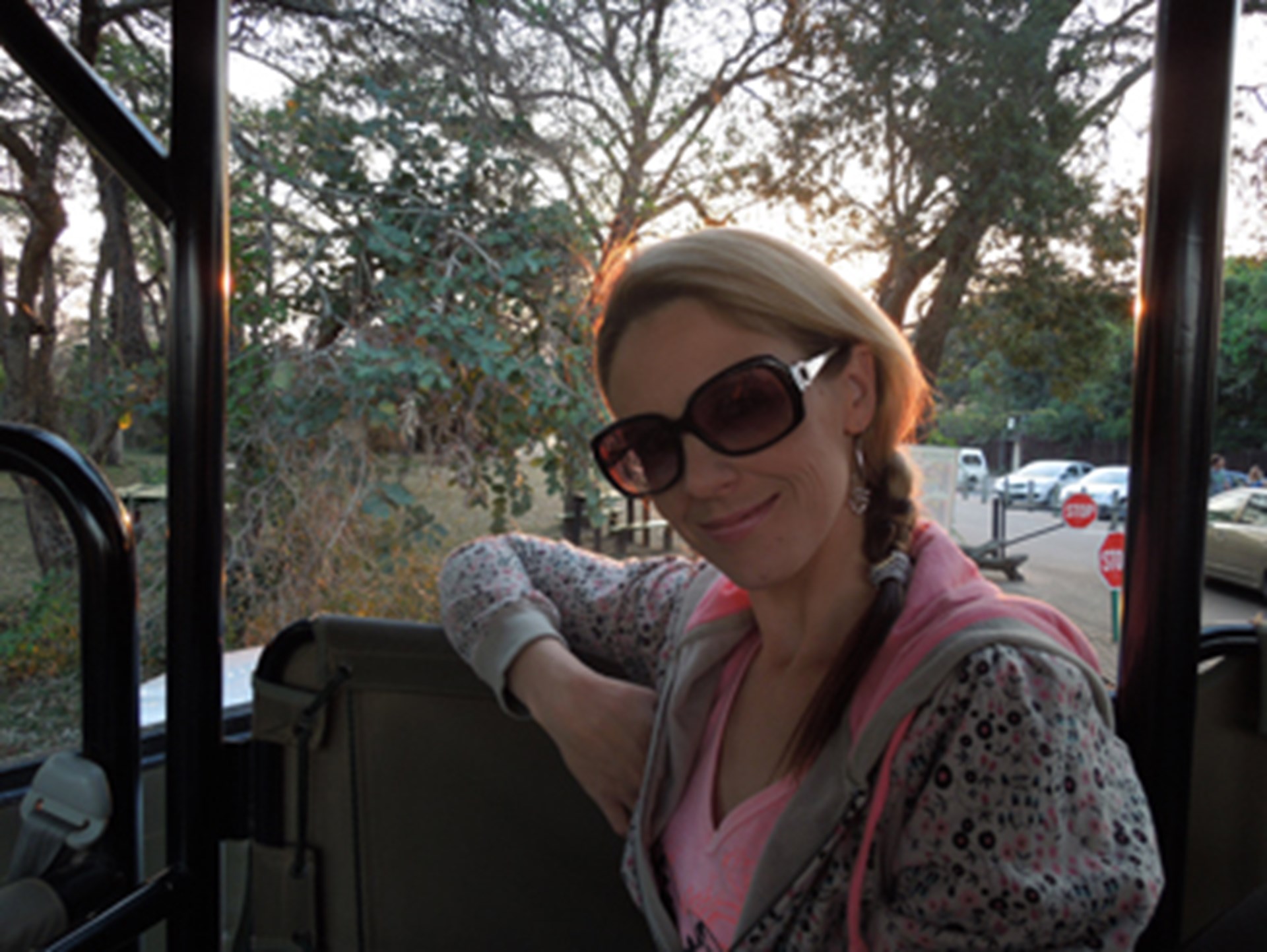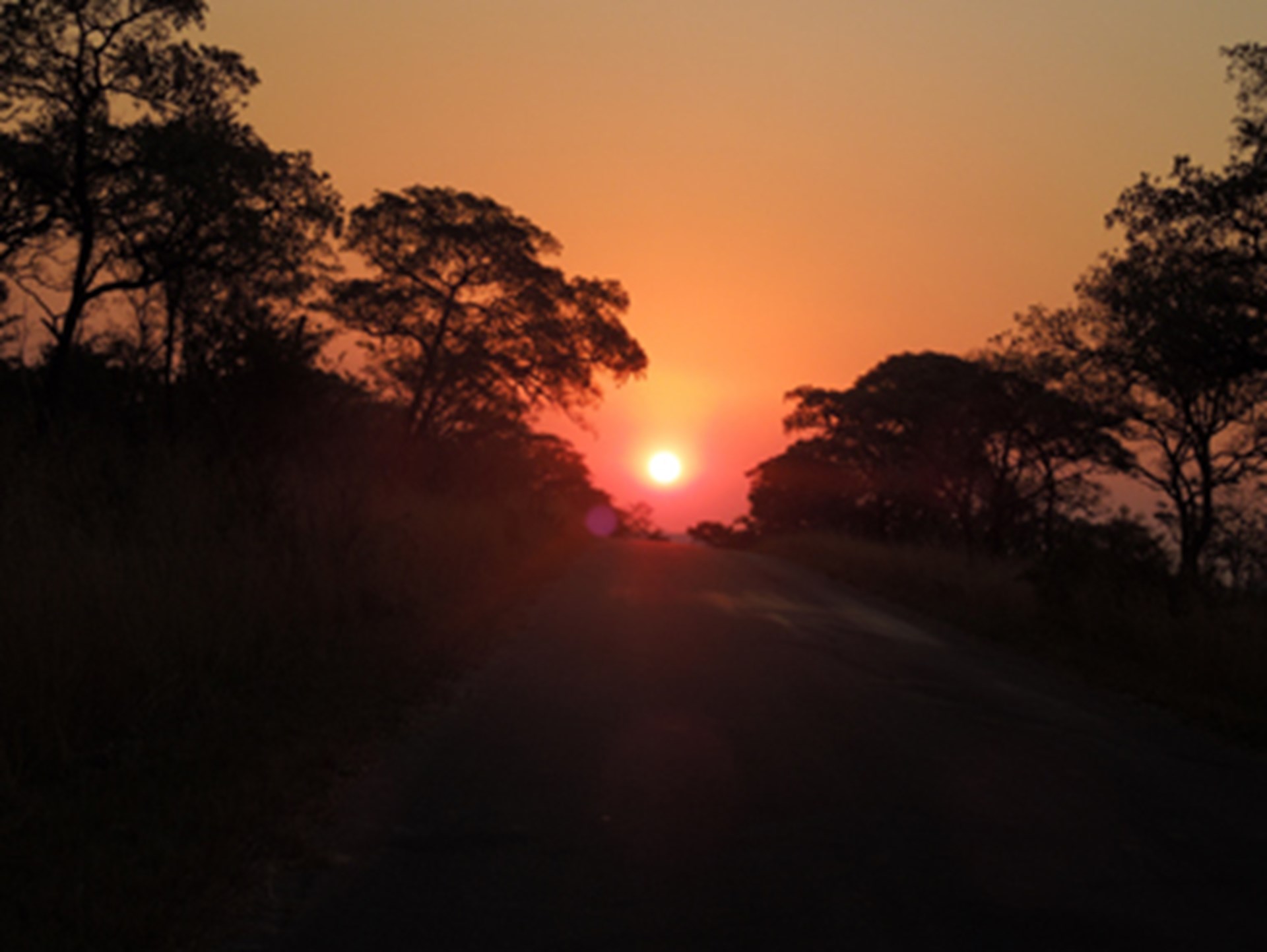 Spotting animals at night is a skill all on its own as you need a flashlight and the reflection of their eyes in the dark allows for easier spotting. Not even 10 min into our safari we spotted a herd of elephant that were making their way through the dense bush. To get so close to elephant and to have the matriarch female stare at me was an enthralling experience... all that was between her and I was a few metres and a vehicle. Driving through the rest of the area we spotted buffalo, bush babies, owls, buck and vultures encircling a kill. On our way back to the gate I had one of the most memorable experiences, an elephant I called Dino came out of nowhere with a branch in his mouth and ran down the road with us chasing him before trying to back up near a bush. He stared at us as if to say, "Please don't take my dinner". This was a special encounter and it made me feel so privileged to have experienced it.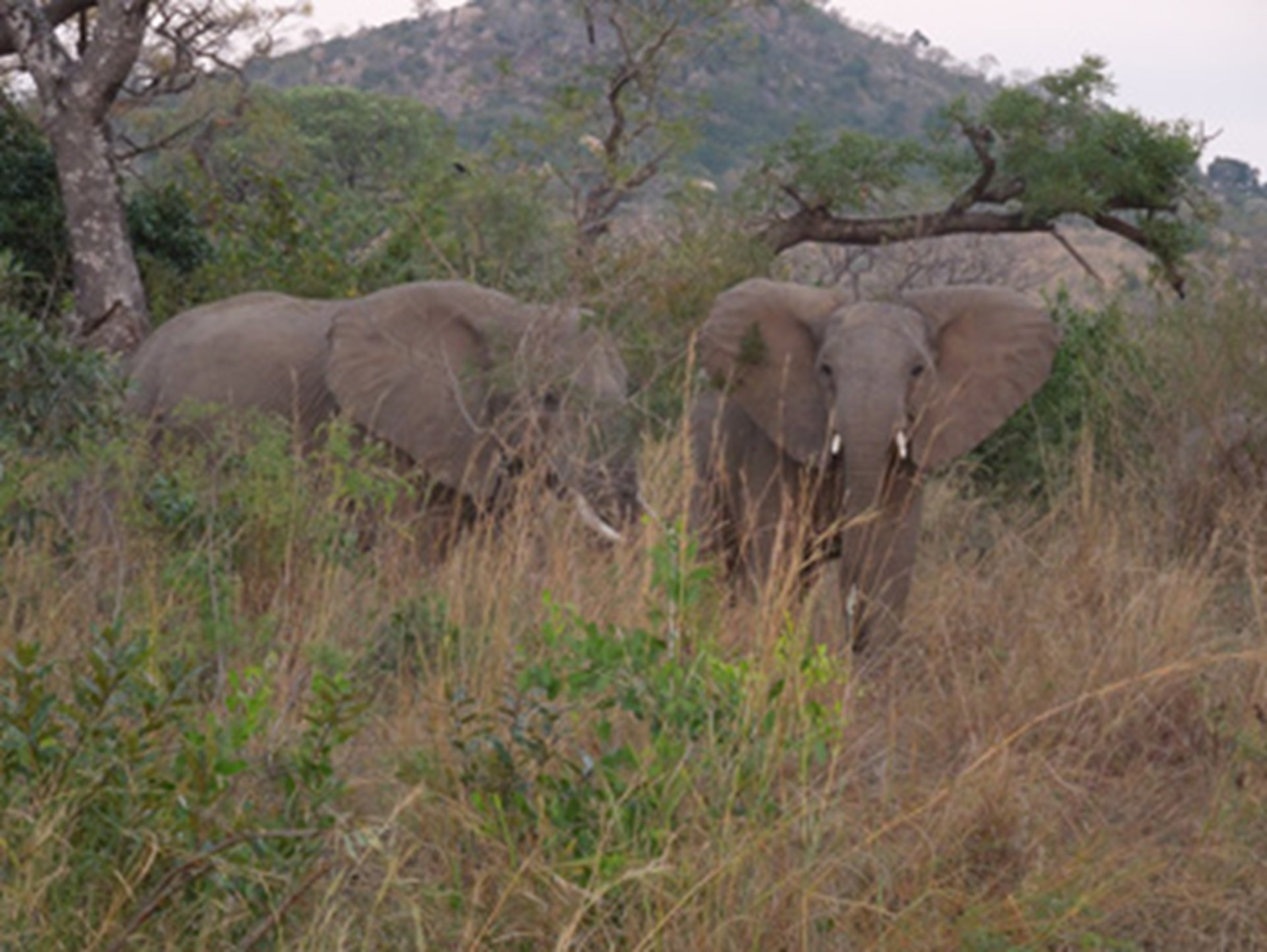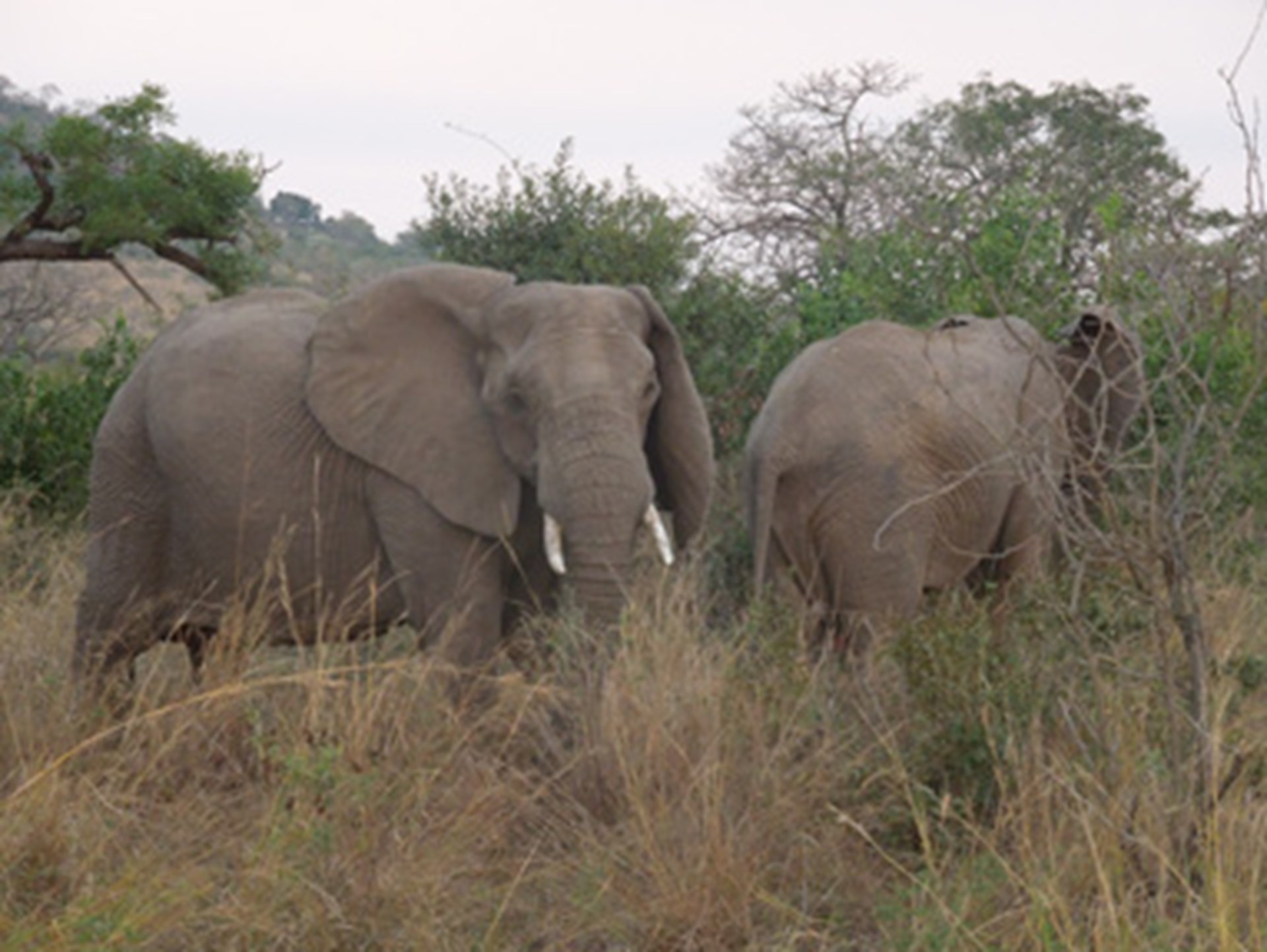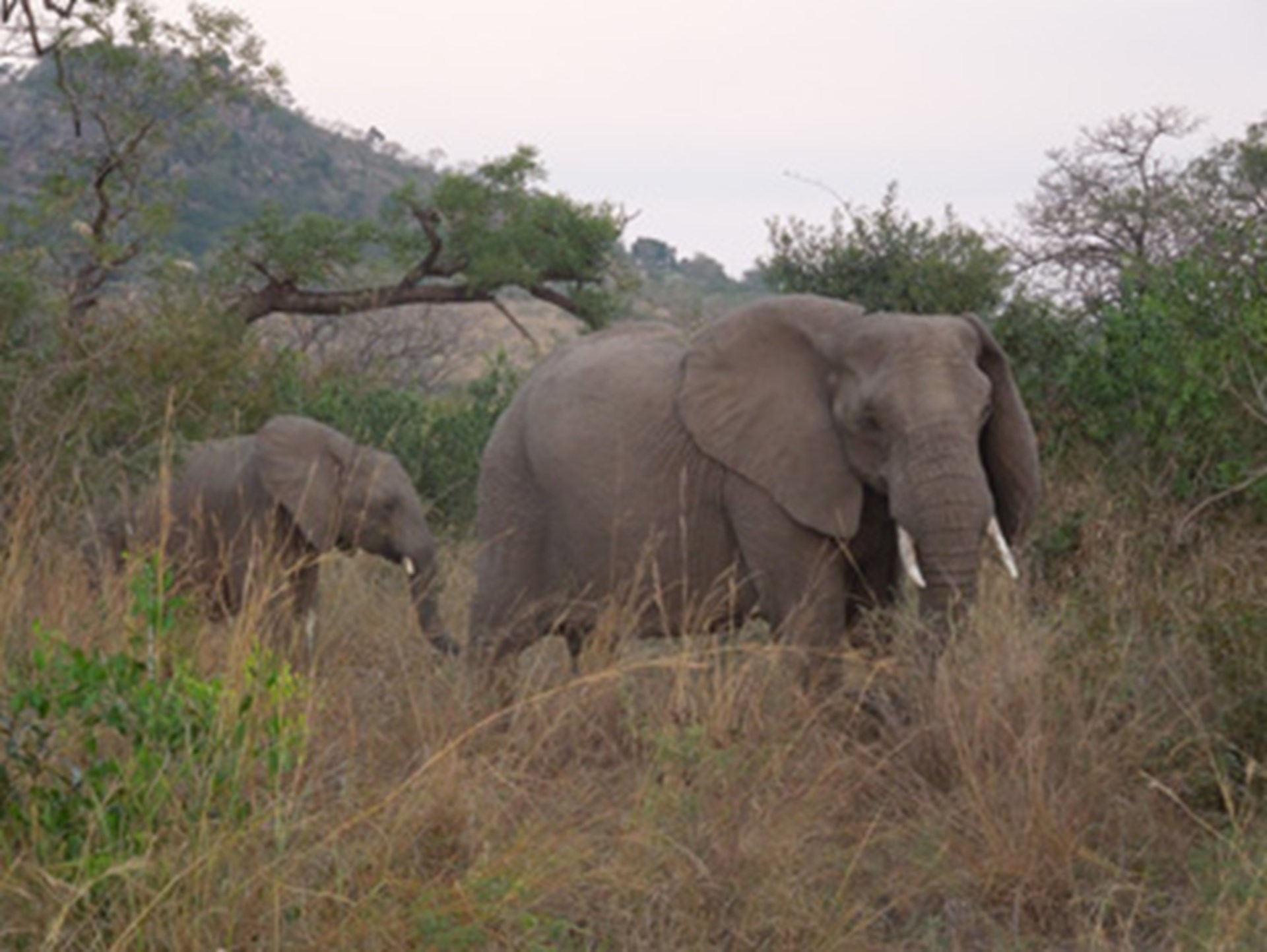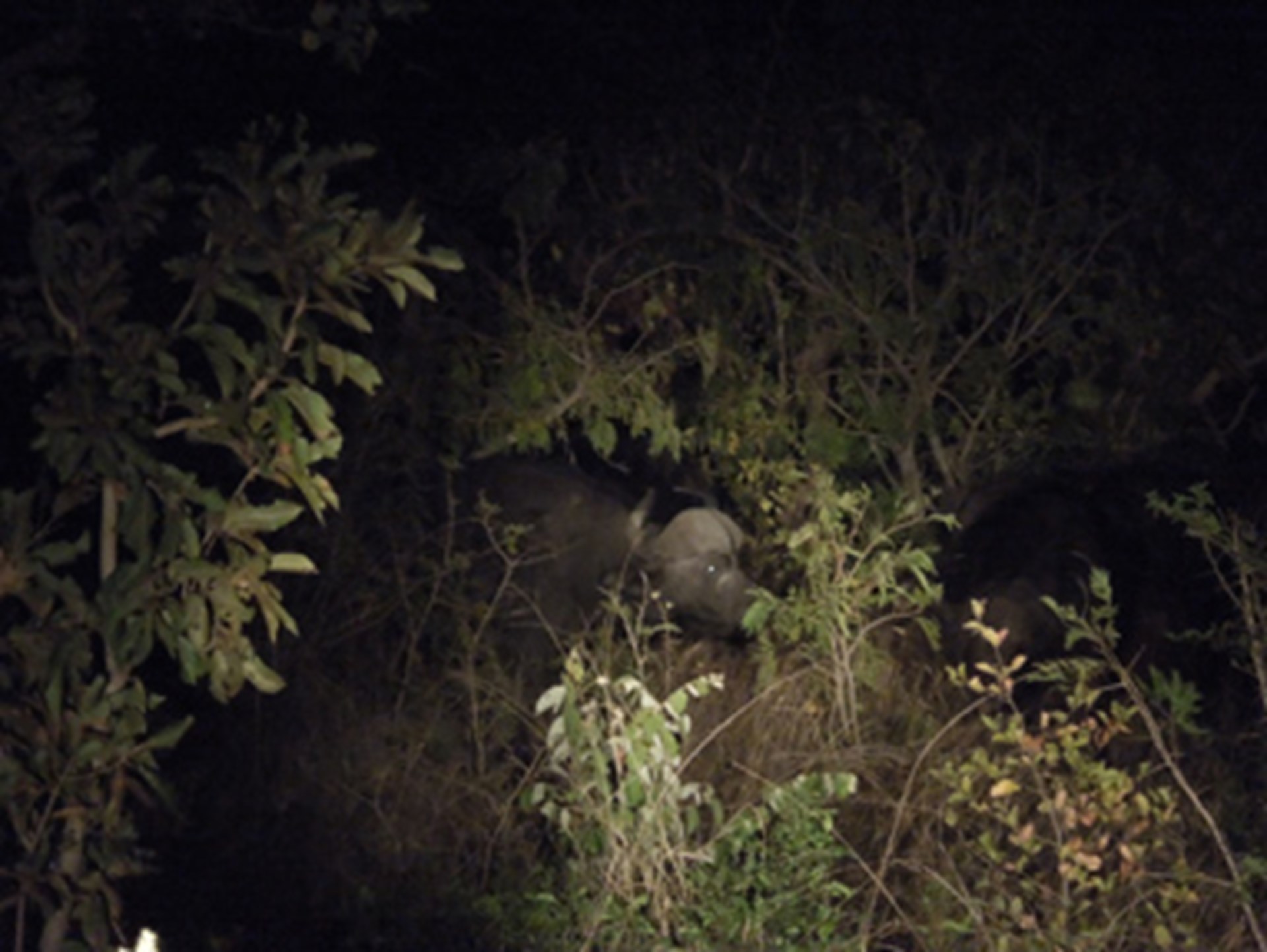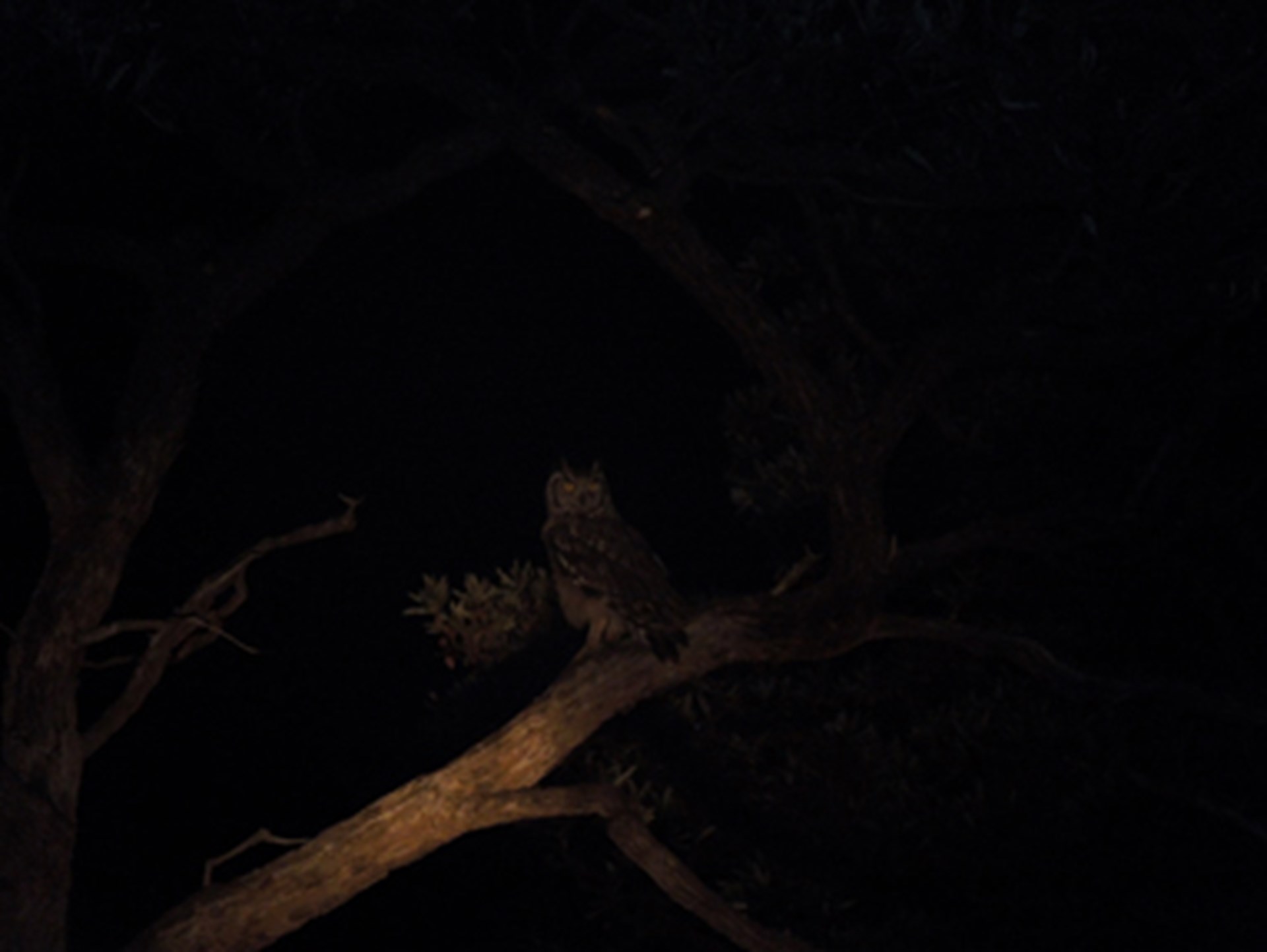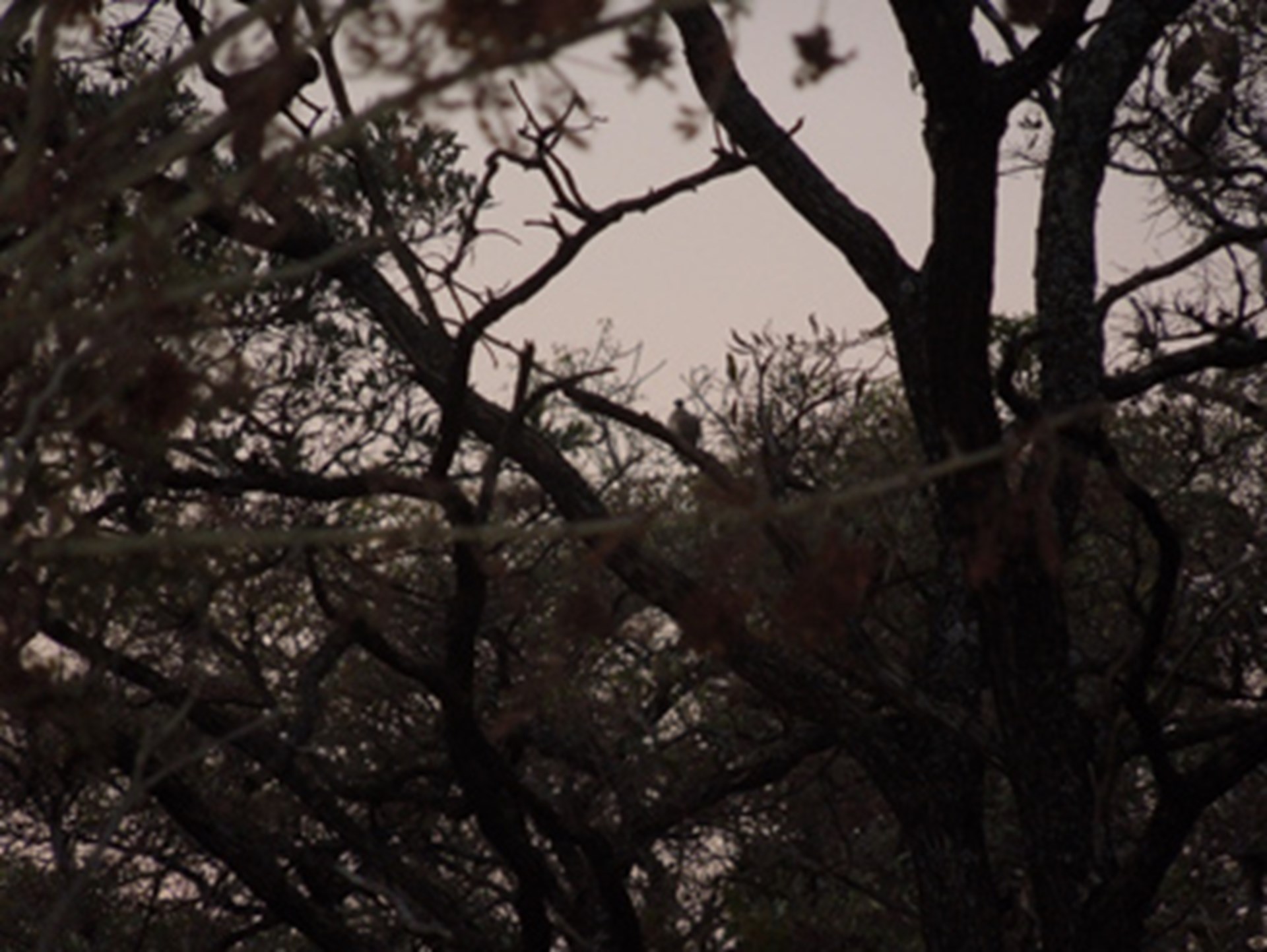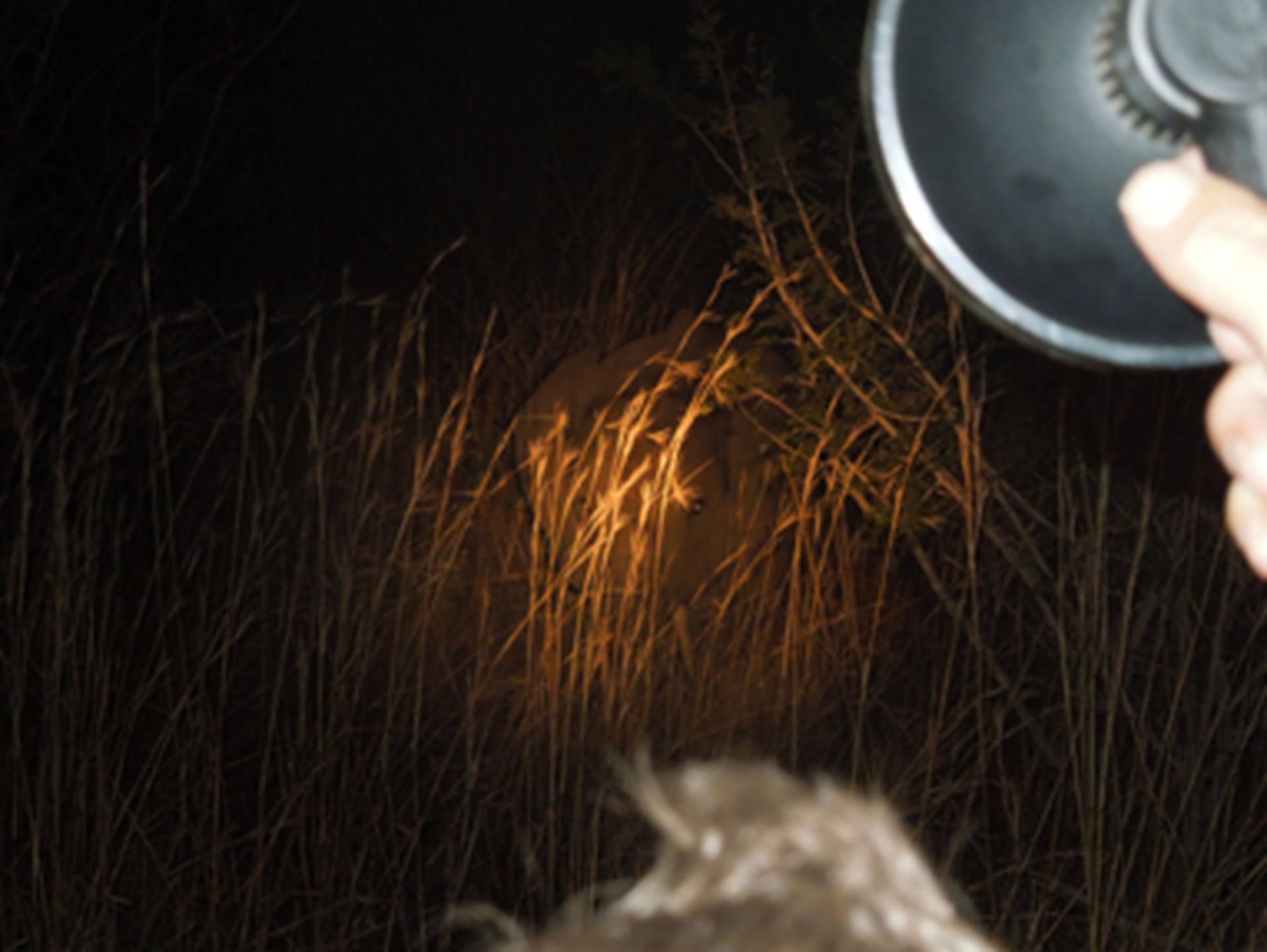 Having the time I did in the Kruger was an incredible and exhilarating occasion. Even though it was a few hours, I captured moments that I would always remember.
Getting back to 'Dar Amane' at 9.45pm, I had warm homemade chicken pies waiting for me with some dessert and homemade biscuits for my tea in the morning. The bath that night never felt better and the electric blanket never felt warmer.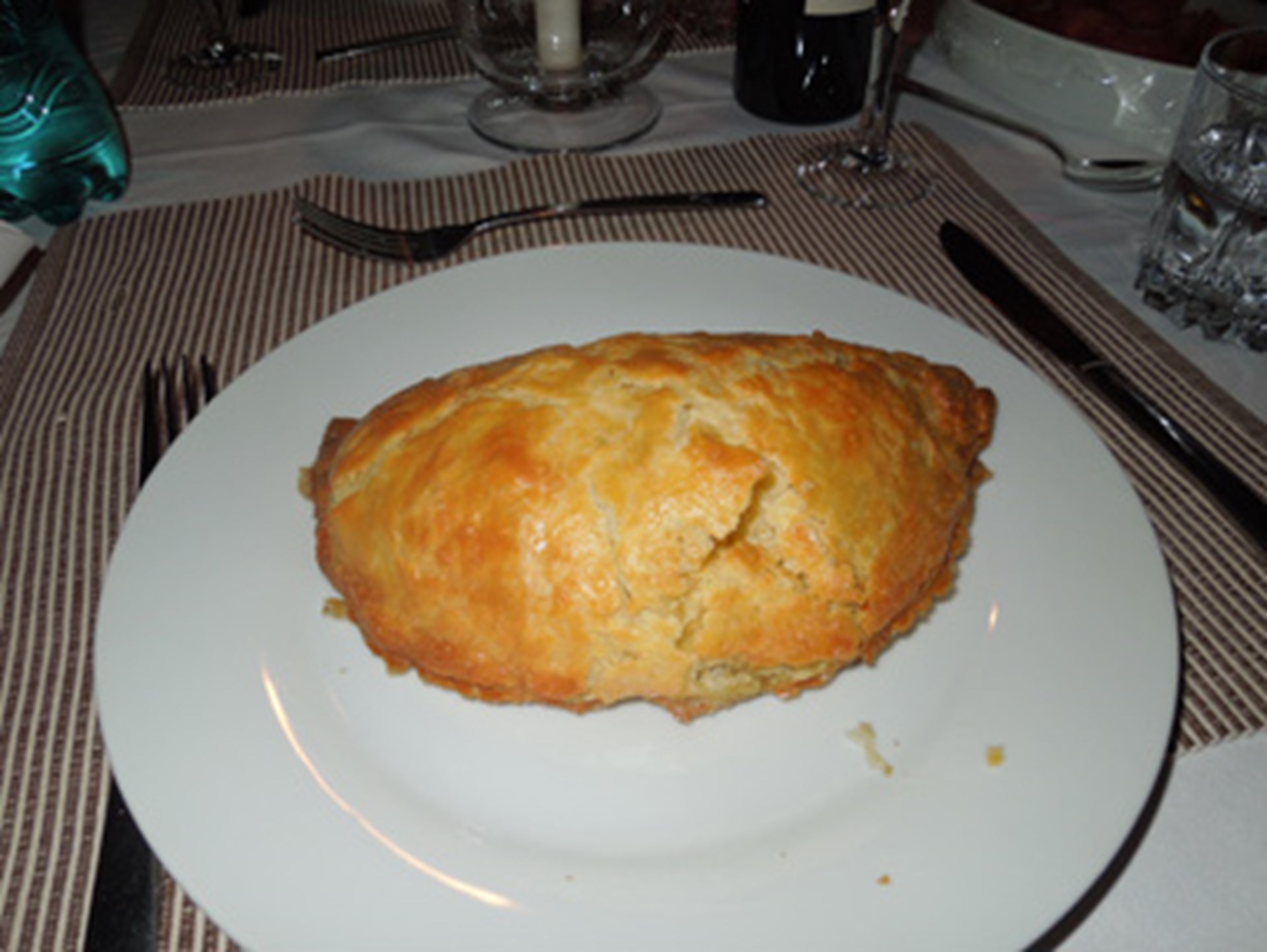 I would personally like to thank Hendry and team for making my stay at 'Dar Amane' so worthwhile. Your attention to detail and your personalised touch on everything makes your guest lodge in my opinion a leap above the rest. It just goes to show that attention to the little things in life is what makes an experience!
I had completed the Blyde River Canyon Reserve and Kruger National Park in a day and it was finally time to say goodnight!
Until the morning...
Pace Yourselves
Little MMI